The New Cerastus Knights are on the way and GW is showing off what these new knights are bringing to the table. They are fast, tough and a have a few other surprises in store.
When GW revealed the Cerastus Knight I had a lot of questions. Fortunately GW answered quite a few of them today with a new batch of info about the knight. It's going to cause a lot of problems for the Bigger, slower Titans – and that's a great thing for the game.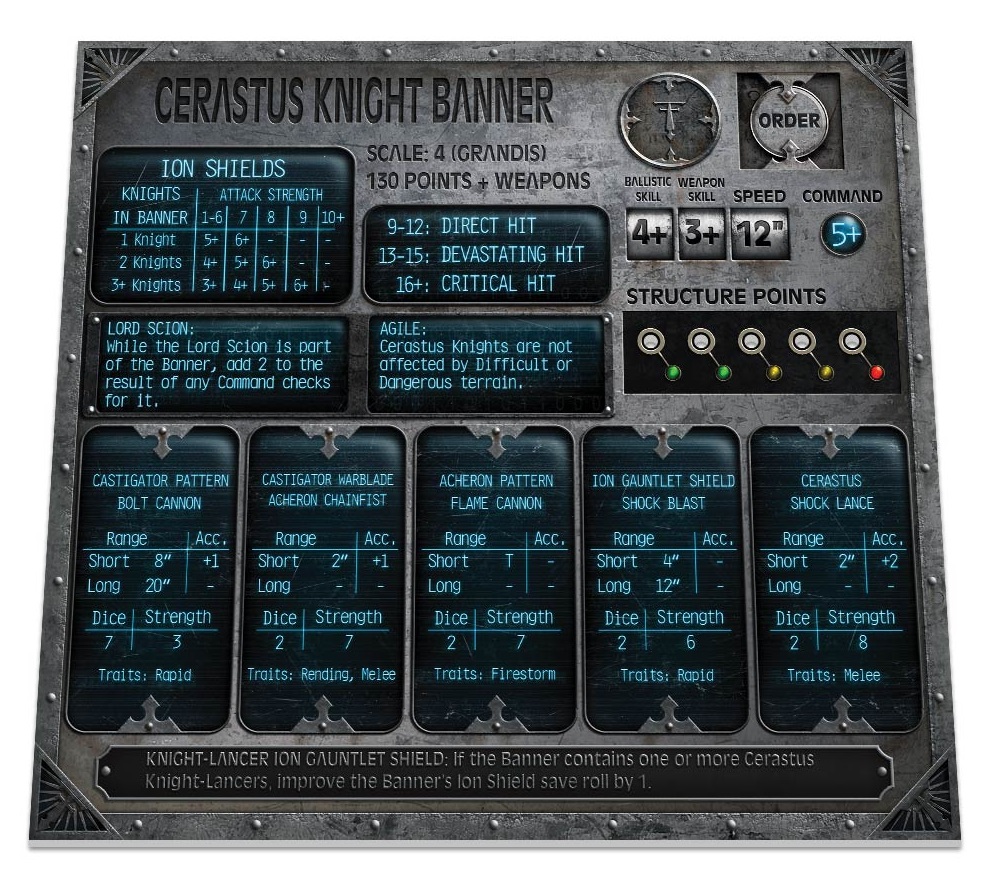 Let's break this down. First and foremost these guys are tougher than their Questoris counterparts. They have 1 more structure point AND always get a bonus to their save thanks to their Ion Gauntlet Shields. They get at least a 6+ vs any attacks. Conversely, if you have them in a full sized banner they can get a really impressive +2 vs weak attacks and pretty good saves vs even the higher attacks. They are going to cause a lot of problems for tactical decision making – do I shoot my big guns at the little guys before they get here or do I worry about the big guys marching my way?
They are FAST. They have a base move of 12″ which is crazy fast in this game. Plus, with their ability to receive orders pretty well, you could march them (with the full stride order) on the first turn for a really impressive move and possibly get a charge off in turn 2. And that's going to be pretty scary for the charge target with those hard-hitting Serastus Shock Lances. 2 dice at strength 8 is going to hurt. Oh, and get this – if you charge you'll be rolling 4 dice that hit on 2+ (cause 1s still miss). Ouch!
That's not all – looking closer at this console, we can also see a few other hints at what's to come. Notice the size of these knights? They are a 4 (Grandis) which puts them one size category larger than the Questoris Knights. They also have a few OTHER weapon options. The Acheon Pattern Flame Cannon, the Castigator Bolt Cannon and what I'm assuming is a combo-card for the matching stats of the Warblade/Chainfist option. I think GW is letting us know more of these Cerastus Knights are on the way! I still think we need a knight book…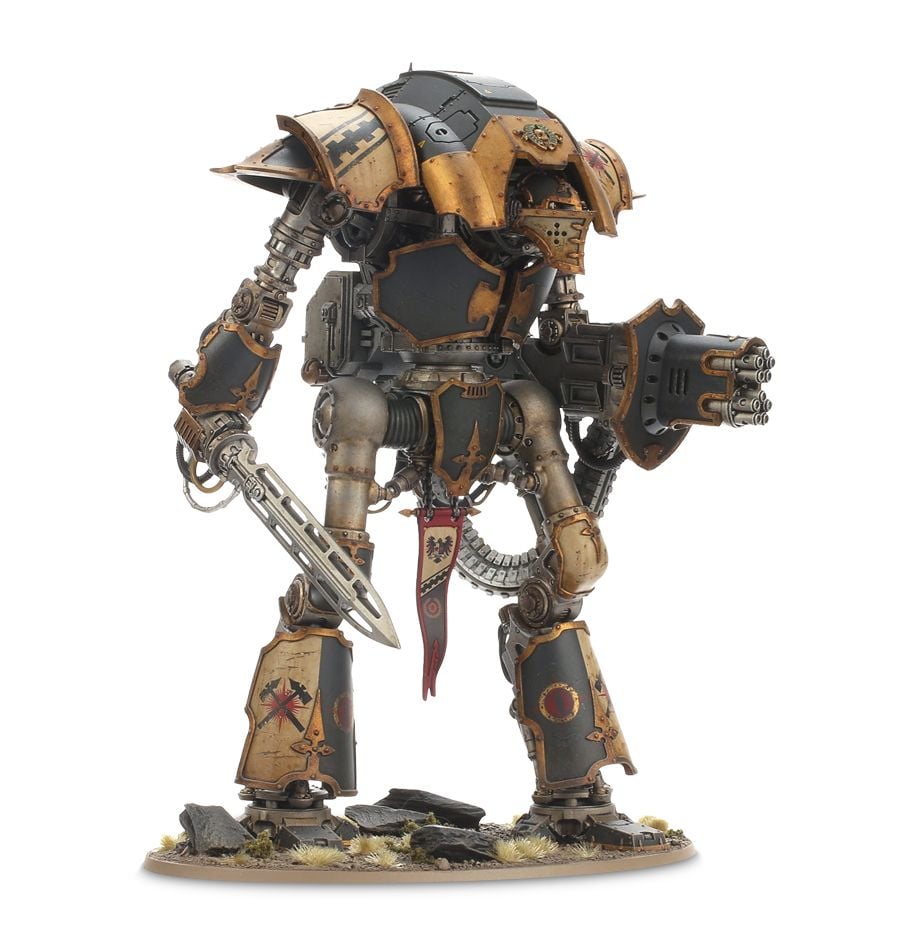 Aside from all the possibilities that these hard-hitting knights are bringing to the table, GW also gave us a closer look at the Titan options coming this weekend. Now, we've seen all these before (because their rules were in the box) but it's nice to get a closer look at those sweet new weapon options: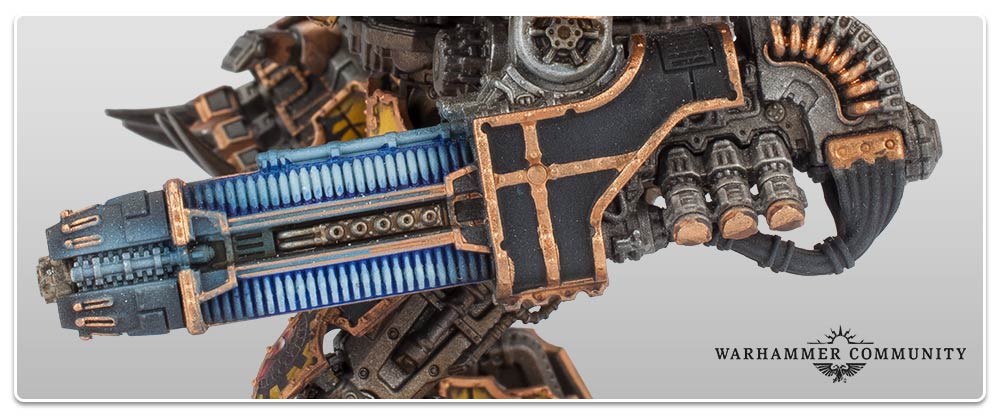 The Sunfury Plasma Annihilator is a great weapon. It's got shorter range than some of the other options but hits at a very respectable strength 8 with 4 dice. Plus you can kick up the strength to 10 if you want to go for Maximal Fire! Just be careful when you roll 1s to hit, those will drain your energy – hey this is STILL plasma, it's gotta try to kill you too, right!?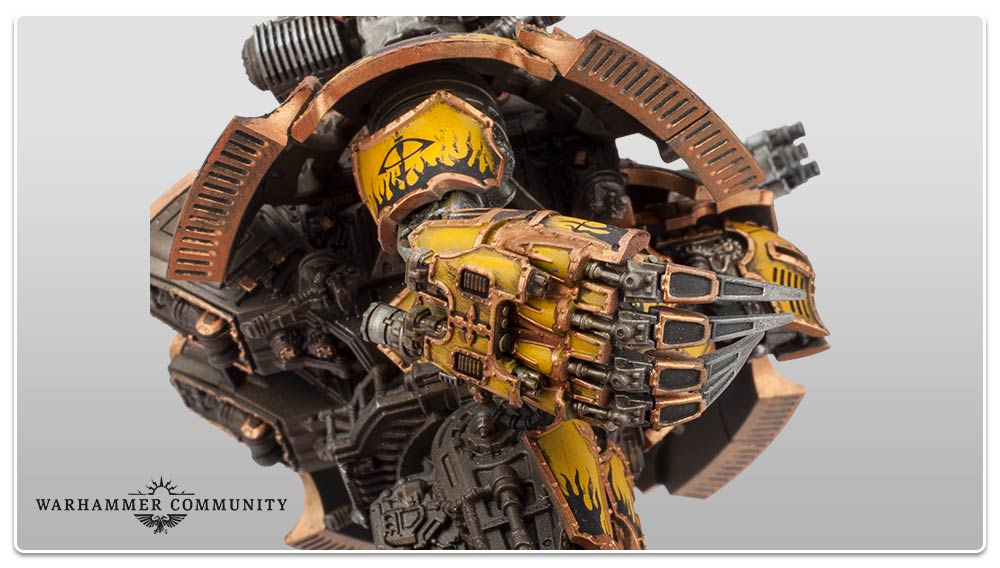 The Arioch Titan Power Claw is the size of a knight and it will crush you. It's a 3 die attack at strength 12 – and because it's Melee, you're not getting void shields to save you from it. Being concussive means it can literally hit a Titan so hard, you'll get spun around from the impact! If you get caught in it's clutches, you've either screwed something up terribly or you somehow missed the giant death robot moving into melee position.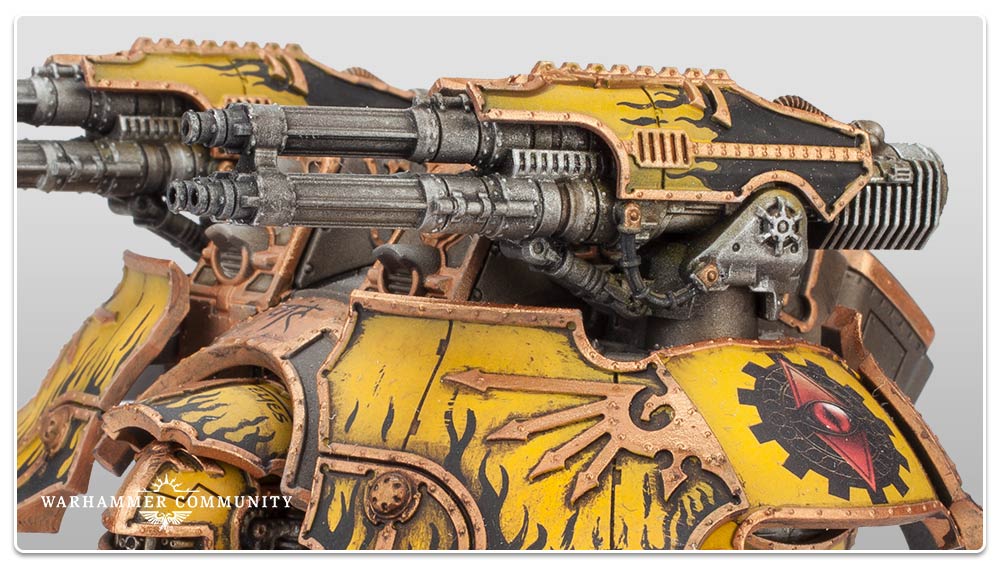 Paired Laser Blasters – look it's easy to mix these up with the Turbo Laser Destructors so you'll be forgiven if you get them confused. They are both lasers after-all so you're in the right by at least saying *PEW PEW* when they fire. Anyhow, these are carapace mounted weapons and are great multi-purpose tools. Great for taking out shield (if you don't mind draining) and more than capable of delivering a few knock-out shots once they are down, I think they are great option for your Warlord to use.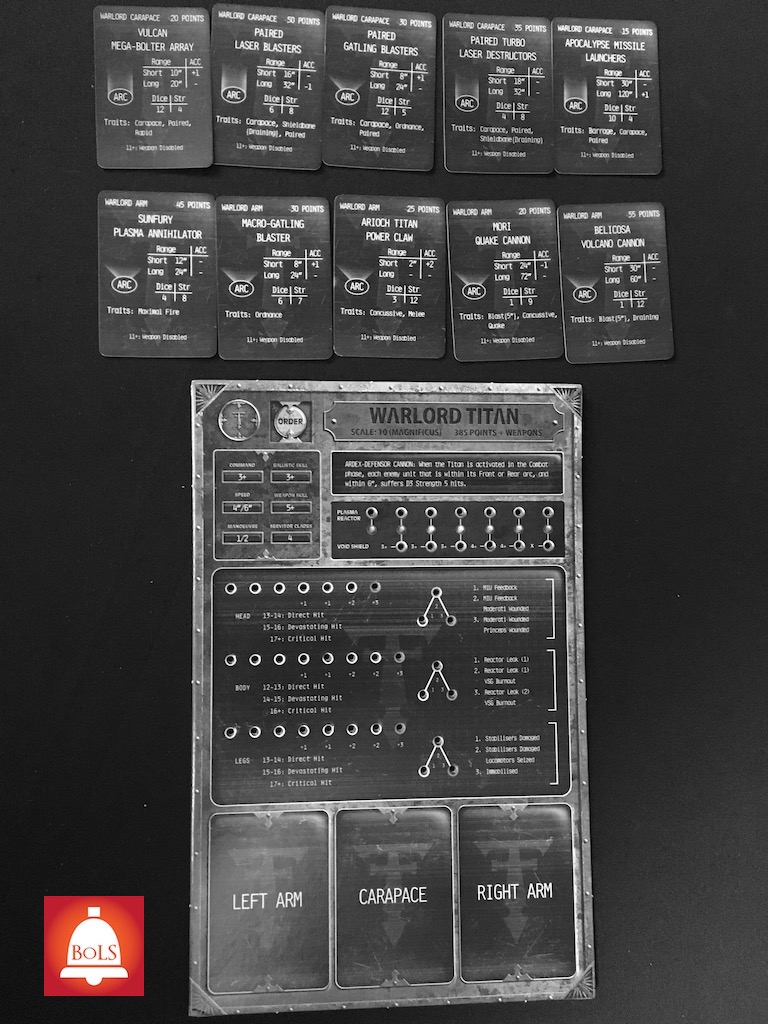 There are still a few weapon options on that sheet that aren't available. Gee, I wonder if we'll see another Warlord kit and/or weapon sprues released for those too…
Princeps, have at thee!