It's not Highlander, but it's pretty close. If instead of Connor MacLeod it's a card with words on it and instead of The Quickening it's writing down different words. Because at the end there will be Just One.
The Weekly Board Games Top 10
"The Hotness" on BoardGameGeek is a list of the currently most popular games, as based on views. This week brings us these winners:
This week's Hotness finds a good balance between old and new. Half of the games on the list we've seen before: KeyForge, Gloomhaven, Terraforming Mars, Teotihuacan and Spirit Island have all found their way onto The Hotness in previous weeks. The rest are newcomers.
In deciding the featured game for this week, it would be KeyForge, but we just featured it on our Tabletop Spotlight this week. So, we'll be moving down the list. We could take a look at SpaceCorp, but frankly there's not a whole lot of information out there yet and the only rules are still in playtest, and I'd rather wait for a final product before reporting on it. So instead, rather than featuring multiple games from this week, we're going to do…
Just One
Just One is a cooperative word guessing party game. The goal is for the active player to correctly guess their secret word that they don't know, but the other player's do.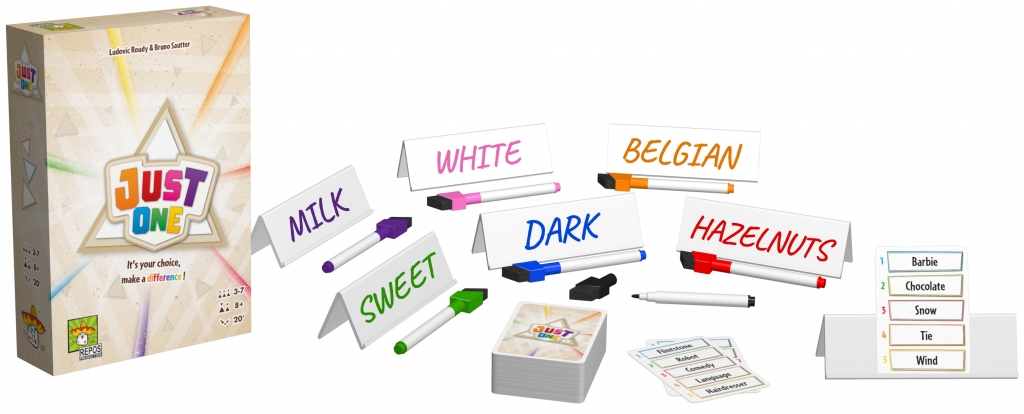 The game begins with dealing 13 cards in a stack. Each round begins with the active player drawing a card and placing it on their easel, facing away from them so they can't see it but the other players can. Then they pick a number from 1 to 5 mostly at random. This number corresponds to a word on the card. This is the word that the other players will attempt to make the active player guess.
They do this by each secretly writing a word on their own easel. Once they are all done, they compare words without the active player seeing. Any duplicate words are removed. The remaining words are shown to the active player who will then have to attempt to guess the secret word. Guessing the secret word correctly scores the players 1 point. Passing scores 0 points. Guessing incorrectly scores 0 points AND the players must discard an additional card. The players only have 13 cards within each game so a wrong guess reduces the maximum possible score.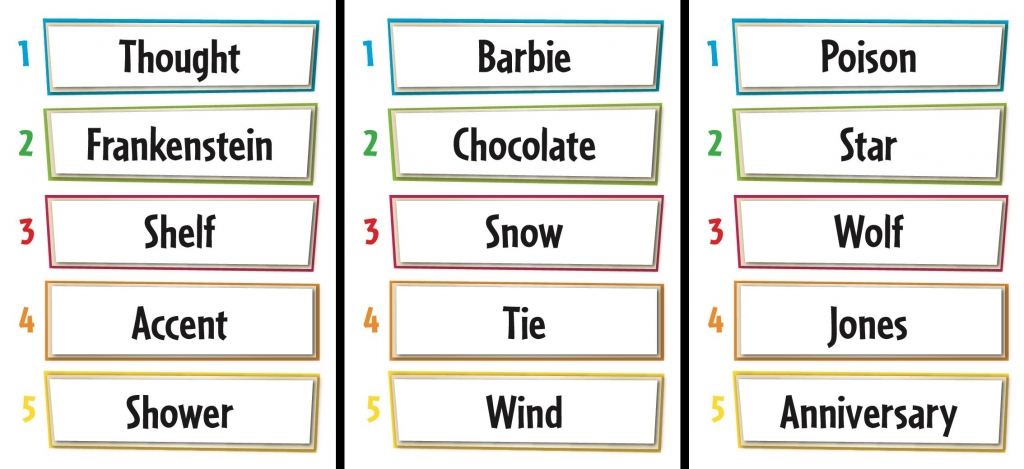 The 2 rules in bold are what really make Just One stand out. What seem to be such simple rules really add a lot of game play strategy to a pretty simple party game. Making sure the word you write down is unique is super important but not so obscure that it will make the active player confused. Because a wrong guess can really hurt your score.
As with any party game, Just One is super ready for making house rules. How about team play with option to steal a word if the other team doesn't get it? Sounds great to me!
From Repos Production

Just One –

$24.00

– Available Dec 6th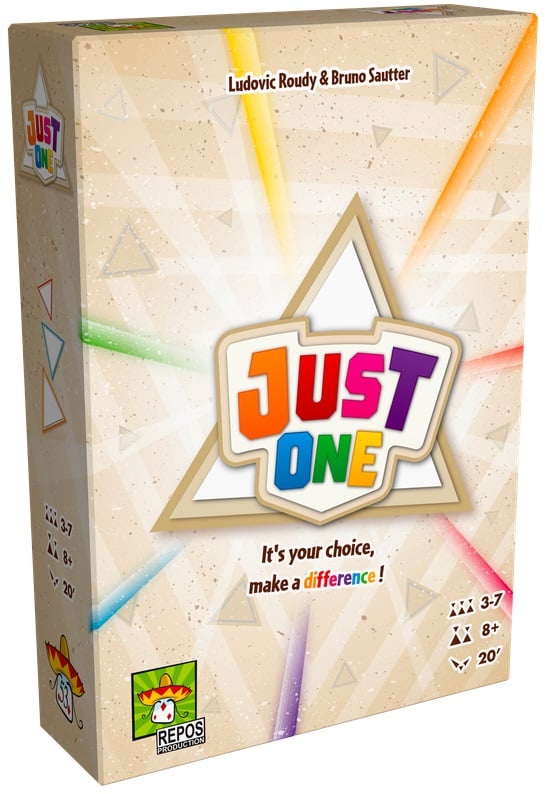 3 – 7 Players
20 Minutes
Ages 8+