By now we've had a look at what you can find on the various levels of the megadungeon that is Undermountain, but now come take a look at one of the actual levels of the Dungeon of the Mad Mage.
Waterdeep: Dungeon of the Mad Mage is a classic dungeon crawl for the 5th Edition era. Full of stories and quests alongside monsters that occupy the 20ish wildly different levels of the megadungeon known as Undermountain, a lot of first and second edition feels get pulled into what we've seen so far. Each level is almost an ecosystem or adventure unto itself–and it's easy to see why. Today we've got a look at just one of the levels of the megadungeon of Undermountain, courtesy of Roll20's preview feature and we can understand why the phrase is there. This map is massive.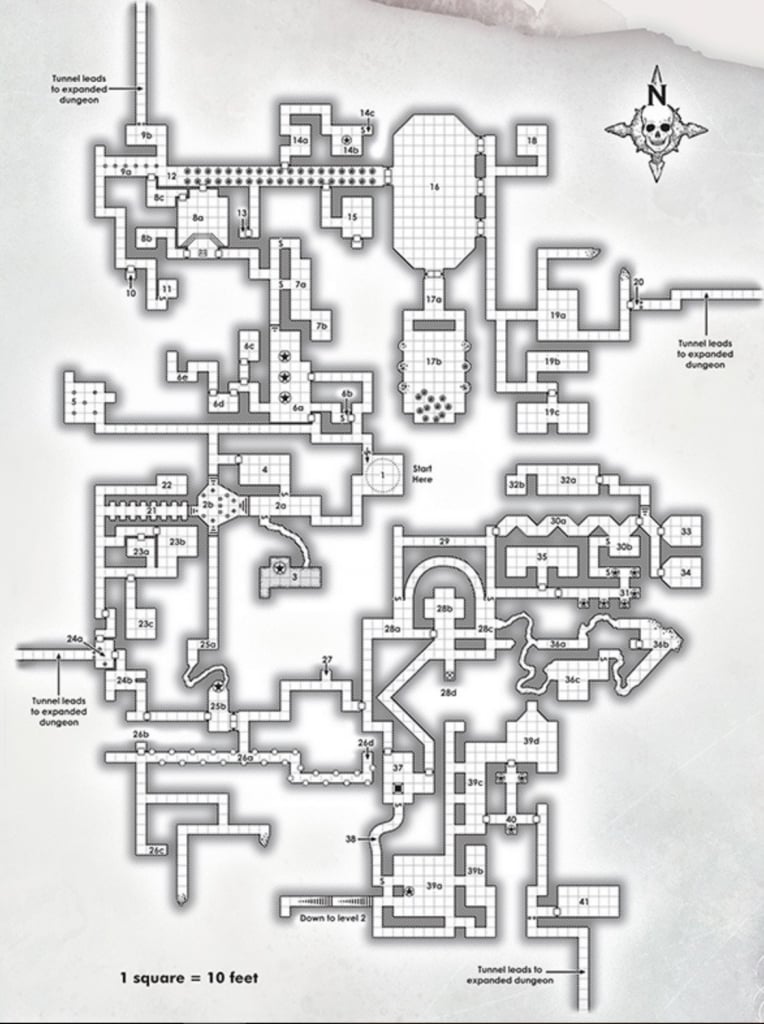 And that's just one level. Heck, that's just the first level. There's more than 40 different rooms and that's before you get into the weird side areas that are unkeyed. This map has so much going for it. You can see long corridors, big rooms for fighting (remember this is a 1 square = 10 feet scale, so there are some sizable chambers in here), secret tunnels…
…and so much more. There's just a lot happening–you can see the area in room 1 where the Yawning Portal feeds in, and ol' Durnan keeps watch to make sure nothing nasty comes crawling up out of the depths. But what really excite me, as a DM, are the sections that say "tunnel leads to expanded dungeon." That seems like carte blanche to layer in your own areas. If you are really digging the story of one of the levels, here's not only permission, but encouragement to get out there and add your own spin to what's already happening.
But we've got more than just what the first level looks like for you today. Also courtesy of Roll20, we have a look at what monsters you'll find inhabiting this first level. There are some unique characters, to be certain.
That Shield Guardian, for instance, had its master slain in the levels beneath. Now it has become convinced that it is a wizard, and will shout out spell names as it approaches the party. You can also find more criminals and the like roaming the level, as well as a monstrous ecosystem that seems well-wrought enough to be on the rest of the levels.
What's that you say? You'd like to know what the rest of the levels are called? Well! Say no more friends, here you go.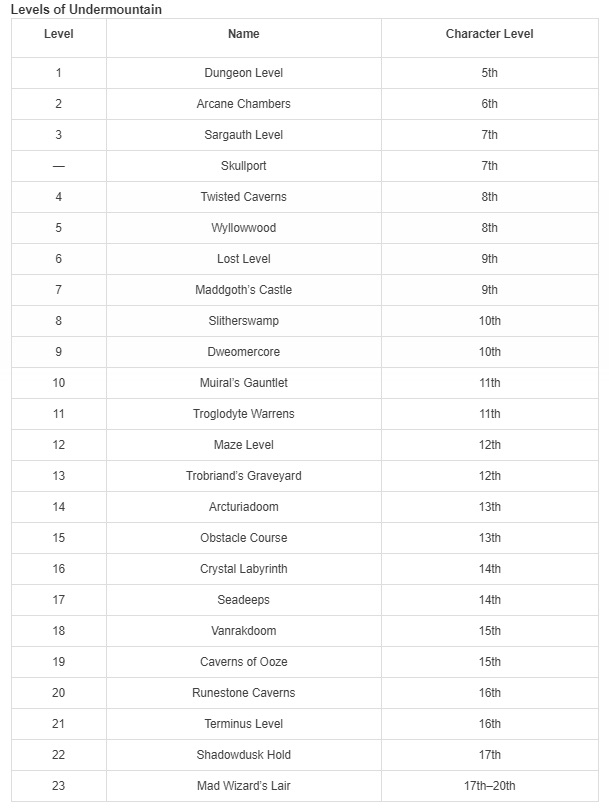 And that's all we've got for now. But Halaster Blackcloak will, I'm sure, have more to say about all this.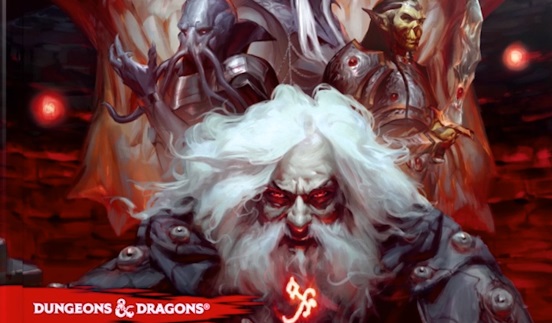 We'll have to wait and see what the rest of the dungeon looks like. But in the meantime, Halaster Blackcloak awaits. Will you venture into the Dungeon of the Mad Mage?
Happy Adventuring!