No more being attacked by every sea monster from Aboleths to Zaratans any time you set foot on a boat–with these naval combat rules, you can fight enemy ships and monsters by air or by sea…
Vehicle combat is a tricky affair. Too streamlined and vehicles function basically like characters and what even is the point; too complex and you may as well go play a vehicle combat game. It's the old Mechwarrior/Battletech conundrum. Sure you could have some roleplaying adventures in the Battletech universe, but when it comes down to fighting, you may as well just go play Battletech. The latest Unearthed Arcana threads that needle, letting players can take command of ships and fight battles in the seas–and skies–throughout the multiverse.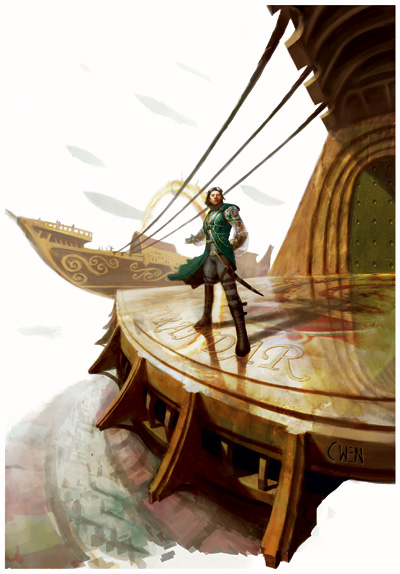 That's right, we've got airship rules in this batch as well. Very exciting! These rules have enough complexity that they're worth using, but are streamlined enough that it won't feel too out of place being dropped into your gaming sessions. You could easily use these rules, as they are, in your very next game of D&D, and run a naval combat without too much trouble.
But for all their ease-of-use there's a lot of moving parts that invite players to get invested in the goings on of the ship. With rules for crew and components and movement all accounted for, they simulate the feel of running a ship rather than taking over the gameplay completely. It puts me in mind of a well-done minigame–different enough to be noticeable, but fun enough that you're excited the next chance you get to use them.
Let's take a look.
via Wizards of the Coast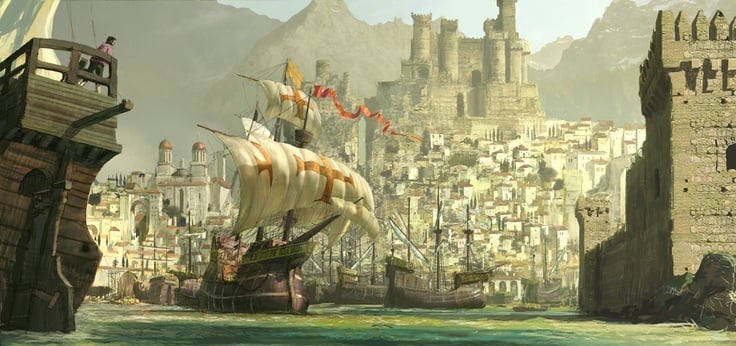 In order to understand how ship-to-ship combat works, first we have to define what a ship is–and how they work. Which is where the rules sections open up. Every ship has a stat block that you can use when you run into combat, they take up space according to their size: Large, Huge, or Gargantuan, determined by whichever dimension of a ship is the largest.
So a ship that's 30 feet long by 10 feet wide, for instance, would use the size category with a 30′ dimension, making it Gargantuan. By and large the category of the ship isn't important–it only really seems to matter when you crash/ram into someone–but the space it takes up is everything.
Each ship stat block has a few basic characteristics to tell you what kind of ship it is. Size, which we've talked about above, along with Space, which you'll use to figure out where exactly you are, Capacity, which tells you how much you can carry, whether creatures (crew included) or cargo, Travel Pace, which sets how far you can move per hour and per day (for movement round by round you'll want components), and–because this is D&D–Ability Scores, which are interpreted a little differently.

Strength is the ship's size and weight, Constitution is its durability and quality, and Dexterity is how easy it is to handle it. Worth noting, Ships usually have Intelligence, Wisdom, and Charisma scores of 0 (which means they auto-fail certain checks/saves). But this doesn't matter for many things because most ships are immune to a wide swath of damage types, and many more have a Damage Threshold, which is a minimum damage amount that must be dealt before a ship can actually take any damage. I like this rule, it's a neat way to represent the fact that you probably can't hack a Galley in twain with your short sword.
Ships also have Components which are 4 different categories of parts that make up each ship:
Hull – How the ship is built
Control – How the ship is steered
Movement – How the ship moves
Weapon – How the ship deals damage
And round that out with the usual things like Armor Class and Hit Points and you've got yourself a ship. Here are two stat blocks for your edification.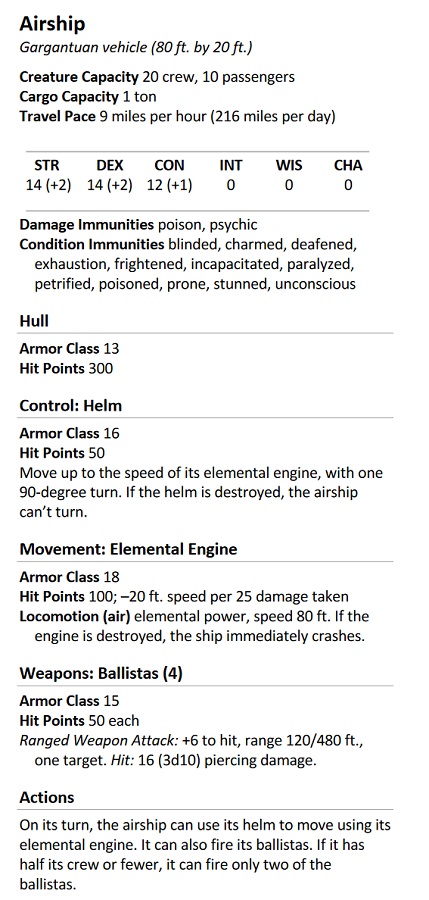 The Airship, and then of course we've got a slightly more complicated one, the Warship as well.
These are both prime examples of the variety you can get out of these rules. But there's more complexity than that. Each of the ships has rules for special crew members–you can have up to six different specialized rules that represent different aspects of the ship. The Captain issues orders to everyone, the First Mate keeps morale up, the Boatswain helps repair and maintain the ship, the Quartermaster plots the ship's course, while the Surgeon does exactly what you think, and the Cook makes all the food.
These officers help determine a ship's crew rating ,which is a modifier that ranges from -10 to +10, with newly minted ships generally working at around +4. The quality of your crew rises and falls depending on how you're doing, but if it falls below 0, watch out they might mutiny. There are a few specialized actions you can take with your ships, but we'll save those for when we cover the combat itself. We've got a sample one planned for you–so stay tuned for more D&D naval extravaganzas.
If you want to get the jump on the rules, you can find them right below.
Happy Adventuring!