KeyForge: Call of the Archons is Fantasy Flight Game's new Unique Deck Game and it's been flying off the shelves. It's now available and it's time to see what all the buzz is about.
At GenCon this year, FFG introduced the world to a new type of game designed by Richard Garfield. KeyForge: Call of the Archons is a Unique Deck Game where players take the role of an Archon who is attempting to forge keys (hence the name) using Amber. The first player to complete 3 keys wins the match. It's got some fun mechanics but it's got a fantastic gimmick with the deck-building in that there is no deck-building! Each deck pack is unique and different; they are constructed using an algorithm and they are sold as stand alone decks.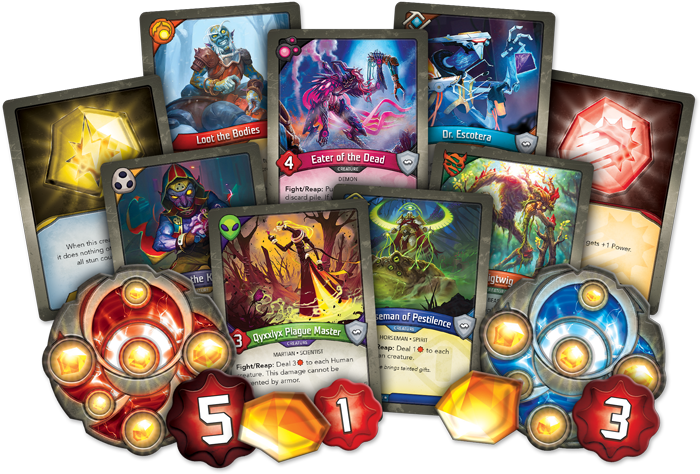 Here's the deal – if you've ever played a CCG and got burned by that "one deck" that just had better cards because the person net-decked or just got all the rares, this game is for you. The Meta-listing, the secondary market, the trade economy – all that "Extra" stuff that comes along with a CCG – isn't a part of this game because of the way the decks are compiled. This game is all about getting a deck, learning how to maximize it, and playing it to it's full potential.
We've been covering this game since we saw it a GenCon and it's kind of a big change to the industry. It's got folks curious and for good reason! Not only has nothing like this ever been done before, the game itself is actually really fun and easy to learn. If you enjoy games like Smash-Up or Magic: The Gathering then you should check this one out.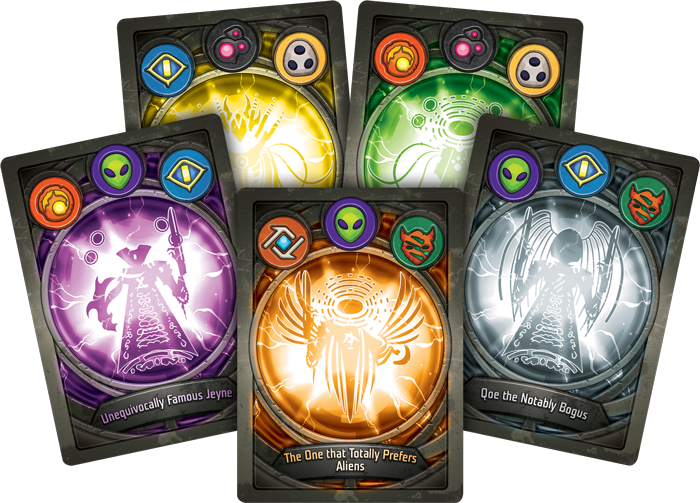 The best part about all this is that a deck will only cost you $10. That's chump change for a CCG. For less than the cost of a entry for a Magic Draft, you can get a fully playable deck for KeyForge. I know you've problem blown $10 on worse games/things, so why not give this game a shot and see what you think for yourself. But if you are going to get this game, you better move quick because it's selling out FAST – it's already gone from FFG's site so your only chance is visiting your FLGS and getting either the starter or a deck pack while supplies last. Will there be reprints later? Probably – but who knows how long that will take.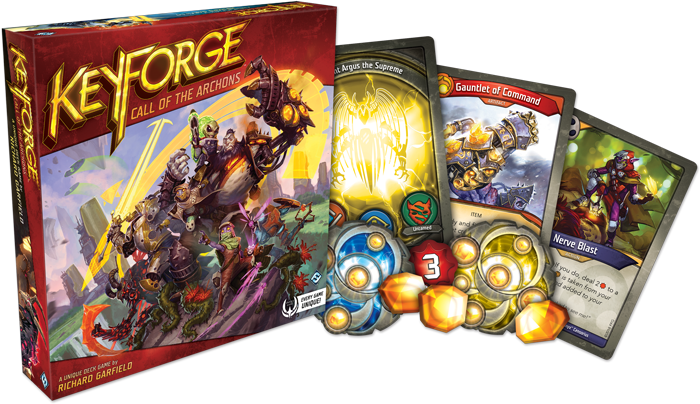 Enter a world where anything is possible in KeyForge! Here in the world's first Unique Deck Game, two players become Archons racing to forge keys that unlock the hidden vaults of the Crucible, an artificial world built from pieces of countless planets. With an incredible array of creatures, artifacts, and abilities, no two decks are alike, and no two battles will ever be the same!

The Keyforge: Call of the Archons starter set is the perfect place to begin your adventures on the Crucible. As you race to gather Æmber and unlock the Crucible's hidden vaults, you need all the help you can get, and in this set you will find all the implements you need to begin your journey. Providing you with two training decks: Miss "Onyx" Censorius and Radiant Argus the Supreme, as well as two unique Archon Decks and a collection of keys, tokens, chain trackers, and status cards, this set provides you with everything that you and your chosen opponent need to start playing!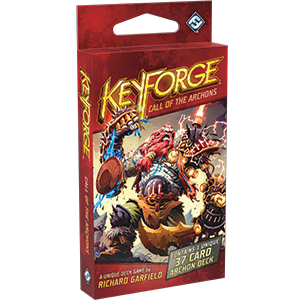 Playing with the KeyForge: Call of The Archons starter set is only the beginning of your adventures. You can expand your arsenal with Call of the Archons Archon Decks, each of which offers a full play experience without the need of deckbuilding or boosters. Each Archon Deck is completely one-of-a-kind and cannot be altered ensuring that you'll use every faction in your deck to achieve victory. Every Call of the Archons Archon Deck features a distinct name and Archon, and is filled with a singular mix of cards, tactics, and strategic potential. In each pack, you will find an opportunity- the chance to become the best in the world at playing your decks. Will your teams have the strength, skills, and cunning to win the day?
Are you the KeyMaster? Wait a minute…that's crossing the streams!!!