The latest Star Wars Legion expansion introduces Jyn Erso, so I guess you could say it's a rogue one. Also, Rebel Pathfinders are available.
Star Wars Legion continues to grow, casting a much wider net as it does. We're starting to see a bigger mix of units from the movies come into it–which is the dream of the game, right? Being able to play out Wars of the Star variety with all the cool units introduced in the movies. After all, there's such a variety of Stormtroopers out there including Sandtroopers AND Beachtroopers, so your sand needs are covered (even if you hate it because it gets everywhere), it'd be a shame not to field them all at once.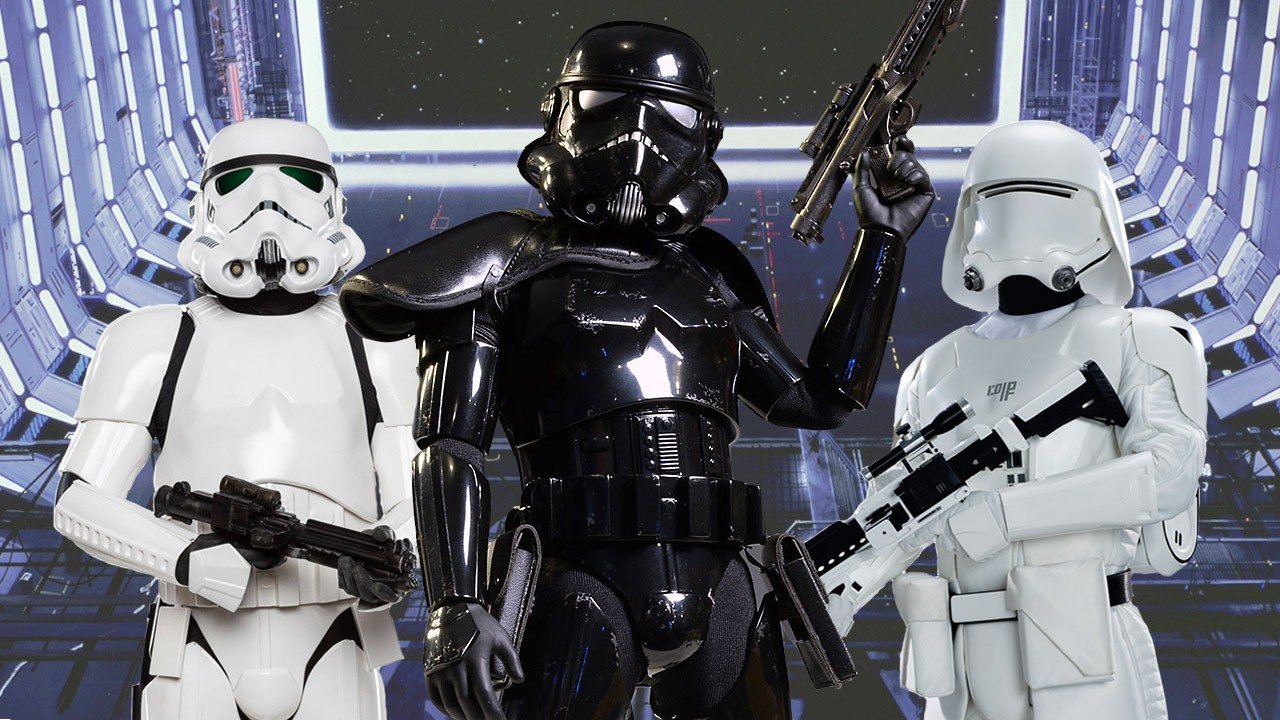 Same goes for the Rebellion. There's a swath of troops available to them, and it's exciting to see them come into play. And the latest two expansions definitely play into the feeling of the scrappy guerilla army side of the Rebellion. There's Jyn Erso, a quick-striking commander who's a powerful combatant in her own right, and the Rebel Pathfinders, a unit of scout commandos who will take out unprepared targets.
via Fantasy Flight Games
First up, here's a look at the Jyn Erso commander expansion. With a collapsible tonfa and blaster pistol, Erso excels up close–she's a hit and run character, as noted by abilities like Rebellious.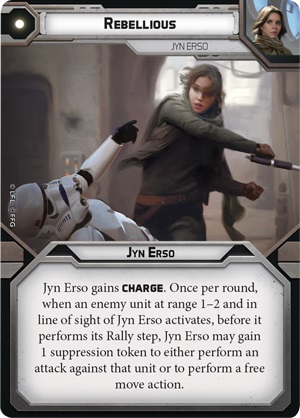 This lets her get off a surprise attack, or try and move out of range or line of sight, or at least to cover. It can be hard to pin her down.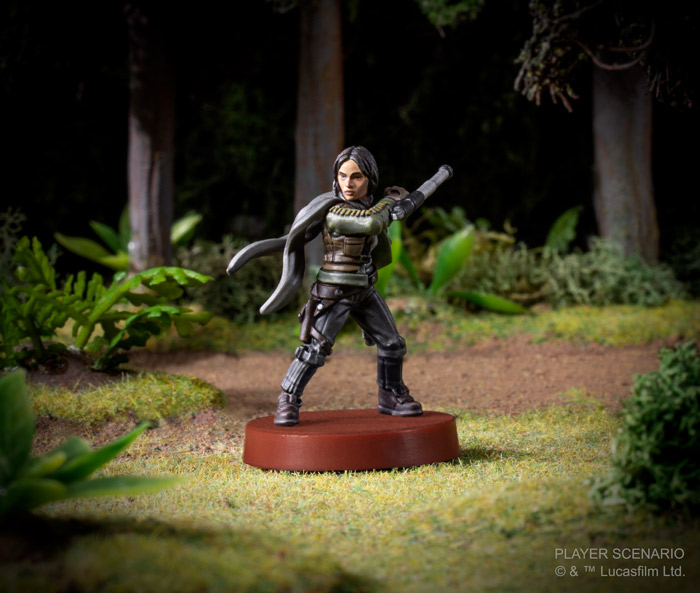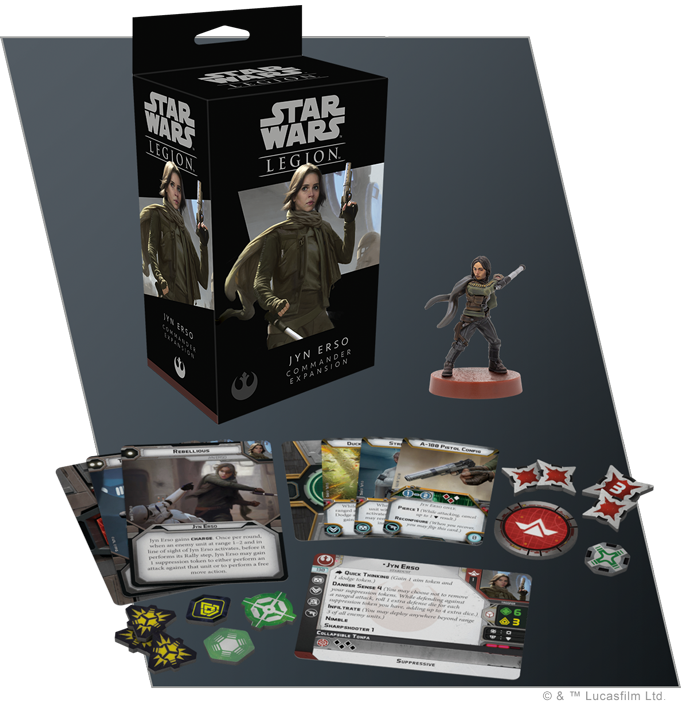 The shadow of the Death Star looms across the galaxy, threatening any planet that doesn't fall in line with the Empire. Only those brave—and perhaps foolish—enough to stand against the Empire can hope to save the galaxy from this technological terror. Raised by the extremist Saw Gerrera and on her own from a young age, Jyn Erso embodies both of these qualities. Reckless and aggressive, Erso is nonetheless a brave leader who can contribute to your Star Wars: Legion  battle plans in many ways.

Within the Jyn Erso Commander Expansion, you'll find one finely sculpted, easily assembled Jyn Erso miniature to lead your Rebel army into battle, complete with three new command cards. Along with Jyn Erso, you'll find the associated unit card and four upgrade cards for you to enhance Jyn Erso and your other units.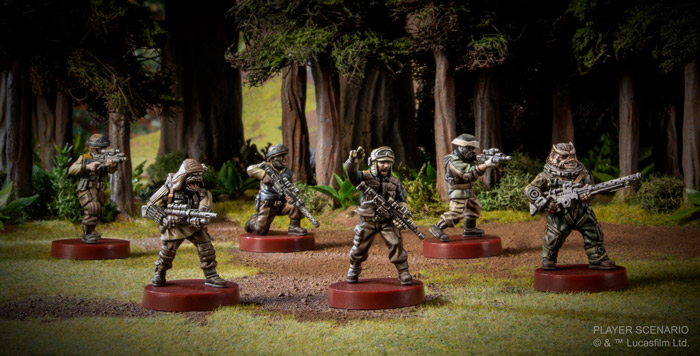 The Rebel Pathfinders continue the theme of guerilla tactics. They have the ability to deploy outside of normal deployment zones, popping in anywhere outside of Range 3 of an enemy unit. So they can set up behind enemy lines and provide some much needed support–up close or far away, depending on how they've configured their blaster rifles.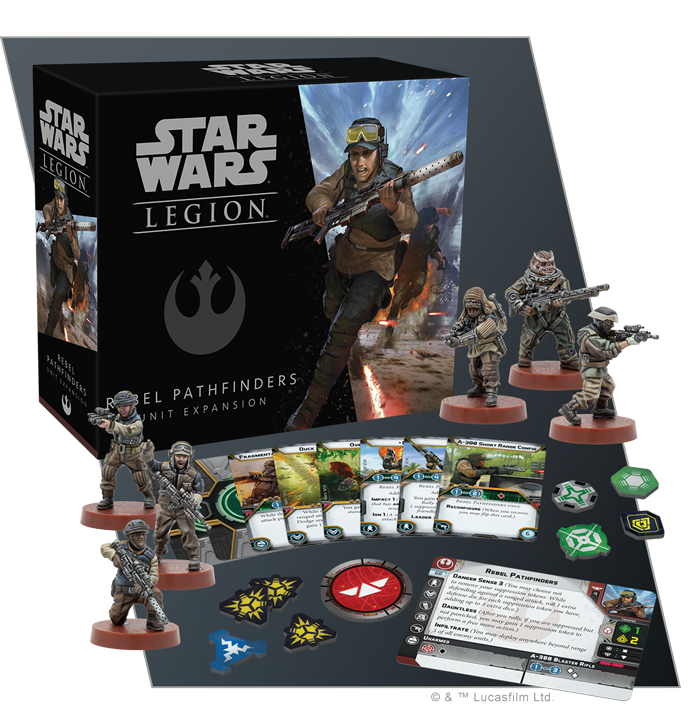 Spies, saboteurs, and assassins, the Rebel Pathfinders are the most elite—and the most deadly—of the Alliance's soldiers. These grizzled combat veterans need unwavering dedication to their cause in order to endure the horrors of their operations and missions.

With the Rebel Pathfinders Unit Expansion, you can sneak behind enemy lines and hit the Empire where it's most vulnerable. This expansion features six finely sculpted Rebel Pathfinder miniatures, enough for one special forces unit. You'll also find a  unit card and an assortment of upgrade cards, inviting you to outfit your Rebel Pathfinders for any operation.
Both of these expansions are up for Pre-Order now and should be hitting battlefields across the galaxy soon.
If we're seeing Jyn Erso–here's hoping we get a Chirrut and Baze expansion before too long…