Goatboy here again and I have been working on an Ork army.  I think I can kick some serious butt with my two favorite Klans.
Just messing with points, options, and trying to figure it out before Chaos consumes me as I try to figure out a ton of Daemon Princes in a CSM List.  But enough of Chaos and the secret whispering I hear every time I stare at my shelf full of Daemonic Monstrosities.  Let's talk about Orks.  Currently I am looking at a 2 Battalion list using Evil Suns as the main army for getting the job done and having a friendly Battalion of Bad Moons and the feared Loota Star.
First let's go into the hobby side of this as I want to make sure my army is easy to figure out.  Towards the end of my Ork army playing I updated one set of Orks with Red skin to make it easy to tell the units apart.  The other Orks were done with an Albino skin tone.  I want to continue this with my Evil Suns being the Red Orks and my Bad  Moons being the Albinos.  The thought was the Evil Suns were always on the top level of their planet and the Bad Moons lived underground – thus the Albino skin.  It will let the army look pretty unique and be easier to play.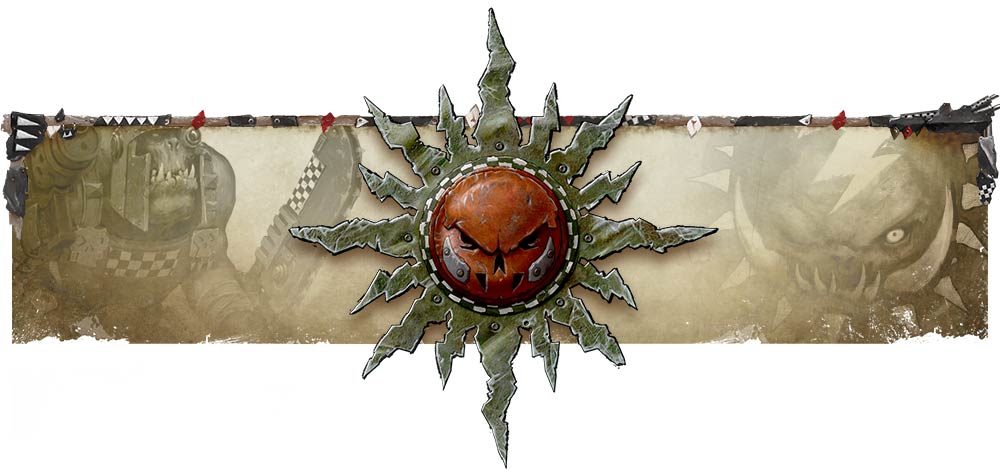 Let's start with the Evil Suns.  I played them a bunch before so it wasn't much of a stretch for me to continue in this vein.  This is where I put all my Boyz units.  I went with Shoota boyz right now as I have 120 painted.  I don't know if it is better to do shootas – but basically having 2 shots each seems like a pretty good thing – especially when you are moving, advancing, and shooting without penalties.  From there it is the normal HQ choices of the Warboss on a bike with powerklaw seeker missile and the Wartrike Deffkilla as an activator for the Nob Bikers if I don't want to teleport them in.
Evil Suns Battalion – 5CP
HQ: Warboss, Bike, Attack Squig, Powerklaw – Relic – Da Killa Klaw – 94pts
HQ: Deffkilla Wartrike – Warlord – Speed Freek – 120pts
Troops: Shoota Boyz X 29, Nob, Shoota/Big Choppa, Tank Busta Bomb X 1 – 215pts
Troops: Shoota Boyz X 29, Nob, Shoota/Big Choppa, Tank Busta Bomb X 1 – 215pts
Troops: Shoota Boyz X 29, Nob, Shoota/Big Choppa, Tank Busta Bomb X 1 – 215pts
Elites: Nob Bikerz X 9, Big Choppa/Kustom Shoota X 9 – 394pts
Bad Moons Battalion – 5CP
HQ: Big Mek on Bike, Big Choppa, KFF – 106pts
HQ: Weirdboy – Warp Head (-1CP) – 62pts
Troops: Gretchin X 10 – 30pts
Troops: Gretchin X 10 – 30pts
Troops: Gretchin X 10 – 30pts
Troops: Gretchin X 10 – 30pts
Troops: Gretchin X 10 – 30pts
Heavy: Lootas X 15 – 255pts
Heavy: Lootas X 10 – 170pts
Total Pts – 1996 – CP – 12 – Power Level – 99 (weird that its so low)

Orky Tak-tiks
Basically this is a board control list with the body, a decent shooting star, and a really rough counter assault or teleport unit in the Nob Bikers.  The Unit sits as 19 power level for the 9 and will come down with the ability to throw out 6 str 5 shots and 4 Str 4 shots for a total of 90 shots.  This seems pretty good at clearing bubble wraps, throwing out some wounds on units, and just being a pain in the butt.  The unit has a 8 inch charge because they are Evil Suns so there is a good chance they get mixed in and start Krumpin.  Throw in an extra attack from the Weird boy and you got a really mean unit.  I am unsure on so many Grots – I just had some weird points left.  It might be worth it to just go down to 30 and either get another Weird Boy or a Nob with Waagh banner.  He can run up and try to get in range of the Nob Bikers to let them hit on 2's.
Hopefully I get a chance to play with this as I have most of it painted.  I just have to find all my weird old Grots that I had at some point.  I thought I let someone borrow them and he gave them back – but who the heck knows.  I have had so many Ork armies given to me and I have given back out that it gets a little hard to remember where all the fungus boyz are at.
Hopefully everyone had an excellent Thanksgiving – WAAAGH!