Goatboy here again and I's digging into Codex Orks. Can the Orks build their own version of an Imperial Knight list? YES THEY CAN!
Goatboy here again and finally I can write about the new Ork Codex.  We got a copy for review at the Bols HQ and it is a doozy of a codex.  There are a plethora of build types and it is an exciting book too.  In fact there are so many different decent builds that can come out of this book that I will have a few weeks of different Ork army lists.  Heck so many of the Kulturs just beg to have a list built around them.  I expect the "best" armies to be 3 different Ork Kultur detachments as there are a few units that are especially golden with a specific Kultur behind them.
Today's Kultur I want to explore is something I am really considering building.  It of course is my version of the Ork "Knight" army using Gorkanauts and Morkanauts.  I would look at a Stompa but to gain the Kultur benefit you need to shove him into a  Supreme command.  It is tempting but that type of army needs a lot more planning and can't really run the Naut's as I would like too.  Still it is something to think about if a Stompa will actually see play (I think the Freebootaz one might be the better one – all that shooting and getting a chance to have +1 to hit with a double shooting gatling gun – hoo boy).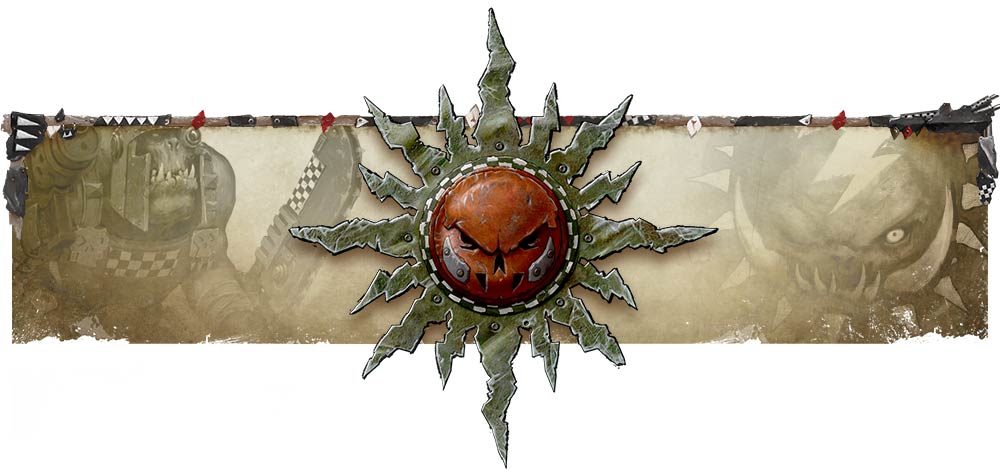 Da Evil Sunz
The Evil Suns Kultur for those wondering grants a +1 to move, Advance and Charge.  This goes out to everyone and if you are Speedfreak it goes to a +2.  You also get to shoot your Assault weapons without Penalty which isn't too bad.  The Gork's and Mork's won't get to shoot their big guns – but the idea here is to get close, get krumpin, and hopefully smash a ton of things with some Pregnant looking Ork Robots. Enough nonsense – lets build us a big Krumpin Robot list.
Ork Spearhead Detachment – Evil Suns
HQ: Deffkilla Wartrike – 120pts
Elite: Nob with Waagh Banner – Relic – Rezmekka's Redder Armor – 77pts
Elite: Nob with Waagh Banner – 77pts
Heavy: Gorkanaut – 311pts
Heavy: Gorkanaut – 311pts
Heavy: Morkanaut, Kustom Force Field – 310pts
Heavy: Morkanaut, Kustom Force Field – 310pts
Ork OutriderDetachment – Evil Suns
HQ: Deffkilla Wartrike – 120pts
Elite: Warbikers X 5, Power Klaw – 118pts
Elite: Warbikers X 5, Power Klaw – 118pts
Elite: Warbikers X 5, Power Klaw – 118pts
Points – 1990 – CP – 5

Stompy Red Deff
I love big dumb small armies due to the nature of not needing to move a ton of models.  Mix this in having the ability to get across the field like a blazing ball of doom and you got something nice and goat like.  I wanted to add a lot of bikerz as it doesn't feel Evil Suns without some bikers to throw down as needed.  The 2 Deffkilla's will do a lot of damage as needed plus the Gork's will spit out some Waagh Banner nobz, get mixed into combat, and throw out a ton of damage as needed.  The Morkanauts will move slower behind and provide bubbles of protection as needed.  The one Nob with Waagh Banner can jump around and let his Vehicle travel a bit faster as needed as well.  This could be handy to get a Gork somewhere that is a pain in the butt.
This is Ork army #1 – it is pretty simple and direct but there is something about playing a bunch of waddling robots of doom that is exciting.  I think you could do with less involvement with the robots, get some better passengers inside of it, and probably make something pretty fast and mean.  I really think a ton of shoota boyz from Freebootaz will be a sure fire thing as well as Deff Skull Traktor beam Mek Guns.  I'll write up that list at some other point where we don't look for an overall theme to the army list – other then making people sad they played versus some Orks.
So who would win – this list, or an all Knight Army?