The skirmish game from Mantic has been a big success, so much so that it is about to go into its second printing. With its popularity, they want to offer more to the players by expanding a bunch of units in the core book – for free.

Vanguard launched with four complete warbands – Abyssals, Basileans, Nightstalkers and Northern Alliance – that each have a starter set and booster with unit cards. Beyond these, the core rulebook included more warbands with eight unit entries each to get players started. These are now being expanded with more options!
Across all these factions (alongside the Abyssals, Basileans, Nightstalkers and Northern Alliance) there are actually 121 unit entries in the rulebook that all had to be tested and balanced ahead of release – which is no mean feat. Of course, we've got plans to increase the number of unit entries for all the factions in the rulebook and eventually we'll have extra units for everyone. In early 2019 we'll be kicking off with dwarfs, before moving to the goblins and undead. Along the way, we might also dabble with Trident Realm and Forces of Nature too.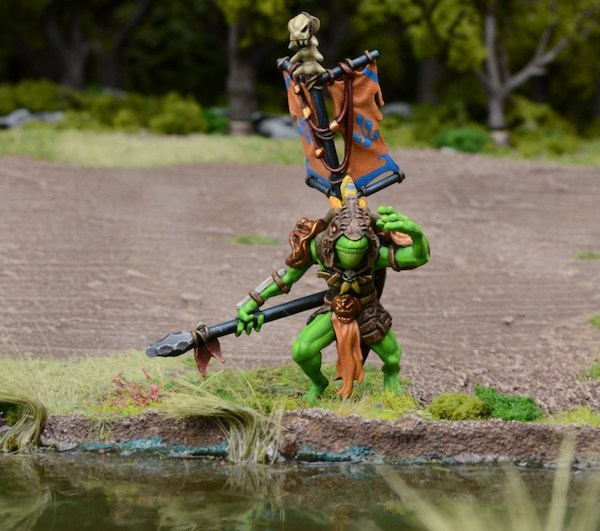 However, we don't want you to be waiting around until then to get some sweet new Vanguard action, so today we're adding new unit options to the following factions:
Dwarfs – Battle Driller
Elves – Silverbreeze Gladewarden and Sea Guard
Forces of Nature – Gladewalker Druid and Fire Elemental
Ogres – Ogre Sergeant and Hunter
The Trident Realm – Giga and Riverguard Sentinel
Abyssal Dwarfs – Iron-caster and Immortal Guard
Empire of Dust – Mummy and High Priest
Orcs – Skulk and Krusher
Undead – Skeleton Archer and Vampire Bat Swarm
Don't worry Uncharted Empires fans! The likes of Ratkin, Salamanders and Brotherhood, etc. (plus Kingdoms of Men) are going to be released as a downloadable PDF this December. They're currently in final playtesting and we'll let everyone know when they're available. They'll also be uploaded to EasyArmy once they're live too, which should help with army building.
Gobbos aren't due out till next year, but the folks at Mantic were nice enough to give us a sneak peek of what they have in store. What do you think?