This week, Privateer Press releases a brand new–and literal–Battle Engine for the Crucible Guard. It's also a Warcaster? All this and a new sculpt for everyone's favorite Llaelese Light Warjack. Check them out inside.
via Privateer Press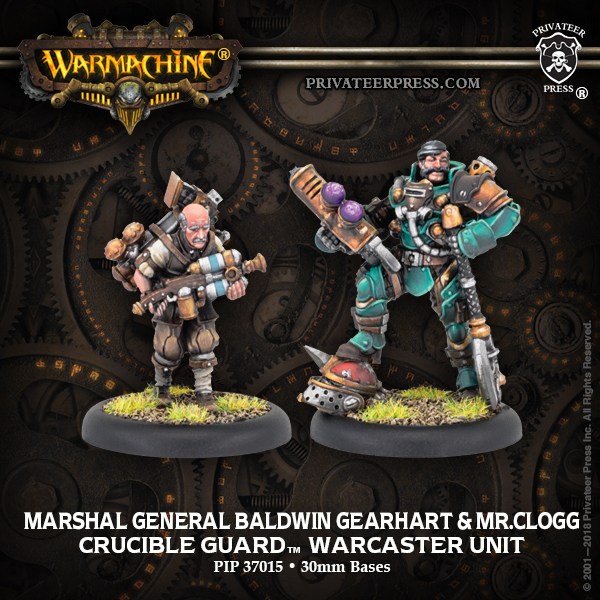 A Cygnaran-born mercenary warcaster, Marshal General Baldwin Gearhart has made a career of fighting and has enjoyed every moment along the way. He is never happier than when facing long odds and overwhelming numbers, much to the chagrin of his manservant Mr. Clogg. Gearhart has dragged his assistant across the Iron Kingdoms and into the wild yonder beyond the civilized world on countless hunting expeditions, and now he delights in knocking Khadorans around the battlefield in occupied Llael. Whatever enemies the Crucible Guard faces in the years ahead, the marshal general stands ready to deploy his unusual arsenal against them.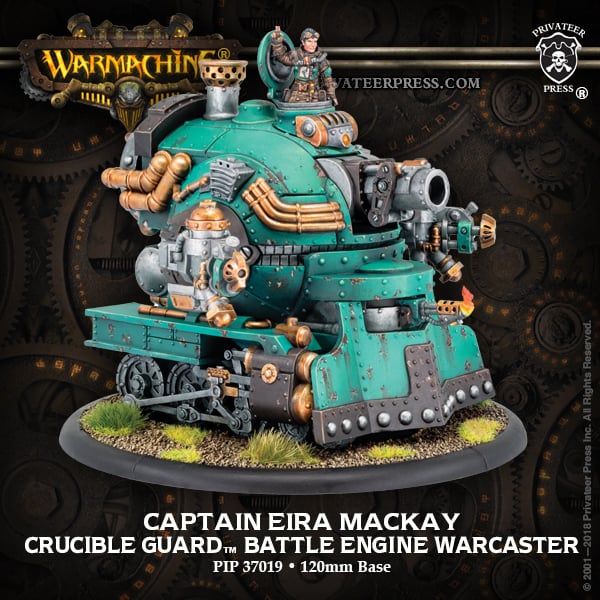 Seeing a need for those with her warcaster abilities, Eira Mackay joined the Crucible Guard as soon as she was able, eager to assist in the war effort against those she saw as cruel oppressors. Life on the front lines was too dangerous for her father to bear, so he turned his talents into creating a bulwark to shield his daughter from harm: the Railless Interceptor, a unique weapons platform akin to the war wagons and gun carriages of the past, cross-bred with a locomotive and blended with alchemical and technical innovations. Traditional Crucible Guard commanders view the weapon as a novelty, but Captain Mackay works to prove their assumptions wrong, and she seems born for the task.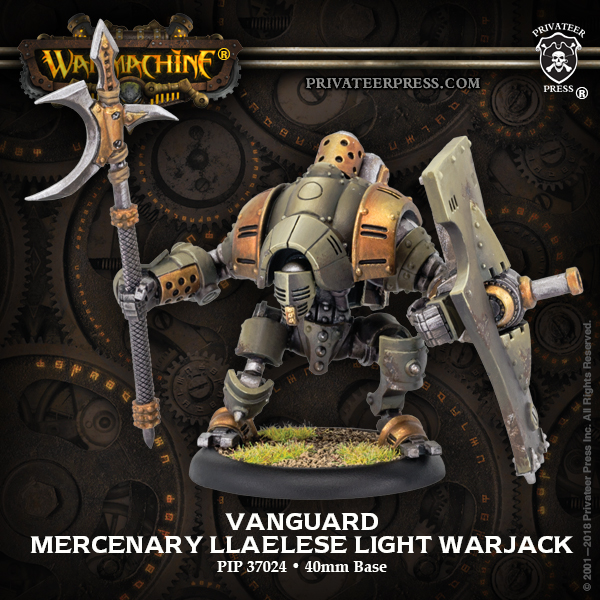 Originally designed and crafted from the finest materials and the skilled hands of the Golden Crucible, only a small number of Vanguards were ever produced. Able to keep pace with the fleetest of warcasters, and to set their cannon-laden shield and long hafted poleaxe against their foes, the Vanguard is a highly prized masterpiece on the battlefield.

NOTE: PIP 37024 (Vanguard Mercenary Light Warjack) represents the same figure in the game as PIP 41020. The model in PIP 37024 is a new sculpt and therefore looks different from the model in PIP 41020. The replaced PIP will no longer be available from Privateer Press beginning in November 2018.