Welcome to paradise gamers. GW has given us everything a gamer glutton could want – but we only have two hands, one paintbrush at a time, and 24 hours a day.
Let me tell you a story.  Remember back when GW would only put out about 6 codexes a year – counting BOTH 40K and WArhammer Fantasy? I do.  It used to take the full 5-6 year edition cycle back in the day for GW to go through the full Codex/Armybook editions for both games.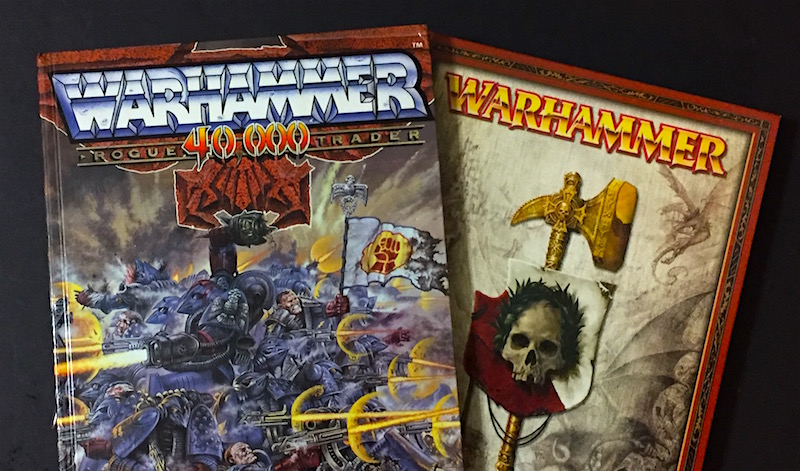 The best part you ask?  That was only about 5 years ago.
How times have changed.
Welcome to Warp Speed Gaming
Fast forward to 2018 and we have New GW's rapidfire weekly release cycle that is kicking out approximately a dozen SKUs a week. That back of the envelope calculation come out to 624 products a year, not counting Black Library or Forgeworld.  It's amazing and it's nuts.
I remember decades of lovingly collecting every system from GW and my other favorite game companies – but that is just impossible these days.  I have to choose.  But what's a gamer to do?
Don't believe me? Let's just do a rundown of what GW has to offer:

The Main Lines
The big guys – with massive ranges that hold up GW.
Warhammer 40,000
Age of Sigmar
Horus Heresy (Forge World)
Lord of the Rings (SBG)

The Medium Fish
Solid GW game systems with tons of products and minis. Just not as big as the main lines.
Necromunda
Kill Team
Adeptus Titanicus
Warhammer Underworlds (Shadespire & Nightvault)
Blood Bowl

Standalone Games
The splash release games that come and go over the years – some with minor expansions.
Speed Freeks
Space Hulk
Blackstone Fortress
Silver Tower
Shadows Over Hammerhall
Deathwatch Overkill
Lost Patrol
Warhammer Adventures
Blitzbowl
Execution Force
Gangs of Commorragh
Betrayal at Calth
Burning of Prospero

Get the Picture?
That's Just from GW… Now add in the 3rd party stuff like:
Warhammer Fantasy Roleplay
Wrath & Glory
Age of Sigmar Champions
Heroes of Black Reach
etc…
And you can see what's going on.  In 2018 pretty much no single gamer can follow all of these lines. GW and Asmodee have both become giant companies cranking out not only large numbers of products, but dozens of product lines. For me personally I'm forced to pick and choose. I play 40k, Age of Sigmar, and Adeptus Titanicus which pushes all my retro buttons. I LOVE Necromunda to death and collect models just for the old-school theme and vibe, but it's tough for me to find a longterm playgroup for its highly narrative campaign playstyle. With kids, doing the RPG thing just exceeds my bandwidth. My extensive Horus Heresy collections get drafted as 40K armies, and I will take the standalone boardgame for a spin now and then, once I can pull the models out of my 40K/AoS collections.
Still it hurts because I LOVE the universes that GW has crafted and each SKU that slips through my fingers feels like a loss.  It's the collector in me silently crying out.

What About You?
So I will open the floor to you all, the BoLS community, to see what you do.
What systems do you play?
Are you loyal to your chosen system, or do you system-jump often?
Do you stoically ignore systems you don't play, or do you sometimes dive into some cool minis just to paint them up?
Do you keep and play older GW standalone games long after they have gone out of print?
~ Tell me I'm not alone out here…