The Mining Guild has invested in a new TIE and it's coming to Scum and Villainy soon – come see what this Miner can do for your X-Wing Game!
In the next wave of Star Wars: X-Wing, Scum and Villainy is getting their hands on a rather unique looking star fighter. With it's improved visibility due to the slit in the stabilizers, the Mining Guild TIE will be able to dance among the asteroids like no other ship in the game.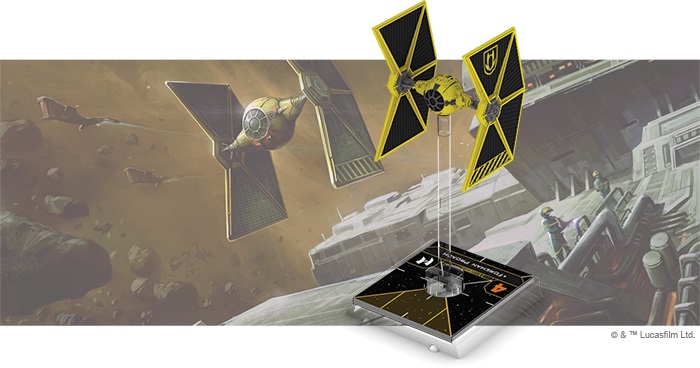 Retaining the characteristic speed and maneuverability of other TIE fighters, the Mining Guild variant has one important advantage over other models. Their trademark Notched Stabilizers help them weave in and out of asteroids with ease. As a result, every Mining Guild TIE ignores asteroids while moving, giving them an enormous amount of freedom to make strategic use of these obstacles.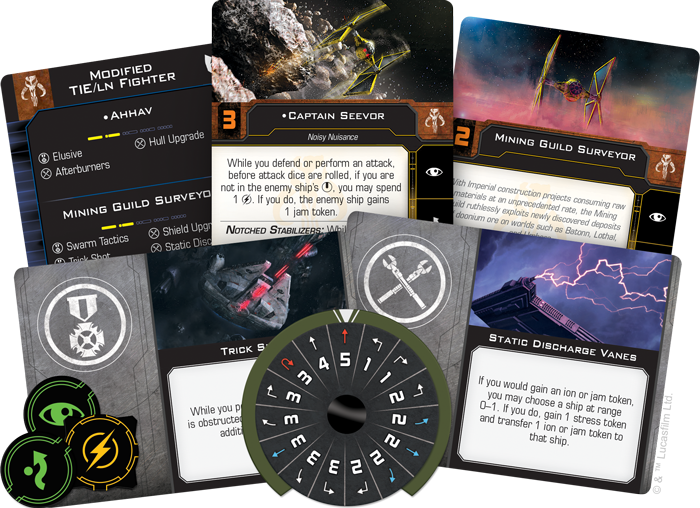 Meet the Pilots
First up, let's take a closer look at the generic pilots and a closer look at the stats of this ship: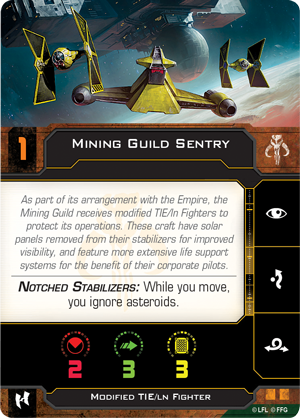 The basic fighter still looks pretty much like an Imperial TIE Fighter. It's got your standard 2 die primary, 3 evade and 3 shields. The Dial should also look pretty similar as well. Action bar wise – you guessed it – a Focus, Evade, and Barrel Roll. So what makes it different from your standard TIE? Those Notched Stabilizers:
"While you move, you ignore asteroids."
Yikes! Think of how many TIEs have been lost due to chases through asteroids. Now consider how that would have shifted if they had these Notched Stabilizers! It makes sense, they are part of the Mining guild so ducking in an out of those asteroid belts seems like something they would do. In any case, it's going to be a nice improvement especially if you're running a swarm.
The Mining Guild Surveyor is the same as above – only this one is imitative 2. Moving on…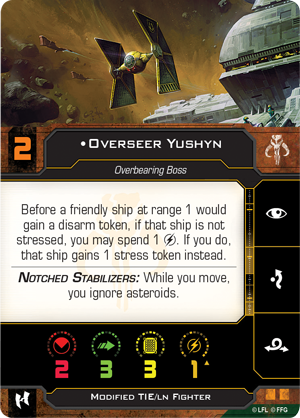 Overseer Yushyn is our first look at a unique pilot. Yushyn's ability allows you to swap out a disarm token for a stress token. This has some interesting implications for later. It's pretty handy if you want to boost your own squadron's ability to keep firing, although you'll get stressed for it. Decisions, decisions…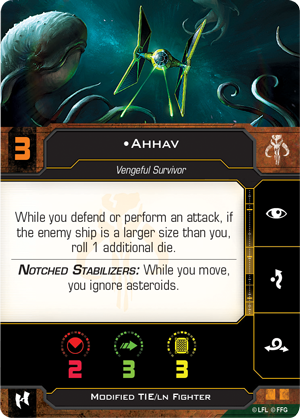 Ahhav is the next pilot up. Clocking in at initiative 3, Ahhav has a nasty trick against ships larger than him with that extra die for both offense and defense. He's a natural canidate for Trick Shot as well. Dance around the asteroids and get those 4 die attacks!
Captain Seevor's ability to cause Jams to enemies is pretty stinking mean! You can use it before the die are rolled, too – which means that jam is going to land right before the enemy needs it the most. That's pretty effective and it works on attack or defense just to top it off.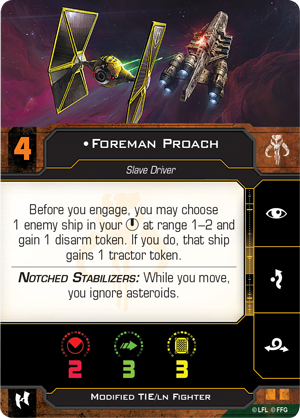 And finally we get a look at Foreman Proach. The Foreman can target a ship at range 1-2 in their bulls-eye arc and nail them with a tractor token. It costs a disarm in return but that could allow you to line up the perfect attack run next turn. If you plan things well…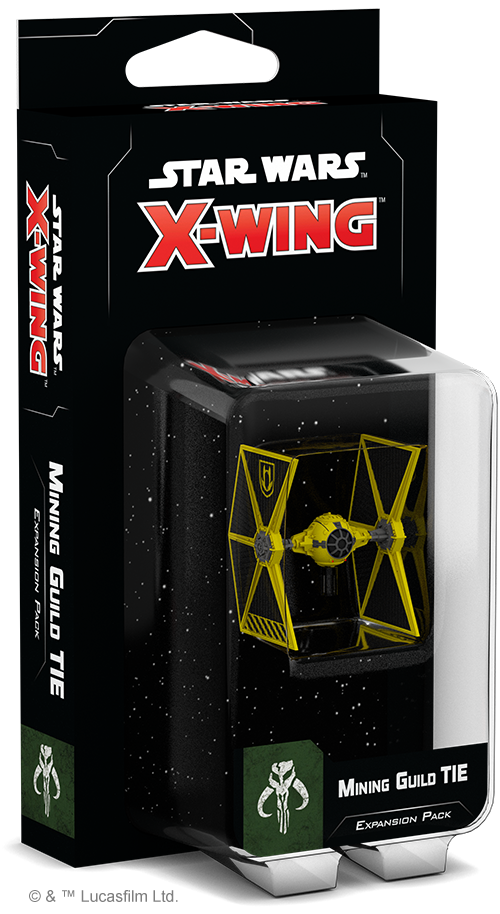 The Mining Guild's collaboration with the Empire gives it access to state-of-the-art Sienar Fleet Systems technology, including modified TIE/ln fighters. The removal of two solar panels reduces the craft's power output in exchange for a much-needed boost to peripheral vision when weaving through treacherous asteroid fields.

Within the Mining Guild TIE Expansion Pack, you'll find everything you need to supplement your own mining operations and keep the profits flowing. Six ship cards—including four unique pilots—are ready to take the controls of the beautifully detailed, fully assembled Modified TIE/ln Fighter miniature. Meanwhile, five upgrade cards invite you to further customize your Mining Guild TIE to suit the unique needs of your Scum squadron. Rounding out this expansion are a maneuver dial and all the tokens you need to experience this classic starfighter in a whole new way.
The Mining Guild TIE is due out later this year along with the next wave of X-Wing from FFG!