Let the DC's deadly merc guard your home with this 36″ tall statue that comes with all of the appropriate weapons, and some menacing head sculpts.

Slade Joseph Wilson was an accomplished soldier when he chosen for a program to create metahumans. He gained enhanced strength, ability to heal, and intelligence – and became more independent, much to the chagrin of his handlers. He struck out on his own as  a mercenary, taking the name Deathstroke. He's the bane of the Dick Greyson and the Teen Titans, and considered one of the best villains of DC.
This 1/3 scale renditionof the deadly merc stands at over 30 inches tall – making it a good centerpiece option, especially if you have one of those big fancy foyers with the table in the middle that all of us with crushing student loan debt certainly have. It comes with multiple weapon options  of both the sharp and shooty variety. The standard edition comes with two head sculpts, and you can get another with the exclusive edition that includes a half skull and half mask portrait.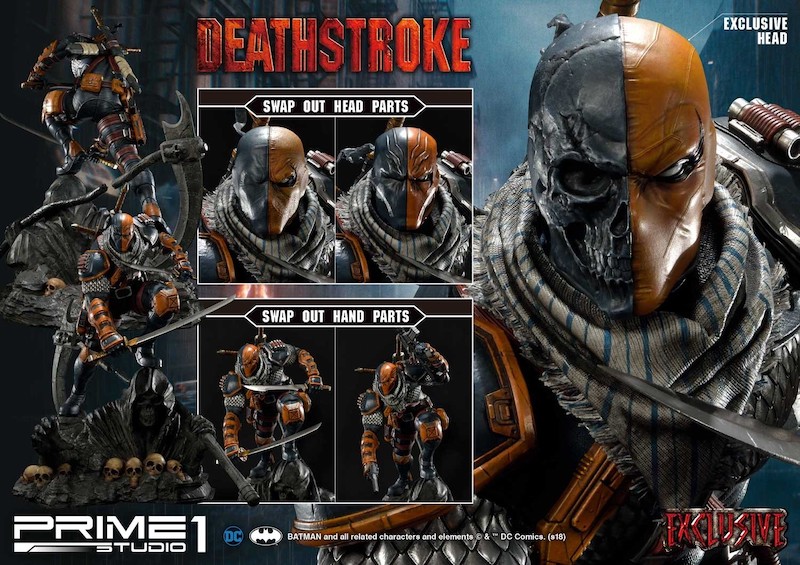 Museum Masterline Deathstroke – $1,049.00
Approximately 30 inches tall holding sword; 36 inches tall holding M4
Polystone
1 Grim Reaper Design base
1 Right-arm
2 alternate Regular Portrait
2 interchangeable Left-arms
1 interchangeable Left-hand holding M4 Rifle
1 interchangeable Left-hand holding a Sword
1 interchangeable Right-hand holding a Samurai Sword
1 interchangeable Right-hand holding Handgun