These two specialized, elite soldiers from Star Wars: The Last Jedi stand ready to take on enemies of First Order. They are movie accurate, and are sculpted with a high amount of detail from their weapons to the texture of their armor.

Gentle Giant's 1:6th scale line is known for its quality and authenticity – this is the first time they've done figures from the sequel trilogy at this scale, and they look first-rate. Each was create using scans of the original film costumes. Every armor segment, cape fold, and ridge in the Praetorian Guard's helmet are there in great detail. The Executioner Trooper's uniform is hand painted to ensure it matches the terrifying characters on the screen.
This run is limited to 500 statues, and each comes with a certificate of authenticity.  For a limited time you can pre-0rder the pair of statues for $335.00 – the bundle will save you $100.00. If you want them, make sure you order soon. They're both expected to ship in Q3 of next year.
Praetorian Guard Statue – $200.00
The Praetorian Guard were an elite squad of First Order warriors assigned to guard Supreme Leader Snoke. There eight sentinels that divided into four pairs and each pairing had a different helmet and unique weapons. These crimson armored warriors are reminiscent of the Emperor's Royal Guard, but unlike those stoic sentinels these elite fighters spring into action when their master is threatened. This particular guard is armed with a Bilari Electro-Chain Whip. An electro-plasma filament is threaded through the whip's articulated segments and houses enough power to kill and opponent. The whip, at rest, is solid like a staff and can be used like a bludgeon in combat.
Limited to 500 with Hand-Numbered Certificate of Authenticity
1:6th scale – 13″ tall
Resin
Authentic reproduction with hand painted detail
CIncludes Bilari Electro-Chain Whip
Comes with a gloss top display base
Ships Q3 of 2019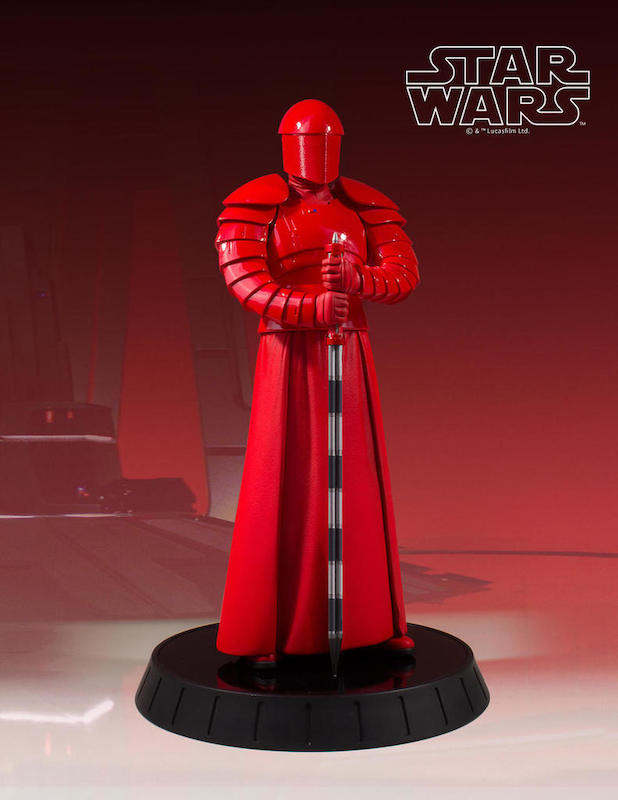 Executioner Trooper Statue – $235.00
The Executioner Troopers are a specialized unit from within the First Order. An Executioner Trooper wears a specific armor with black carbon-finish accents and the unmistakable black stripe on their helmets. The carry powerful and deadly laser axes that when activated can swiftly separate limbs from their owners. They stand ready to take commands and fulfill their duty.  If you see one coming, you know your fate is sealed.
Limited to 500 with Hand-Numbered Certificate of Authenticity
1:6th scale – 13″ tall
Resin
Authentic reproduction with hand painted detail
Includes laser axe
Comes with a gloss top display base
Ships Q3 of 2019