We're taking a look at the Crucible Guard Infantry and their Command Attachment today. Let's see what types of fun chemicals this unit brings to the table.
Crucible Guard Infantry
Take a look at their cards then let's dive in!
Base Stats
These unit has your basic 10 man shooting unit stats. SPD 6 RNG 12 is nice, giving a very respectable 18 inch threat on the guns. DEF 12 and ARM 14 means that these guys will die to most everything that can touch them. RAT 5 and POW 11 might not seem great, but don't forget these guys exist in a faction that debuff enemy models pretty easily and often. Plus CRA means this unit can combine attacks to get to the right combination of RAT and POW for the situation.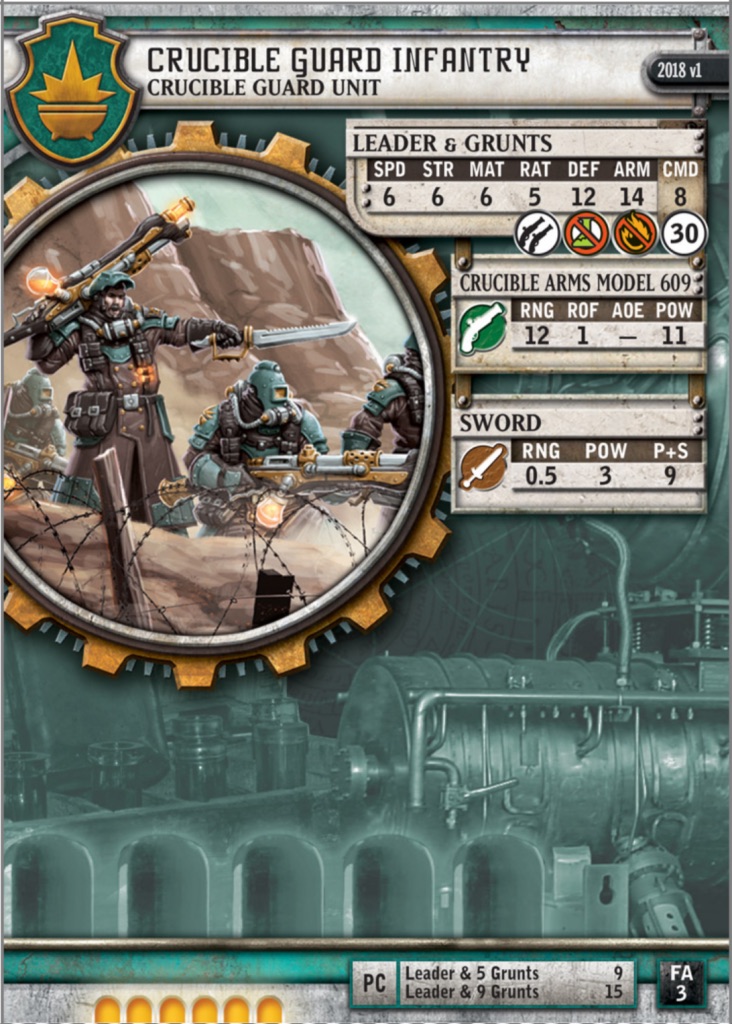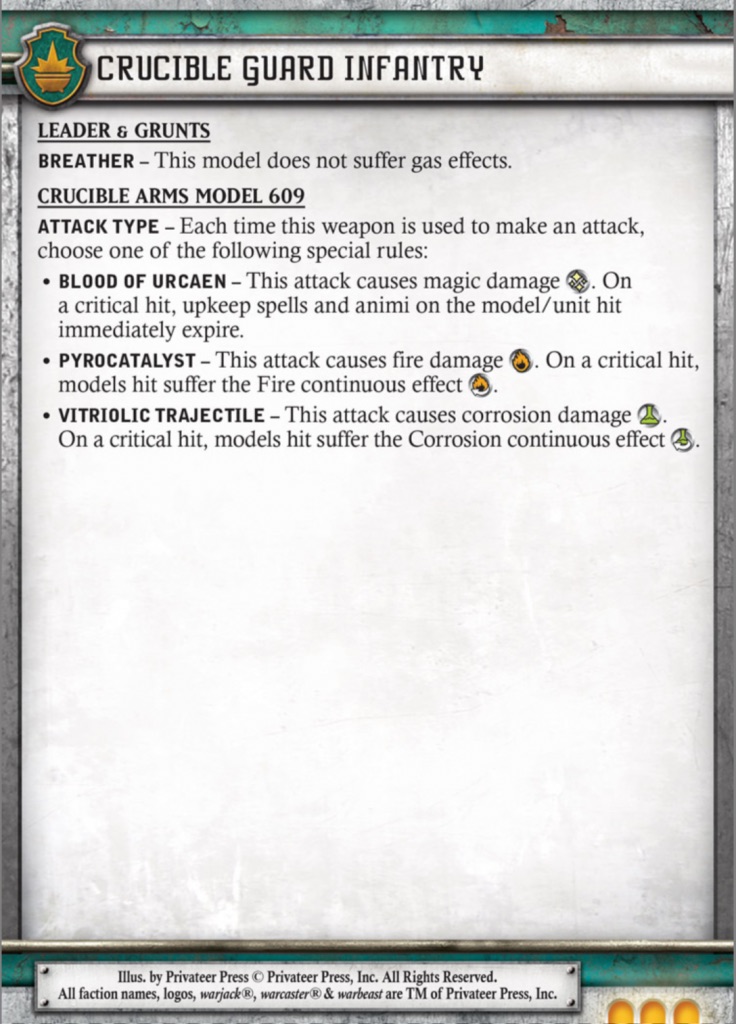 Attack Types
Options are always nice to have and the Infantry have 3 shot types to choose from. However the 'best' effect on each of these attack types happens only on crit. So unless you have a way to reliably trigger the crit, you won't be able to count on those effects.
Blood of Urcaen causes magic damage, which is always nice vs incorporeal models or Menoth jacks. On a critical hit upkeep spells and animi are removed, which is a phenomenal ability to have on a ranged attack. If there is an upkeep that you absolutely need removed, doing individual shots to see if you get a lucky crit may be worth it. This is risky though, as throwing away an entire units activation isn't typically ideal.
Protocatalyst causes fire damage and on a critical hit sets the target on fire. This shot type is best against multi-wound models. If the POW 11 doesn't kill them but you are able to get a lucky crit fire the POW 12 in the maintenance phase might be enough to finish them off.
Vitriolic Trajectile causes corrosion damage and on a critical hit the model suffers the corrosion effect. This is a great attack type against single wound trooper models or models with tough. If you fail to kill the single wound model, or they tough and only have 1 box left, the corrosion damage can finish the model off during the maintenance phase.
Officer & Standard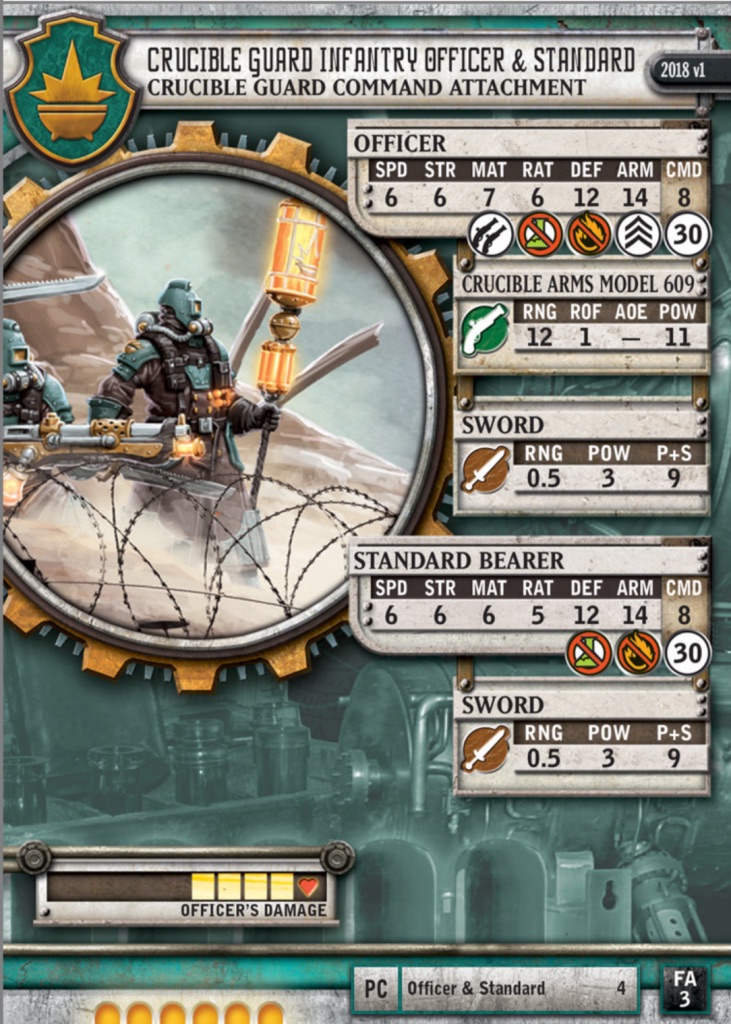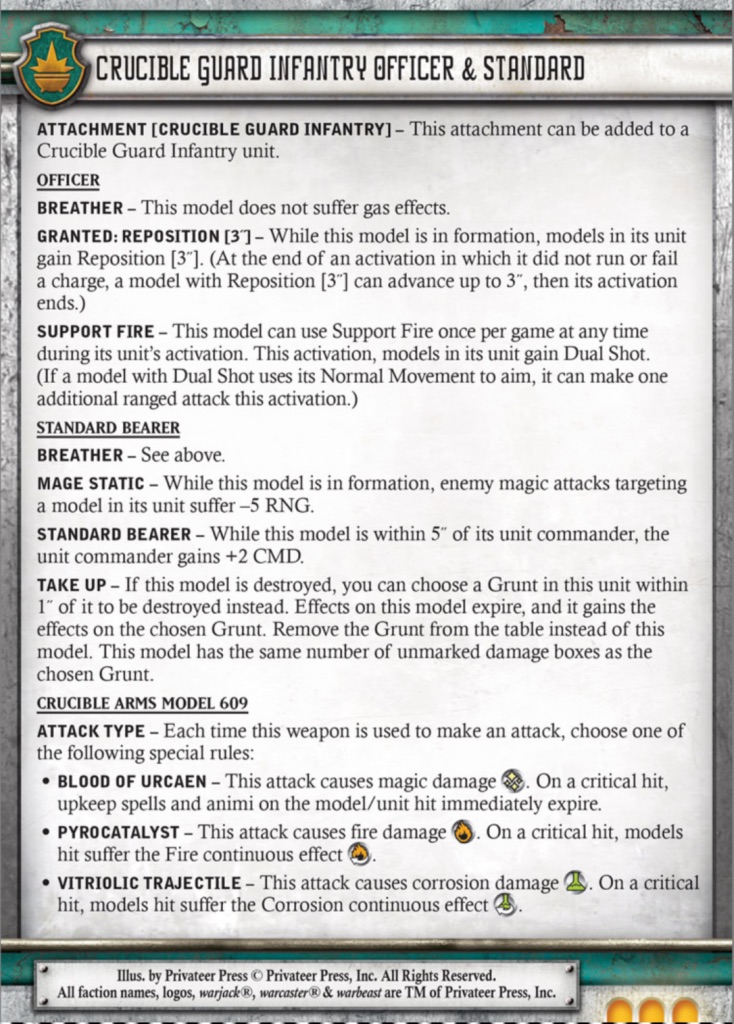 The officer has 5 boxes and 1 higher stat in both MAT and RAT, but is otherwise the same as a regular trooper. One extra gun for the CRA attacks is always nice, especially if the officer leads the CRA you get to start at 1 higher RAT.
While the officer is alive the unit gain Reposition[3]. Given the low DEF and ARM of this unit, this is an incredible useful rule that will let these guys shoot the scoot out of the way. This rule greatly improves the impact and survivability of the Infantry.
The Support Fire mini-feat gives the unit Dual Shot, which means that aiming models can take 2 shots this activation. This allows the unit to get a potential 22 attacks in 1 turn! Or you could use CRA attacks and do ten 2 man attacks, each at RAT 8 POW 13! There are a ton of options with this mini-feat, including taking two 11 man CRA attacks at RAT 18 POW 22!
The Standard Bearer also has a nice rule in Mage Static. Whenever an enemy targets this unit with a spell, they get -5 range. In many games this won't come up, but when it does it's probably a spell like Ashes to Ashes or Chain Lightning that would have killed a good chunk of your unit.
Getting the Crit
The Crucible Guard Infantry are a solid unit, but with so many abilities that trigger on a critical hit it's only natural to want to make that reliable. So what casters can best do this?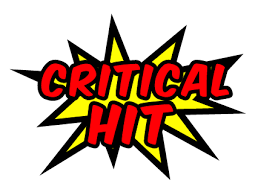 Like most things that shoot, Warcaster Baldwin Gearheart can really make them shine. Gearhearts battle plan, 'Bloody Well Done' gives an additional die to the first ranged attack each model makes. This will allow those crits to be a lot more reliable. Snipe is also an excellent upkeep to put on the Infantry.
Adeptus Syvestro can also help when fishing for crits, however only during the Feat. Syvestro's Feat gives an additional die to hit and damage and lets you choose which die to drop. Even if you don't get the crit, this will greatly increase their damage output, especially if you time the Officers Mini-Feat with it.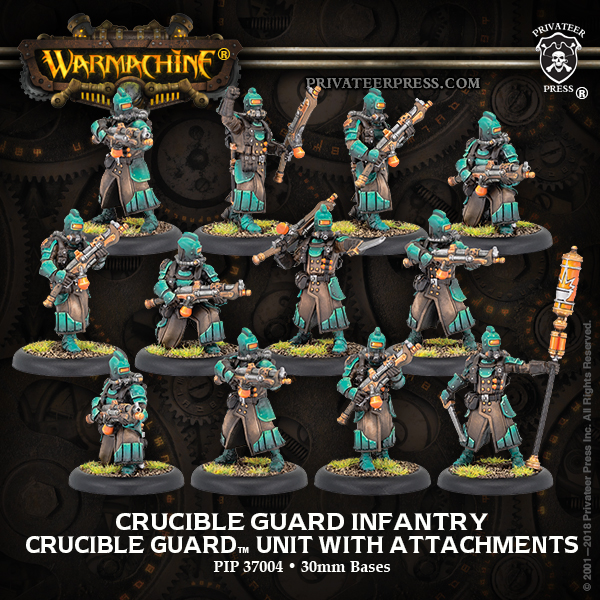 Wrap Up
The Crucible Guard infantry are a solid unit, that need to stay away from melee as much as possible to be effective. The Officer & Standard help keep this unit safe with Reposition[3] and Mage Static. With all the debuffs that Crucible Guard bring this is a unit that will be able to shoot down some targets your opponent might not be expecting.
What combos are you excited to try with the Crucible Guard Infantry?