Vigilus Defiant is upon us, and with it rides a horde of new rules, including Formations 2.0 aka Special Detachments. We've got a look at the first Special Detachment and it's Imperial Fists-tastic.
That's right folks, next weekend you'll be able to pre-order Vigilus Defiant, which comes with a swath of new rules–including rules for new Special Detachments, which change the way you can use some of your models if you take them all together. These are meant to help reinforce narrative ideas even in matched play, with these rules encouraging you to take units that would work well together in-world. How well does that hold up? Well we've got a look at the first reveal–the Imperial Fists Siegebreaker Cohort. And let me just say, it might be lore-friendly, but it packs a punch.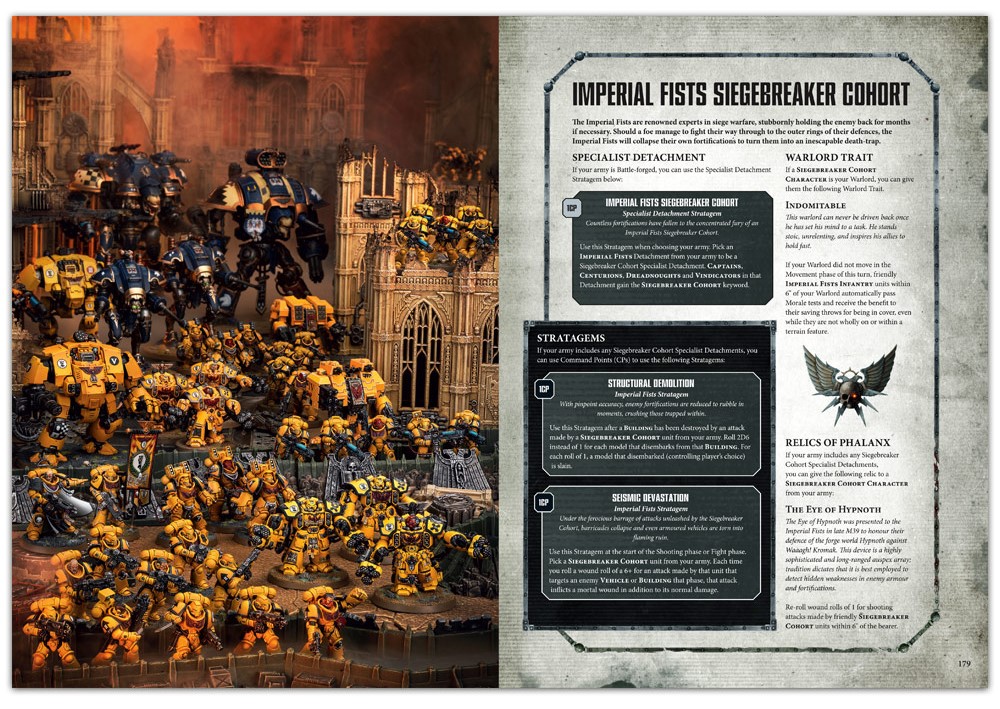 So here's how it works. You pay 1CP at the  outset of the game–when you're choosing your army–then you can pick an Imperial Fists detachment to be a Siegebreaker Cohort. Any Captains, Cenurions, Dreadnoughts, and Vindicators gain the Siegebreaker Cohort Keyword, which unlocks access to a special Warlord Trait, Relic, and two new stratagems.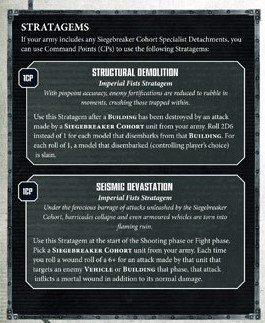 Now these two stratagems are interesting. They definitely lock in the Siegebreaker part of their Detachment. I'm not sure how often you'd see the first one come up–I personally haven't seen too many buildings used at my table, but if they do come up, the Fists are great at breaking them, and bringing them down on the people inside. But the second one also makes your Siegebreakers death on a stick against Vehicles. Buildings too. Couple that with a Warlord who can take both the trait and the relic–both of which provide powerful 6″ buffs and want you to clump your Siegebreakers near–and you've got yourself a great fire support detachment.
We know there's another detachment that lets Orks take a Stompa as a Warlord, and there are reputed to be some for every faction fighting on Vigilus. So far we haven't seen Necron or Tau present, so they'll go hang out at the Kids table, while the Tyranids use their relationship with their own Imperium units to move up to the big table. Only they'll realize that it's more fun at the kids table because now they'll have to "pass the butter" and "eat Aunt Edna's weird gross green bean and ham casserole."
At any rate, we'll doubtless see more of these as Vigilus Defiant looms ever larger on the horizon. But for now–what do you think? What Special Detachments would you like to see?
Discuss in the comments!