Games Workshop is teasing a few of the new rules for Specialist Detachments and we're getting a better idea of how they will function. Come see what's heading your way with War Zone Vigilus!
When we learned about Special Detachments we were apprehensive at first. They sounded a LOT like Formations from previous editions and that had us concerned. However, as we thought about them more and learned more about them, they sounded like they could be a good fix for some of the issues that have cropped-up. Now we're getting some concrete examples of what they can do and that helps us to frame Special Detachments in the correct light.
Specialist Detachments are a unique kind of Detachment found in Vigilus Defiant, designed to reward you for taking an army anchored in the narrative and offer you some really unusual avenues for your collection. If you've ever wanted to field the Victrix Guard of the Ultramarines, a full force of Legio Cybernetica battle-automata or a dedicated drop force of Tempestus Scions, these Detachments allow you to do that.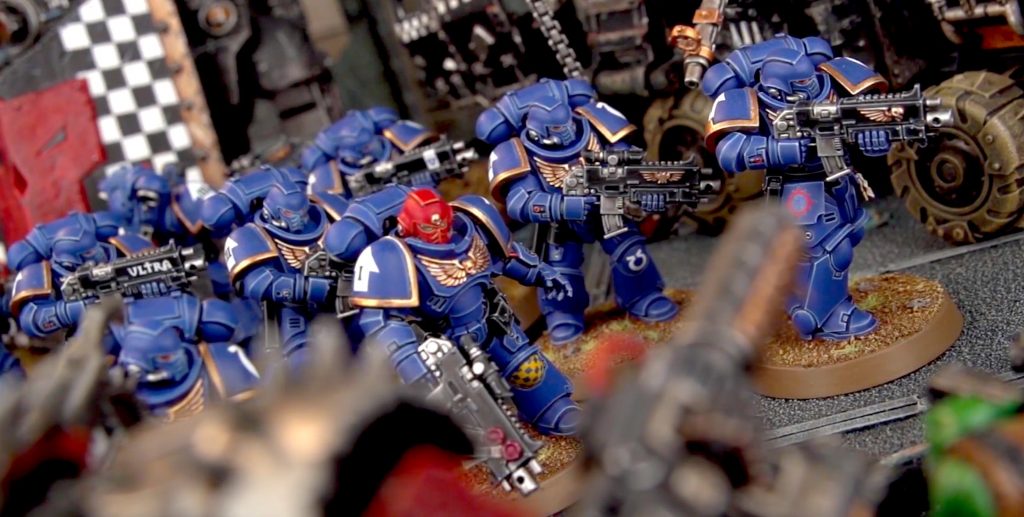 So far, Games Workshop has confirmed that Space Marines, Astra Militarum, Genestealer Cults, Orks, and Craftworlds would all be receiving these Special Detachments. That is a chunk of the current armies in the game and I'm sure that if these go over well, we will end up seeing more armies get their Special Detachments, too. Also GW pretty much confirmed that:
Every Specialist Detachment is fun, thematic and designed to be usable in any kind of play – all you'll need to use them is to spend a few Command Points. Don't worry if your faction doesn't have any Specialist Detachments in Vigilus Defiant – we dare say we'll be seeing more of them in future…
But let's take a look at what these Detachments do – starting with the Aeldari: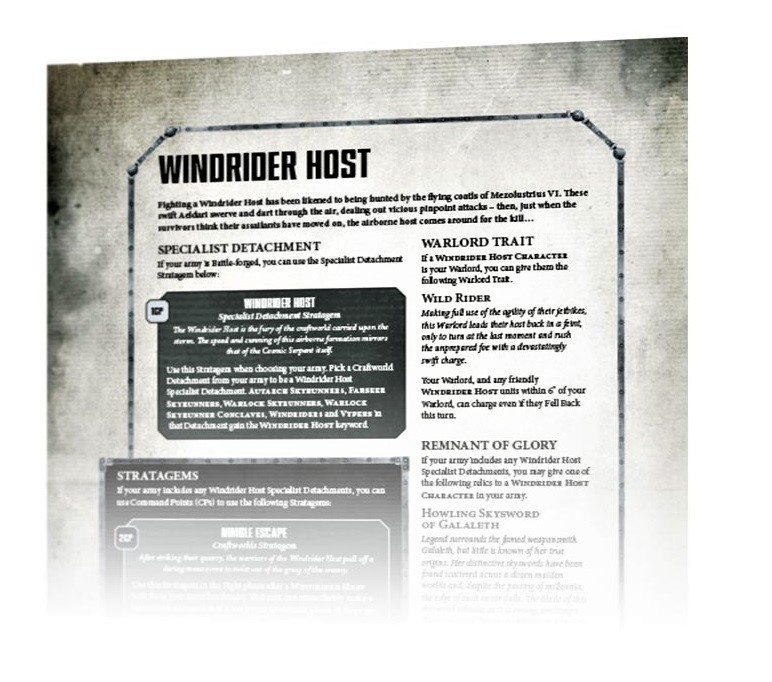 This is our best look yet at the Special Detachments. As you can see they cost a Command Point and you can pick a matching Detachment in your army. That Detachment gains a Keyword for the specific units. In this case they all gain the "Windrider Host" keyword. Notice that these Special Detachments are also getting access to new Warlord Traits and new Relics as well as new Stratagems.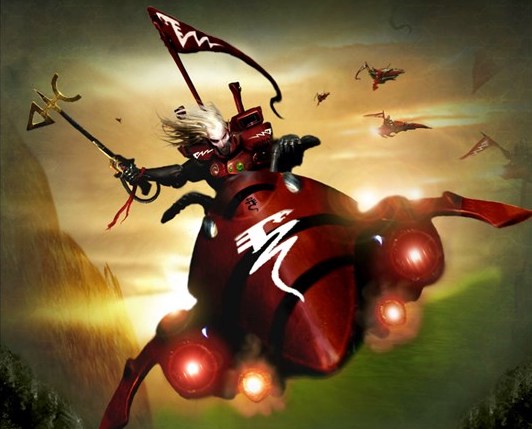 The Windrider Hosts will get the Warlord Trait "Wild Rider" which allows units within 6″ of the Warlord to charge even if they Fell Back this turn. Most of those units are also units with the "Fly"key word – I think you can see where this is going. It's all dependent on the additional Keyword however.
For the Marines we get a better look at some of the Stratagems they will receive: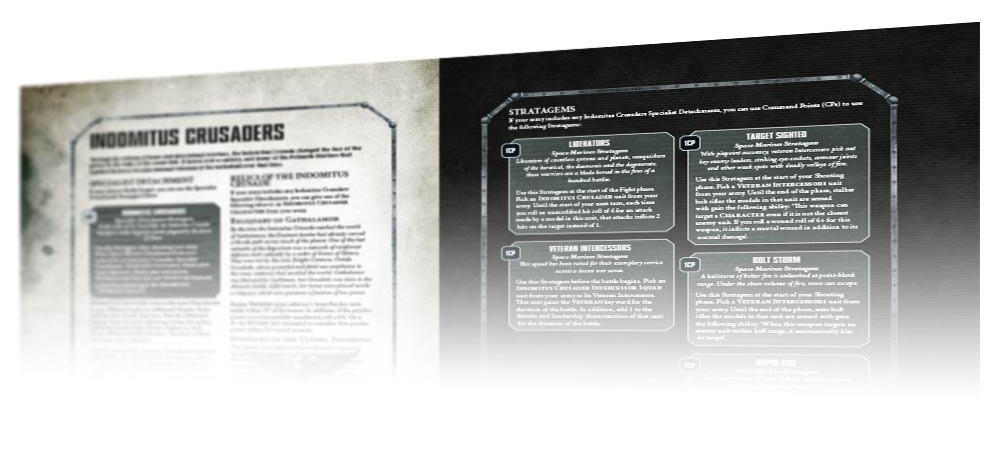 Their Special Detachment is called Indomitus Crusaders and it's probably going to impact the Primaris Units – just a guess. But now they are also getting a handful of additional stratagems.
Liberators – Use this Stratagem at the start of the Fight phase. Pick an Indomitus Crusader unit from your army. Until the start of your next turn, each time you make an unmodified hit roll of 6 for an attack made by a model in this unit, that attack inflicts 2 hits on the target instead of 1.
Target Sighted – Use this Stratagem at the start of your Shooting phase. Pick a Veteran Intercessor unit from your army. Until the end of the phase, stalker bolt rifles the models in that unit are armed with gain the following ability: Their weapons can target a Character even if it is not the closest enemy unit. If you roll a wound roll of 6+ for this weapon, it inflicts a mortal wound in addition to its normal damage.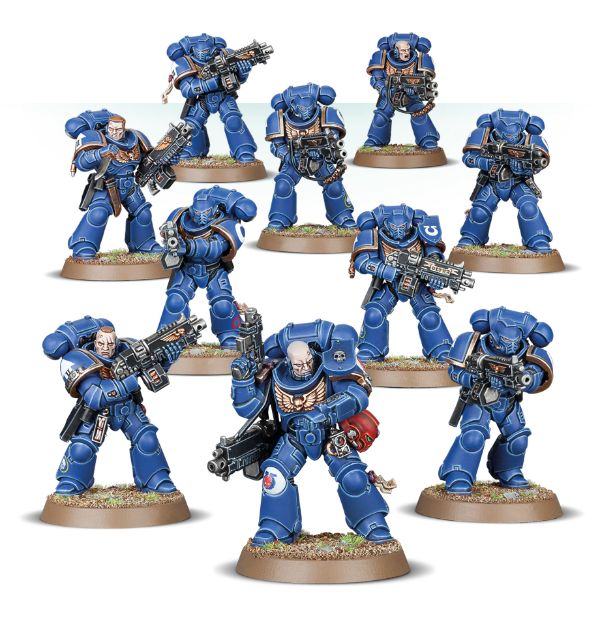 Again – note the Keyword requirements for both of those stratagems – Indomitus Crusader and Veteran Intercessor. It certainly seems like these new Specialist Formations are going to add a lot of options between the Keywords, Relics, Warlord Traits, and Stratagems.
For the Orks, we get a look at the Dread Waagh! Specialist Detachment. Unfortunately we don't get a good look at it…but we do see one of the weapons they are getting: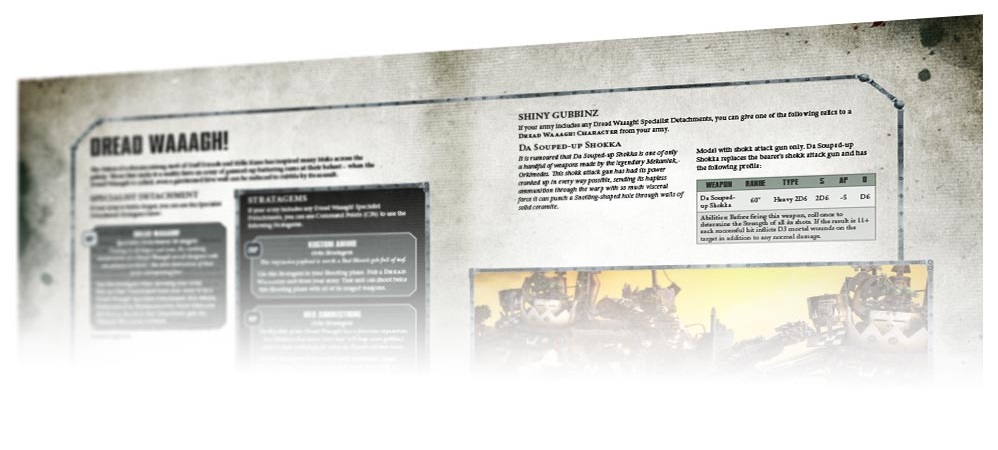 Da Souped-Up Shokka is a relic that replaces a Shokk Attack Gun. It looks pretty nasty with a 60″ range, Heavy 2d6 shots, strength 2d6, AP -5, and D6 damage a pop! Also if the strength of the attack is 11+, then it inflicts D3 mortal wounds on the target in addtion to it's normal damage – PER SUCCESSFUL HIT!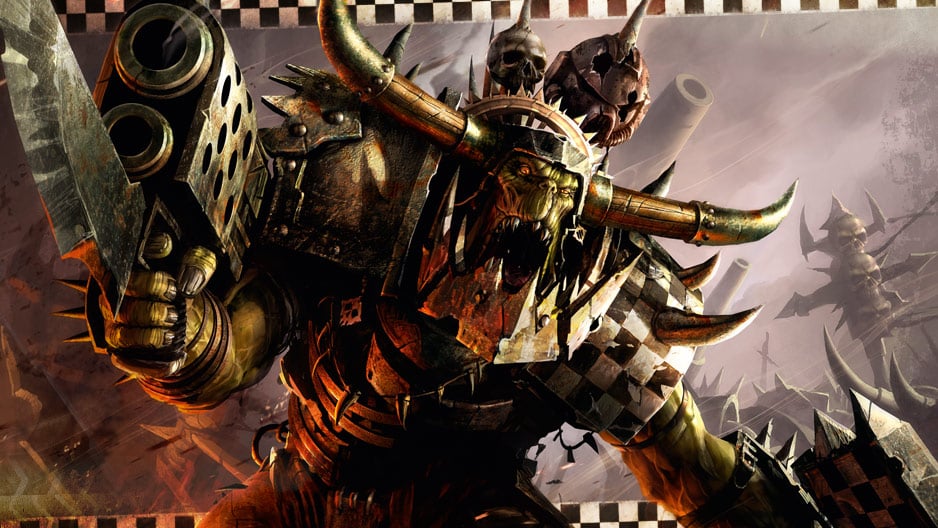 It's going to be interesting to get our hands on the full Special Detachment Rules from Vigilus Defiant. Sure they cost some CP to use but that also seems like a good way to soak-up some of the massive bonus CPs some armies are capable of generating. If nothing else, these just provide more options for players – you don't have to run a Specialist Detachment.
On top of that, these seem like they are just extra Chapter Tactics/Clan Kulturs/Craftworld rules that can fit on top of your existing armies. You get the option for a new Warlord Trait and Relic – but those would replace your other options. The bonus Stratagems and Keywords are nice but they will have to compete for CP with your existing Stratagems. Overall, the effect is that the players have to make choices with these new options which is good. Unlike the Original Formations that just gave you bonuses without a "cost" associated with them. You can choose to use them – but you won't be using other options. Spend your CP wisely.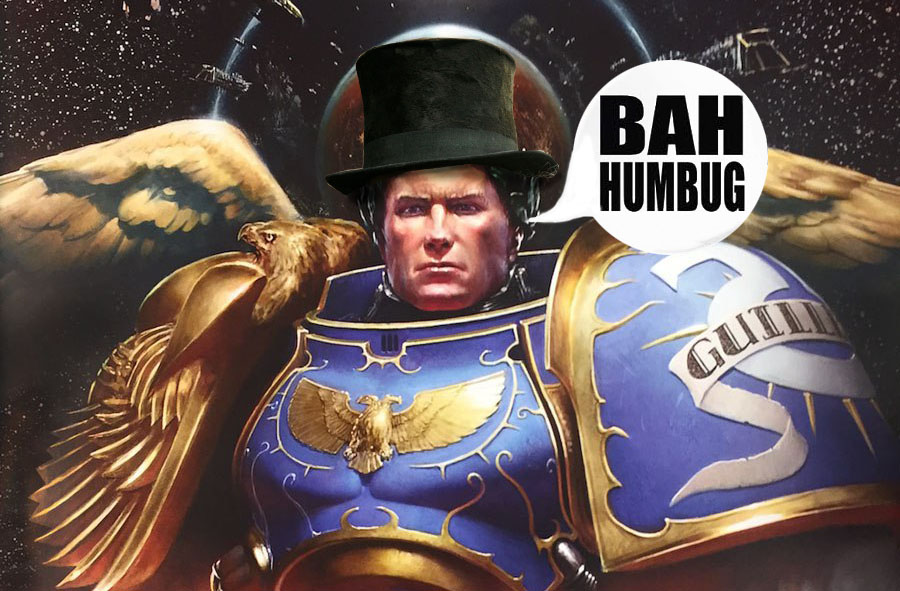 Scrooge McGuilliman Hates Spending CP on Extras…
What do you think of these new Special Detachments? Did they help easy your fears of Formations 2.0 or are you still worried about them?