The Age of Sigmar Battleforce rules are here! Come see what other special discounts these battleforces are bringing to the tabletop!
Thanks to the magic of the internet, we've got a look at the rules for all 4 of the Battleforce Boxes for Age of Sigmar! Unfortunately who ever decided to take the time to take pictures of these and upload them decided to take these photos at an "Artsy Angle" and didn't know how to white balance their camera. Or use auto-focus. It's 2018 people – your PHONE can do that for you. Anyhow… here they are so they are at least legible now.
Note: For all these rules you have to take a specific unit list – it just happens that the unit list is pretty much everything in the box. So we're not going to recap that – just what this Battleforce actually does.
Starclaw Strikehost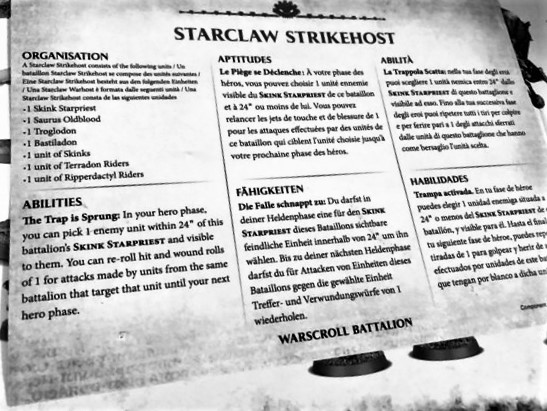 The Trap is Sprung – This allows your battalion to get re-rolls to hit and wound of 1 against a target that was within 24″ of your battalion's Skink Starpriest. That could mean one dead enemy unit!
Deepsurge Raiding Party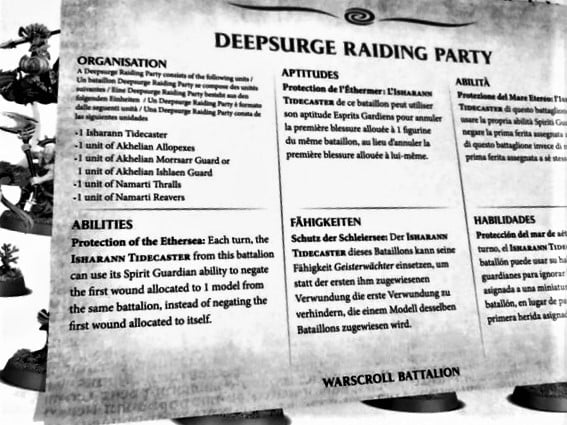 Protection of the Ethersea – The Isharann Tidecaster can use it's Spirit Guardian ability to ignore 1 wound allocated to 1 model in the same battalion, not just itself, once per turn. That could save another character or a pivotal objective holder for one more round! Plus there doesn't appear to be a distance restriction either. It's got to the first wound, but still – I'd use that.
Devoted of Morathi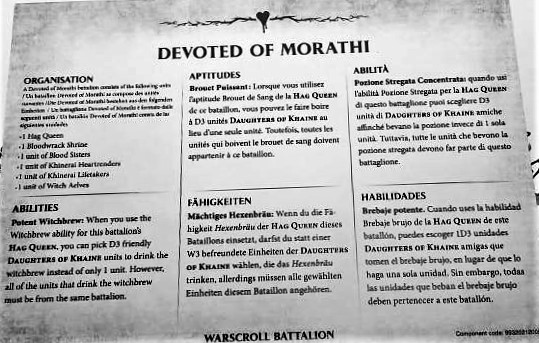 Potent Witchbrew – "When you use the Witchbrew ability for this battalion's Hag Queen, you can pick D3 friendly Daughters of Khaine units to drink the witchbrew instead of only 1 unit. However, all the units that drink the witchbrew must be from the same battalion."
Nice. So you triple the use out of the ability. Seems pretty useful when you can dole that out to 3 units vs just 1. Witches gonna brew I guess!
Godsword Warband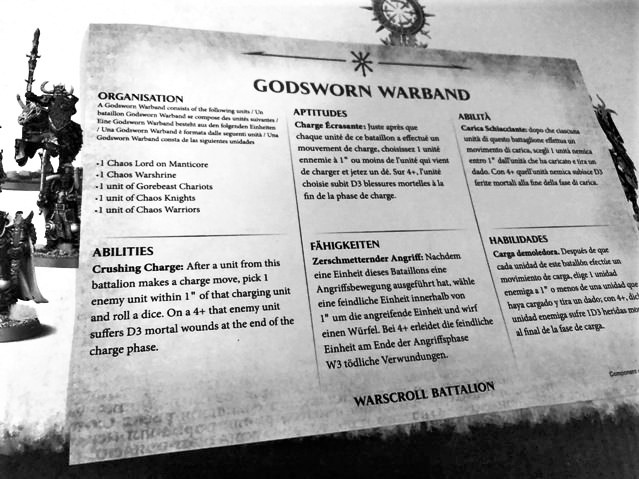 Crushing Charge – Pretty much ALL the units in the battalion cause D3 mortal wounds after a charge on a 4+ at the end of the charge phase to a single enemy unit within 1″. That's got some good damage potential. It's also funny that Chaos Warriors will be able to cause these as well.
All of these Battleforces should be up available this weekend from your FLGS or from GW webstore today! Curious about the $$$ price breakdown for each? We got you covered.
So which of the Battleforces looks like a good deal for you? Any favorites? Which one do you think is a stinker compared to the others?