Fantasy Flight Games tips their hand and shows off two new investigators arriving inside the upcoming Deluxe Expansion The Circle Undone. Meet the brave souls who are pushing back against the encroaching darkness!
The Circle Undone is the fourth Deluxe Expansion for Arkham Horror the Card Game and it's introducing a new story arc for players to experience. Along with that, the expansion is also introducing some new investigators to go along with it – today we're getting a closer look at the strengths and weaknesses of two of these characters.
via Fantasy Flight Games
Rita Young – The Athlete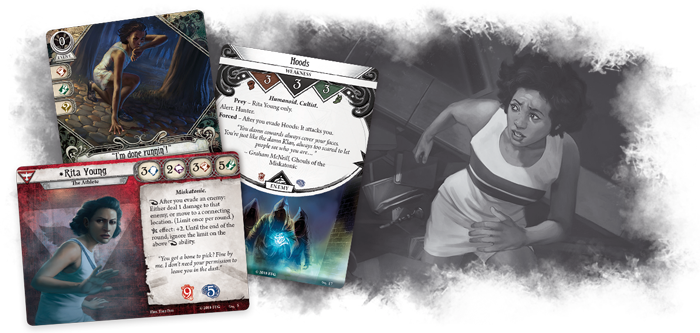 Rita Young joins the game as a new Survior. She's an up-and-coming track star at Miskatonic University and she's fast! Rita leaves her enemies in the dust with an Agility of 5 – making her one of the best Investigators in the game at evading enemies. That's perfect because her ability also triggers off of evading: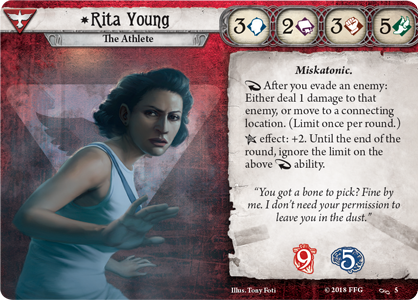 After you evade an enemy you can exhaust her card to deal 1 damage to that enemy or move to a connecting location. If you pull the Elder Sign, you can ignore the 'exhaust' requirement! That pairs very nicely with her custom card "I'm done runnin'!"
When you combo her special card with her ability you can really start to out run and damage enemies with evasion attempts. Rita also has access to Trick cards which opens up a lot of possibilities with Rogue cards. When you combine that and some of the new Survivor cards, you'll have quite the power play.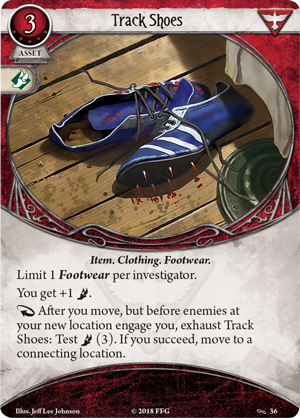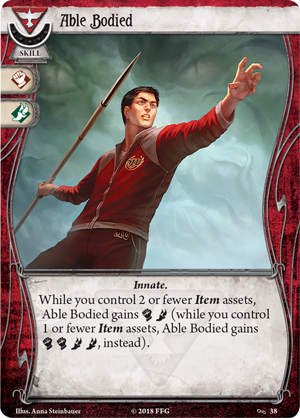 Unfortunately, her weakness card does attack her in a really bad way – Hoods punishes Rita for attempting to Evade: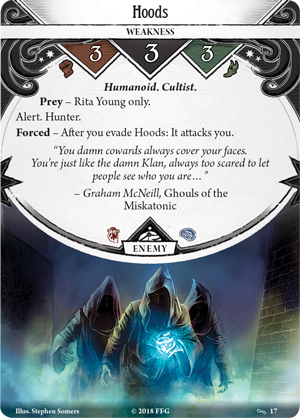 When you pull this weakness, it might be time to rely on a friend to help out – or perhaps another tool in her arsenal to combat these cultists!
Carolyn Fern – The Psychologist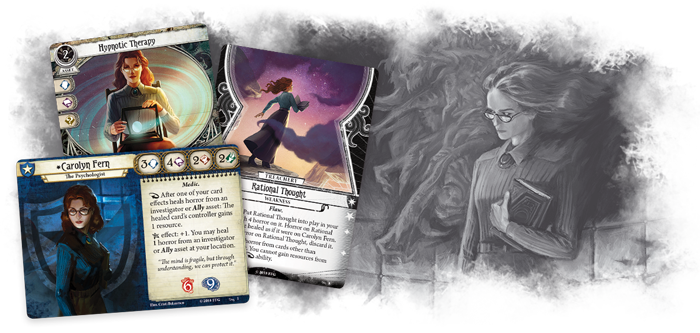 Carolyn Fern was first introduced with the Arkham Horror novella To Fight The Black Wind and Fans who purchased the novella have been able to use her thanks to the alternate version of Carolyn provided in the book. But now, this talented Psychologist is  arriving in the game properly. Her deck building restrictions are pretty limiting in one sense – she cannot hold any Weapon cards between levels One and Five. That's actually a pretty big deal considering she's a Guardian. However, her battlefield isn't meant to be on the psychical body, it's a war of the mind she fights.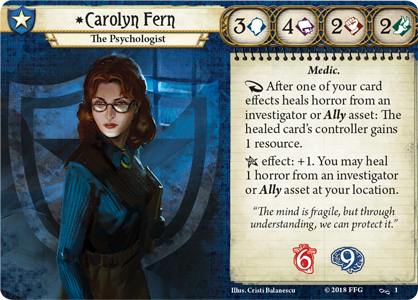 The good doctor is a fantastic support character who is capable of healing Horror from all her fellow investigators or ally assets they control. Plus, when she heals that horror, the card's controller gains a resource. Dr. Fern will help fund your mission and keep you sane at the same time. She's also got a 4 in the stat used for searching for clues so she can help when you don't have a dedicated Seeker around.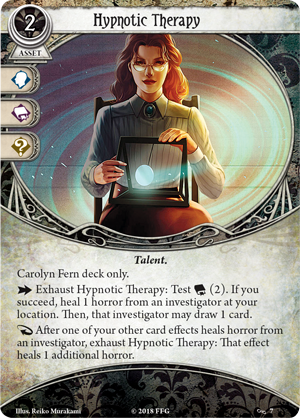 Her special card is called Hypnotic Therapy and it allows her to heal 1 horror and lets another investigator draw a card for 1 action. On top of that, when another card heals a horror, you can exhaust this card to heal ANOTHER Horror. Look – it's what she does! Hopefully with Carolyn around you won't have to suffer all that Mental damage.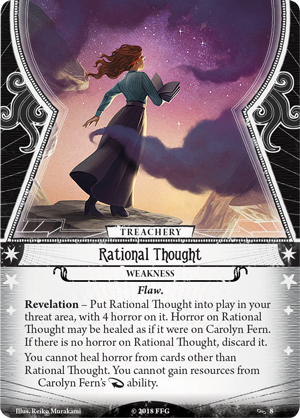 Her trademark weakness is Rational Thought and it will slow down your ability to help others. It comes into play with 4 horror and prevents Carolyn Fern from healing others and prevents her from exhausting to give other players resources. It will take some time to heal this card but it is doable. The question becomes do you have the time to spare…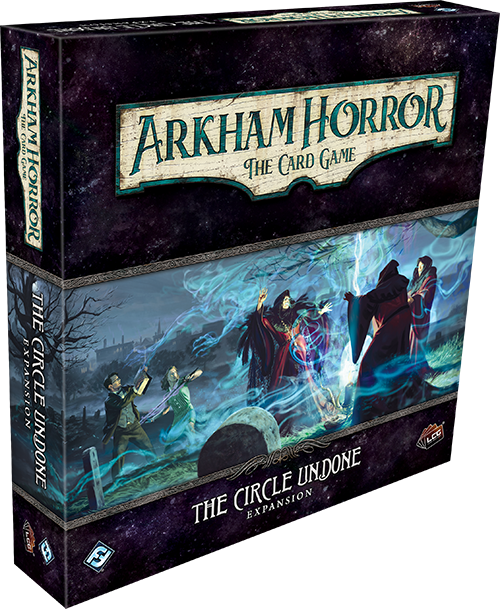 The Circle Undone is the fourth deluxe expansion for Arkham Horror: The Card Game. Here, your team of investigators delve into the mysteries of Arkham's past, uncovering its macabre history and the motives of those who dwell in its shadows. This expansion contains a playable prologue, first two scenarios of The Circle Undone campaign, as well as new investigator and player cards to further customize your investigations in the world of H. P. Lovecraft's Mythos.
The Circle Undone is up for Pre-Order now from FFG!