Money might not mean a thing, but a Kickstarter game that hits multi-millions of dollars is probably worth looking at. So let's do that.
The Weekly Board Games Top 10
"The Hotness" on BoardGameGeek is a list of the currently most popular games, as based on views. This week brings us these winners:
It's always interesting to me how some weeks are pretty familiar and other weeks a lot of new games move in. Maybe it's confirmation bias or something, but it seems like it switches back and forth pretty regularly. Either way, this week seems pretty new. Tainted Grail, Nemesis, Comanauts and Dinosaur Island are definitely new, and I'm pretty sure we've seen Pandemic: Fall of Rome, but don't think it was featured. All the others we've either seen before or are Gloomhaven enough to not really need any additional screen time.
So, this week, we'll be exploring the Avalon where the darkness of The Wyrdness seeks to envelope the land. Surviving through famine, disease, violent brigands and cataclysmic storms, the Guardian Menhirs are the only beacon of hope and of light. King Arthur and his court have long since disappeared, leaving you left to defend the land. Through the guiding light of the Menhirs, you will face difficult decisions and harrowing choices as you continue on your quest in…
Tainted Grail: The Fall of Avalon
Tainted Grail is a story-driven survival adventure game with exploration, level up and deck building mechanics with a thematic mixture of dark Arthurian and gritty Celtic legends.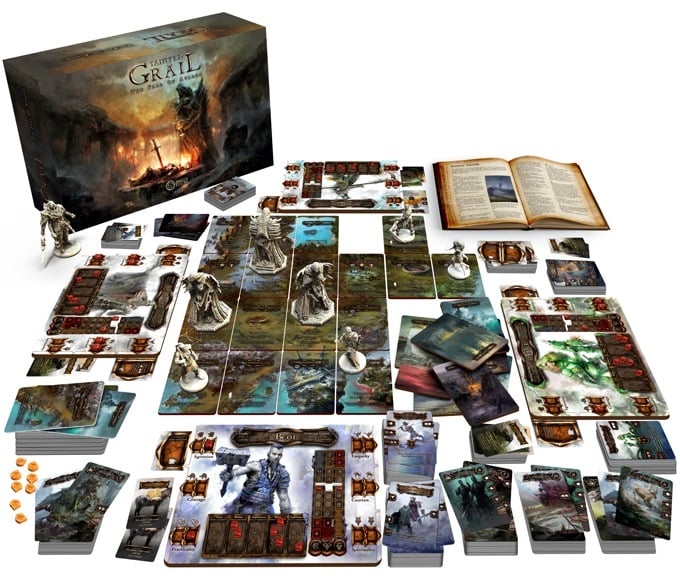 Each player takes the role of a traveler exploring the land. Each map card provides a unique encounter and multiple options of how to deal with it. To assist with this, the game comes with an encounter book which provides deep, detailed descriptions of the location and offers multiple options of what the players can do at that location. The decisions the players make at these events can influence encounters at other locations, based on the decisions they make and the ultimate result of the encounter.
Exploration is limited, though. As The Wyrdness grips the land, the Menhirs provide a buffer against it, but their power only lasts for so long and the players will have to active additional Menhirs to be able to reach new areas.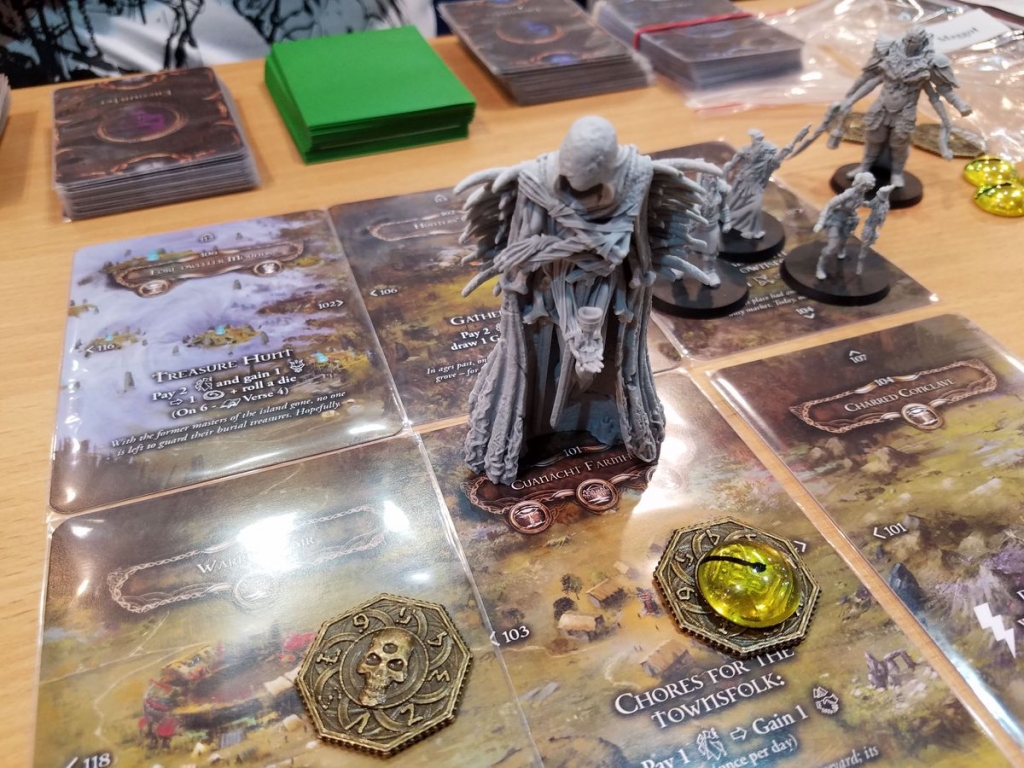 Each Menhir allows the 8 surrounding spaces to be explored, but the Menhir's power only lasts a limited amount of time and eventually it disappears, removing those map tiles from the game. This keeps the players on the move and keeps them from lingering in one area for too long.
As they explore the land, they will run into encounters which will require them to use their combat and diplomacy decks to resolve. Each character has unique combat and diplomacy decks as well as stats which can be increased through victories in these encounters. As players level up in this way, they will also be able to gain new, additional stats and abilities. However, as they become wounded, their maximum energy and sanity decrease.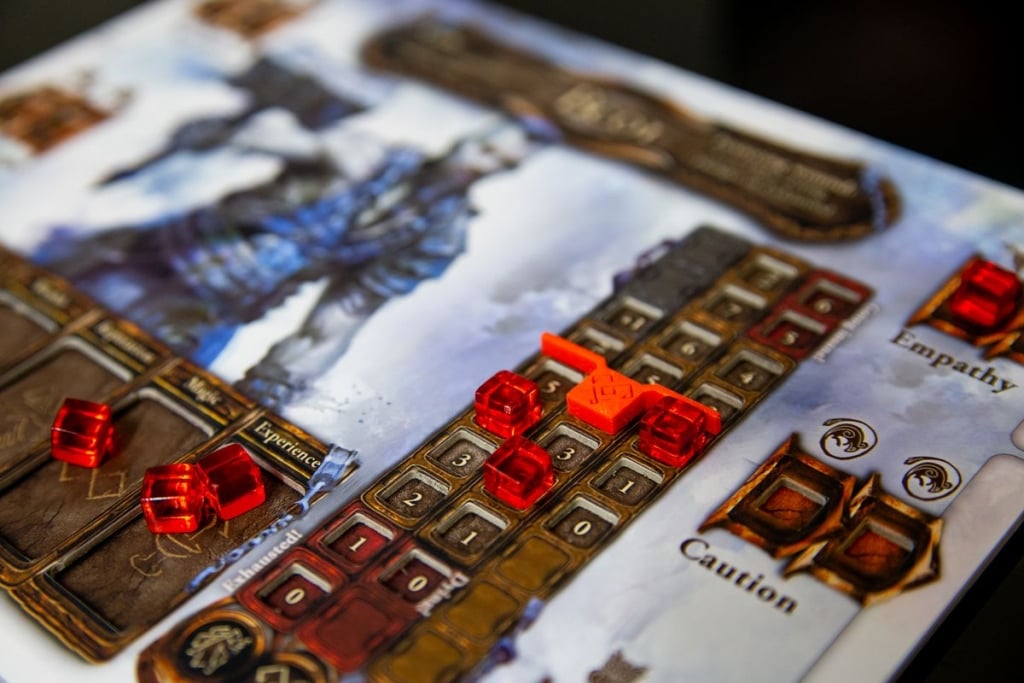 This level up system provides tons of ways to customize each character. Plus with multiple story options at each location, Tainted Grail provides lots of replayability whether you're going at it in a solo campaign or in the cooperative play mode. Regardless of how to choose to tackle the challenges set before you, Tainted Grail will provide hours of engrossing story telling adventure.
From Awaken Realms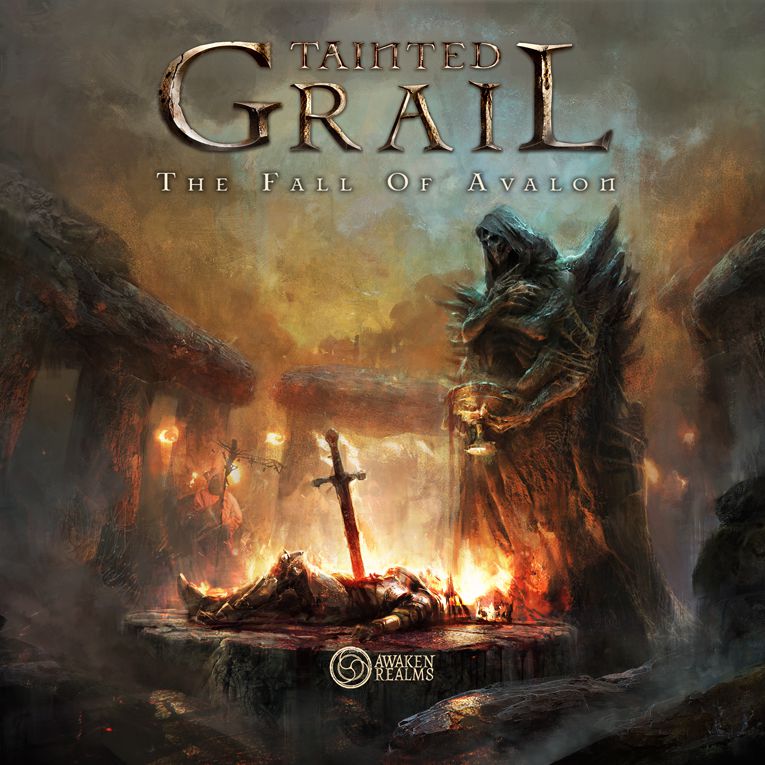 x Players
xx – xx Minutes
Ages 14+