Goatboy here again and at BoLS HQ we got the Viglius Campaign book to look at.  I want to go into a quick break down on what I feel are the winners, losers, and what tha?
Overall the book is a big pile of fluff with some exciting formations thrown in. I think the formations are okay – fluffy in some ways and decent in others. I don't think the game will brake due to this return of formations, but I feel that is more due to how the formations themselves are built. They add keywords to specific units and then allowing new stratagems to be activated if you want to. This is interesting because you still have to spend resources (command points) to get extra rules.
I also like the addition of generating a Warlord trait for an HQ in this Special Detachments. It's one of the things I like from the Knight book – you can generate other interesting heroes if you need to for an extra Command Point. It feels there could have been more of this in the other books so that you could generate some interesting aura interactions. That's a discussion for another day, though. Let's get on with this dance battle and start with the winners.

Winners
First – the winners are the Orks because they get four useful detachments. All four have their uses depending on the type of army you want to play. Add this with one of the best Xenos releases we have seen in awhile, and you got even more toys to play with. They are just built to turn that Evil Suns army you might have been thinking about on its head and get a ton of evil Green skins into your opponent's squishy models. Will go over each.
Kult of Speed seems to be the best one. It is built to get the Speed Freaks some more flavor.  For 1 CP you can turn an Ork Detachment into a Kult of Speed where all the Speed Freeks units in the detachment gain that Kult of Speed keyword. The keyword doesn't give any powers itself but it does provide you with access to some things. The 2 Stratagems are both very good. First one is 2CP pick a Kult of Speed unit and when it advances it goes double its movement instead of rolling.  Yup, that's a biker unit that can go 30 inches (14X2+2).  That unit still counts as Advancing so make sure you Deffkilla Wartrike is nearby.
The next one is great for surrounding and locking in a unit so you can survive the assault phase.  For 2 CP your Kult of Speed unit can consolidate 2d6″ instead of 3″.  Mix this together, and you got a first turn hit, a murder phase, and chance to scoot around and lock in an enemy unit. On top of that of that, you can give a character in this detachment a Warlord trait that lets all friendly Kult of Speed units within 12″ not have to roll morale checks.  On top of that, you can give your Deffkilla Wartrike a relic that gives him one more toughness and a 5+ inv save.  Not to bad if I say so, myself.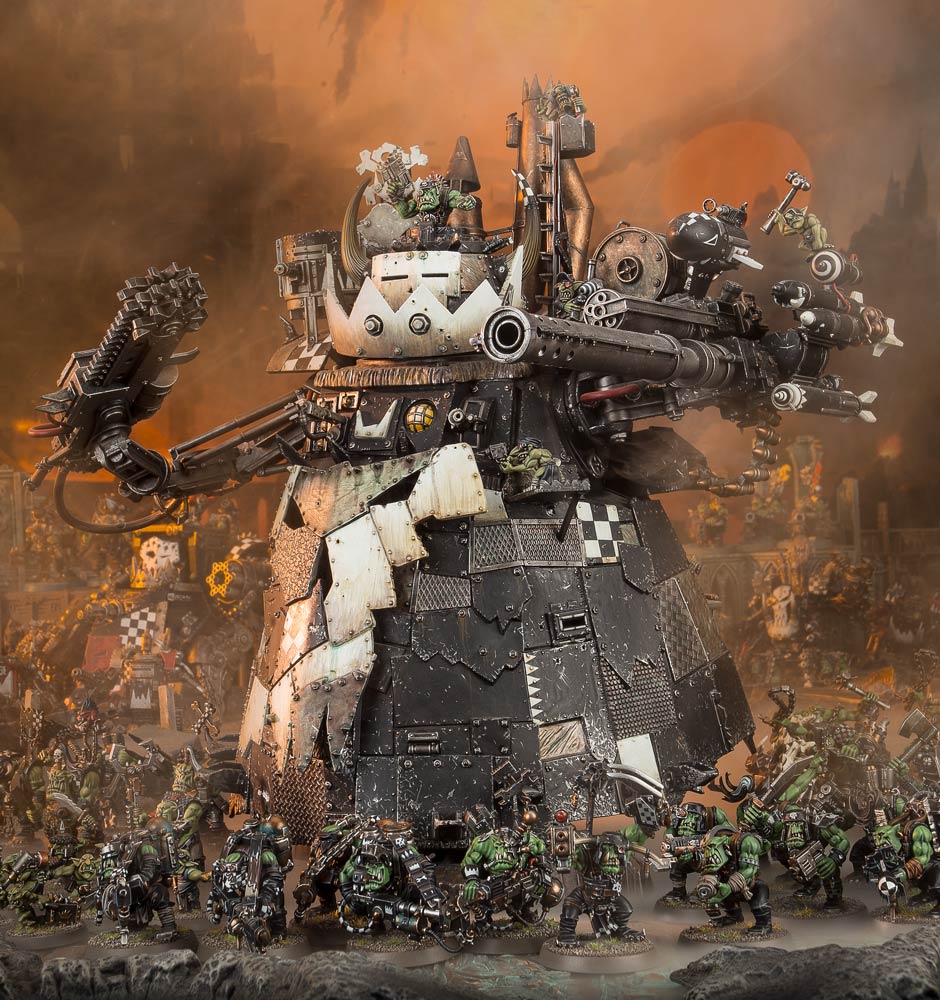 The next three are all interesting but not nearly as good as the Kult of Speed.  I will start with the one I like the most in the Stompa Mob.  Basically, you can give a Warlord Trait to your Stompa based on either Gork or Mork.  If you want to assault give em' Gork (+1 to hit and wound rolls in the fight phase).  If you want to shoot give him Mork (+1 to wound with shooting attacks). On top of that, you can provide the stompa a 5+ inv save with their Special Relic.  For 4 CP you can throw your Stompa in high Teleport.  Add in another one for 1 CP that lets you get a chance to do a mortal wound to all models within an Inch of the Effigy of death.  Overall not powerful but pretty fun if only the Stompa was a cheaper choice.
The next two are a reworked Dread Mob and Blitz Brigade.  Overall there are kinda ok with the Dread Mob being a bit more interesting due to their Stratagems being better. For 2 CP the unit can shoot twice, so it isn't too bad.  The Blitz Brigade does let you have a very fast Battle Wagon variant when you mix it with the Warlord trait that gives an extra 1″, the Redder Armor for another 1″, and then, of course, Evil Suns for another 1″.  Mix in a Deffkilla Wartrike to help things out, and you got a very fast vehicle coming at you with a Deffrolla. 1CP lets the Bone Breaka roll 3d6 and pick the highest for its amount of attacks.  The coolest Stratagem is the Hold on, Boyz! which for 2CP it can pick up an infantry unit that is all within 3″ of a battlewagon and move it when the Battlewagon moves. They "jump" off after the Wagon finishes it move around the tank.  They can't move or assault, but it does let you move a unit of guys and reminds me of the old days where you could transport as many Orks as could hang on the vehicle.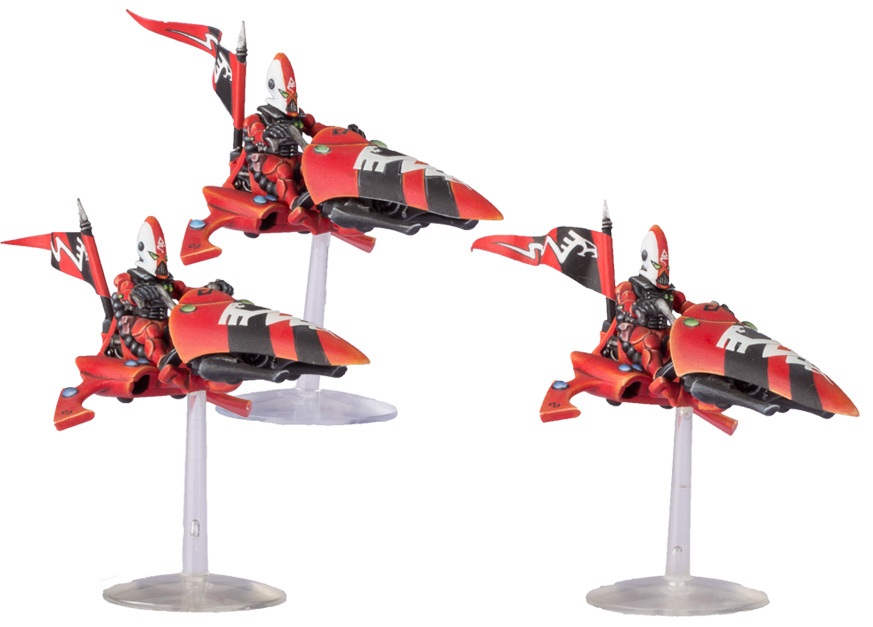 Next up for what might be strong Detachments are both the Eldar ones. Both of them feel like rehashed ideas from older times when massed bikers were a thing.  I like the Windrider hosts Stratagem of Nimble Escape that lets a unit move and advance for 2CP after another unit has fought this phase. If the unit is within 1″ of the enemy, the unit has to Fall Back – but this lets you get a chance to escape, move away, and shoot again.  Thankfully the Windrider host doesn't include Shining Spears, or we could have a annoying time trying to get rid of them.  The Windrider warlord trait isn't bad either as it lets you Windriders charge even after falling back when within 3″.  I expect a fully loaded Autarch to be a pain in the ass with this.  The other detachment is the Wraith Host which lets you run some Wraith Constructs. One strat gives you +1 attack to the unit and the other lets you give the Spiritseers 4+ inv save to a unit for 2CP.  The Warlord trait is a must for those Close Combat Wraith Construct armies.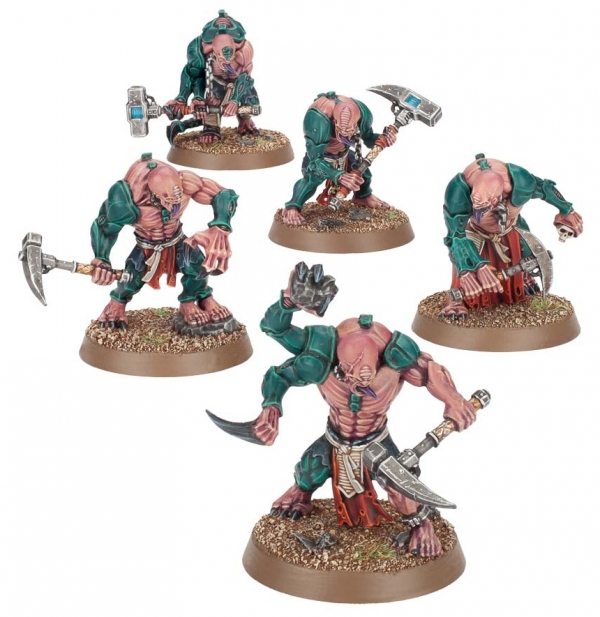 The last one that I think is powerful is the Anointed Throng we were spoiled from GW.  Between the powerful Relic (super hammer), powerful stratagems (Attack again), and a good warlord trait you have a robust option.  I do worry the GSC might become codex Aberrant and friends so will see when the book finally comes out.  It just feels like this Detachment is just a way to sell more Abberants when they finally come out in a separate boxed set.    The other GSC detachment might be good if the book turns out decent.  One of the Strats allows a unit which charged to get +1 to wound for that phase.  Thankfully they don't count let Genestealer broods count towards this Detachment so we won't see a pile of murder facing Stealers coming at you.
Overall the good isn't amazingly good beyond one of the Ork Detachments.  I think we will see the Kult of Speed being used heavily in some of the bike heavy Evil Suns armies.  Heck just having a pile of hidden Nob Bikerz shoots out so far, shoot a ton, and then charge to clean things up would be a powerful thing.  The bad in this book isn't bad.  It's just not good enough to dent Matched Play.  Of course, this isn't bad as this wasn't a book designed to shake up the current Meta (That's supposed to be Chapter Approved).  I am more disappointed in the current Marine offerings as they don't seem to add a ton to armies that need it.  Most of the time they have so so relics with kinda of odd warlord traits.

Welcome to the Imperium
The only Imperium ones that are showing up are Ultramarines, Black Templars, Dark Angels, Crimson Fists, Imperial Fists, Admech (two variants), Space Wolves, and Astra Militarum.  There isn't a Blood Angels option as well as the other leftover Marine variants.  There also is a Knight detachment which I find weird as GW always likes to sell some big model kits.  I can understand Blood Angels as we have heard that the campaigns might be coming back to Baal – which would imply some Khorne love coming in at some point.  There are no real "enemies" of the current game with just a Chaos Character showing up in the book.  I also don't understand how the Chaos Guy is supposed to stand up to Marenus – who now can't even ride in his special Land Raider because the Primarus upgrade has him scared of being to confined in a metal box.  I could see a Close Combat Astra Militarum army using one of the more CC oriented detachments.  Its called the Emperor's Conclave Infantry company and you can get big ole units to do some extra damage.  I could see a Catachan army using this as they usually have some priests, lots of bodies, and a desire to get mixed in and have a flex off with the enemy.  The Tank Company could also be fun if you run a majority tank force – but that army isn't breaking the meta in half, and this detachment option just makes them a bit better with some decent Stratagems and cool Relic Battlecannon.

Hello, CSMs?
The big Wha? In this book is the lack of Chaos Space Marines in here.  I mean – the book has a Black Legion character in it?  Where is the Black Legion Detachments?  It feels odd to not have them in there, and I had to look a few times to see if I am missing something.  Beyond the lackluster "Herald of Abbadon" where are my odd, and maybe good, options?  I think the reason for this is most likely where this Campaign is going and the constant rumors of a new Abbadon model coming at some point.  I am sure the Herald will trip over his spear, stub his toe, and call his Top Knotted leather daddy to come to this world and show him that this is part of his bazillionith Black Crusade.  I also would have loved to see some Death Guard love as they are showing up in the stories.  It just feels weird to not see any Chaos in this book as I thought they were a part of this campaign.  It makes me think the next little miniature release will be something like Orks vs. Primarus at some point.

Overall this is an exciting release as it feels much more for the casual player.  It has so many art plates in here for full Primarus armies, so I expect an actual "new" marines book to come out at some point.  I do like how they worked Formations in the game again.  There is nothing like the crazy "Free" stuff we saw during 7th edition, and while they add in cool rules, they all need Command Points to activate.  I get the feeling this will be how they try to keep the game balanced.
Overall I give this a solid B release as the Fluff and information outweigh the rules a bit.  
~Still, they gave my Orks some sweet rules so who am I to complain.