City planning during the Monsterpocalypse is tough work! We're taking a look at the Corporate HQ, Communications Array and Industrial Complex to figure out how to incorporate them into our city.
The first wave of 6 buildings for MonPoc is now available and in this article we're taking a look at 3 of them. One great thing about these building is they are one piece, so you can buy them off the shelf and immediately use them. The only exception is the Communications Array which is 2 parts(Radar Dish and Building), but the dish fits easily on the building without glue so you can still use it right away.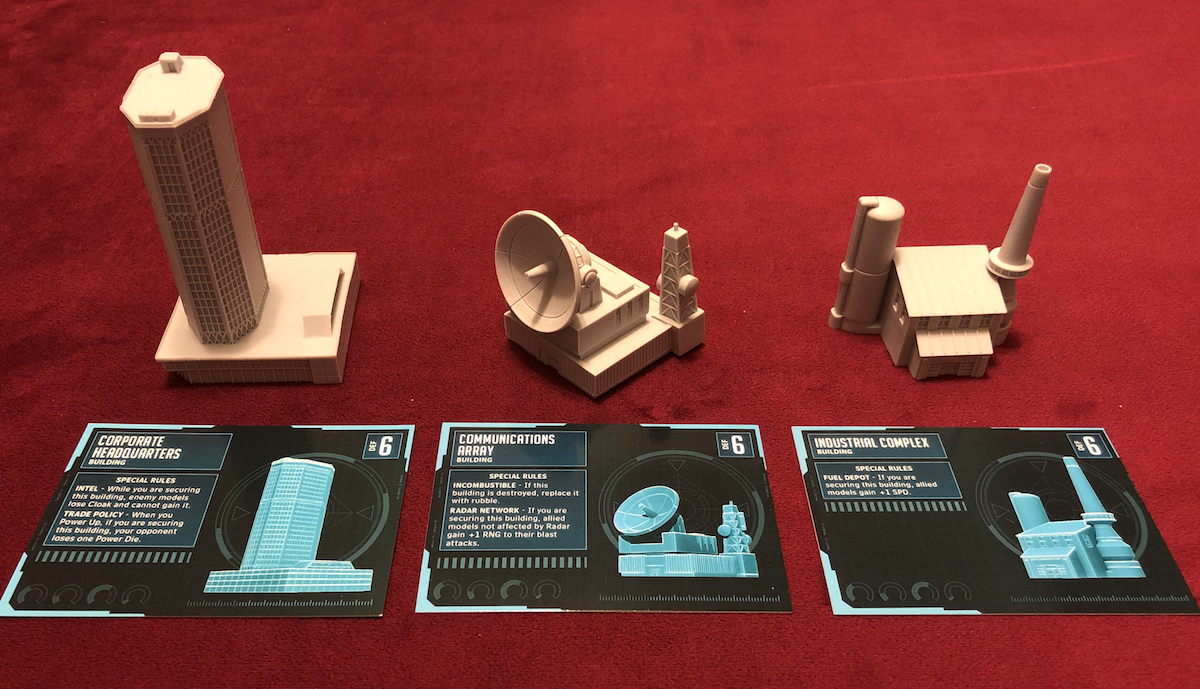 Building Basics
In Monsterpocalypse, buildings are part of the forces you bring to the table. Each players brings 6 – 12 buildings and before the game starts you take turns placing buildings to construct the city.  Every building has an ability that you gain/benefit from when you secure it. Also, just because you bring the building, doesn't make it automatically yours during the game. The player who secures it by having 3 adjacent units gets the benefit.
The starter box comes with 6 apartment buildings which is all you need to play with, however they don't provide any special benefits during the game. Let's review some buildings and figure out good general strategies for placing them on the map.
Corporate Headquarters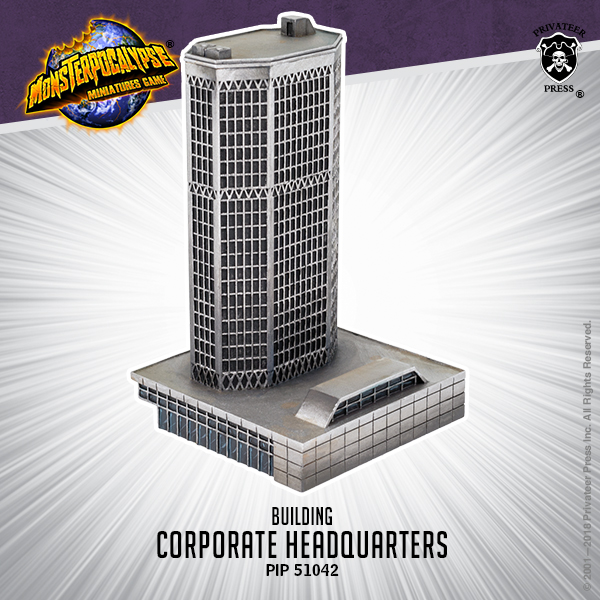 Intel – Removing Cloak from enemy models is great if you happen to be facing a Sun Shadow Syndicate force. As more models in the game gain are released that have Cloak this building will only go up in value.
Trade Policy – This acts just like a Negative Zone, removing a Power die from your opponent when you power up.
The value of this building will depend on your opponents forces. If your opponent has a lot of Cloaked models the value of this building is high and you'll want to place it somewhere easily secured and out of easy reach of the enemy.
If you don't need to deny Cloak this building drops in importance and is fine to put in the 'danger' zone. Removing a Power die from your opponents is definitely cool, but there are probably other buildings you want to prioritize being safe in this case.
Communications Array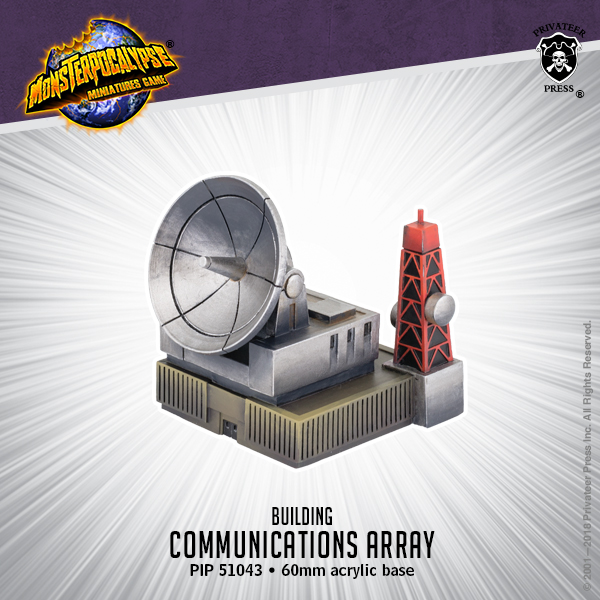 Incombustible – When destroyed this building doesn't create a hazard. This is important to remember when planning out your power attacks, as monsters colliding into it won't take that extra point of damage from landing in a hazard.
Radar Network – This gives all of your models +1 range on their Blast attacks. A great ability, especially for units like the G-Tank who want to aim to gain a Boost die.
If you are planning to make use of Blast attacks, this building is a great choice. Any Blast attacks with a special effect, like the Ares Mothership or Defender-X's rocket fist, will especially benefit from the extra range.
Due to the Incombustible rule this is a building you might be able to place in a strategic location. In the early turns of the game your monsters can't help but be around some buildings that they may get power attacked into. If you can position in a way that your opponent is forced into attacking you into this building, you'll be able to take one less damage overall. It sounds good in theory, but pulling it off can be tricky.
Industrial Complex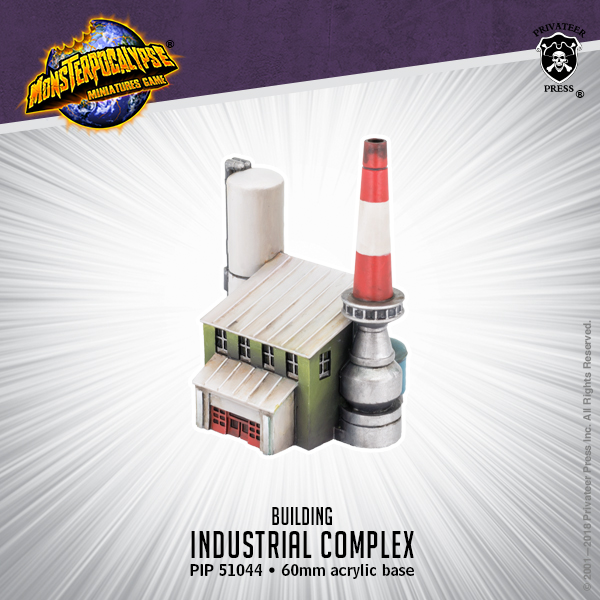 Fuel Depot –  Gives all your forces +1 SPD
A straightforward and powerful ability, there are very few models in the game that don't make good use of this. Monsters want the extra movement as it allows them to not have to step as much. Units can get that one extra space they need to land on the Power Zone or secure that building.
This is a building that you'll often be putting in your 'safe' zone. Somewhere you'll be able to secure it and the enemy will need to put some effort into reaching.
Wrap Up
Buildings are a great way to expand your Monsterpocalypse experience, bringing a fun new element to your strategic decisions. If you are so inclined you can bring up to 4 of the same building to your game. Remember though, that the same named rules don't stack, so you can't secure 4 Industrial Complexes and gain +4 SPD. In our next article we'll cover the other 3 buildings in this initial release; the Skyscraper, Power Plant and Downtown Highrise.
What do you think of these Buildings? Are you planning on running any duplicate buildings in your army?