Star Wars: Legion is adding yet another iconic character to the game with everyone's favorite walking carpet Chewbacca! This lovable, yet ferocious, Wookiee is joining the Rebellion side with a new Operative Expansion – come see what's heading your way!
Chewbacca is one of the most well loved and recognizable characters in all of Star Wars. He's been in a few prequels, the original trilogy, and all of the sequels thus far, and doubles as both a comforting presence (like a big teddy bear) and as a fearsome warrior (like an ACTUAL bear). Now he's making the jump to the tabletop and yet again he proves his usefulness. Never underestimate the power of the Wookiee!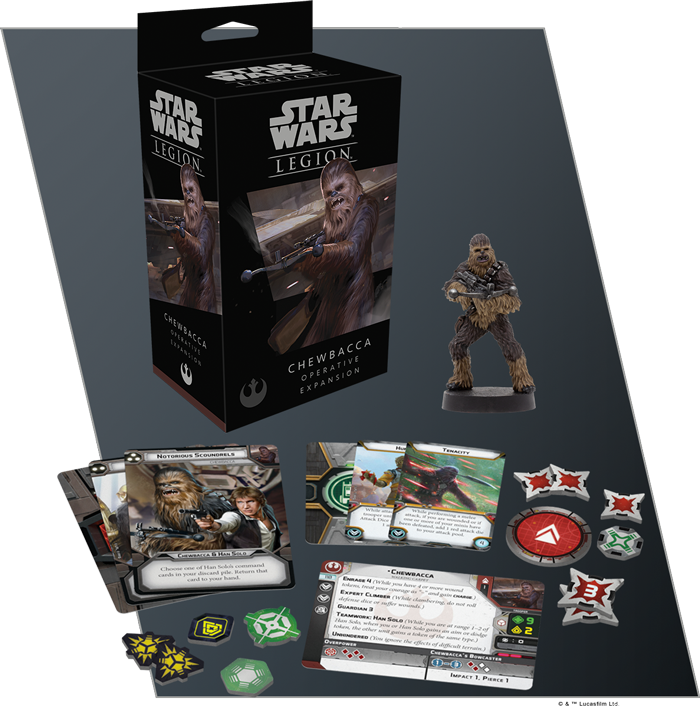 With his enormous strength, Chewbacca is a valuable asset for the Rebellion in any fight. From the depths of the Death Star, to the frozen plains of Hoth, to the forest moon of Endor, he has demonstrated time and again the power of having a Wookiee on your side. But perhaps even more valuable than his size and strength is Chewbacca's unwavering loyalty to his friends.
Clocking in at 110 points, Chewie is the Rebellion's first operative expansion. As we learned with the Boba Fett Operative Expansion these operatives come with their own set of Command Cards. Now, for the most part, these cards can only be used on said Operative – but they add to your card pool and give players some extra options along side their Commanders.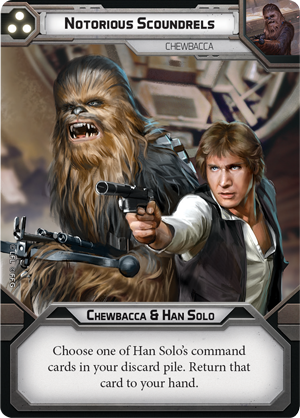 Notorious Scoundrels is Chewbacca's initiative 3 card. It pairs excellently with Han Solo as it allows you to return one of Han's Command Cards from the discard pile back into your hand. That could allow you to go for a power play by doubling down on a card like Sorry About The Mess.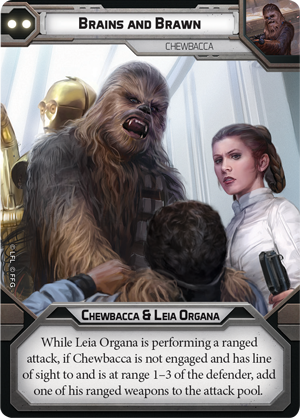 If Chewie is running with Leia, then you can help boost her attacks with an additional blast from one of his weapons! Everyone likes a little coordinated firepower, right?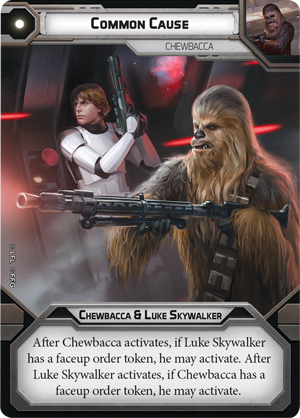 And for his last Command Card, Chewbacca is a great ally for Luke as it can allow them to activate one right after the other! With this card also having only 1 pip, that puts you in a really good spot to have two might Rebel Heroes activate before the other player has a chance to respond.
Don't Mess With The Wookiee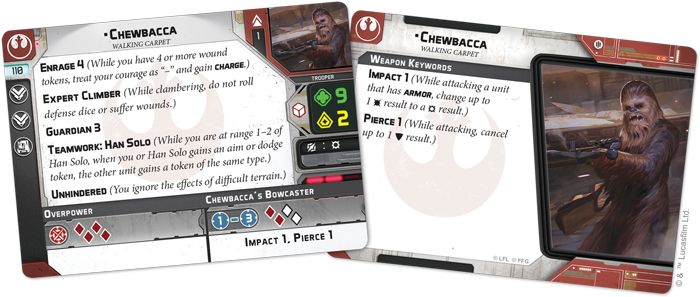 Stat-wise, this Wookiee brings the beef! Overpower is his melee attack with 4 red dice! He will be ripping your enemy's arms off in no time if you get him in close. His Bowcaster is also no joke! 2 Red, 2 White dice AND Impact 1 and Pierce 1 – you can threaten pretty much anything in the game with that at range. Plus, look at that health pool! With 9 health he's got more hit points than Vader. And he's got a bunch of helpful keywords to make him even better.
Guardian 3 allows him to cancel up to 3 hits from a ranged attack made against a friendly squad in range. Now, there is a chance he'll end up taking that damage but that's all part of the plan with Enrage 4.  Once he takes 4 damage he gains the Charge keyword…and you don't want an angry Wookiee charging you.
He also comes with a few extra cards like Tenacity and Hunter. We've seen them before but we're including them for completeness: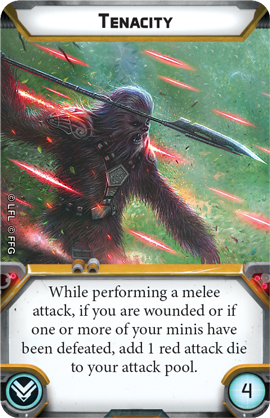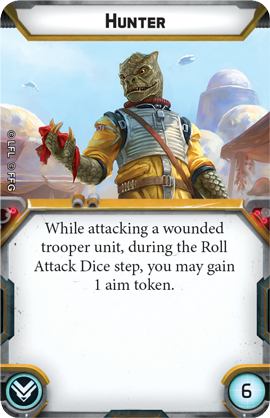 The Chewbacca Operative Expansion is due out later this Quarter so keep an eye out for the most famous Wookiee in the galaxy!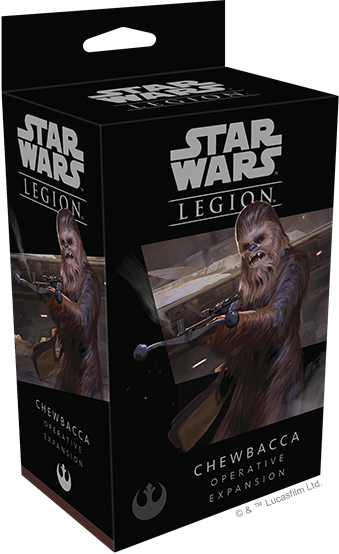 Han Solo's ever-faithful companion, Chewbacca isn't afraid to follow his friends into battle. Once there, it isn't hard to see how he can aid Rebel commanders as they attempt to capture crucial objectives or secure a foothold on the battlefield. His immense strength and personal connection to Solo, Luke Skywalker, and Leia Organa make him a natural choice to join these iconic heroes on the battlefield as an operative.

Inside the Chewbacca Operative Expansion, you'll find everything you need to add Chewbacca to your Rebel army. A single unpainted, easily assembled miniature depicts Chewbacca roaring into battle, his trusty bowcaster at the ready. Three upgrade cards provide more tools for preparing Chewbacca and your other units for battle, and three command cards can add more variety to your hand, allowing Chewbacca to team up with the three Rebel commanders.
It's not wise to upset a Wookiee.