Alongside the Ambot, or Mechanical Ambulls, comes the Jotunn, an "Ogryn-servitor" for hire that brings a bionically enhanced Ogryn to your gang. Come see what they can do for you.
Spotted over on El Descanso, the rules for the Ambot's companion brute: the Jotunn grade-H servitor Ogryn. It's basically exactly what you'd expect when you slap some augmetics on an Ogryn to make its already stronger-than-average fists hit even harder. And, according to the article, it's apparently similar to the Ambot, so come get an idea of what's in store for you…
via El Descanso del Escriba
Here's a look at the stat block: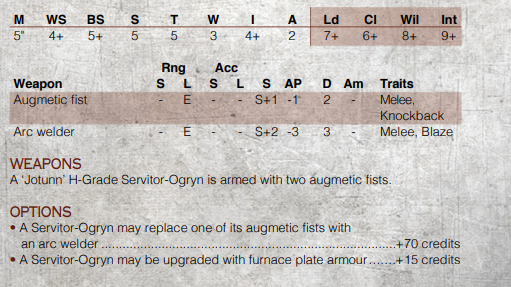 Whatever augmetic you slap on, the fist or the arc-welder, the Ogryn hits like a freight train. With a Strength 6 (minimum) and the option to choose between Knockback or setting your enemy on fire, and a pretty spicy furnace-plate armor upgrade to help them endure the enemy fire a little better, these Jotunn will be helping to control the battlefield, both in terms of taking enemy positions and helping knock enemies out of safety (or better yet, into hazards).
And their abilities beef up their role as well: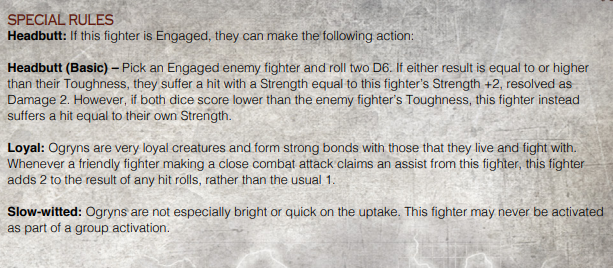 Headbutt is a pretty amazing way to help keep up your damage output, though it comes with a little bit of a risk (but odds are good you'll end up dealing damage). While Loyal means your other melee units will only make it better when assisting.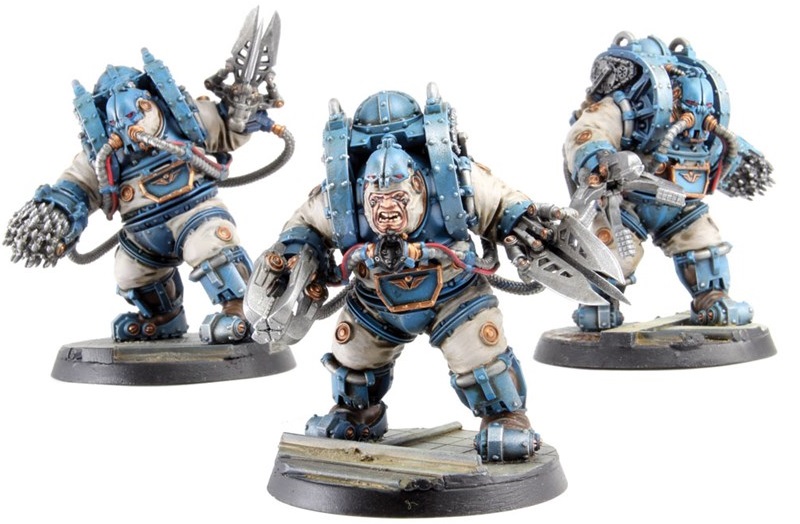 And since you can use any Ogryn model as a Jotunn, it should be pretty easy to slot one of these in to your existing gang. So be prepared to see your forces living large and in charge.
For best results, combine these augmented Ogryn with the Mechanical Ambull, and smash your way through enemy lines with unrivaled power.
What do you think of these new Ogryn? Let us know in the comments.