The Gloomspite Gitz have a new Battletome out and we're taking a tour – join us as we explore the highlights of the Gloomspite Gitz!
Grots, Grots, Troggs, Spiders, Fungus, Squigs and more Grots are what you'll find in the upcoming battletome for Age of Sigmar: The Gloomspire Gitz!
It's about time Destruction got some love and the new Battletome is a great start. This army is packed full of cool, new models and updates on some classics. The themes of cunning, deception, poison, and "hooligan-like violence" are strong with the Gloomspite Gitz. This is going to be a fun army to collect and play on the tabletop.
Three Sub-factions, One Bad Moon
The army of the Gloomspite Gitz is formed around 3 groups – if you've been following our coverage so far, that much is clear. This is an army that can be fielded in multiple ways and, because of all the new units, it can do each thing pretty well.
If you want to go heavy on the Grots and Squig themes, you can run a list similar to the old school style with tons of Mooclan Grots and Squigs. They harness powerful fungoid brews and concoctions to supplement their already nasty magical abilities. If you want to get your Spider on, the Spiderfang Grots have some very sneaky new stuff they can pull as they skitter along and ambush their prey. And finally, if you want to bring the regeneration beef to the party, Troggs are where it's at!
Pick one sub-faction and go to town, or mix and match for a custom brew that will have your enemies guessing. Whatever you do – pay attention to the omens of the Bad Moon and use it to your strategic advantage!
Battletome: Gloomspite Gitz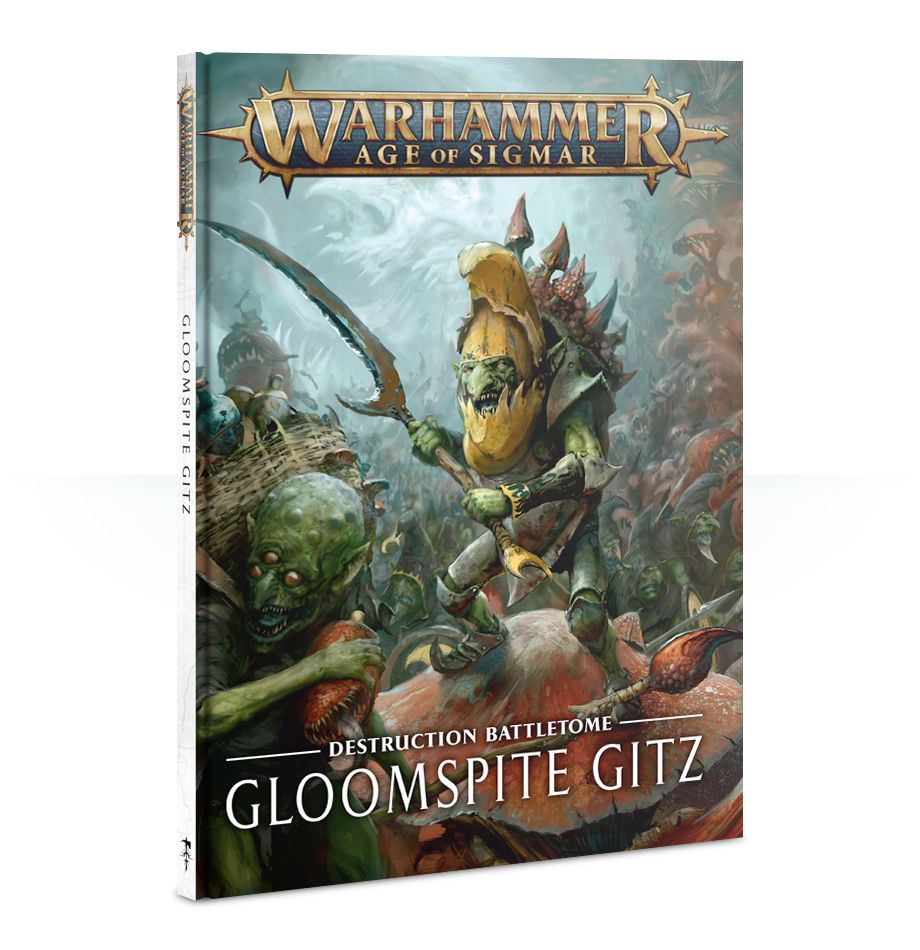 The Bad Moon is rising on the Mortal Realms – and the grots are marching to war. This battletome allows you to field an army of Gloomspite Gitz – a coalition of Moonclan Grots, Spiderfang Grots, troggoths and gargants united by a love hallucinogenic fungus and heinous violence. Inside this book, you'll find…

– An in-depth look at the origins, lore and great battles of the Gloomspite Gitz
– A showcase of stunningly painted miniatures – plus tips for painting your own
– Powerful new faction abilities that let you represent the madcap tactics of the Gloomspite Gitz on your tabletop
– Warscrolls and points profiles that let you build any kind of army you want – teeming hordes of grots, scuttling Spider Riders, brutish tribes of troggoths or a mix of the three
– And more!

If you're looking to spread destruction (or just take on the tabletop with hordes of squigs), Battletome: Gloomspite Gitz is your essential guide.
GROTS, GROTS, TROGGS, AND GROTS!