The Rakdos Guild is a carnival of delight and destruction, at its heart lies a demon that hungers for more. Find out why people are dying to see performances by the Cult of Rakdos…
Come and join Narrative Designer Ari Levitch as we once more delve into Ravnica to explore the twisted mockery that fuels the heart of the Cult of Rakdos. Well, technically it's the millennia-old demon that drives the dark carnival to depths of depravity and dazzling beauty all at once. Hailed as the greatest showman–eat your heart out Hugh Jackman, he's got TWO million dreams–Rakdos is a demon who is a master manipulator, dazzling producer, and an enigmatic figure that drives the performers of the Guild to realize the futility and absurdity of the other Guilds' grand plans, seeking instead to find meaning in the moment. To give the performance of a lifetime. Which in a fit of hedonism that would make even a Drukhari take notice, leads them to be cruel and violent as they push for new heights (and depths) to evoke feeling…
And there's a lot to dig into here. These are characters with a darker side to them–if you're looking to create a character that laughs at the world around them, or that has a lot of tension between their drive for personal experience and expression, and the violence and other cruelties that filter in due to the demon's influence, this is the guild for you.
It's a tricky thing to pull off for certain. Imagine a Bard who wants to be the best performer–how far are they willing to go to pursue that dream? How much of a mockery of society are they willing to make, how much anarchy to incite before they cross a line and lose what of their humanity there is?
These are questions that Rakdos invites. There's absurdity to life, to be certain, but can you pluck meaning from the Chaos? Is it fulfilling or destructive?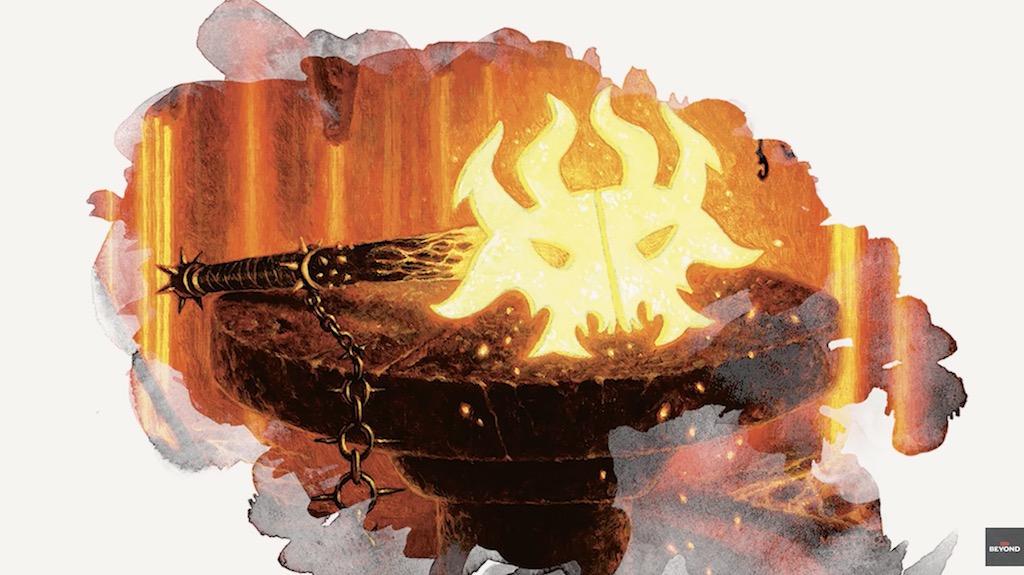 These are the questions the Cult of Rakdos seeks to answer. It's a place for misfits and malcontents, but it truly is the greatest show on earth. As a Rakdos Cultist you'll be drawn towards drama–a natural performer with a flair for mastery and panache. You'll get proficiency with Acrobatics and Performance, as well as musical instruments and the Abyssal Language.
But what you'll really love from the background is the Fearsome Reputation that comes with being a Rakdos Cultist. You'll find that your reputation means you can go a bit far before people are willing to report you for misbehavior. Pick someone's pocket in broad daylight, steal from a merchant's stall–as long as there's no authority around to witness it, most commoners aren't going to report you.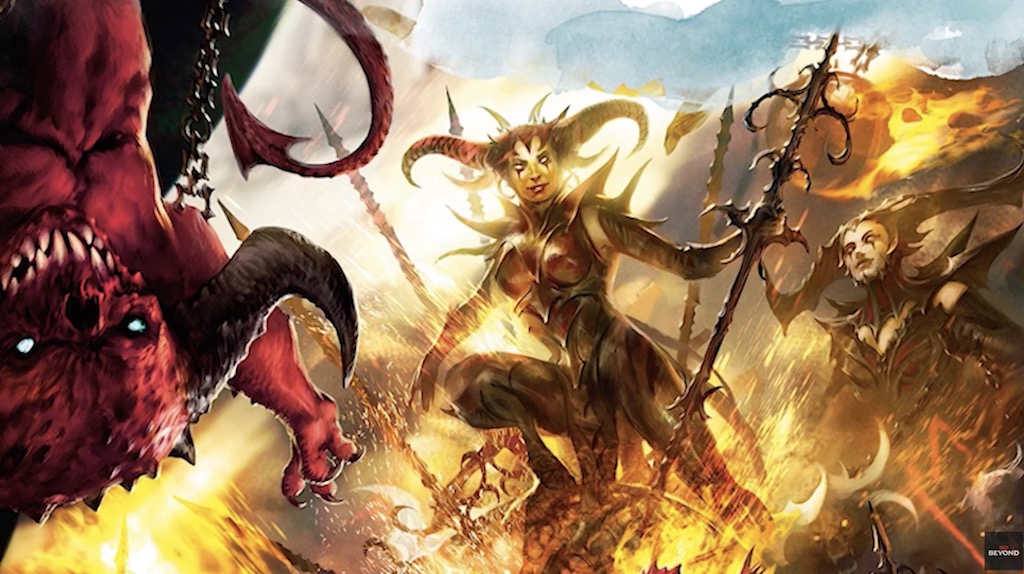 And your Guild Spells mean you'll have the threats to back it up. This Guild is amazing as it's one of the few ways for any magical character to pick up Vicious Mockery as well as reaction spells like Hellish Rebuke–and as you'd expect there are a ton of fire and fear spells on display here.
It's Guild Ranks, like Gruul's are loosely structured at best–but, the amount of renown you earn conveys how well-known you are in the city…and to Rakdos himself.
You'll begin life as an Extra, just a day player–you can do a side bit in one of the more dangerous acts, where you'll doubtless suffer injury or worse, but if you can survive long enough to gain 10 renown you'll be a Sideshow Act which means you have some pull within the Guild and outside of it. You can start putting on your own independent "performances" and can start calling on Rakdos creatures–Cacklers–a new kind of demon are the chief ally you can count on.
After that you might, if you're lucky, become a Star Performer, where you can start displaying your skills and powers in proper shows. You're the headlining act, and you can pull in a crowd with your name alone–flunkies and performers flock to you with the hopes of just a little or your notoriety leaking onto them.
And if you can survive your Star Performances, you will rise to Ringmaster a coveted rank with awesome responsibilities. You orchestrate the bloody climax to every show, which ends in a blood sacrifice to Rakdos–you definitely cross into villainous territory here, but hey, you can put together a troupe of 3d10 + 20 performers… that's an awful lot… but if you want to avoid capture by the Azorius, you'll need it.
Of course there is another path to power. You might also become a Blood Witch, which, in addition to being a fantastic Metal Band name, are the ones responsible for wrangling, summoning, and enforcing Rakdos' will among the individual performers, henchmen, and demons. Of course, as a Blood Witch, you'll be assigned a target to torment, so again, definitely flirting with villainous territory. But that's what Rakdos is all about.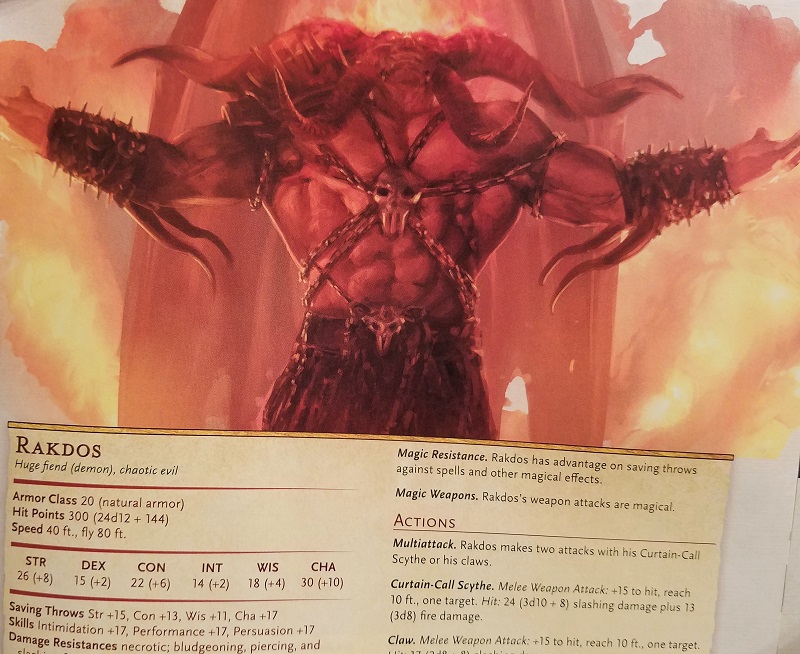 Speaking of, here's a look at the big man himself. And weighing in at CR 24, he's one of the more powerful beings in the book. Which makes sense, given that he's thousands of years old and has seen it all. His powers reflect his showman tendencies, including a deadly scythe named Curtain-Call.
Other abilities like Cruel Entertainment help keep Rakdos alive, giving him 25 temporary hit points when a creature within 60 feet of him is dropped, or a Captivating Presence with an unusually high DC of 25 that charms creatures within 30 feet as just a passive aura. And this lasts until you successfully save.
Couple those with Legendary Actions that let him compel charmed creatures to move and attack or poison creatures such that they can't actually concentrate on spells, and you can rob parties of some of their accustomed strengths. Both are unique mechanics that make fighting him very interesting. Even if you're not going up against the actual Rakdos, you should definitely consider stealing these mechanics, they'll make for memorable–and challenging–fights.
Happy Adventuring!