In Polar a company of assassins is in a fight to the death for a rather large reward. Netflix aims for John Wick fans with this movie based on a popular graphic novel.

The movie is based on Victor Santos' action noir graphic novel Polar: Came From the Cold. The story focuses on top assassin Duncan Vizla (played by Mikkelsen), aka The Black Kaiser, as he's trying to settle into a well-deserved retirement – but of course, he won't get any rest. He's been marked as a liability by his former employer and is forced to fight an army of younger killers with all of the benefits of youth that he no longer has. He has to draw from his experience, knowledge, and grit to survive.
And he looks a bit like a particular Metal Gear Solid character.
It definitely has a
John Wick
feel to it, which I'm sure Netflix was aiming for. It's slick, it's got style, but will it have substance and good fight choreography? Hopefully, it'll be able to set itself apart from the big screen franchise, and tell a different kind of story with the hard-hitting action
Wick
fans crave. I'll watch just about anything with Mads in it, so I'm watching it.
He is joined by Vanessa Hudgens, Katheryn Winnick, Matt Lucas, Johnny Knoxville, and Richard Dreyfuss. It's directed by Jonas Åkerlund (Lords of Chaos, Spun) with a screenplay adapted by Jayson Rothwell (Silent Night, Malice in Wonderland).
Polar hits Netflix on January 25th.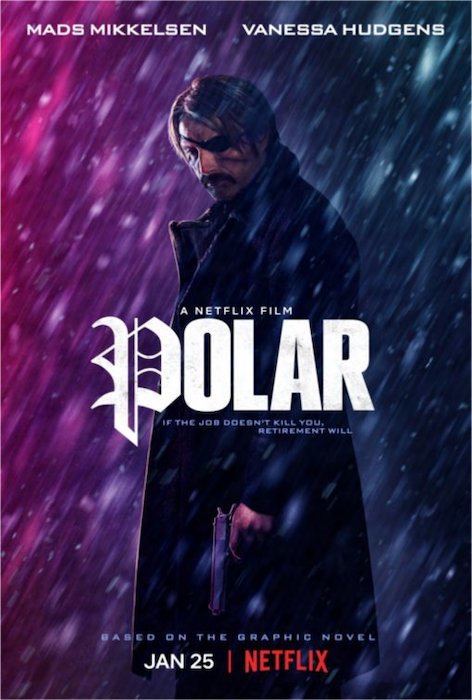 As a bonus: Mikkelsen has another (already decently reviewed) movie coming out a week after this called Arctic about survival in polar climates…