Goatboy here again and I love the idea of Bash Bros.  Having 2 Gigantic models on the table top screams to me that 40k is a nutty game.
Mix that in with 2 of the supreme bad guys of the Grim dark universe, and you have an army that speaks to my Chaotic evil nature that churns and burns through my brain.  A friend of mine has done well with it, and while I have a nice counts as Morty (Creature Caster makes some nice stuff), I would need to paint up a real one to bring this army to some event table tops.  I think I have my LVO list locked in (have to paint seven models) so while I would love to bring some Bash Bros, I might have to save it for a later event in my home state so I don't have to worry about flying with arms outstretched models.
But enough of that – let's build the list and see if we can make it interesting.  Will be using a soup battalion using/abusing the keyword Nurgle.  This is one of the few things left around that lets you build an army that doesn't need faction rules to function.  Nurgle seems to be the best at this as most Nurgle based units already get the best thing for their faction – Disgustingly Resilient.  Thus you can easily throw in some helpful models to keep Morty alive a little bit longer.  It also helps that most of the time the Daemon Stratagems are just not nearly as important as other armies.  This Bash Bros build will be based on the current one heavily used by a buddy Austin from Wobbly Modelers.  He is on Team America now, and I have high hopes he can crush some fools with the evil wonder twins if he gets lucky enough to play them.  Plus he is a fun player to play against and a decent dude.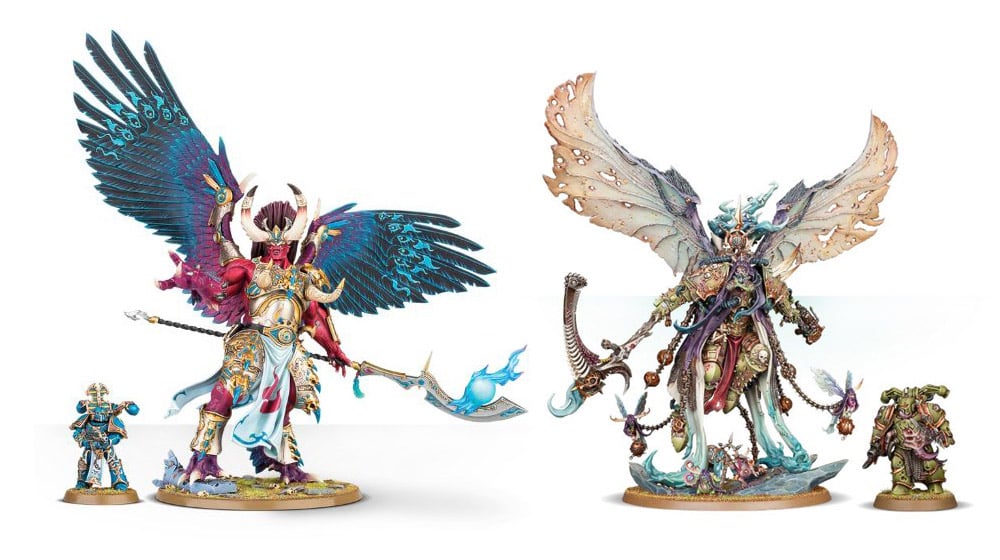 Brother, I bet you get popped by a Knight before me!
Brother, that's a bet!
Bash Bros Version 2.0 (at least for me)
Super-Heavy Auxiliary Detachment – 0CP –  [24pl, 470pts]
Faction – Death Guard
-LoW-
Mortarion – [24pl, 470pts]
Supreme Command Detachment – 1CP – [46pl, 855pts]
Faction – Thousand Sons
-HQ-
Ahriman on Disc – [9pl, 166pts]
Sorcerer of Tzeentch, Force Sword, Inferno Bolt Pistol, Jump Pack – Warlord – High Magister, Relic – Helm of the Third Eye – [7pl, 122pts]
Sorcerer of Tzeentch, Force Sword, Inferno Bolt Pistol, Jump Pack – [7pl, 122pts]
-LoW-
Magnus the Red – [34pl, 601pts]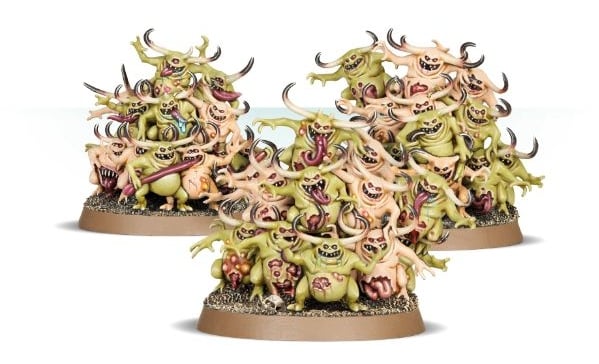 We heard there's a party!!!
Battalion Detachment – 5CP – [37pl, 664pts]
Faction – Nurgle
-HQ-
Poxbringer – [4pl, 70pts]
Spoilpox Scrivener – [4pl, 95pts]
-Elites-
Deathshroud Terminators X 3 – [11pl, 156pts]
-Troops-
Nurglings X 3 [3pl, 54pts]
Nurglings X 3 [3pl, 54pts]
Plaguebearers X 30, Instrument of Chaos, Daemonic Icon – [12pl, 235pts]
Total – 1989pts / 107pl – 9CP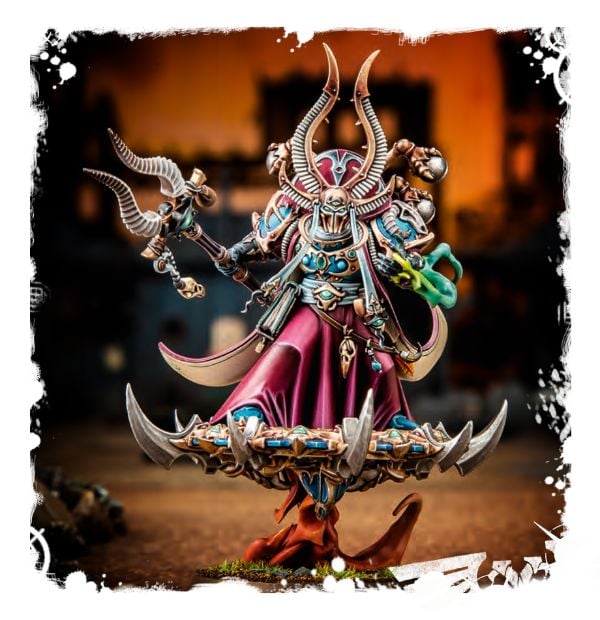 Those damned Nurglings always mess with my stuff…
Bash Brothers Tactics
This list is pretty simple in its interactions.  You have Morty coming in as the first wave, hopefully causing a lot of chaos/damage, maybe survive the opponent's response, and then you can explode and do more damage.  The hope is Morty has done enough that Magnus can come and clean up followed by some well-timed spells.  The army can surprisingly play pretty fast as you just have your spell list you need to follow and then some basic movement and assault.  Its a weird army in that some of the Stratagems you will use are things like getting an additional +2 to casting with T. Sons and maybe some power swapping as needed.  The Daemon book just has some not needed strats so utilizing a stinky soup detachment option is viable to gain a few extra wounds for Morty.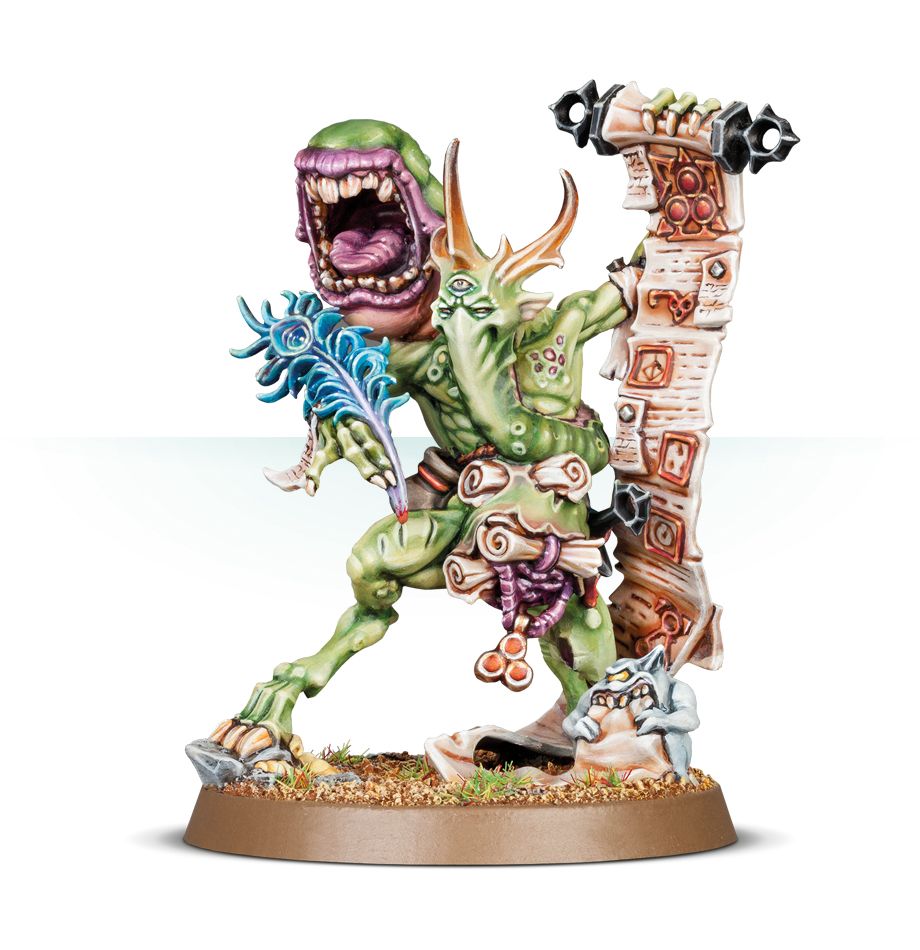 NOW it's a party! I'll be your DJ for the evening.
I don't think this is a list just anyone can pick up as you need to pay attention to all aspects of the mission and get used to your big guys dying in a blaze of glory & Knight shooting from time to time.  You have to keep on the prize and hope you can win thru mission completion instead of just crushing those dirty good guys with the overwhelming noxious odors of Nurgle and Tzeentch insanity.
~Who would you shoot first – Magnus or Morty?