40K: Horus Heresy Weekender Incoming – New Releases Spotted


Hold on to your (power-armored) butts everyone, the Horus Heresy Weekender is coming up. And we've got a look at the new miniatures and prices for you right here, right now.
That's right, it's time once again for the Horus Heresy Weekender to showcase to everyone what we can expect to see in the coming year–and with the end of the Horus Heresy Novels on its way, more Adeptus Titanicus coming, and new Necromunda Bounty Hunters getting ready to post themselves up for hire, there's a lot to see.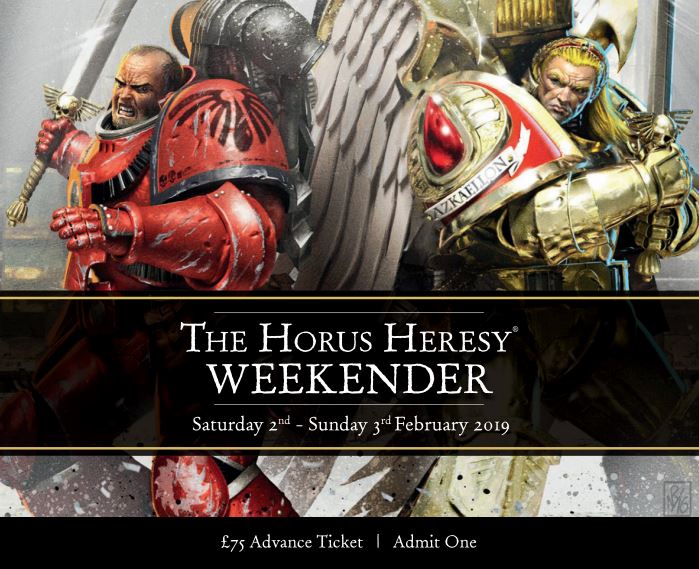 For fans of the Horus Heresy and Adeptus Titanicus, the Horus Heresy Weekender is the ultimate event not to be missed. Prepare to immerse yourself fully as you explore every detail of these worlds. Chat with the masterminds who created them, see the latest miniatures, and uncover what the future holds for the hobby you love. If you want a dedicated weekend that leaves no stone unturned, then the Horus Heresy Weekender is for you. Here's what's in store:

Seminars: We have a wide selection of seminars over the course of the weekend. Delve into the detail of recent releases and the journey the team embarked upon to bring these fantastic miniatures and publications into being. Take a glimpse into the future as Forge World's coming plans are revealed for the first time…
In the meantime, however, we have a look at some of the miniatures that you'll be spotting up ahead. Come take a look at just a few of the releases you'll be seeing, thanks to Andrey Nalyotov on Facebook.
So be sure and check back tomorrow for all the news out of the Horus Heresy Weekender.
What do you think of the upcoming releases? Let us know in the comments!