Review: HobbyZone Modular Workshop System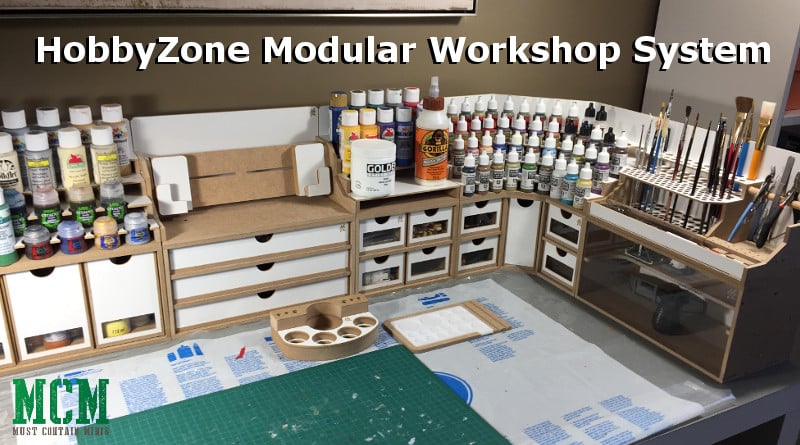 Today's post is to introduce readers to one of the slickest things that I have seen in a long time. This is the Modular Workshop System by HobbyZone. In a sense, the post is also a general overview of the system itself.

In the interest of full-disclosure, HobbyZone sent me the Modular Workshop System for review purposes. That said, I still had to pay a very small customs fee to get it into my country (Canada).
With that out of the way, I have to say that I am very impressed with the product and was looking to purchase the unit before they decided to sent it to me for review.
If you have not heard of HobbyZone, they are an MDF company that specializes in miniature painting accessories including paint tables, the Modular Workshop System and many other products. They even make their own army carrying case that they sell. Below is a picture of one of their painting tables.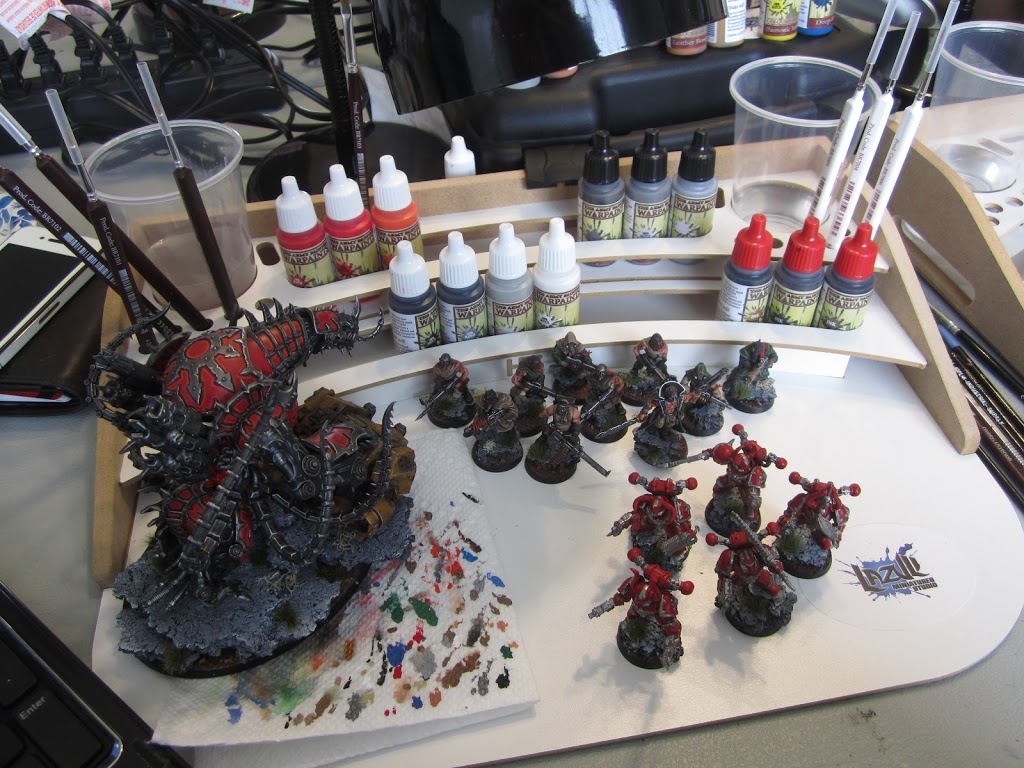 The company is based out of Poland, but they ship worldwide. When I ordered in my review product, they sent it through Priority Shipping. That is also an option available for anyone purchasing their products. I could not believe how fast it got to me. The package went from Poland, to Germany, to New York, to Canada and got from the HobbyZone shop to my doorstep in three days. That was unbelievable! In fact, I had the product in my hands from when I ordered it in less than a week.
The modules that HobbyZone sent me all come as flat-pack MDF and have to be built. Building them was not too difficult and there will be posts about the different modules in the future.
HobbyZone's Modular Workshop System
In this set up, I ordered 10 Modules. As you can see, I have three paint shelves, a tool holder, a work-in-progress holder with a clear cover and a number of drawers. In the drawers, I have more paints, various tools, adhesives and my bits box. Between the top two paint racks sits an I-Pad holder. That module is something really slick. It can tilt up and down and I set it so I can adjust the width on the holder.
As you can see, this system looks really nice. The components are all extremely high quality. The components all connect together through rare-earth magnets. When connected, the unit acts as one large piece of furniture. If you want to change the layout though, that is really easy to do. You just pull it apart from the surrounding modules and re-arrange the modules as you wish. In fact, I made some changes to the layout of the system since I built it. Super easy to use.
As a note for my North American readers, the current paper towel dispenser is not sized properly for our paper towels. Do not buy that unit if you are in America or Canada unless you have access to specialty sized paper towels. 
In the future, I will be going over some of the individual modules in the unit above.
Wrapping it up…
Overall, I love my HobbyZone Modular Workshop System. It looks absolutely awesome on my hobby desk and keeps everything nicely organized.
Not only am I happy, but my wife is too as one of the things that she wanted for my hobby area is for it to look nice. It certainly does!!! Thank you HobbyZone!
Thanks for reading and until next time, Happy Gaming Everyone!!!
Subscribe to our newsletter!
Get Tabletop, RPG & Pop Culture news delivered directly to your inbox.

Read more about great Indy and Historical games on my site!
Aside from writing great gaming related articles, I am also working on compiling a list of all Miniature Gaming Conventions in Ontario (Canada). If you are in Ontario, this list should be of interest to you!