ToyLand: The Batman Family in Adorable Q-Fig Style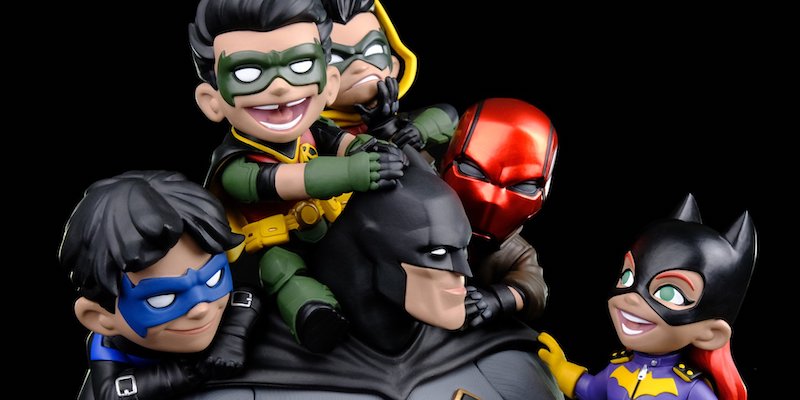 Q-Fig from Quantum Mechanix mixes super-deformed and realistic elements for a cartoony cute look that's unique. This limited edition statue of Batman and his 'family' ups the scale for more detail and fun.
This statue focuses on a key aspect of the iconic character – the family man. Bruce Wayne's life, though he is depicted as a loner,  has a strong family element to it. The loss of his parents helped create Batman, and he has taken in many others into his life and adventures in an effort to deal with that loss; and make sure that they aren't alone.
This is the largest piece QMx has ever made, and is the first in a new series of large dioramas "Q-Master." The statue, designed by QMx Creative Director Mohammad Haque, is made of  a proprietary high-temperature polyresin developed by QMx. Everstone that provides high detail that also resists fading and fracture. It comes with a numbered Certificate of Authenticity signed by it's creator and ships in a specially designed collectors box.
You can sign up for the wait list today to make sure you get yours!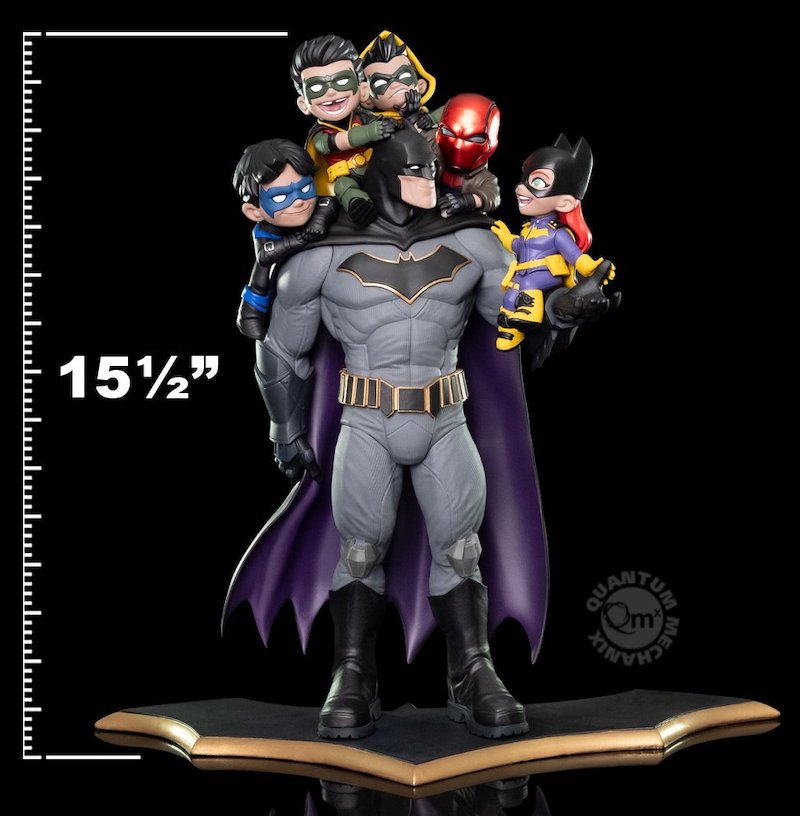 Batman: "Family" Limited Edition Q-Master Diorama – $199.95 
Jockeying for position over Batman's right shoulder, Damian Wayne (Robin) and Jason Todd (Red Hood) battle with each other and try to get Batman's attention.  They lack the motivation and nobility that drives Batman, but very much want to live up to their training and the legacy of the Dark Knight.
Tim Drake (Red Robin) sits on Batman's left shoulder and holds one of his cowl's ears. Tim,  a great detective in his own right, seeks Batman's approval and fatherly guidance.
Barbara Gordon (Batgirl) sits on Batman's right arm and shares a playful look with him. Unlike his other partners, Barbara already has a strong father figure in Police Commissioner James Gordon. But in Batman, Batgirl sees a mentor who can teach her a different kind of crimefighting.
Dick Grayson (Nightwing, formerly Robin) looks over Batman's left shoulder.  He was the first member of Batman's family and he sees Bruce Wayne for the man he truly is. Nightwing is cool and confident, no longer looking for approval from Batman, but still finding inspiration in the Dark Knight as he follows his own path.