Geekery: 'Star Wars: Galaxy's Edge' Details – Behind the Scenes Look at Hondo Animatronic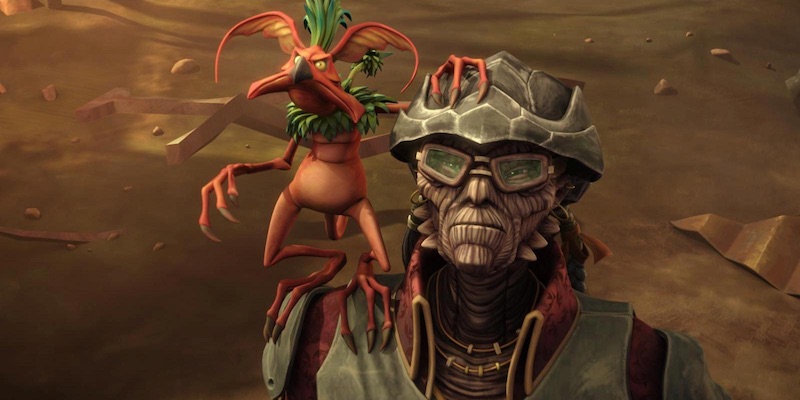 Boston Dynamics doesn't hold the market for robots. Disney, with its theme ark attractions, have been building animatronic characters with robotic bodies since the 1960s. The latest evolution has been built especially for the new Star Wars: Galaxy's Edge attraction at Disneyland. It was announced at D23 2015 that 14 acres of Star Wars themed lands were being added to Disneyland Park in Anaheim and the Walt Disney World Resort in Orlando, Florida. The new section of Disneyland opens this summer – it offers a ton of new and unique experiences.
Build your own custom Lightsaber in Savi's Workshop. Color will be determined on which Kyber crystal and which theme you choose – Peace and Justice (Republic-era Jedi), Power and Control (Dark Side), Elements and Nature (designs that use raw and natural materials) and Protection and Defense (medieval style).
At Mubo's Droid Depot you can build your own interactive droid. The R series (that looks like R2-D2) and BB-series (in the style of BB-8) will be offered; with options for colors and accessories.
Dok-Ondar's Den of Antiquities will offer Star Wars universe collectables – Holocron cubes, Jedi statues, books, etc.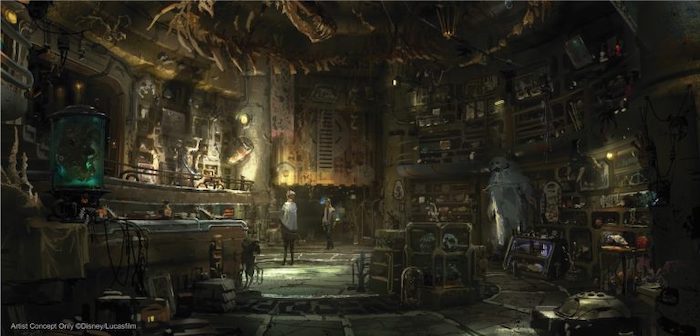 Other features: Toydarian Toyshop where you can pick up stuffed animals and toys that Luke or Rey played with as kids; there will be a roleplaying app that offers a more immersive experience for guests; and there will be a selection of restaurants including Oga's Cantina which will serve alcoholic drinks to Disneyland's public guests for the first time.
And that doesn't include the rides.
In Rise of the Resistance you will be recruited by the Resistance to go on a shuttle mission to help stop the First Order. Rey, Finn, Poe Dameron, and Kylo Ren are featured in the ride that is rumored to be 30 minutes overall experience.
Millennium Falcon: Smuggler's Run is a motion simulator that participants pilot – it's interactive. You'll be able to walk through the ship before reaching the cockpit, which offers plenty of photo opportunities.
The attraction will also include Disney's signature animatronics that have been part of their parks since the 1960s – with some high tech improvements. Their robotics department released a preview of a character fans of the Star Wars animated series will recognize: Hondo Ohnaka. This animatronic will prepare folks to pilot the Millennium Falcon.
A bit about the new animatronics built by Disney:
A1000 advanced robotics are the next evolution of the A100 Audio-Animatronic figures that were first introduced by Walt Disney Imagineering in the mid-1980s. This standardized system for building humanoid robotic figures incorporates new electric functionality, replacing former hydraulic functions, producing extremely realistic, lifelike movement. Future figures in humanoid form can all use this system to ensure the same degree of realism and advanced levels of movement. The advanced figures that were developed for Star Wars: Galaxy's Edge – like this animated figure of Hondo Ohnaka, as seen in the Star Wars animated television series – are a hybrid of A1000 technology enhanced with custom-built elements.
It's been four years since the initial announcement, and the hype is strong. Based on all the details that are out now, it looks like the new attraction is going to be a lot of fun for fans of all ages. A specific open date hasn't been set just yet, but the current guess is late June based on the block out day calendar for the Disneyland annual passes.

Subscribe to our newsletter!
Get Tabletop, RPG & Pop Culture news delivered directly to your inbox.