Goatboy here again and lets throw together one bloodthirsty Daemonkin list – pledged to the Brass Throne.
The idea of the Daemon Engine is something I think the new Chaos Space Marine book can easily push to the forefront.  It could be look at as the new "thing" for Chaos Space Marines as it lets them have weird monsters, big kits, and maybe something good to play with.  I don't know how good they will be just yet as this list is just utilizing the original CSM book.  Let's hope a new one comes out, throws some gasoline on the fire, and we get some kick ass stuff.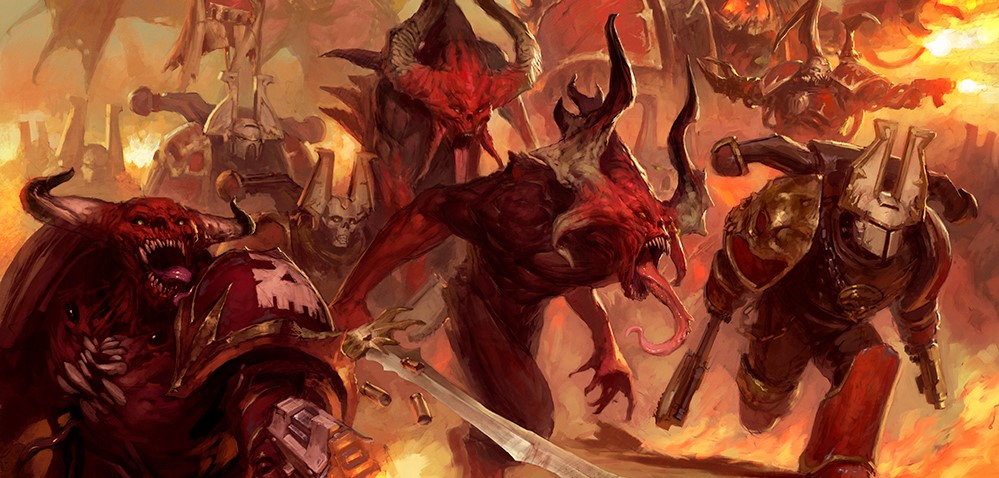 First Daemonkin list is a Khorne based one.  There are a ton of good Khorne Daemon Engines in the Forgeworld book.  Their rules are a bit odd, points are weird, and while fun they are probably not the best.  Still it is a very Khorne like army that's entire world is just pushing forward, getting mixed up in Combat, and maybe killing a few things here and there.  I want to try and either use only Daemons or Daemon Engines in the book.  It feels it would be just right and while I am using some Master of Possession and a Daemon Prince or two – it still feels very Khorne heavy.  Heck you could say the Sorcerers are really just praying to Khorne and things are happening.
I think the biggest crappy thing right now is that the CSM do not really give Legion rules out to any of the Daemon Engines. I really hope this changes in the future – but for right now it is very depressing.  If they got to have Legion rules – then Renegade Legions would be pretty dang amazing with the ability to Advance and charge with these monsters.  Oh well – I guess we have to just look at Slaanesh to do that in another list I throw together.

Mega Murder Blood Death Machine!
Let's start with the Khorne one –
Outrider Detachment – Chaos Space Marines – 0CP
Legion: Iron Warriors
-HQ-
Daemon Prince of Chaos – [9pl, 183pts] Wings, Malefic Talons X 2, Mark of Slaanesh – Relic – Fleshmetal Exoskeleton (-1CP)
Master of Possession – [5pl, 98pts]
-Elites-
Greater Possessed X 2 [4pl, 140pts] Mark of Khorne
-Fast Attack-
Blood Slaughterer of Khrone [9pl, 165pts]
Blood Slaughterer of Khrone [9pl, 165pts]
Blood Slaughterer of Khrone [9pl, 165pts]
-Heavy-
Maulerfiend [9pl, 132pts] Lasher Tendrils, Mark of Khorne
Maulerfiend [9pl, 132pts] Lasher Tendrils, Mark of Khorne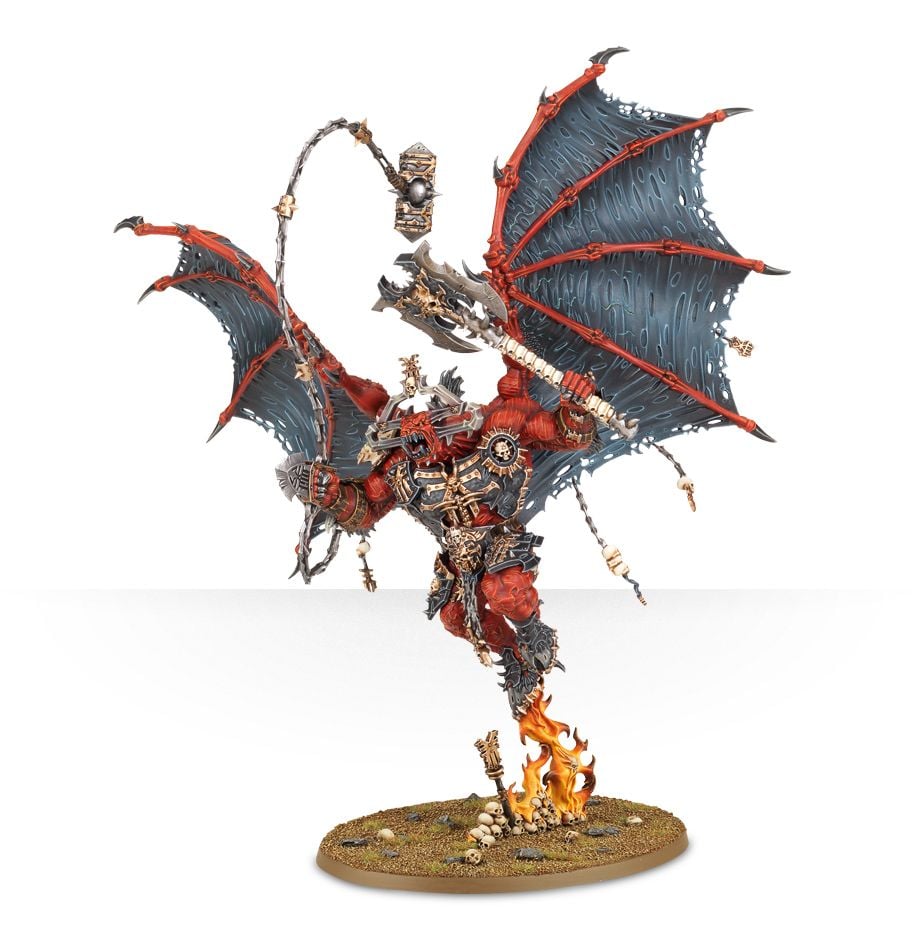 Battalion Detachment – Daemons – 5CP
Khorne
-HQ-
Daemon Prince of Chaos – [9pl, 18opts] Mark of Khorne, Hellforged Axe, Malefic Talon, Wings – Relic – Skullreaver
Bloodmaster – [3pl, 56pts]
Bloodthirster of Insensate Rage [17pl, 260pts] – Relic – Armour of Scorn (-1CP) – Warlord – Oblivious of Pain
-Troops-
Bloodletters X 25 [8pl, 200pts] Daemonic Icon, Instrument of Chaos
Bloodletters X 10 [4pl, 70pts]
Bloodletters X 10 [4pl, 70pts]
Pts: 1992 – CP – 7CP

Tactics: KILL KILL KILL
So this list is just a ton of big monsters running across the table.  You drop the Thirster into Deep Strike and big unit of Letters for assault and hope you get everything locked up for turns 2-3.  I wonder if using Skarbrand might be better but this army is all about hitting as hard as you can.  I think the Slaanesh Daemon Prince is just there as a Delightful Agonies target and a tough guy to remove.  Mix this with the other big monsters and you get a fast moving army.  I like Greater Possessed as they can easily do a number on small units as well as just be an annoying deterrent as needed.
Will this army work? Who the heck knows.  It seems interesting and lets you play with a ton of big monsters.  You end up burning 2 Cps getting relics, 1 CP for Letters Icon, and then 4 for the reserves tricks.  This leaves you at 3 Cps for the rest of the game so not the greatest but beyond getting a +1 to your Invulnerable save on your Thirster – it is probably not going to be used pretty heavily. You could always remove the Warlord trait from the thirster – throw the +1 CP when you roll a 6 after casting a spell, and see if you can get lucky.
Still it feels like this army will move fast, get in there, and probably give you a good time on the table top.
~SKULLS FOR THE BRASS THRONE!