Earthlings beware! Reinforcements for the Planet Eaters have arrived! Rogzor and the Harbinger Comet Shard are coming to a table near you. This months releases for MonPoc bring us 2 Planet Eater models, the monster Rogzor and the Harbinger Comet Shard building. Let's take a look at what they can do.
Harbinger Comet Shard
One of the coolest looking buildings in the game so far, this 'building' is actually a piece of the comet that brought the Planet Eaters to Earth. It's ready to go right out of the box.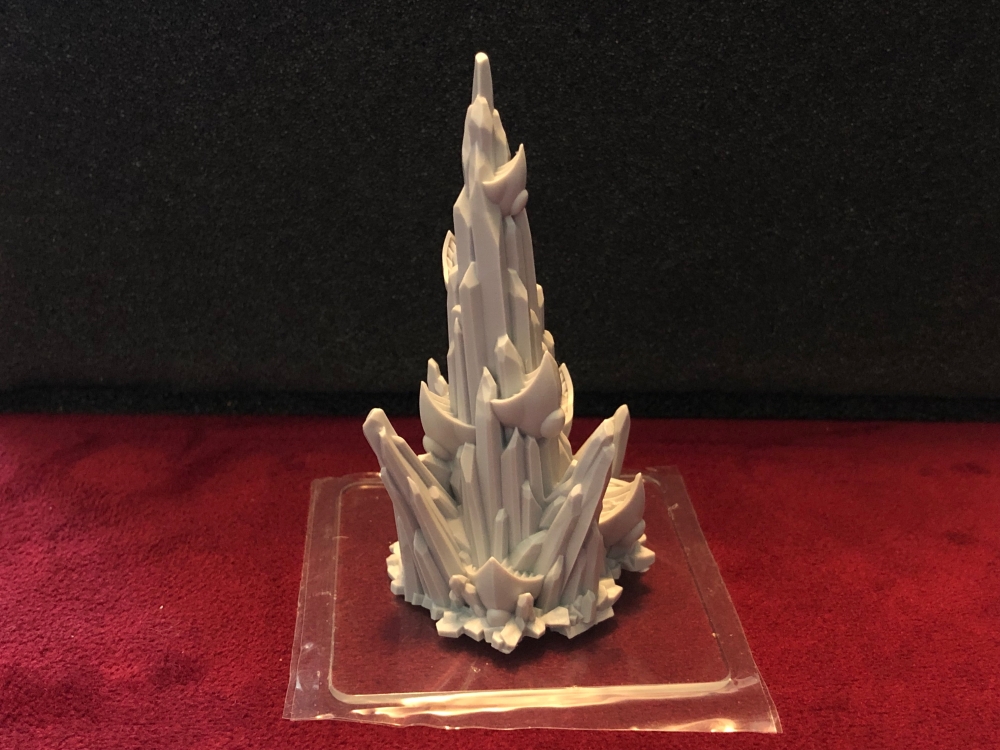 Take a look at it's rules.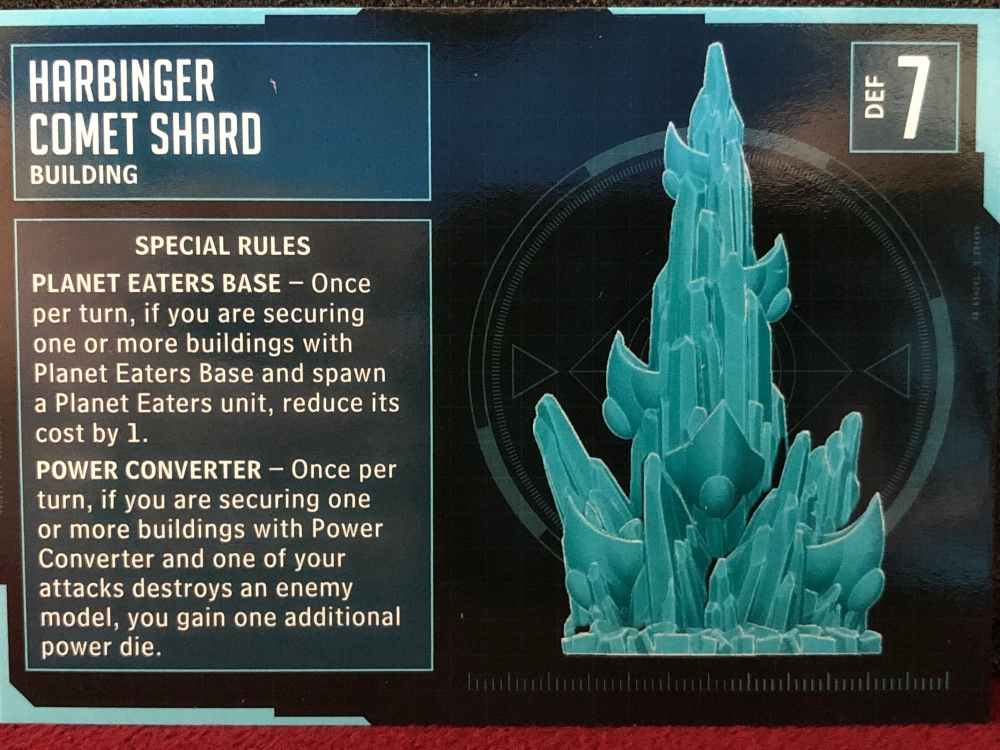 Planet Eaters Base – No surprises here. Similar to the other faction buildings, this reduces the cost of spawning a Planet Eater unit by 1, once per turn.
Power Converter – This gives you an extra power die once per turn if you destroy an enemy. Kinda like Power Gorge, however this works on any attack anywhere on the board. Plus the model that made the attack doesn't need to be anywhere near the Harbinger Comet Shard. This lets you keep it safely on your side of the table, getting both the unit discount and extra power die each turn.
Rogzor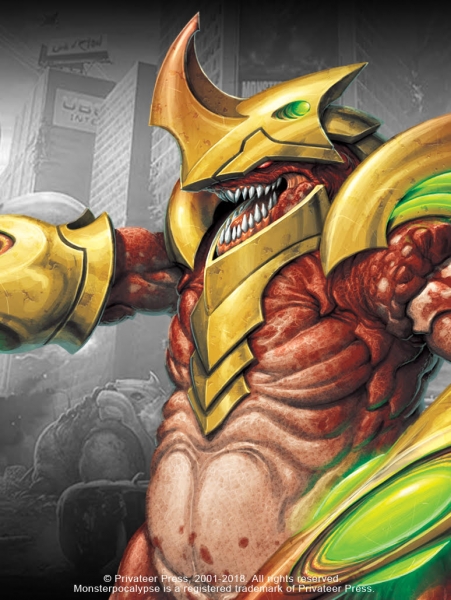 This ranged focused Planet Eater has 6 parts, a few pieces have some flash that need cleaning up.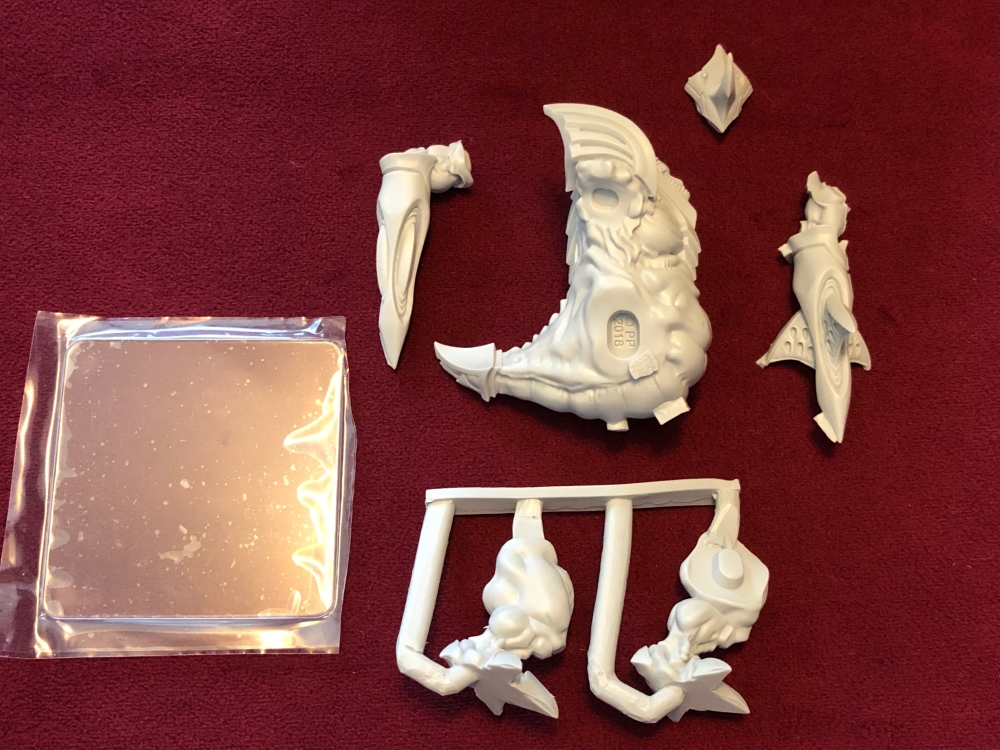 Now lets see what that gun can do!
Alpha Form
Rogzor isn't the first 10 health monster, but he is the first with DEF 8. This gives Rogzor the award that no monster wants, "Most Easily Killed". This doesn't make him bad, just something to be aware of when playing him.
High Impact – Rogzor has learned a trick from Sky Sentinel and gives all friendly faction units +1 Boost die on Blast attacks. Right now this just means Belchers, but any future Planet Eater releases will also benefit. This makes the basic Belcher efficient at killing other units, getting 2 White and 2 Blue dice and ignoring cover due to their Indirect Fire rule. Add in the Elite and a small group of Belchers has a good shot at damaging an enemy monster.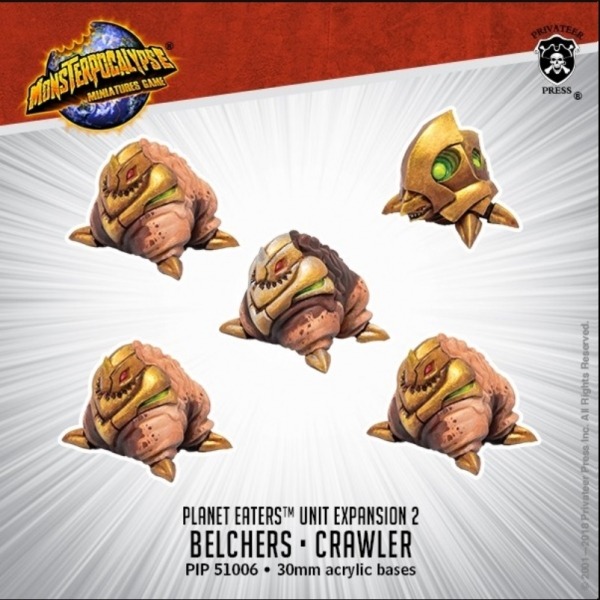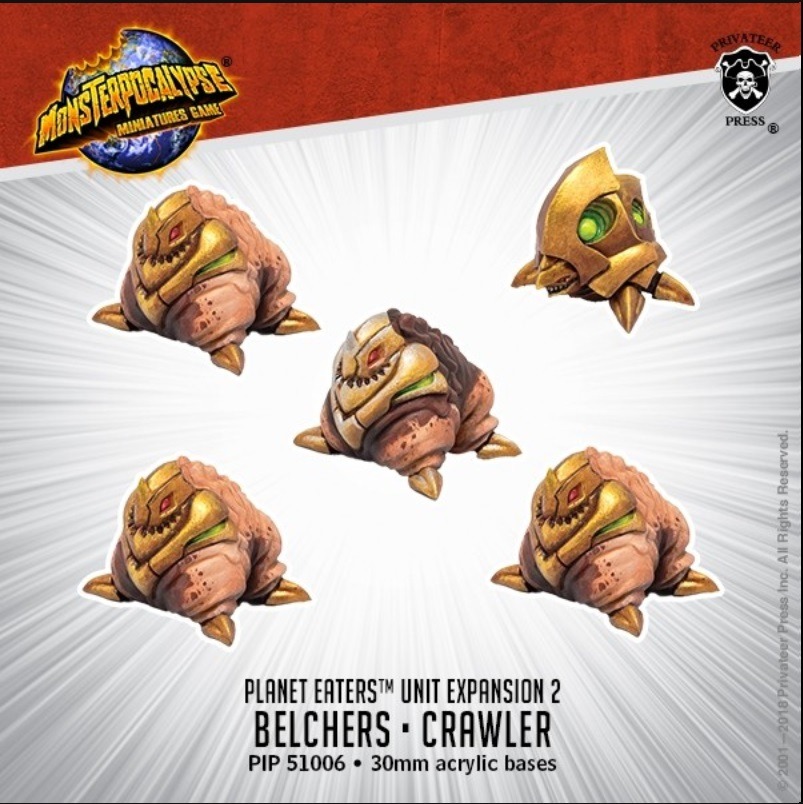 Rogzor's Gun – Enemy units beware, Rogzor will be looking for chances to destroy a key building and wipe out 3+ units while doing so. The Devastation rule deals a point of damage to all adjacent units, which means the units will generate Power dice when they are killed(unlike other similar effects which 'return to reserves'). So, if Rogzor destroys a building being secured by the enemy, it will generate at least 5 Power dice(2 for the building and 1 per unit). Not bad!
Penetrator makes Rogzor's gun more effective, lowering the targets DEF by 1. It's always nice to have an efficient attack that doesn't need many Power dice. He'll never need a Power die to destroy a unit and for most buildings he can get away with only using 1 or 2 Power dice.
Hyper Form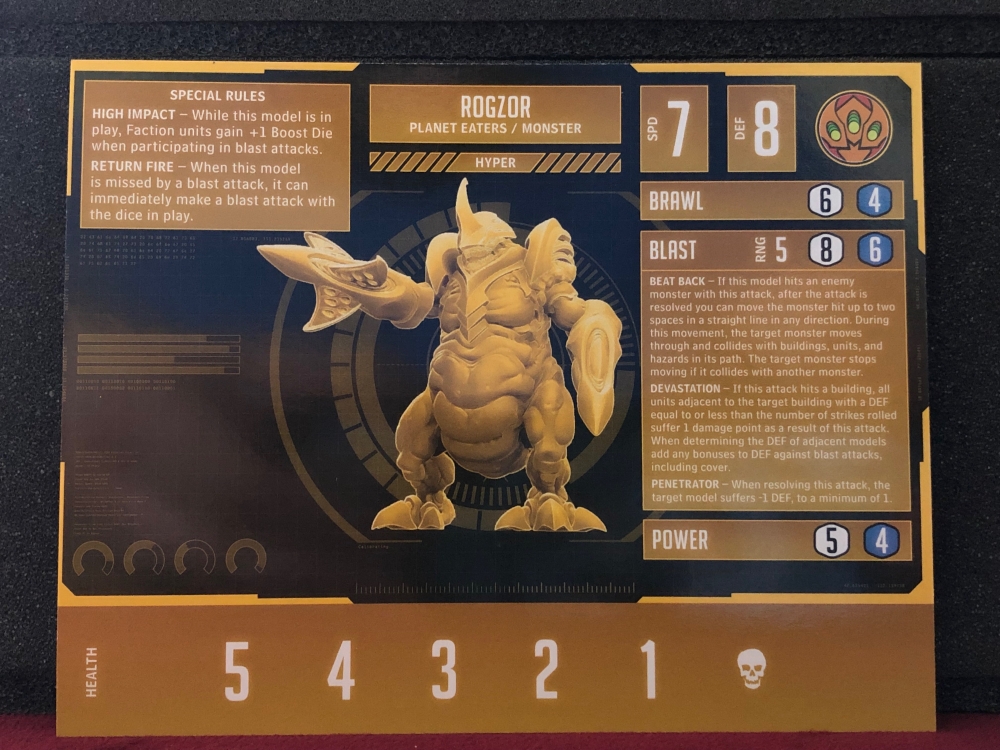 When Rogzor goes Hyper he gains some nice abilities. +1 SPD, Return Fire, Beat Back and more dice! Unlike many other monsters, Rogzor doesn't lose any ability during the transformation to Hyper mode, he only gains them.
Return Fire – This rule will punish an enemy for missing a Blast attack against Rogzor. This will dissuade enemy units from trying to take pot shots at Rogzor, but isn't something you'll be able to rely on to do guaranteed damage during the game.
Rogzor's Gun v2 – In Hyper Form the gun picks up an amazing 8 white dice, 6 blue Boost dice and the Beat Back rule. This time stealing Defender X's best move, Rogzor can start pushing enemy monsters into buildings and units. If you are lucky enough to Beat Back an enemy into a building, it's just like power attacking them into it. They will take 1 damage from the attack, 1 from hitting the building and another from being in the hazard.
Wrap Up
In a 1 monster game Rogzor might be at a disadvantage, only due to his lower Health and Defense. However in a 2 Monster game Rogzor is an excellent supporting monster, both for ranged units and as a great disrupter of the enemy power base. One or two well placed shots with Rogzor's gun throughout the course of a game can have a huge impact. I'm excited to see what gets paired with Rogzor as players figure out the best way to use him.
What do you think of Rogzor and the Harbinger Comet Shard?