The partnership between the LEGO Group and Lucasfilm has produced a ton of minifigs, more than 500 sets, a video game series, televisions shows, and more over its 20 years. It helped save LEGO from bankruptcy, and has become the company's top seller. This year the two celebrate that partnership with five fun, anniversary kits. These will be available later this year – probably late spring.
75262 Imperial Dropship:  20th Anniversary Edition – $19.99
Deploy the troopers with the LEGO Star Wars Imperial Dropship! Load them onto the platform and store their stud blasters for the flight. Then sit the Shadow Trooper in the cockpit, fire up the engines and blast off for another exciting battle against the Rebels!
125 pieces
Includes minifigures:

Shadow Trooper
Three Stormtroopers
TributeHan Solo with anniversary stand and torso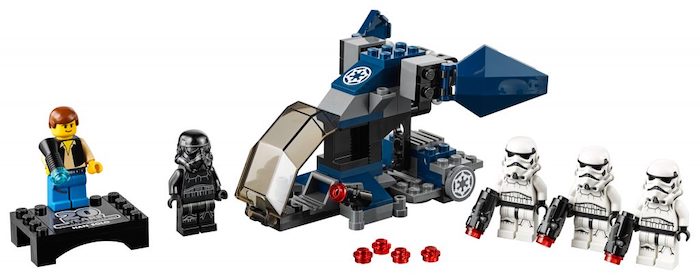 75261 Clone Scout Walker: 20th Anniversary Edition – $29.99
Protect the Wookiee warrior with the armored Clone Scout Walker! Sit the Kashyyyk Trooper in the seat of the armored AT-RT Walker and stride in battle. Turn and fire the stud shooter before the Dwarf Spider Droid destroys the trench with its own stud shooter. The Clone Army must win at all costs!
250 pieces
Comes with armored AT-RT Clone Scout Walker and a Dwarf Spider Droid
Includes minifigures:

Chewbacca
Battle droid
41st Elite Corps Clone Trooper
Tribute Darth Vader minifigure with anniversary stand and torso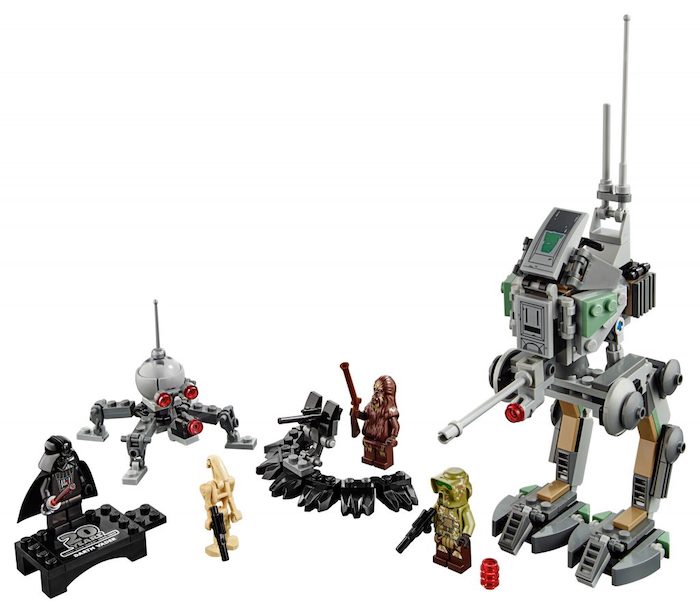 75258 Anakin's Podracer: 20th Anniversary Edition – $29.99
Speed to victory in Anakin's Podracer! Sit young Anakin Skywalker in the cockpit and lower his goggles ready for the race. Then fire up the huge engines, grab the play handle and zoom through canyons of Tatooine… or your living room! With Anakin at the controls, victory is yours!
279 pieces
Includes minifigures:

Anakin Skywalker
Padmé Amadala
Tribute Luke Skywalker with anniversary stand and torso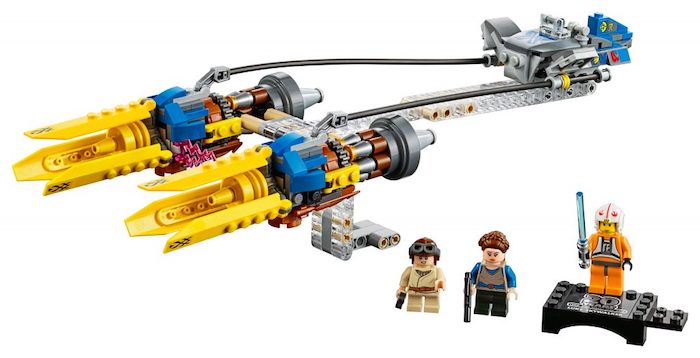 75243 Slave I: 20th Anniversary Edition – $119.99
Build Boba Fett's personal Slave I starship and travel with him through the LEGO Star Wars galaxy in search of fugitives! Grab the handle and fly him around. Pull the triggers to fire the spring-loaded shooters. Load Han Solo trapped in carbonite into the hold and deliver him to collect your payment. It's another exciting day in the life of a bounty hunter!
1,007 pieces

Boba Fett
Zuckuss
4-LOM
Han Solo (and his carbonite slab)
Tribute Princess Leia with anniversary stand and torso