Arkham Horror TCG: Return to the Path to Carcosa Announced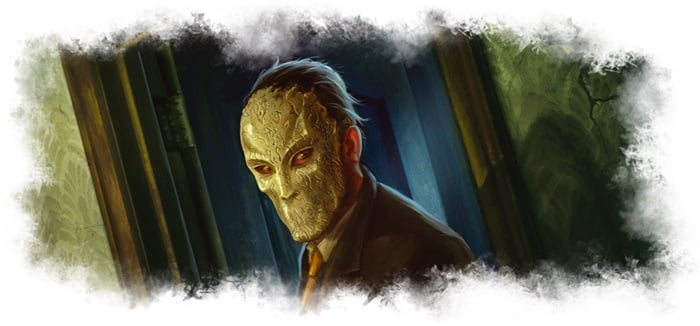 The man in the pallid mask is back and you must venture back to Carcosa with the latest Arkham Horror announcement.
Fantasy Flight Games has announced a new "Return To" expansion for Arkham Horror: The Card Game. This time, investigators are going to travel back to Carcosa to deal with the King in Yellow once again with Return to the Path to Carcosa boxed set.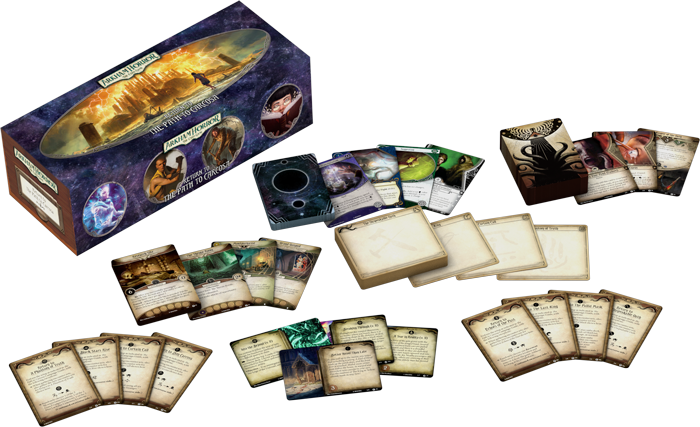 You thought that the final curtain had closed on your dealings with The King in Yellow. When the cursed play first came to Arkham, it was followed by a string of disappearances, delusions, suicides, and madness. Throughout The Path to Carcosa cycle, which marked the second full-length campaign for Arkham Horror: The Card Game, your search for answers took you across the sea to the shining lights of Paris and beyond to Dim Carcosa and before the throne of Hastur himself in eight unique scenarios that tested your conviction, made you doubt your senses, and pushed you to the edge of insanity. But now, madness returns to Arkham for an encore performance…
For the uninitiated, this boxed set is an upgrade to the existing Path to Carcosa Campaign. But this version will add new challenges, threats, enemies, and new tools for your investigators to use. On top of that, you'll also have to deal with strange new twists and turns in the campaign as well – plus optional achievements that you can attempt to collect. They might not add to a gamerscore, but at least you'll have the bragging rights to say you got them!
Carcosa has been out for a while, but at the same time, I don't really want to get into any major spoilers for the campaign. Just know that the scenarios can play out very differently depending on which versions of the cards you draw. One minor change is in the second scenario where you'll be attempting to bypass additional Party Guests in an attempt to parley with other individuals.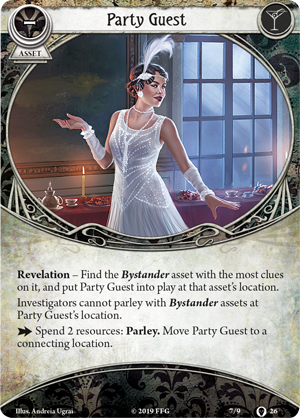 And the changes don't stop there – get ready for each scenario to have some extra hurdles to cross. But you're also in luck because there will be some new tools for the jobs ahead.
Investigator Upgrades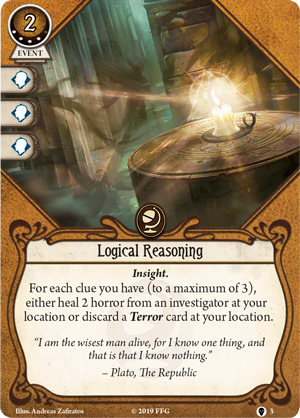 The first upgrade we're going to cover that you'll get access to is the 4xp version of Logical Reasoning. This card will allow you to heal up to 6 total horror or discard up to 3 Terror cards at your location. That extra healing will certainly pay-off in the long run.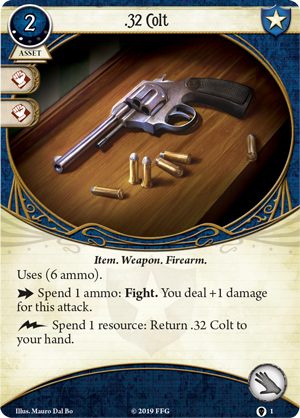 Subscribe to our newsletter!
Get Tabletop, RPG & Pop Culture news delivered directly to your inbox.
For the more combat oriented investigators, the upgrade 2xp .32 Colt will surely come in handy. While it's not as "punchy" as the .45 Automatic (which is a bit of a staple) the fact that you're getting the option as a quick action to return it to your hand and replay it means you're even less likely to run out of ammo. For investigators with a high fight value, the option to keep on firing may be well worth the trade-off.
Keep in mind that these are just 2 of the 23 player cards that are going to be included in the box set. Oh, and that's one OTHER thing that is pretty nice, too – the physical BOX to carry the campaign cards in. The slightly oversized boxes are a better storage option than the standard card boxes you might find in your FLGS. And they look nicer to boot. These sets also come with card dividers which is a nice touch.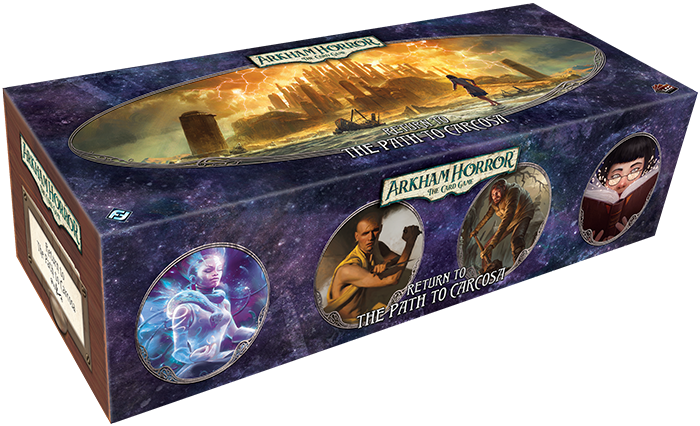 Madness returns for an encore performance in the Return to the Path to Carcosa upgrade expansion for Arkham Horror: The Card Game! You thought the final curtain had closed on your dealings with The King in Yellow. The cursed theater production that came to Arkham all the way from Paris quickly became the talk of the town, but its dark history of disappearances, suicides, and madness drove you to investigate deeper.

Now, The King in Yellow has gained a new legion of followers and you can newly experience the entire The Path to Carcosa campaign with all-new scenario, location, and encounter cards designed to add new surprises and challenges. This premium box can store your entire campaign, along with divider cards marked for each encounter set in The Path to Carcosa cycle. Finally, this expansion contains new player cards that increase the customization options to better prepare you to face the evils ahead. So don your fine clothes or tattered mantel and ready your mind for a new realm of madness. The show must go on!
Pre-orders are now available and this product is slated for a Q3 2019 release!