Everyone's favorite Drow rebel/outcast/loner/leader of companions is featuring in another book from R.A. Salvatore–come get a sneak preview of Boundless right here.
If you're here, odds are good you know who Drizzt Do'Urden is. The original dark elf rebel who wields two scimitars and once fought a thousand orcs (no really), and has been a prominent figure in the D&D zeitgeist since the 90s. And last year, we saw the release of Timeless, the first of a new trilogy that deals with Drizzt and his father, Zaknafein.
Now the second book is nearing its release. And today, thanks to io9, we have a look at Boundless, the next book in the trilogy, complete with an excerpt from the book. Let's look at what's in store!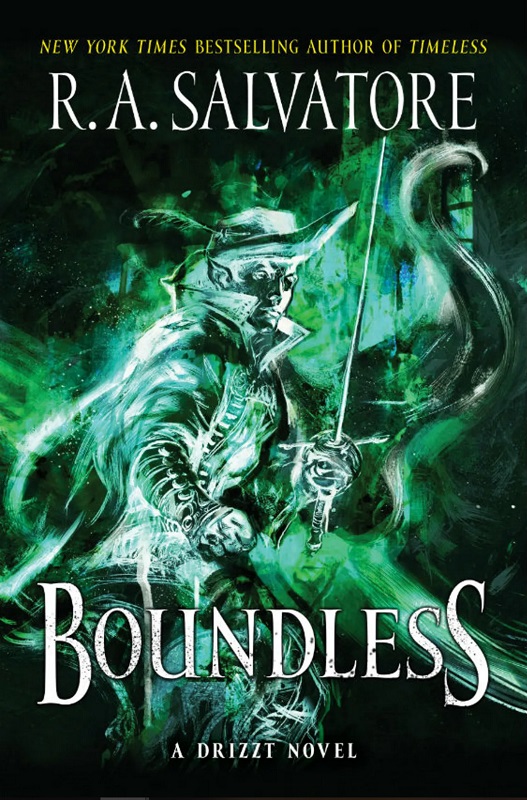 Here's a description of the book, taken straight from the back cover:
Split between time and two worlds, Zaknafein had always been conflicted. That inner turmoil was magnified by his inferior position as a male dark elf in the matriarchal drow society. Only his status as one of the greatest warriors—as well as his friendship with the mercenary Jarlaxle—kept him sane. When he finally perished, he was content knowing he left behind a legacy as substantial as his son Drizzt.

Except…someone isn't ready for Zaknafein to be dead. And now he's back, hundreds of years later, in a world he doesn't recognize. His son's companions are not the prideful—and bigoted—males the drow warrior was accustomed to in his previous life. Drizzt's circle includes dwarves, elves, and, perhaps worst of all, a human wife.

Struggling to navigate this transformed new world, Zaknafein realizes that some things have not changed: the threat of demons and the machinations of a drow matron no longer content with her family's position in the ranks of Houses. Though he has been displaced in time, Zaknafein is still a warrior. And no matter what prejudices he must overcome, he knows he will do his duty and fight by Drizzt's side to stem the tide of darkness that threatens the Realms.
You can find the excerpt of the book, which features a lot of horse and pony-riding halflings, and not nearly as much Drizzt or Zaknafein as you would think, at the article on io9's site.
Boundless is due out September 10th, and is up for pre-order now from Harper Collins.
If you've ever seen someone playing a drow who rebels against their society to try and be good–you have Drizzt to thank. At least, according to his contract.