Fantasy Flight Games has a quite a few products out this week – come see what's hitting shelves at your FLGS!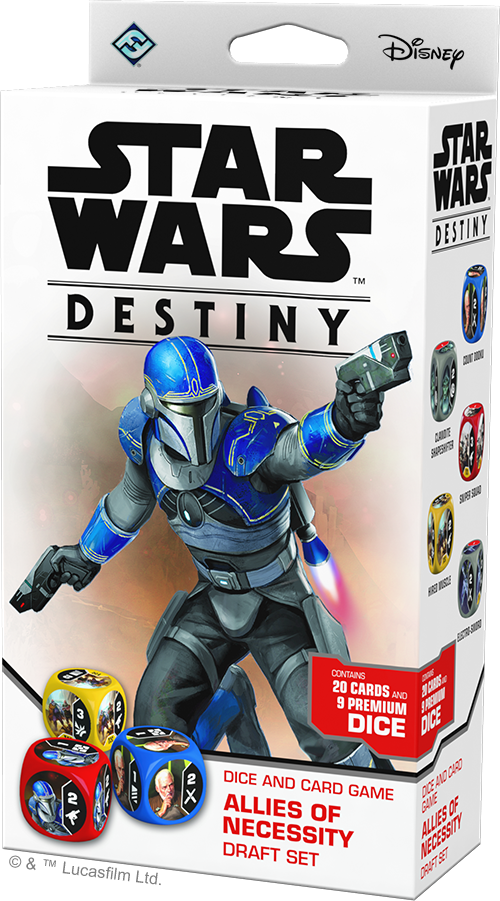 Desperate times call for desperate measures in the Allies of Necessity Draft Pack for Star Wars™: Destiny!
Allies of Necessity features 20 new cards that can be used to supplement your pool of cards in a draft or sealed event, and provide new options in constructed deck building!
Like Rivals before it, players just need a copy of Allies of Necessity and six Star Wars: Destiny booster packs to participate in their every own draft or sealed event! What's more, the cards in your Allies of Necessity Draft Set are completely reusable—no matter how many drafts you play, you'll only ever need to buy a single copy of Allies of Necessity to enable your draft games of Star Wars: Destiny!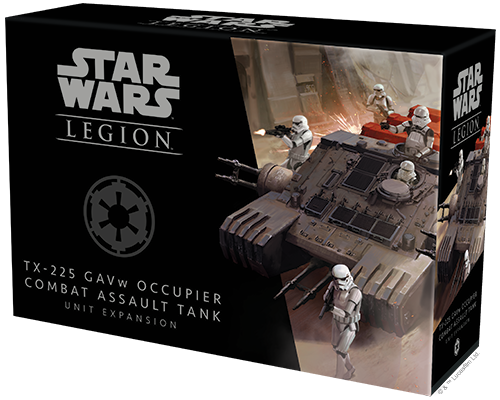 For the Galactic Empire, conquering a planet is only the beginning of the battle. Massive vehicles like AT-STs and elite shock troops like Imperial Death Troopers may be effective at sweeping across battlefields and capturing new territory, but they rarely stick around to hold this ground. A TX-225 GAVw Occupier Combat Assault Tank, however, is more than enough to quell any resistance to Imperial occupation.
Heavily armed and capable of carrying either cargo or personnel, one of these tanks can be a versatile asset to stormtrooper detachments on occupation duty. With the TX-225 GAVw Occupier Combat Assault Tank Unit Expansion, your Imperial armies gain a single finely sculpted, menacing TX-225 miniature that can work in tandem with your ground troops to impose the Empire's will wherever it's assigned. In addition to this beautiful miniature, this expansion also contains all the unit cards, upgrade cards, and tokens that you'll need to add one to your armies and outfit it for battle.
Occupy Imperial territory with the monstrous TX-225 GAVw Occupier Combat Assault Tank miniature featured in this expansion! This miniature offers a wide array of customization options—with hatches that can be built open or closed, different poses for the tank commander, three crates of kyber crystals that can be loaded into the tank bed or used as terrain, and two options for a mounted gun: a DLT-19 blaster rifle or a RT-97c Blaster Rifle.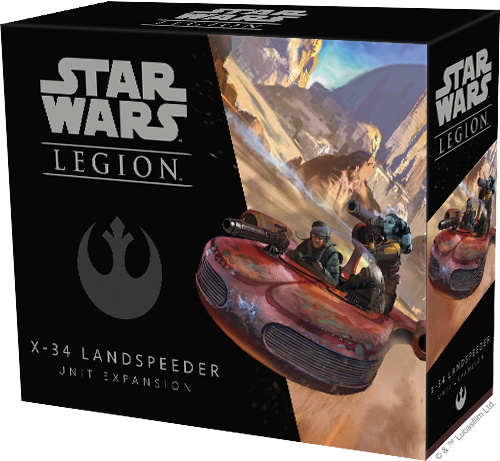 Unable to match the Empire's production of military equipment, the Rebel Alliance makes do with whatever they have on hand—which often means converting civilian vehicles into weapons of war. In addition to being outfitted with stolen weaponry to support Rebel soldiers in combat, the nondescript appearance of these vehicles is often useful in avoiding capture. With an X-34 Landspeeder in your arsenal, you'll be able to adapt one of the Star Wars saga's most iconic speeders to fit your needs on the battlefields of the Galactic Civil War.
Already a speedy craft thanks to its powerful repulsor engine, an X-34 Landspeeder becomes a threat to even the toughest Imperial opponents when driven by an experienced pilot and equipped with an assortment of weapons. The X-34 Landspeeder Unit Expansion adds one X-34 landspeeder miniature—complete with two unique weapon options—to your Rebel armies. Along with the beautifully sculpted, finely detailed miniature, you'll also find a unit card and all the tokens you need to get your X-34 up and running in this expansion, as well as a range of upgrade cards to customize it to your specific battle plans.
Race into battle with the single highly detailed X-34 Landspeeder miniature included in this expanison pack! You can customize both the weapons and the crew on this landspeeder miniature, swapping in an M-45 ion blaster or a Mark II medium blaster, and bringing in crew armed with rifles or rocket launchers.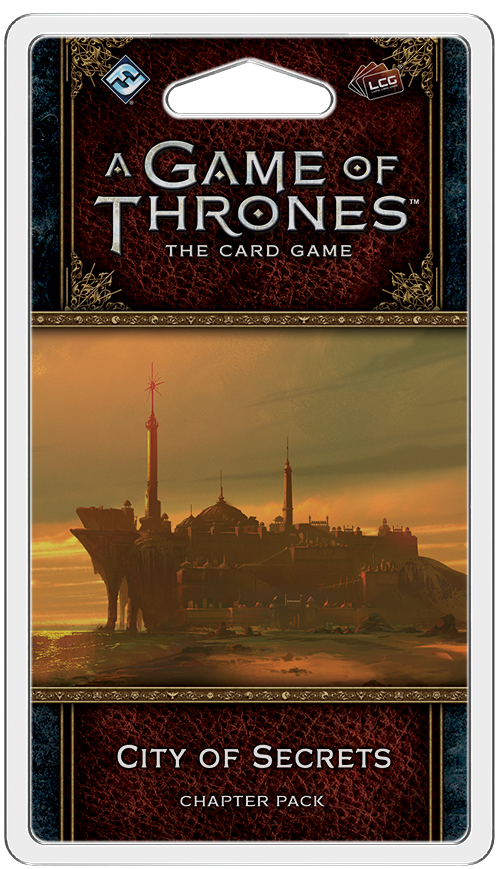 City of Secrets is the second Chapter Pack in the King's Landing cycle for A Game of Thrones: The Card Game.
The King's Landing cycle takes a new approach to the Game of Thrones LCG. Rather than following the plot of A Song of Ice and Fire, this cycle is centered around the capital of the seven kingdoms, allowing you to explore the world of Westeros more freely than ever before. Every Chapter Pack in this cycle features three copies each of twenty unique cards to strengthen your decks and help you embrace the deadly intrigues of A Song of Ice and Fire with the continued cultivation of the shadow keyword, first reintroduced in the Dance of Shadows cycle.
Your journey to the capital of the seven kingdoms continues as you explore the twisting alleys of the City of Secrets. Shadows haunt the streets, closing in from the North, the East, and the South, and dark prophecies speak or terrors just on the horizon. Perhaps the time of great Houses and powers is passed, and those who do not fight for a king or queen find a new agenda that can allow them to join the brotherhood without banners in the hollow hill.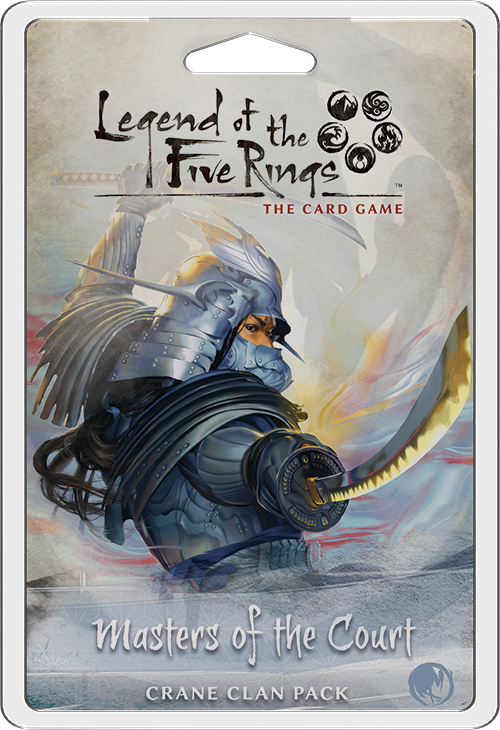 Fantasy Flight Games is proud to present Masters of the Court, a Crane Clan Pack for Legend of the Five Rings: The Card Game!
Masters of the Court contains 78 new cards (three copies of twenty-five different cards and one copy each of three different cards), many of which provide new tools to the Crane Clan!
Masters of the Court celebrates all that makes the Crane great. Look for a Stronghold that brings dueling to the forefront, events that surpress your opponent's options, and courtiers dominating the courts of Rokugan!
Star Wars? More Like TANK WARS, Amirite!?