Comprehensive Beginner's Introduction to D&D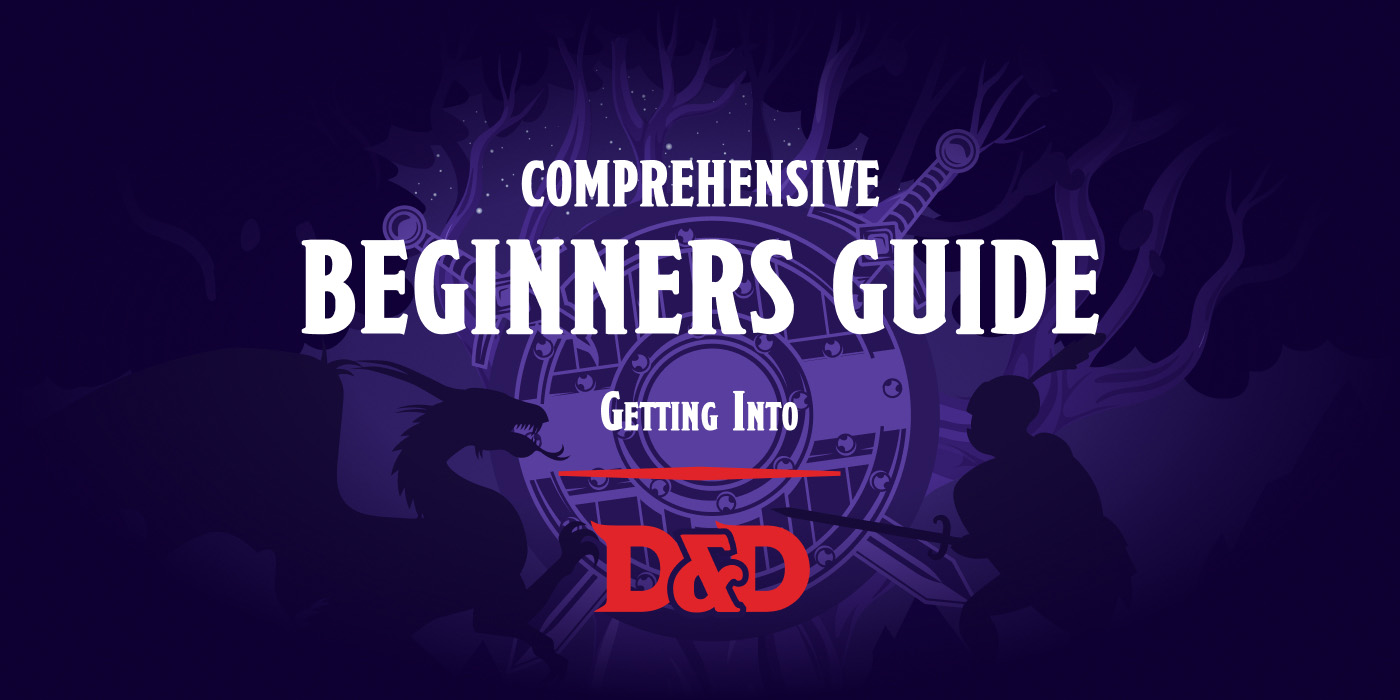 Welcome to the comprehensive beginner's guide to Dungeons & Dragons!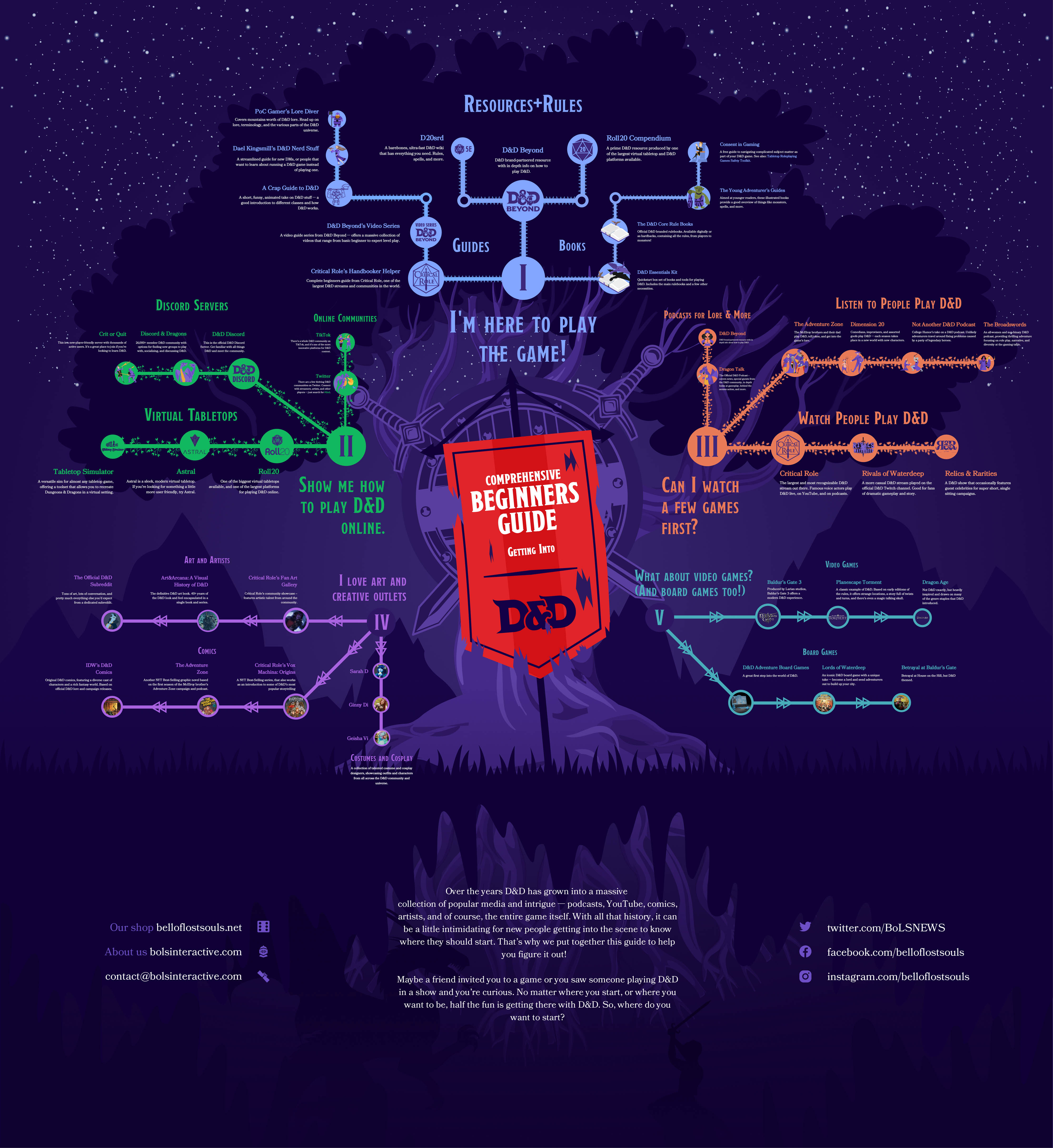 D&D is basically a roleplaying game. You've probably seen it all over the place, from shows like Stranger Things to the 80's panic that it was somehow a nefarious cult of "Dungeon Masters and their thralls performing dark rituals."
As metal as that sounds, D&D is not a cult, but it's also not just a game. Over the years, D&D has evolved into a huge community of content creators, artists, roleplaying enthusiasts, and people that just love playing the game.
This guide is all about figuring out where you fall into that community. Maybe your friends invited you to their weekly campaign, or maybe you're just curious to see what all the hype is about.
Whether you're completely new to the world of Dungeons & Dragons, or you've played your first game and can't wait to dive into more, you've come to the right place. We'll take a look at all the different ways people get involved with D&D, and hopefully find something you love along the way. Now let's get ready to roll!
Table of Contents
The best way to get started is to ask yourself, "What do I like?" or "What do I want to do?"
Everyone arrives at D&D with different interests, finding something that grabs your attention is the best way to get deeper into the community.
If you just want to get started playing, you can check out a list of resources and guides to get ready for your first game. If you already like D&D, but want to try playing it online with friends or strangers, this guide will help you follow in the footsteps of thousands of people playing D&D online at any given moment.
Maybe you're not quite ready to play, but you want to dip your toes in. Watch a game or check out some of the art, perhaps. Just follow your interests from the list below!
Watch and listen to famous voice actors and comedians playing D&D with podcasts, livestreams, and YouTube channels, or check out all the people creating really cool art and costumes and comics by following the creative list. Think of this guide like a 'choose your own adventure' path!
Subscribe to our newsletter!
Get Tabletop, RPG & Pop Culture news delivered directly to your inbox.
What are you looking for, traveler?
Resources and Rules

Guides

Books and Manuals
Virtual Tabletops

Discord Servers

Online Communities
D&D on Twitch (and YouTube)

Podcasts for Play

Podcasts for Lore & More
Art and Artists

Comics

Costumes and Cosplay
D&D Video Games

Tabletop and Board Games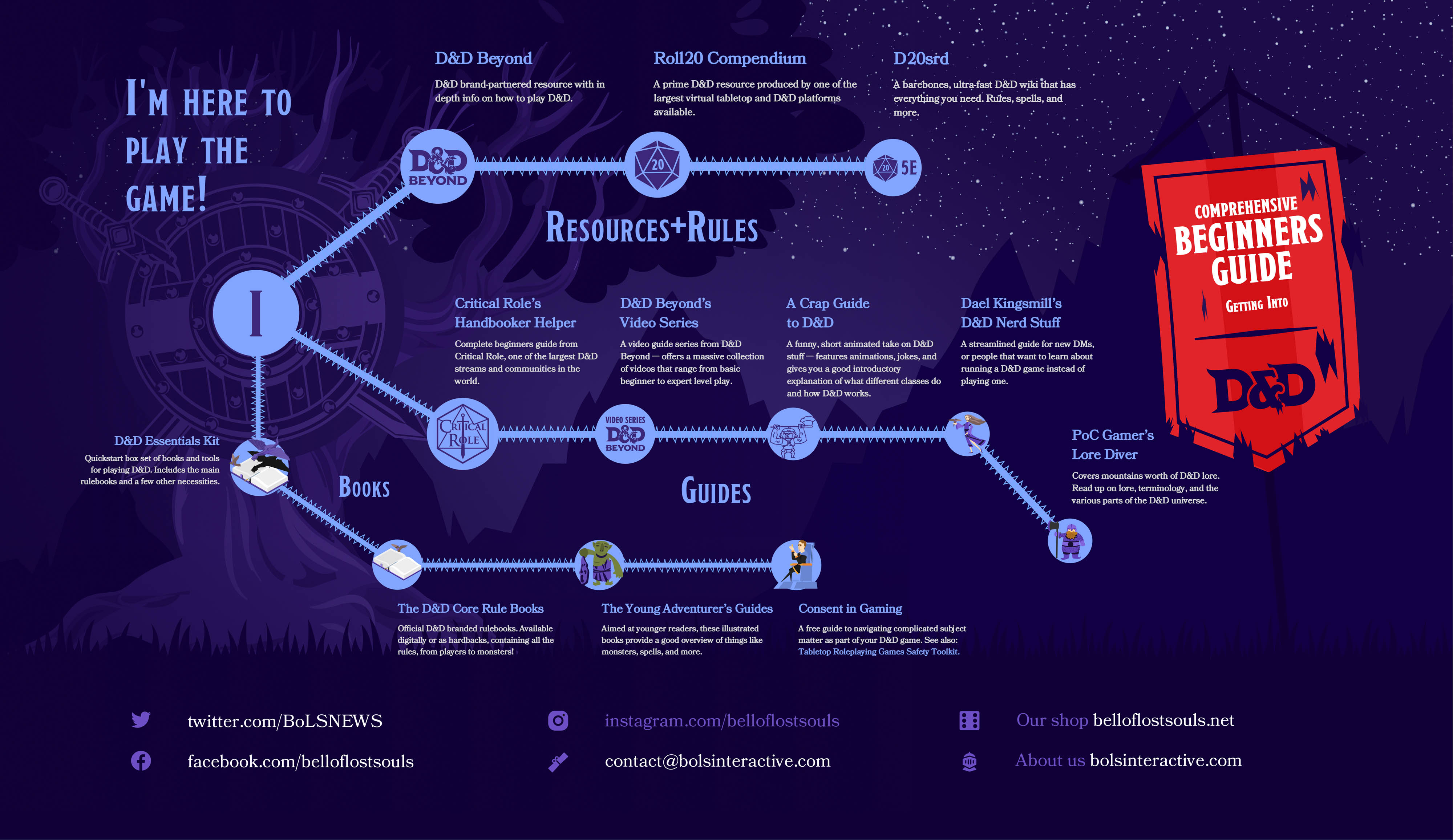 I'm here to play the game!
Resources, Guides, and Books
Jumping straight into your first or second game is one of the best ways to learn about D&D! Fortunately, there's a whole world of resources out there to help you get your footing and learn the ins and outs of the game.
Everyone comes to the table with a different experience level, but even some of the most experienced players like to have a reference on hand. As you set out on your first adventure, you can turn to all kinds of online guides, resources that teach you the rules and lore of the D&D universe, and even physical books with all kinds of useful information and cool art.
From the official D&D Player's Handbook to a massive community of players and pros putting together wikis, you can browse some of the best resources available for beginners and everyone else below:
Resources & Rules
When you're just getting started, you'll want to learn the basic rules of D&D. You can find the Basic Rules of D&D all over the internet for free, but the nice thing is that players have spent years putting together wikis and websites that make understanding the rules super simple! These websites can help you find and understand the rules you need right when you need them, here are a few of our favorites:
Guides
One of the best ways to learn D&D is to have friends or someone else teach you. Fortunately, there are tons of guides and communities online dedicated to teaching people all about the game. There are whole channels devoted to playing the game, exploring decades worth of lore and stories, and just generally talking about D&D and how they enjoy it. Most of these guides and channels are also updated frequently with any new rules, news, or information about the game!
Books
If you like a more hands-on approach to learning about D&D, you can always start with one of the many books. There are all kinds of options out there, from starter kits that come with a few of the absolute basic essentials for starting or playing a campaign, to specialized guidebooks that offer the rules for specific adventures.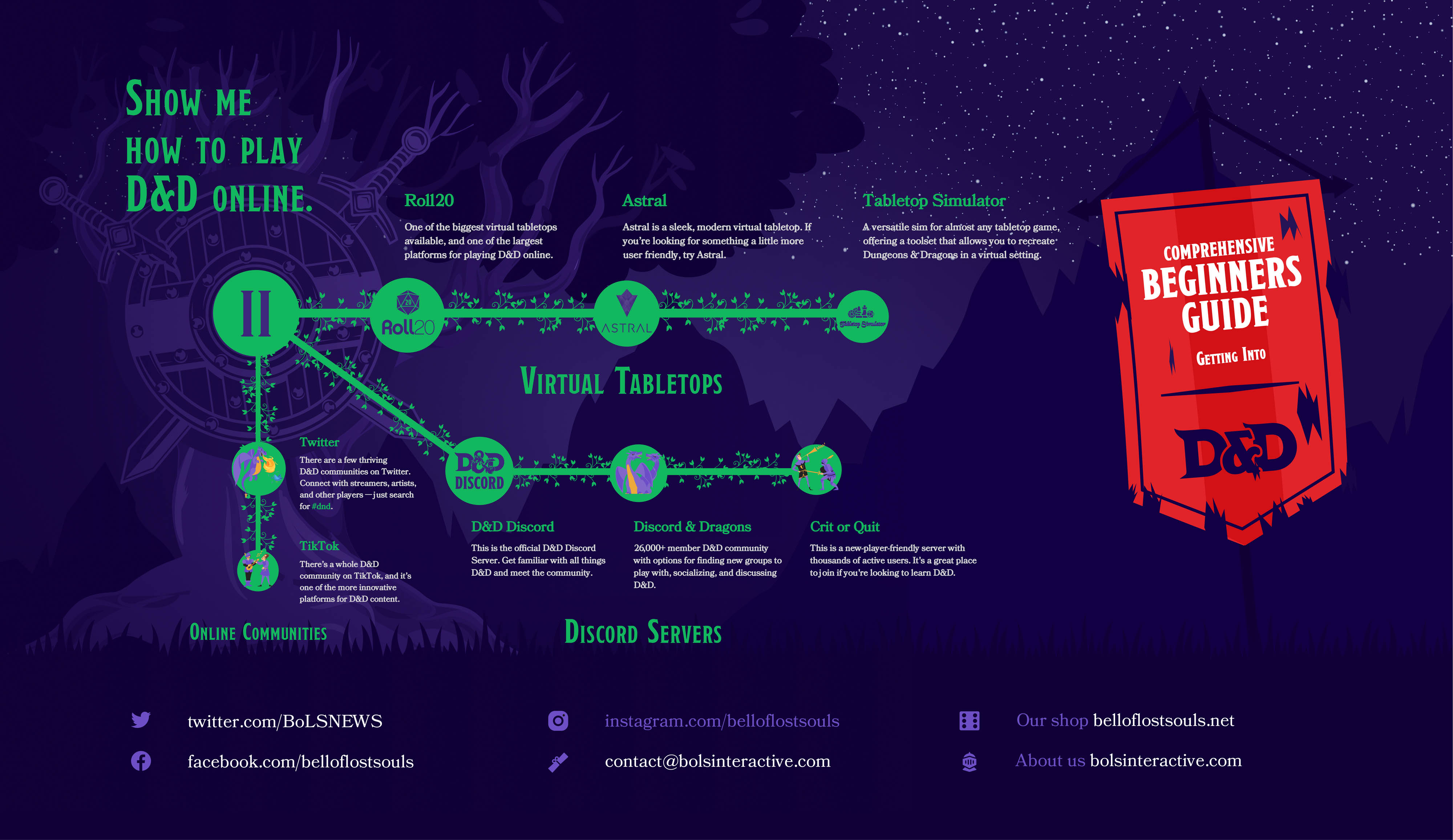 Show me how to play D&D online
Virtual Tabletops, Discord, and Online Communities
Playing D&D online is one of the most popular ways to enjoy a game these days. Millions of people play D&D online across multiple platforms, including virtual tabletops to roleplay focused discord servers. With dozens of video chat options, online dice rollers, and digital toolsets, playing a game with friends across the country (or during a pandemic) is fun and easy.
There are a lot of different ways to play online, so we've included a few of the most popular platforms and tools to help you get started. As an added bonus, many of these virtual tools are entirely free, so they're a great way to experience D&D before you invest in the full experience.
Virtual tabletops offer a wide range of functions, from just being a place to make notes and roll dice, to full-on map creation and music modules. Apps like Roll20 or Astral have made playing D&D super fun and easy because of how easy they are to learn and use. Roll20 alone has more than five million users, 53% of which play D&D! It's the single biggest game on their platform. As a comparison, the next biggest game after D&D only accounts for about 10% of their total playerbase.
So what makes virtual tabletops so appealing? They're essentially one-stop digital platforms for everything you need in the game. Rules, virtual dice, maps, spell lists. These programs basically consolidate all the rules and calculations and background stuff so you can focus on playing the game.
Discord servers are fast becoming one of the main social hubs for D&D communities. If you want to hang out online and talk rules, play games, or dive into the D&D social scene, Discord is the place to be.
With voice and text chat options, Discord is one of the best places to find and play games with friends or new people. Of course, you'll want to look for specific Discord servers! Discord itself is just an online chat feature (think Skype but more useful), but people can create and host dedicated servers where groups can join and meet for all kinds of specific games, events, or interests.
If you're trying to get into D&D on your own, this is a fantastic place to start — many of these communities are either very welcoming to new players or have dedicated resource collections for people just starting out! Here are a few of the biggest and best Discord servers for D&D out there.
Online Communities
D&D has been around for a while, of course, so there's a pretty strong presence just about anywhere you look online. Twitter and TikTok have all kinds of D&D content and communities. Whether you're looking for meme and art pages, to funny D&D skits, you can probably find it on just about any of the major social media sites or apps.
It's also a pretty big haven for celebs and big figures in the D&D and gaming community. You can follow official D&D accounts or fan accounts, and it'll be pretty easy to keep up with the news, social trends, and cool D&D stuff that people are getting up to around the world.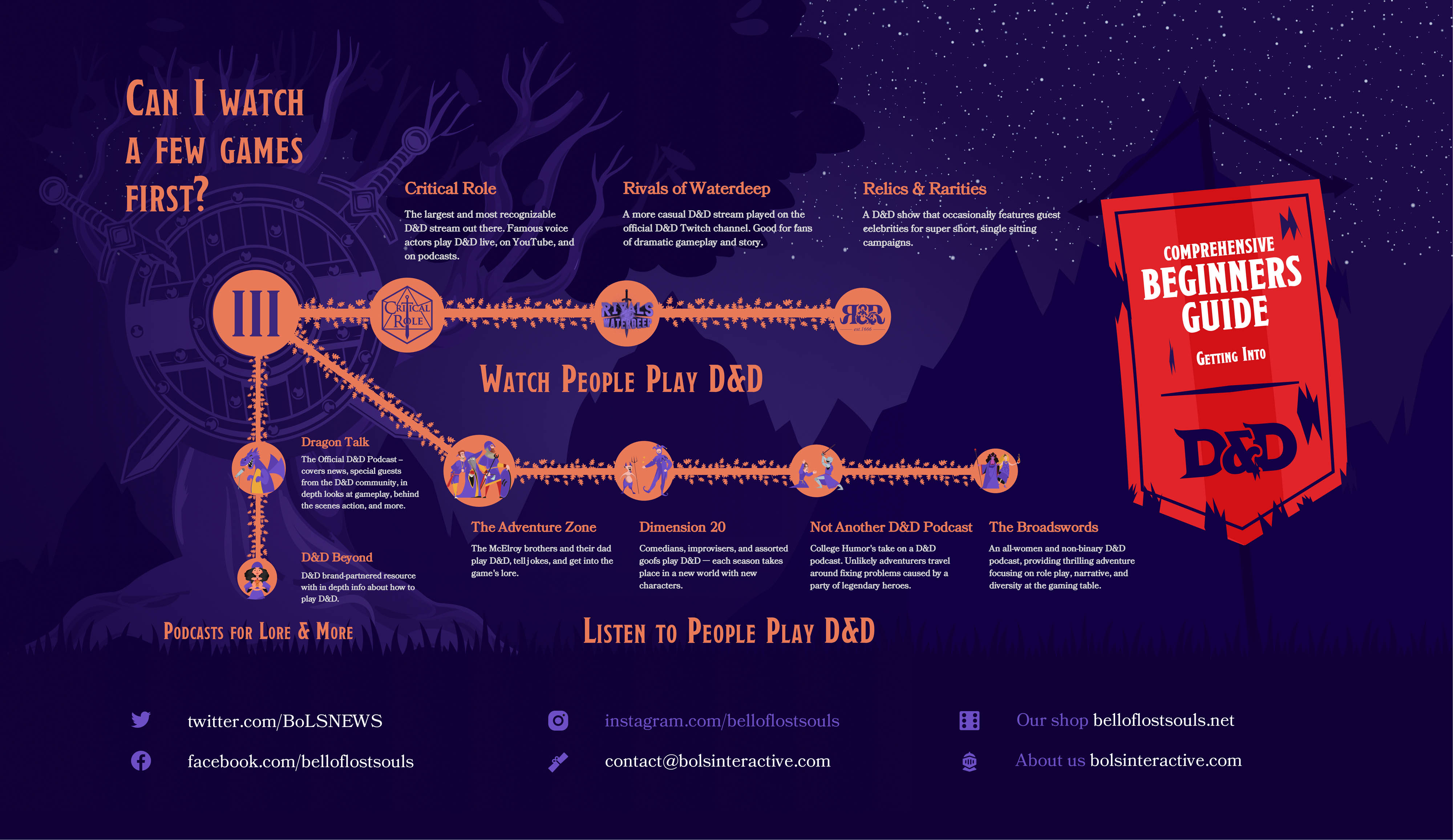 Can I watch a few games first?
Livestreams and D&D Podcasts
D&D is a lot of fun to watch and listen to, so fun in fact that there are massive livestreams, YouTube channels, and tons of podcasts dedicated specifically to people playing D&D. Sometimes it's famous voice actors and celebrities, sometimes it's just a bunch of brothers and their dad cracking jokes and having a good time. There are massive followings on Twitch and other platforms where people come to hang out and watch or listen to people playing D&D, and one of the reasons it's so popular is the variety.
Not unlike YouTube personalities that get tons of interest across all kinds of topics, D&D has developed a whole streaming and broadcasting subculture with just as many ways to enjoy it! Some groups are funny and have a laugh based on the absurdity of some things in D&D, while others get really invested in the lore, sounding more like a fantasy adventure playing out right in front of you.
If any of that sounds like your thing, start with some of the biggest D&D channels around! We've collected a few of our favorites here.
Odds are that if you've wandered into the world of Dungeons & Dragons, you might have started off because of a popular podcast or livestream. Over the last five years, the total hours that people have streamed D&D has doubled each year, with viewers tuning in for 20 million hours of D&D in total — and that's just on Twitch!
Livestreams are an excellent way to tune in and connect with fans of the game. It's also one of the biggest diversifying influences on D&D over the last few years. Today, nearly 40% of players identify as women, with the game's appeal growing into broader ranges for age, sexuality, and all kinds of other demographics.
As fans of D&D, it's exciting to see the landscape and players grow and evolve to include more and more people from all kinds of backgrounds and experiences. A lot of these livestreams and ways to watch D&D reflect that diversity, so there's something for everyone here.
Listen to People Playing D&D
Most of the shows we've listed also put out a podcast version, but if you're interested in queuing something up for a long drive or just like to listen along in the background, there are tons of great dedicated D&D podcasts available.
If you want to listen to people actually play D&D, you'll want to look for something called 'actual play podcasts'. You can find stuff like the McElroy brothers (and their dad) of My Brother, My Brother, and Me, telling stories and having a good time through D&D campaigns.
Podcasts About D&D
If you're more interested in what's going on around D&D, there are tons of podcasts that actually talk about D&D instead of simply letting you listen in on someone playing. Sometimes these podcasts shine a spotlight on the community or talk about the history of D&D and how it's evolving as a unique social experience and hobby.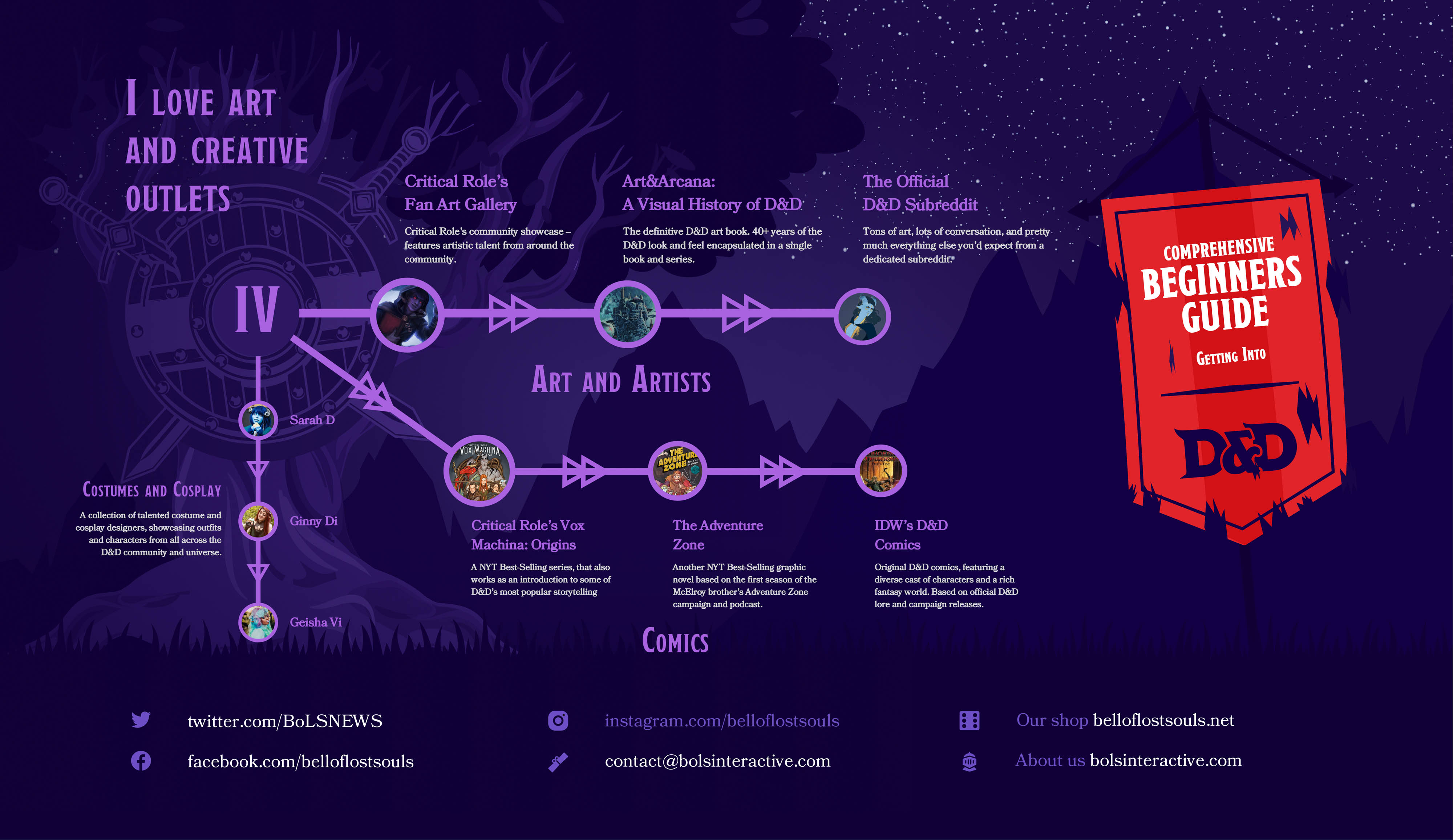 I love art and creative outlets!
Art, Comics, and Costumes
Dungeons & Dragons has an aesthetic all its own. With beautiful art and an engaged community built-in, an artist can find a ready-made audience by dipping their toes into the waters of D&D. You can find examples of people drawing fan art, or creating costumes and characters that fans recognize. There are tons of ways to blend D&D with a creative hobby of your choice.
Art and Artistry
Art is a great way to get inspired by the visuals and connect with talented artists out there who will draw characters on commission. Or if you're an artist yourself, drawing D&D can be a great way to get your work seen–just look at Critical Role's Fan Art community as an example of how fast artwork can spread.
D&D Comics
If you look at D&D comics, you'll find a ton of thrilling adventures, many of which are inspired by the podcasts and livestreamed shows mentioned above. It's like an ouroboros of fantasy adventure media, but the upshot is, you get great stories whatever your preferred format.
There are also a lot of comic creators that draw and design original ideas inspired by D&D in general! It's one of the best ways to explore the many faces of D&D with a pretty easy access point thanks to the visual and often entertaining aspect of comics. You'll also find a pretty big comic community for D&D posting fantasy, D&D, and other assorted aesthetics all over Instagram.
Costumes
If you're into the crafty side of things, it's worth checking out the costuming and cosplay scene in D&D. It's not just the polyester DM outfit you'll find hanging in the isles of Spirit Halloween — a lot of talented artists pour hours into creating unique, realistic costumes based on famous D&D characters, or even characters from campaigns they're playing themselves.
If you haven't had a chance to check out how cool some handmade costumes can be, definitely give some of these artists a look, or explore some of the art resources we included above. You can find people making, wearing, modeling, and bringing to life everything from armor, dresses, capes, fantasy outfits, and more.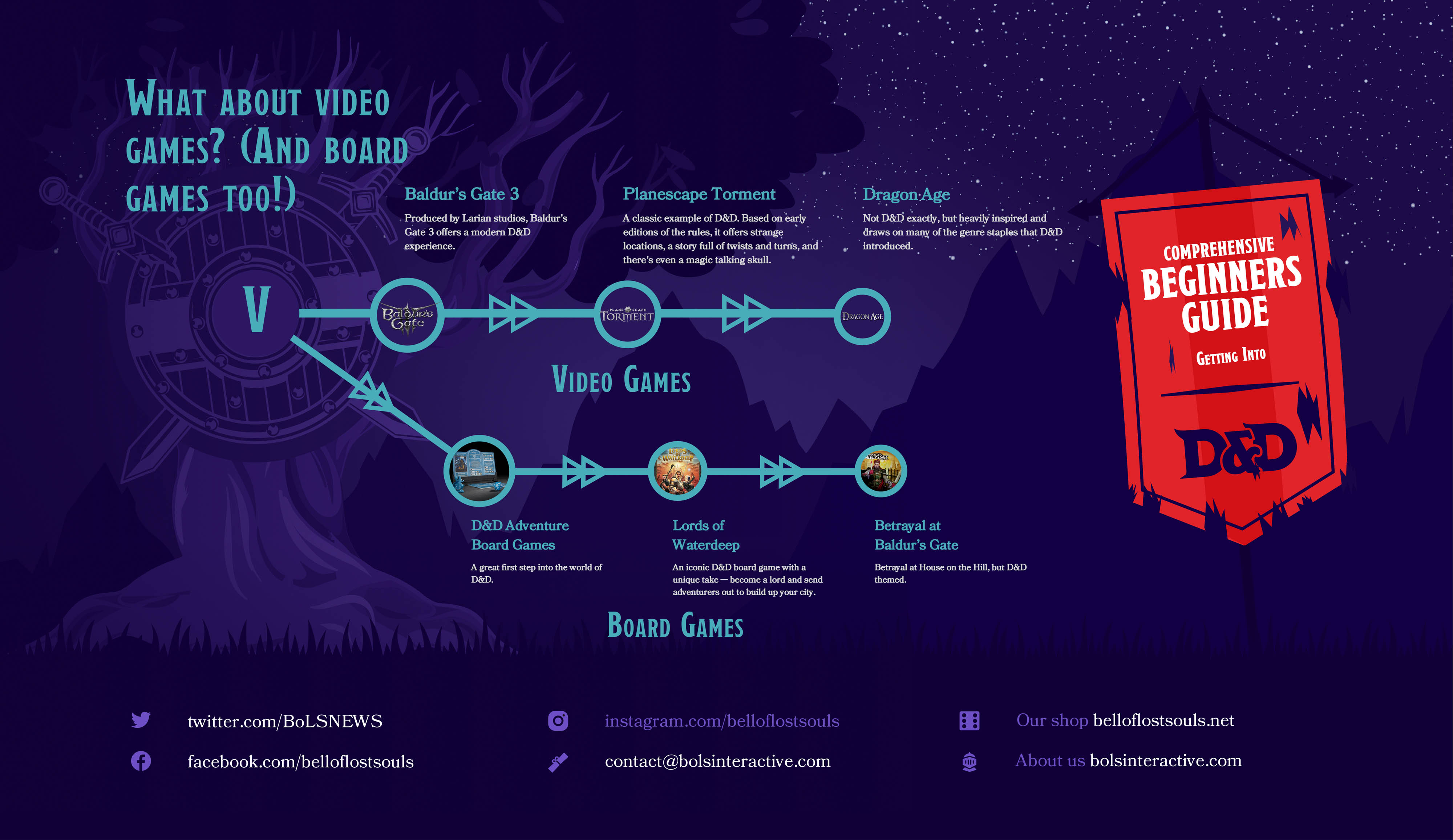 D&D Video Games and Board Games
Of course, there are plenty of other ways to get some D&D experience without actually gathering around a table (real or virtual). Over the years, there have been many popular D&D video games that show off D&D's fantasy worlds while allowing players to try out the rules. Or you can try D&D-like board games, which approximate the experience–condensed into a single short session of play.
Video Games
Board Games
Enjoying D&D is all about what you bring to the table — from actually playing the game to soaking up all the great lore, art, and community-driven content that comes out of the D&D universe. If you're just taking your first steps into D&D, we hope this guide has given you tons of new ways to access the fantasy world that's brought so much excitement and joy to everyone that plays it today.
One of the most exciting things about Dungeons & Dragons is that it's quickly become a game for everyone. With new communities popping up and a huge increase in diversity amongst the playerbase, D&D has built a place where anyone from any background can come to the table and delve into some great roleplay and amazing communities.
If you found something that sparked your interest, or want to stay tuned in to all kinds of D&D and tabletop gaming news, Bell of Lost Souls is where we report on the latest game news, community updates, and everything else D&D.