Goatboy's 40K – Chaos GIANT Dynamic Duo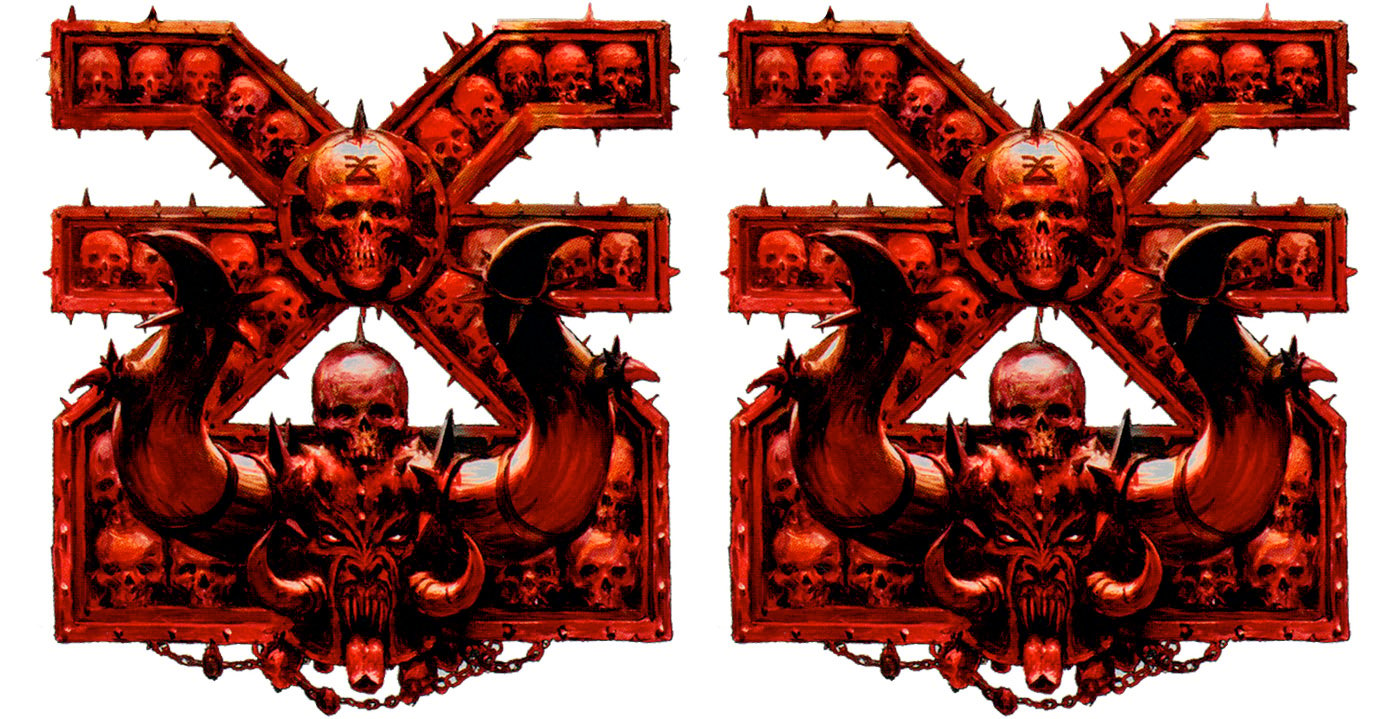 Goatboy here with TWO BIG IDEAS on making the new Chaos Space Marines work for some upcoming tournaments.
Looking at my upcoming events (Alamo GT is the next one I signed up for) I want to try and get Chaos to work.  At the same time, I've got a ton of commissions to do, so it means less time for my own work to bubble to my worktop.  This means I have to look at more nutty builds to try and get this to work.  Thus – the following list ideas that utilize a probably bad Lord of War in hopes to double move, boost up, and maybe do something nutty.  You know this means I will bring back the Lord of Skulls and maybe – do the Kytan whenever I get ahold of it.  Woohoo, let's being with some thoughts.

The Dynamic Duo – Of Chaos
Let's do a quick rundown on the two – Khorne Lords of War.  The Lord of Skulls costs a lot more, shoots a lot more, and has more wounds.  It assaults better over time – but doesn't have a built-in better assault ability like the Kytan.  Plus it is a heck of a lot more in points – in fact, it is more like 2-3 utility characters more or a unit or two to help with the killing.  The other factor – I own a Lord of Skulls I do not own a Kytan yet.  Will go with a Kytan as it is cheaper so losing it isn't nearly as devastating to the army.  It also lets me build some redundancy into the army just in case things go wrong for the funky legged Skull bro.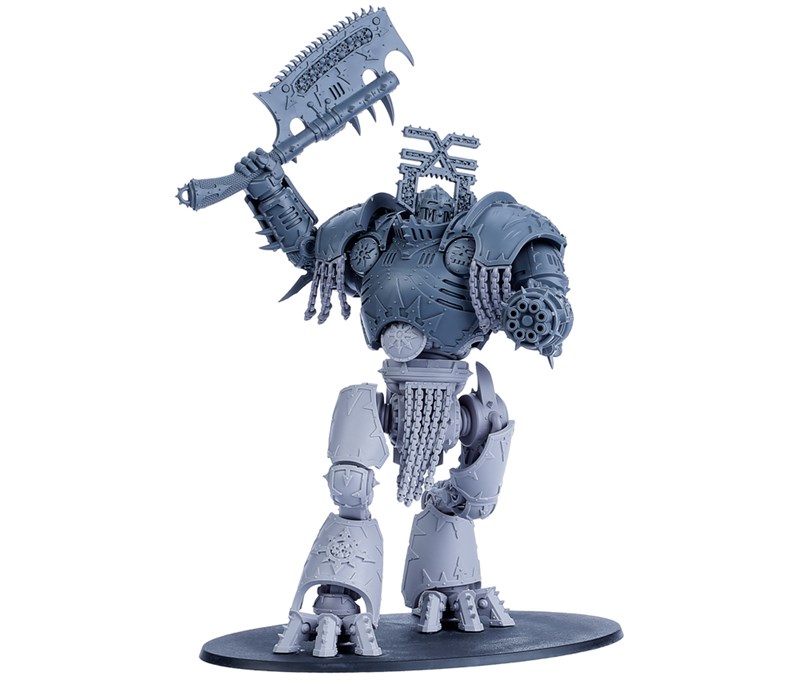 The Kytan Ravager for those not knowing what he does is the Khorne Knight Walker thing you can get from FW.  It sits at 410 points, has the Hades gun from the Lord of Skulls, and has one more basic attack that can sweep if needed.  It also can roll 2d6 for advances and moves a bit faster.  For my normal style of army that loves to get aggressive – this is most likely the model I want.  I want to get moving fast, get involved in your business quickly, and then try to eat all the lemon bars left on the dessert plate.  I love me some lemon bars.
It Just Might Work
We'll go with that and throw it into a Supreme Command with some more robot buddies.  I think we have to make that Command a Soulforged Pack as the ability to have the Kytan advance and charge seems very powerful.  Plus I could then save Warptime for something else if needed – like a Lord Discordant.  I will also go with Red Corsairs as that seems to be the theme of any army I have built.  I saw some potent synergies in the Purged as well – but that takes a different type of army that I sorta have built – but not enough to warrant my list building nonsense.
So let's start with a Supreme command design to protect the Kytan, double Move the Kytan, and do anything else.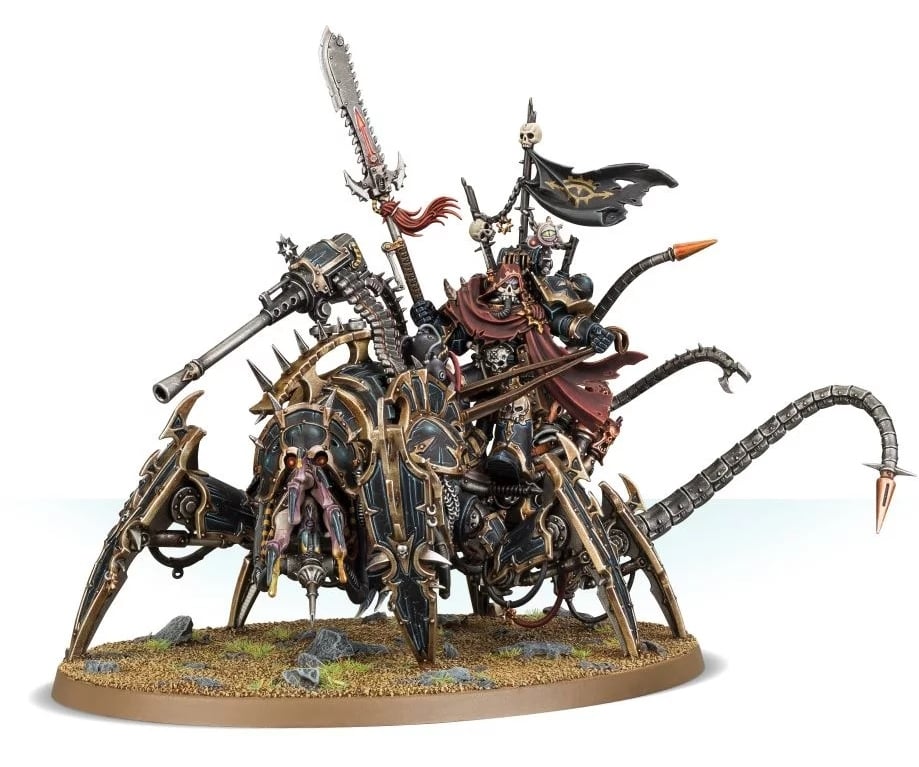 Huron told me to go find some red paint!
Supreme Command – Specialist Detachment – Soulforged Pack (+1CP) – Legion – Red Corsairs
-HQ-
Lord Discordant – Mark of Slaanesh, Autocannon, Specialist Warlord – Master of the Soulforges, Relic – Serpent Mecha Tendrils (-2CP) – 160pts
Lord Discordant – Mark of Khorne, Autocannon, Reaver Extra Relic – Talisman of Burning Blood – 160pts
Lord Discordant – Mark of Slaanesh, Autocannon, Relic – Intoxicating Elixir – 160pts
Huron – Warlord – Reaver Lord, (+1CP), Psychic – Diabolic Strength – 105pts
-LoW-
Kytan Ravager – 410pts
Subscribe to our newsletter!
Get Tabletop, RPG & Pop Culture news delivered directly to your inbox.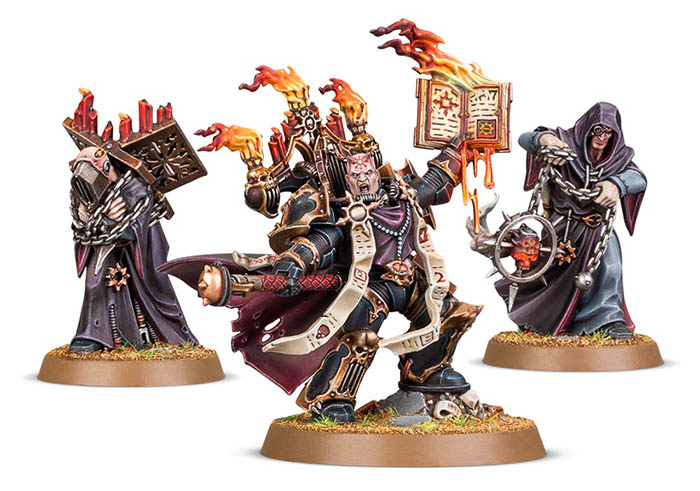 Preachin' for Huron!
Battalion Detachment – (+5CP) – Red Corsairs
-HQ-
Dark Apostle – Mark of Khorne, Prayer – Benediction of Darkness – 100pts
Sorcerer – Mark of Slaanesh, Psychic – Warptime, Delightful Agonies – 98pts
Chaos Lord on Bike – Combi-Bolter, Thunder Hammer, Mark of Khorne – 136pts
-Elites-
Dark Disciples X 2 – 10pts
-Troops-
Chaos Space Marines X 16 – (+1CP) Reaper Chaincannon X 2, Mark of Slaanesh, Asp Champ – Combi-Bolter, Chainsword – 237pts
Chaos Space Marines X 5 – Autocannon X 1 (+1CP) 75pts
Chaos Space Marines X 5 – Autocannon X 1 (+1CP) 75pts
-FA-
Chaos Bikers X 9 – Mark of Slaanesh, Chainsword X 8, Aspiring Champ – Combi-Bolter – 209pts
Points – 1990 – CP – 11pts

Chaos Tactics
This gives me enough to double shoot some things, maybe bring some Marines back, and even get a double attack in if I need to with a Chaos Lord.  Plus it looks like a hot pile of nonsense which is what I seem to like currently.  And it has a big robot I can throw at you to try and do some massive damage.  Now, will it work?  Who the heck knows.  Will see as I slowly paint up all my models.  For those wondering – almost the entire army can advance and charge – 2 Lord Discordants can't do it – but the whole hot mess of stuff can get involved, punch you in the face, and do some damage.
~Fun times indeed. SKULLS FOR THE BRASS THRONE!!!