Looking to get into Starfinder, the science fantasy game of action, adventure, aliens, monsters, and even dragons in space? Now's the perfect time to get in, the beginner's box is out this month–come take a look!
The long-awaited Starfinder Beginner Box is due to be released this month! If you've been looking to get into a game of Starfinder, this box has everything you need: player rules, gamemaster rules, pawns for villains and heroes alike, a solo adventure, an intro adventure–everything you need and then some.
It's an important step for Starfinder. This is a 'run the game out of the box' kit, and this is what Starfinder's been needing for a while. The system is great–but it's obscured a little behind perceived barriers to entry–things like learning a new system make it hard to drop in. But that's where the Beginner Box has your back, friends.
via Paizo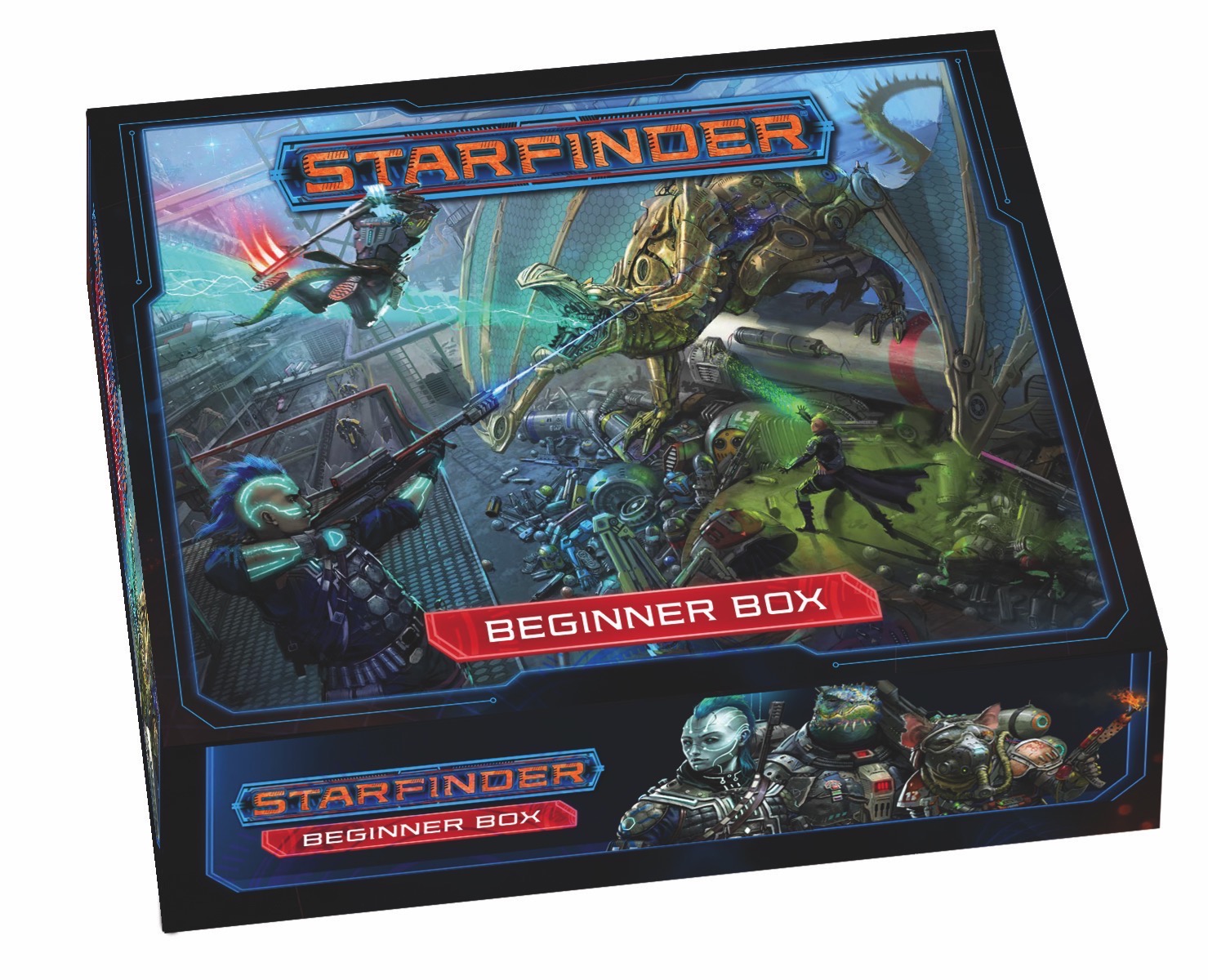 Explore the Galaxy!

Launch into an exciting universe of science fantasy adventure with the Starfinder Beginner Box! Create and customize your own futuristic hero to play through challenging adventures and action-packed battles against dangerous foes! With streamlined rules, this deluxe boxed set is the ideal introduction to the Starfinder Roleplaying Game, an imaginative tabletop roleplaying game for 2-7 players. Welcome to the best launchpad for a lifetime of pulse-pounding adventure among the stars—the only limit is your imagination!

The Starfinder Beginner Box has everything you need to get started:

A 96-page Heroes' Handbook, detailing character creation and general rules for playing the game, plus a short solo adventure
A 96-page Game Master's Guide containing an adventure, alien adversaries, and advice on how to create your own science fantasy tales
A complete set of seven polyhedral dice
More than 80 full-color pawns depicting diverse heroes and aliens
24 plastic pawn bases
Six pregenerated character sheets to throw you right into the action
Six blank character sheets to record the abilities of your custom-made hero
Six player aid cards for quick rules references
A durable, reusable, double-sided Flip-Mat play surface that works with any kind of marker
The Starfinder's beginner's box is available for pre-order now!