Come take a sneak peek at the new Necromunda Book and get a glimpse of what's in store. Plus get a look at Kal Jericho's new rules.
Necromunda has new bounty hunters in the works, bringing back some old favorites in the new book: The Book of Peril. Kal Jericho and Scabs are just two of the new features you'll find in the book. We'll take a look at their rules and all in just a moment, but first let's take a look at the Book of Peril and its table of contents, and see what new surprises are in store.
via Warhammer Community
Here's the Book of Peril and here's a look at what's inside.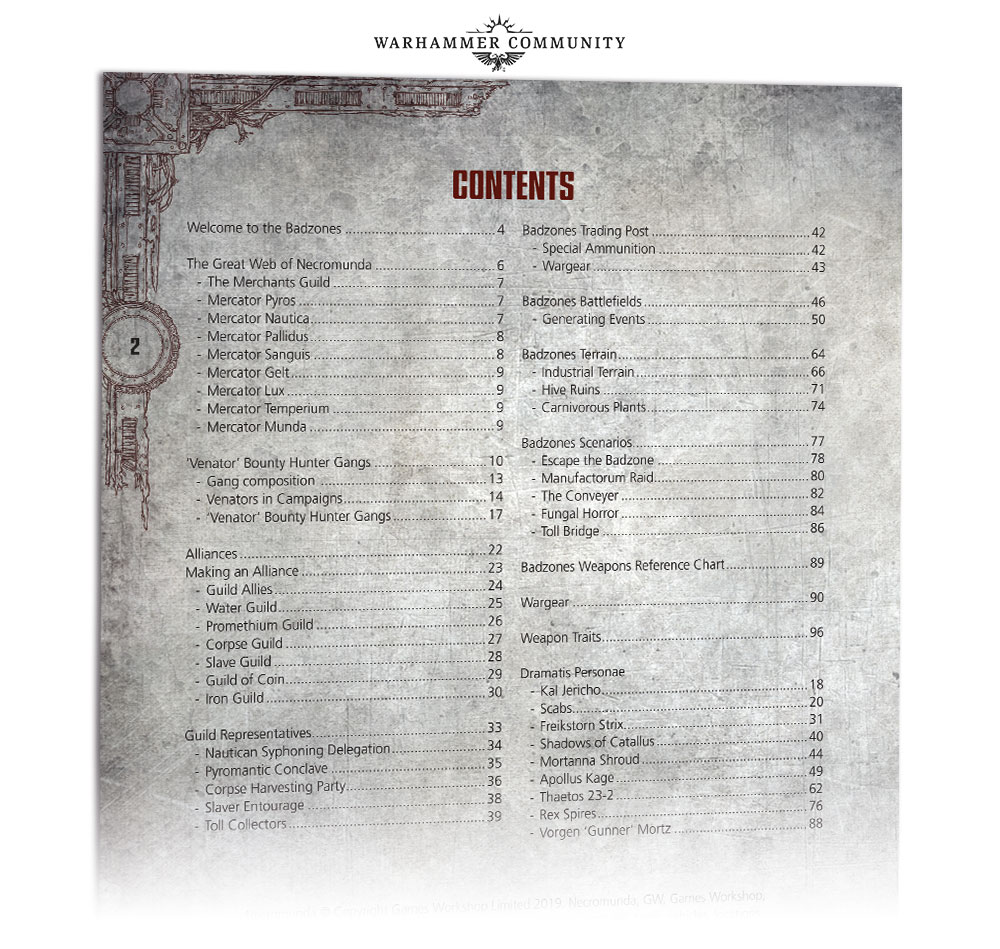 Not only will you find a fleshed out guide to fighting in the Badzones or running a Bounty Hunter gang, you'll also find rules for making an alliance with one of Necromunda's many Guilds. And as you can see, they're all here. There's a ton of them–the Pyro guild, the Corpse Guild, guilds of Coin–it's all there. We're also looking forward to seeing the new Mercator rules, because the world of Necromunda is weird and granular and it feels like it's at its best when it forces you to look at all the messed up systems in place that help this band of gangers, hunters, and hivers to eke out something that passes for a miserable existence.
Plus you get Kal Jericho and his trusty sidekick, Scabs.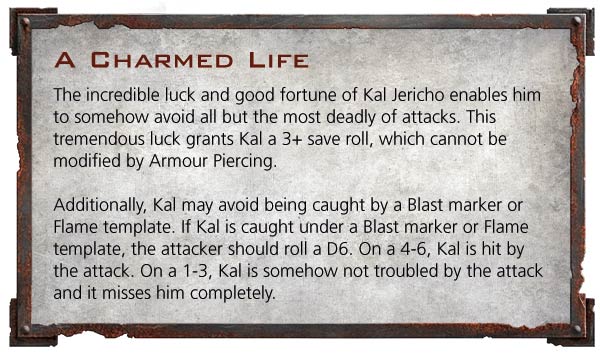 They're an awesome, if expensive, pair who have some surprising resilience, and Kal is a dab hand in a fight:

The Bounty Hunter Kal Jericho is a rogue and swashbuckler – he has yet to find a situation that he can't talk himself out of, or failing that, blast his way clear from, with his pair of master-crafted hotshot laspistols. Renowned for the luck that has seen him swagger away from attacks that should have killed him, Kal can be hired by anyone that can afford it. Of course, Kal Jericho doesn't come cheap (it costs a lot to look that good in the underhive) but he brings with him some unique abilities that any gang is going to find useful.
Unfailingly loyal, Scabs is Kal's long-suffering sidekick, always trying (and often failing) to temper Kal's wild streak with a healthy dose of caution. Thanks to his association with Kal, Scabs' own reputation had grown and he will often find his talents in demand, especially when Kal mysteriously disappears on his own for weeks at a time. Many a gang has found his abilities to navigate across the Badzones or to track down foes through the underhive invaluable.
All this and more await you in The Book of Peril!
Good luck, Gangers!