Crystal Fortress Review – Army Carrying & Display Case In One


We got our hands on a Crystal Fortress Case and the results speak for themselves.
A few months back my buddy lent me a box from his order of Crystal Fortress to unbox for you all. After my initial impressions, we here at BoLS reached out to Crystal Fortress to see about ordering a larger order to get a better idea of what a full case would look like. I placed an order for a few things and put it together for your viewing pleasure:
 Works Well And Looks Good
Now, I'm not going to re-hash our first review here. The TL;DR is pretty simple: It cool that you can see your miniatures AND transport them with the same case. If you go the extra step of getting magnets with your order, you're miniatures will remain in place even during trips.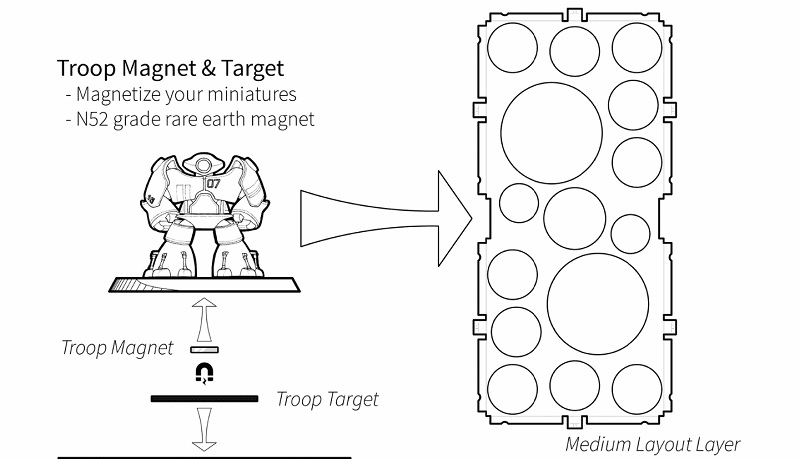 The case system is super modular with lots of different layout options and sizes – you can fit an entire Knight and extras in this case.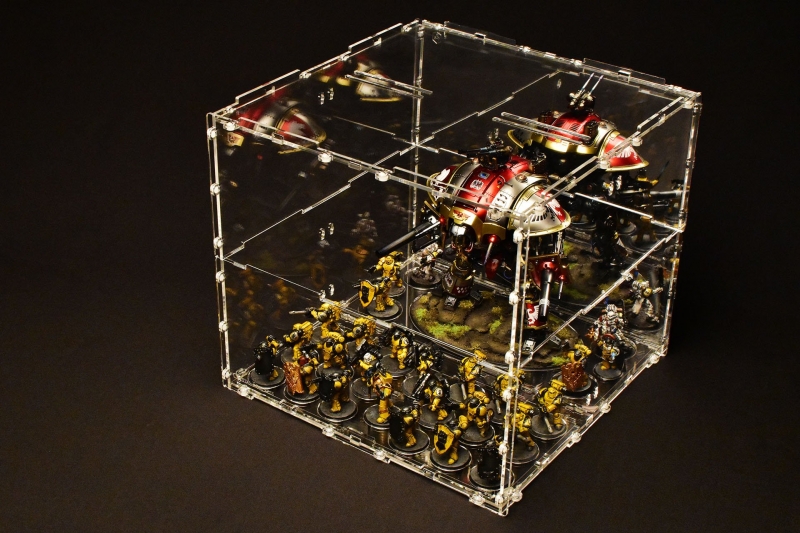 That's the basics. But what I wanted to talk about today was the assembly and functionality of the case. If you want to see the basics of assembly, you can check out their site for a handy guide. It's a really easy system to get the hang off.
Peel the film off the acrylic sides
Insert the silicone balls so that they are evenly spaced on either side of the tabs
And assemble at your leisure
That's pretty much it. However, I wanted to share some times I learned while assembling too.
This should go without saying, but follow the instructions. They are pretty simple and very straight forward. But they are in order for a reason!
Next up, there are sides labeled in the instructions "tab" side and "slot" sides – you're going to want to note those because you need to assemble the "tab" sides first and then use the "slot" sides to lock everything in place.
Finally, and this is perhaps the most important – build slowly. The case is acrylic and so the sides do have SOME give to them – but they do not have a lot. When I was inserting one of the dividers I put too much pressure on one side and cracked it. Thankfully I had some extras so it wasn't that big of a deal. But having done that, I can see the need for going slower and being a tad more ginger about assembly.
Once you've got everything assembled, it's a pretty sturdy case! It holds it shape pretty well and while I haven't done any drop testing (and I don't plan on it) I'm pretty happy with the results. I'm already planning a new order for some of the larger sections for more transport options. And probably magnets. I might even spring for the strap this time.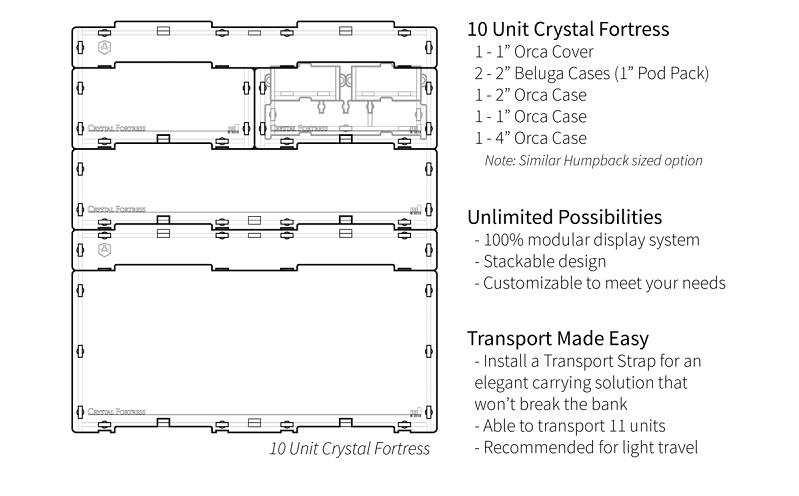 If you're looking for a display case to show off your army AND you want to be able to transport your miniatures around in style then I highly recommend the Crystal Fortress option for you. Now, I don't know how I'd feel about air travel with this case and I certainly wouldn't want to check this as luggage – but flying has always been a tricky issue with miniature wargames. But if you're looking for a travel solution for moving your army around in say your trunk or your backseat, this is perfect for that. Double that if you went for the magnetic options.
Subscribe to our newsletter!
Get Tabletop, RPG & Pop Culture news delivered directly to your inbox.
For those of you who like numeric values for your review score: 10/10 – am planning on buying more.
Note: They did send us a discount coupon code for our order but this was
not

a paid advertisement. I just really like their product.