Ghosts of Saltmarsh has a lot to offer in terms of story, adventure, and as we'll see today, brand new aquatic monsters full of fun and flavor.
Let's talk about monsters for a moment. A good monster is evocative when you read through it, whether with lore that suggests cool ways to tie it in to your campaign, or a story that invites a deeper reason behind why they fight, or fun mechanics that can challenge even the most experienced monsters. Ghosts of Saltmarsh is chock full of good monsters. It's chock full of good everything, honestly, and you can read our review to see just why I think that–but it really does bring a sense of "please play with these toys" to every section of the book. Today we're going to look at some of the new monsters and their fearsome flavor.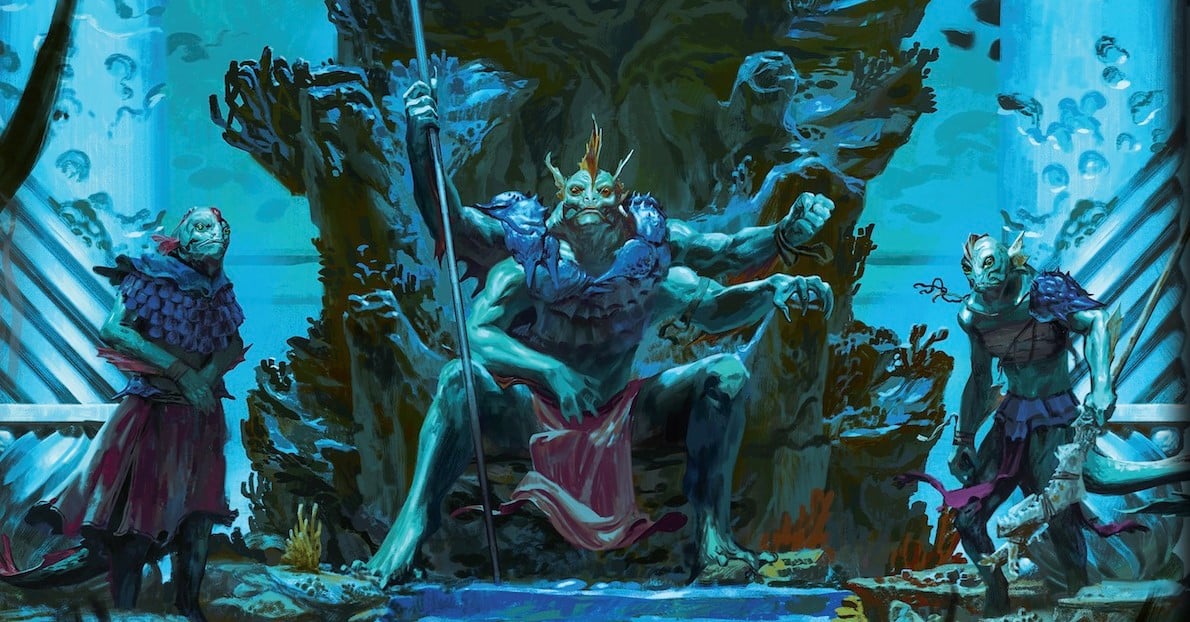 Let's take a look at three of Saltmarsh's most magnificent monsters. And we'll start with one of the ones gracing the alternate cover of Ghosts of Saltmarsh, lovingly designed by Hydro74. There are several new Sahuagin in Saltmarsh: the Sahuagin High Priestess, Wave Shaper, Deep Diver, Hatchling Swarm, Coral Smasher, Champion, and Blademaster. Each one of them has a different statblock and a different role. They range in threat values from CR 1-6, and present prospective DM's with a selection of sharkmen to pick from. Today we're going to look at the Deep Diver.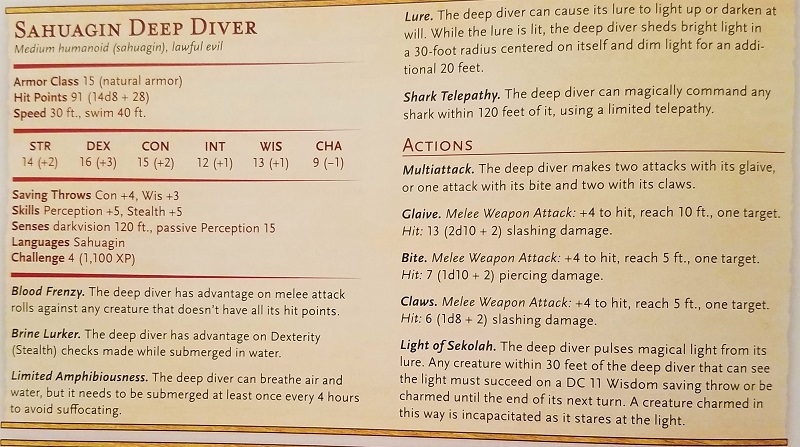 As you can see, there's a lot to play with here. They're basically a Sahuagin with a light up anglerfish-esque lure on them. They have been blessed by the magic of Sakolah, and as such occupy honored places in the Sahuagin hierarchy. Their abilities reflect their nature as explorers and infiltrators. They're fairly stealthy if they keep their lure off (and they can switch it on or off at will), but they can also use it in combat to charm foes that are transfixed by its glow.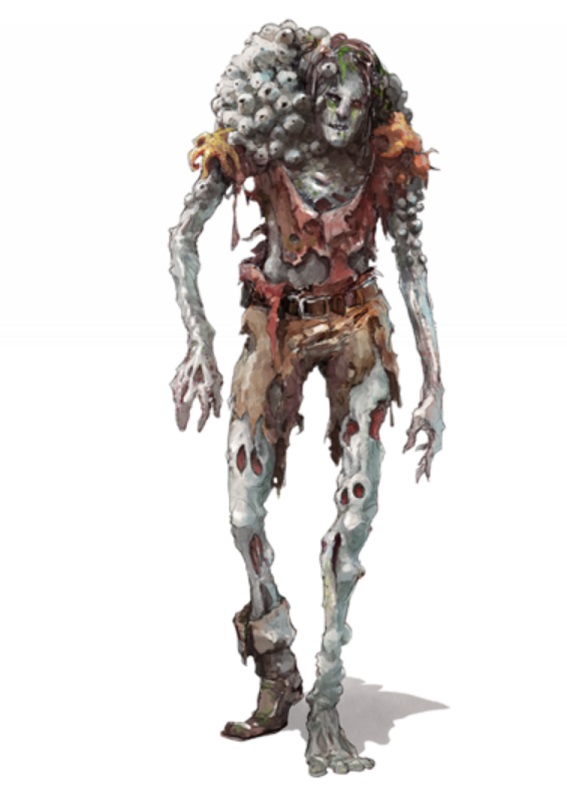 Our next monster brings back an old favorite, the drowned one undead–here we have the Drowned Assassin. Drowned Ones are very much cursed pirates/sailors that, as you can see from the picture, have that Pirates of the Caribbean 2 & 3 vibe going with barnacles and octopi and other sea life just everywhere. And the Drowned Assassin is no slouch in combat either.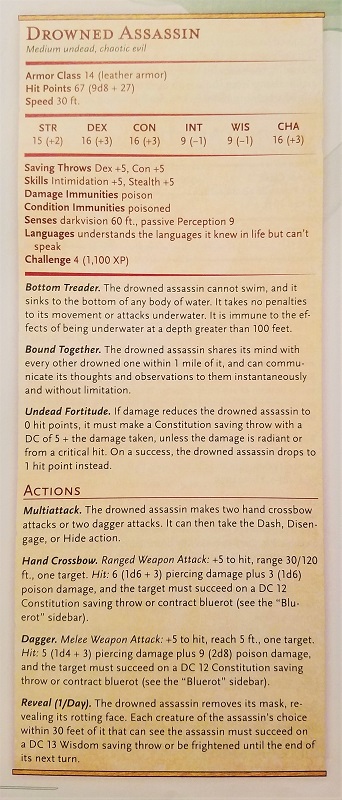 The biggest thing going here is the creature's ability to instantly share its mind with every other drowned one within 1 mile of it. These creatures are basically a hive mind, but with Undead Fortitude backing them up. The Drowned Ones in particular are a bit dangerous because they carry Bluerot on all their attacks, and it's a particularly nasty disease, dealing 1d4 damage to Constitution and Charisma, and making every long rest potentially fatal. Finally we'll look at the Minotaur Living Crystal Statue.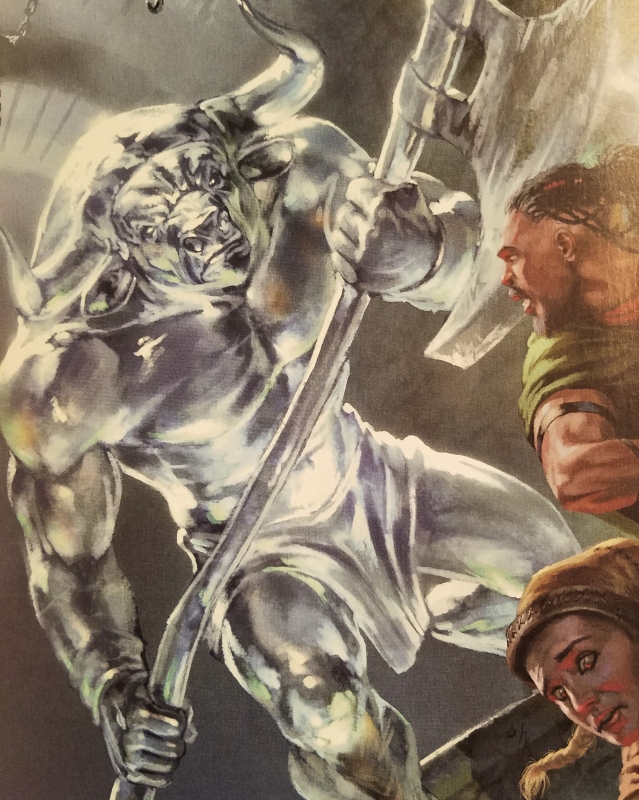 This guy is radical, as you can tell just from looking at the artwork. But it's got the stats to back it up as well–this crudely-carved statue of a majestic minotaur is a perfect, shiny boy that is more than capable of tearing its way through a party of low-to-mid-level adventurers. It hits like a ton of bricks, for one, and it can use a reaction to deal damage to any creature attacking it in melee. And with 136 hit points, it'll take you more than a few hits to bring this crystal chum down.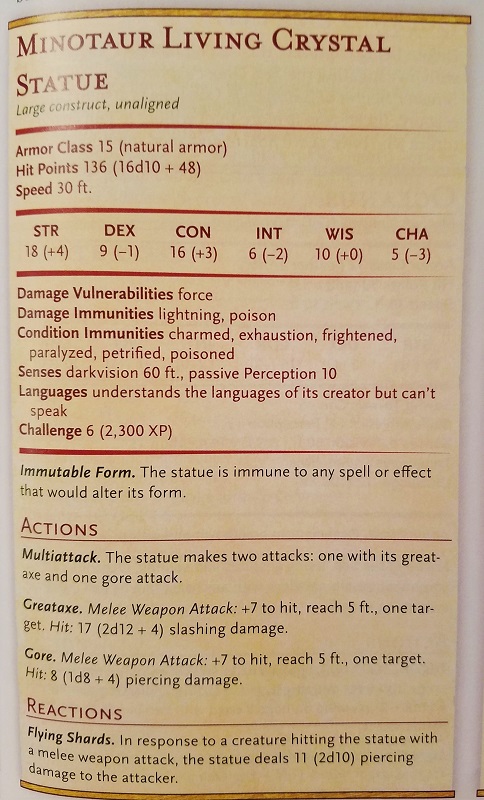 And this is just a small selection of the Monsters of Saltmarsh. They're fun, they come with their own story or suggestions of a story, and they are super easy to pick up and play with. So if you're looking for something new to play around with, consider the monsters of the Ghosts of Saltmarsh.
Happy Adventuring!