Goatboy here again and let me tell you I was surprised to see the reveal of Codex Chaos Knights. OMG OMG OMG, here's my first thoughts!
My Chaos Prayers Have Been Answered!
I don't know if you know – I might like Chaos a bit.  It might be more than just a bit – it might be a friggin lot.  So much that any temptation of a Chaos option has me clamoring to figure out how to use it in some kind of army.  You should have seen how many lists I wrote up for the next event I will be playing (Alamo 40k GT – list on Friday).  So the idea of a new Chaos Knight has me very excited.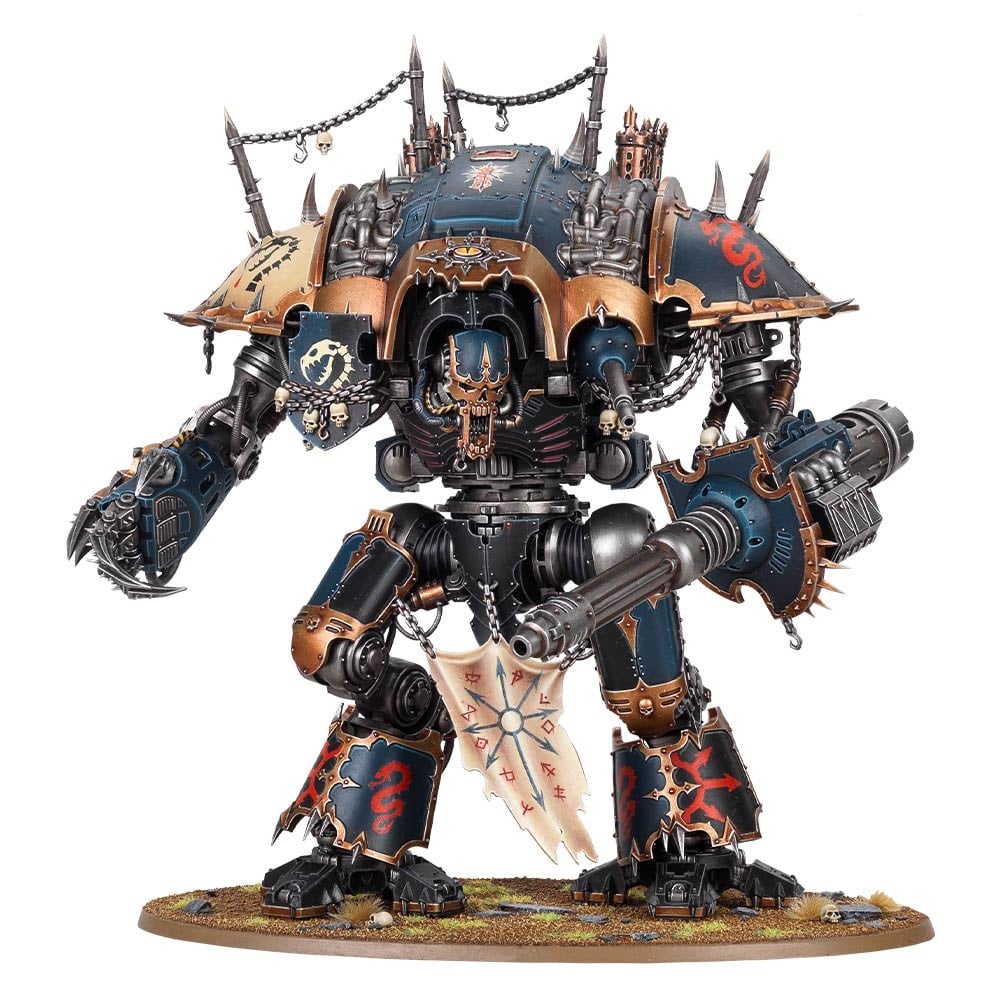 On top of just a new Chaos Knight model, we have the release of a whole new daemonic codex.  This is pretty amazing.  I originally wrote this with the thought that we would get a single model sheet in a White Dwarf – maybe a few extra Stratagems and hopefully a new usable relic.  Instead, we got a whole new book – new units, more stratagems, more relics, and a ton of new excellent stuff.  This is amazing and my year continues to be a punch to the wallet – especially since I already have 3 Chaos Knights plus the parts to make another Chaos Knight.  Lucky for me they said the old Renegade Knights are staying in and we have two bad ass new ones.
What to Expect?
We have a new codex, two new Knight units, and a whole lot of dreams on what we might see.  I get the feeling that most of it will follow bits of the Households from the Imperial side mixed with the Renegade Legion aspects.  It just makes sense as a whole, and if we don't have some kind of Mark system, we will be looking at some kind of Devotion aspect.  With that in mind what would these different households be?  Are they going to break them into Dark Mechanicus and Legion based ones?  Or are we going to see a few evil houses that line up?
Obviously will have a Khorne one.  It will have something to do with getting into combat as fast as you can, do a ton of attacks, and probably some kind of other ability that lets them hate psychics.  This one will be the only double attack option in the codex as while attack twice is powerful, it takes a lot of investment to get it to work.  From there you will see an extra attack hopefully and some weird brass based relics.  I don't see any Khorne Knight Households in some of my internet searches, so I expect this one to be something new.  I feel like these rules could be the easiest to do as the current model is set up to be a close combat monster.  I don't see any axes shown on the preview pics, but it would be neat to have some kind of smash option in there.  Those new Knights also have the legs that resemble the Kytan Ravager (Just add it to the book please – make it a Knight thing and not a Chaos Space Marine) so maybe they will get some kind of 2d6 advance move.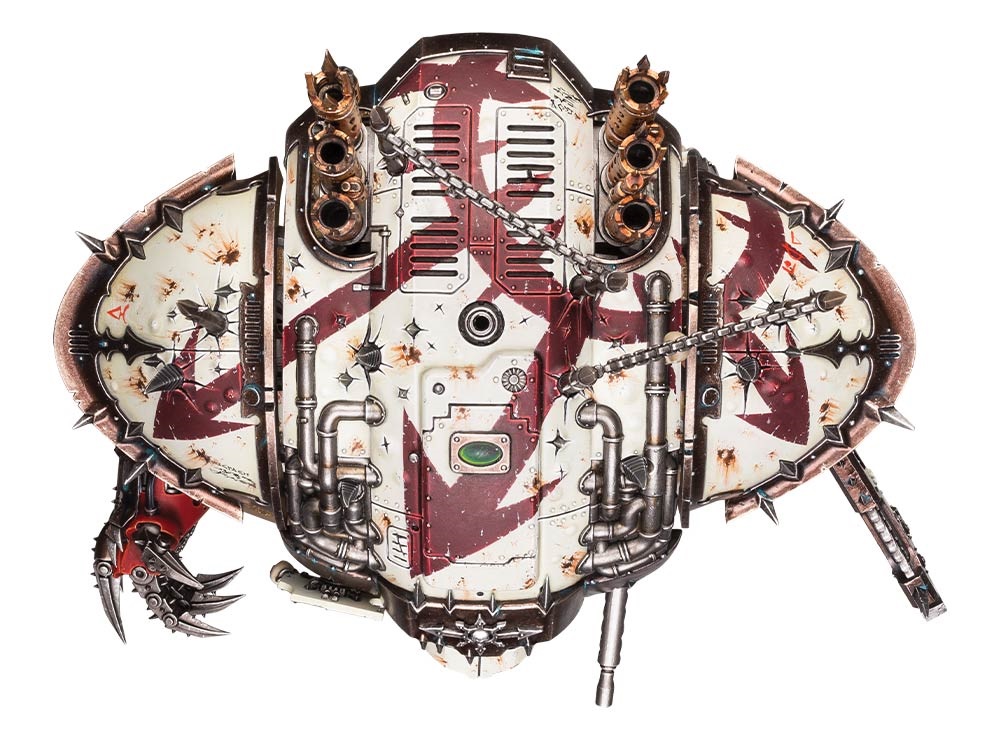 The next households that seem to show up in the fluff is a lot of options that fell to Slaanesh.  As this is the current year of Slaanesh, I can see one of them being the main focus in the book.  House Devine seems to be the big one, and the name seems to fit pretty well.  From a rules stand point I could see some kind of First Strike option or other combat prowess ability.  I don't think they will do a double shooting option as it can be potent on specific platforms.  I could imagine a double Gatling Cannon knight throwing out 48 shots.  If they left it where it has to shoot the same unit then we could have an option but it just feels too good to be true.   The fluff talks about Daemons taking hold of the Nobles and Knights themselves so maybe they could be something about making them Daemonic Engines as well.  I don't know how good that would be as while we have some cool Daemonic Engine options – they only really work with Chaos Space Marine choices – not Questor Traitoris.
Before going into another god – let's hope we don't get another nutty Castellan like power/ability.  It is one of the things that warped a lot of the meta game currently.  While not winning everything it as an army you always had to think about.  It also invalidated so many other lists just due to its nature of damage output.  I don't want to see a book with as rough of a bad guy because having to Nerf units people invested in building is a harsh thing to stomach sometimes.  No matter how annoyed I am with a unit – we shouldn't have nerfed units in a "balanced" game.  A few things can leak out from time to time – but this isn't a game where you just bought some cards, sleeved them up in unmarked sleeves, and try to win.  This is a game of investment in building time, painting time, and practice time.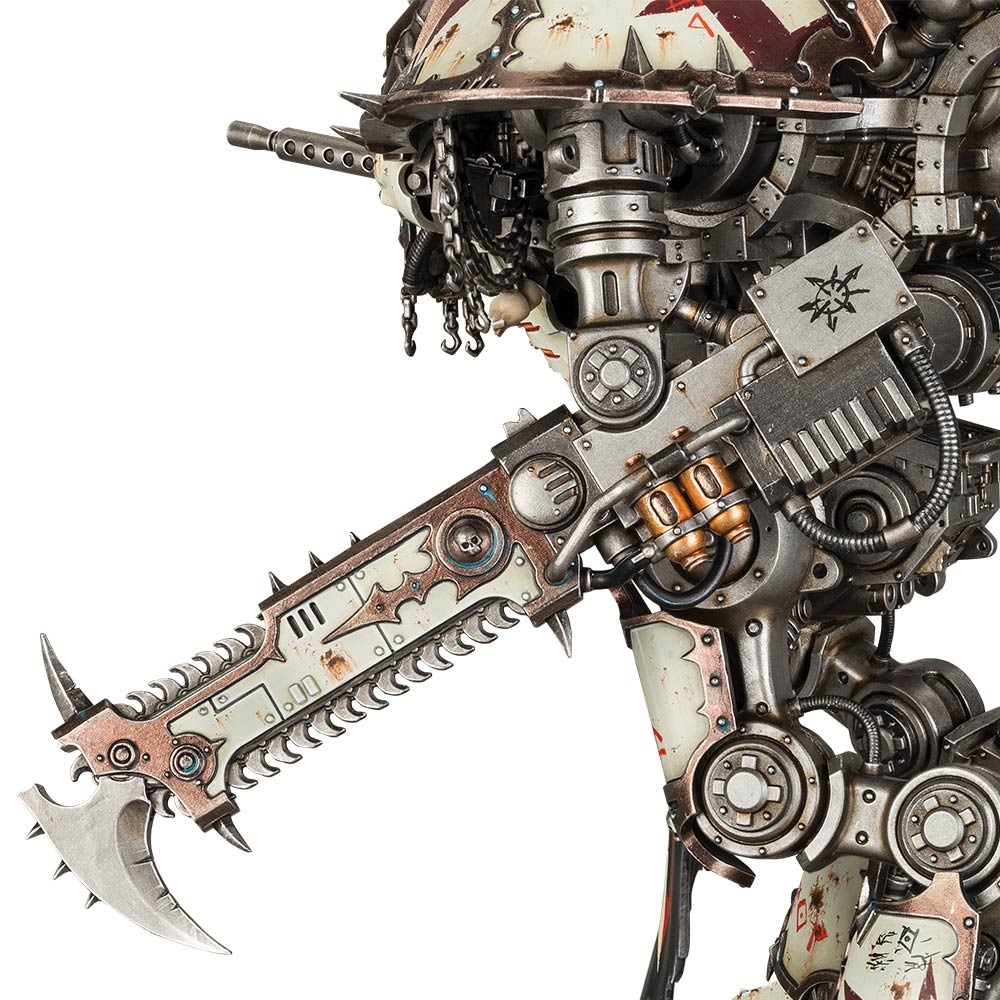 Alright off that soap box – lets look at Tzeentch.  I think this is the option that would finally bring some kind of Psychic Knight option.  I don't know if that would be too powerful – but having some kind of psychic ability you can stack on these specific households would be interesting.  Even if was something a simple as bonuses to the knight without the option of a Smite.  Just something to make the idea of a psychic pilot something interesting.  Beyond this I would expect all their weapons to have some kind of fire-based option where the AP got better if you spent some CP on the army before hand.  Just nothing to let their Ion Shield go lower.  We know a 4+ is where it needs to stay at.  Maybe make them a soulless robot of some sort too.  Lots of little things can go into this like how some of their strats for Thousand Sons have gargoyles spitting out fire.  Throwing those mortal wounds out in an Aura would be neat.
Finally, we have Nurgle and while the game does work within the confines of Toughness – there doesn't seem to be a whole push to making toughness matter.  Once they added the rule of always wounding on a six the idea of making your Nurgle option over toughness eight doesn't matter that much.  So what else could that do?  Regeneration is a decent thing followed by just having more wounds.  Death Guard also uses Auras to some effectiveness so having some kind of wasting disease coming off of a gross Knight might be cool.  Having lots of wounding options as well would be good too.  There are a ton of things to make a gross set of knights and being Devoted to Nurgle is again an easy set of rules.  Look at the other big Nurgle Model options (Morty, GUO, etc.) and utilize some of their rules and abilities and throw it on a dang robot.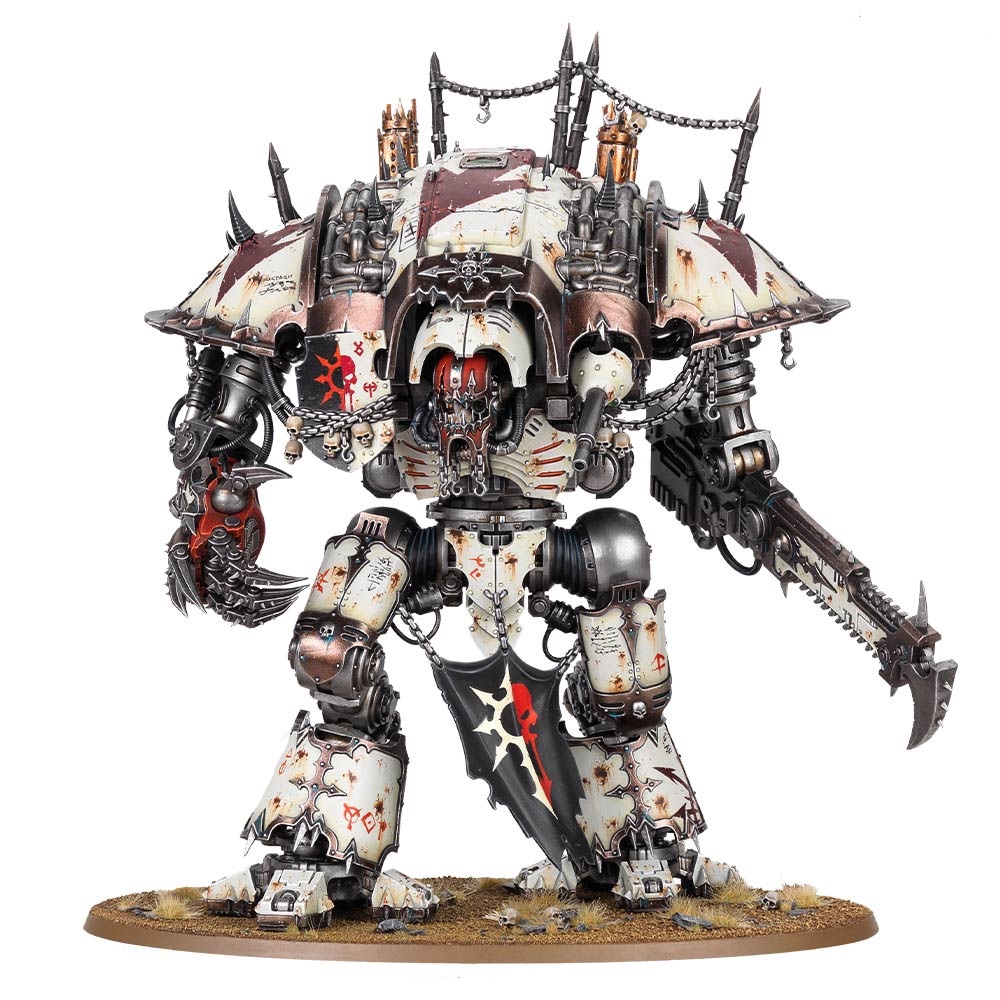 After all of this, the next thought would have a set of Renegade options to fill out the flavor a bit.  I would think a Red Corsairs household would be neat as it makes sense that Huron got some Knights to follow in his rebellion.  Plus I could easily add them to my current Red  Corsairs nonsense I plan on playing for a bit.  Just as long as we don't see a Black Legion Household as Abbadon doesn't need everything in his Black Crusade.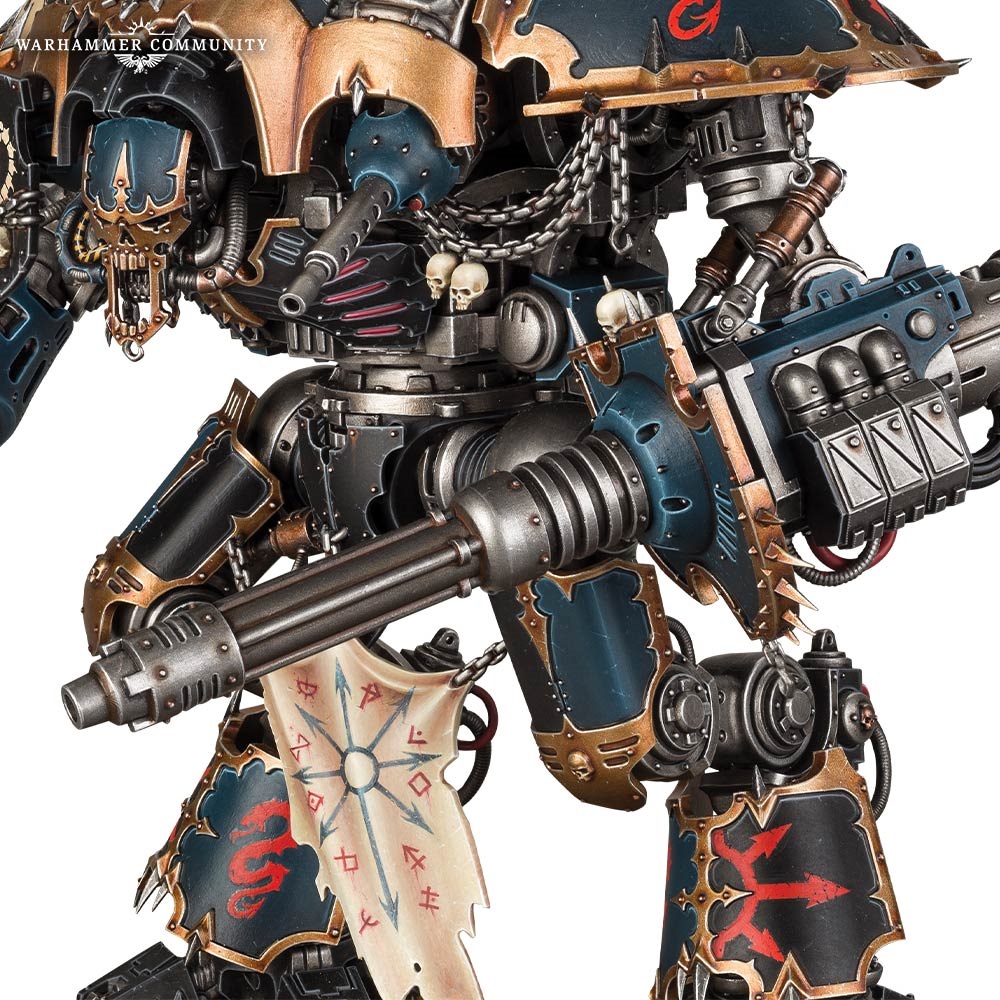 So Many Questions
What do you guys think the new Codex will have in it?  Is it just going to be a copy of the Imperial one with Dark Mechanicus/Questor Traitoris?  Is it going to be simplified into Marks/Devotions with some unmarked options?  Are we going to get a relic as good as Cawl's Wraith or the Anointed Saint armor?
Will Codex Chaos Knights bring more balance to the game's meta?