Give yourself a brake from finding a way to spark some interest in your game nights. I'm gonna come in clutch for you with the perfect game. Is your mind racing with suspension?
Formula 1 Racing may not be as mainstream as other sports, but it's still got a huge following and has for a long time. So much so that Avalon Hill decided to jump on that bandwagon in 1971 with the Speed Circuit board game.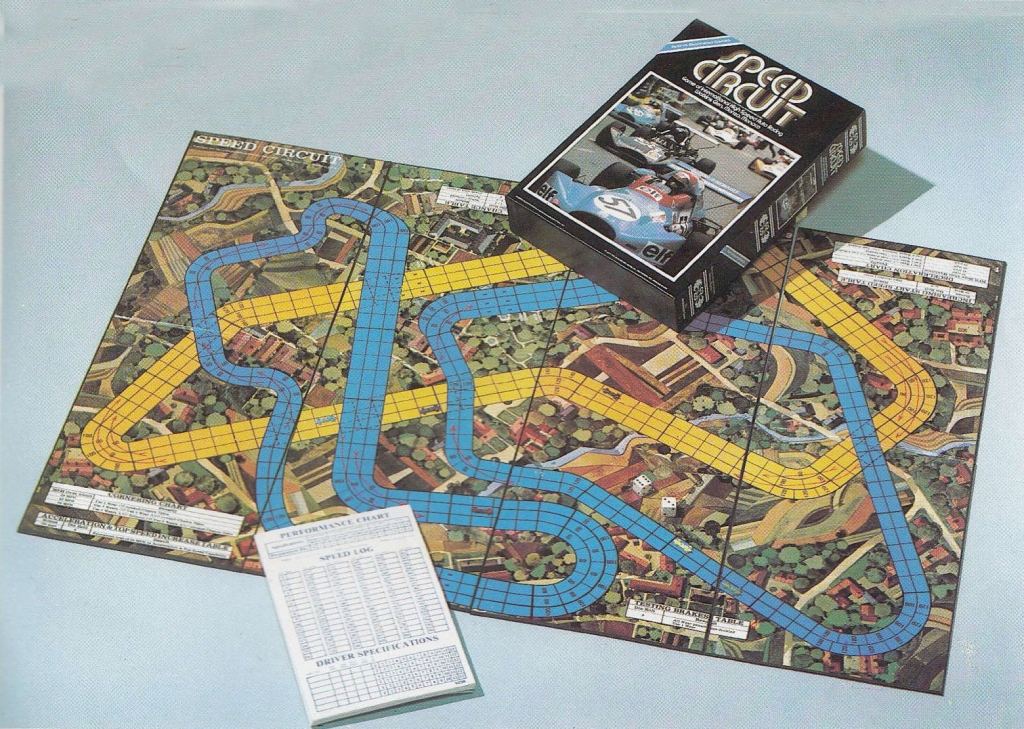 With similar popularity to racing sports, racing games aren't very high on the list. Still, they are a very cool niche genre of games that doesn't get as much attention as they deserve. On top of that, Avalon Hill is (read: was) very well known for getting really into the nitty gritty of their game design. So it's safe to assume Speed Circuit is no exception.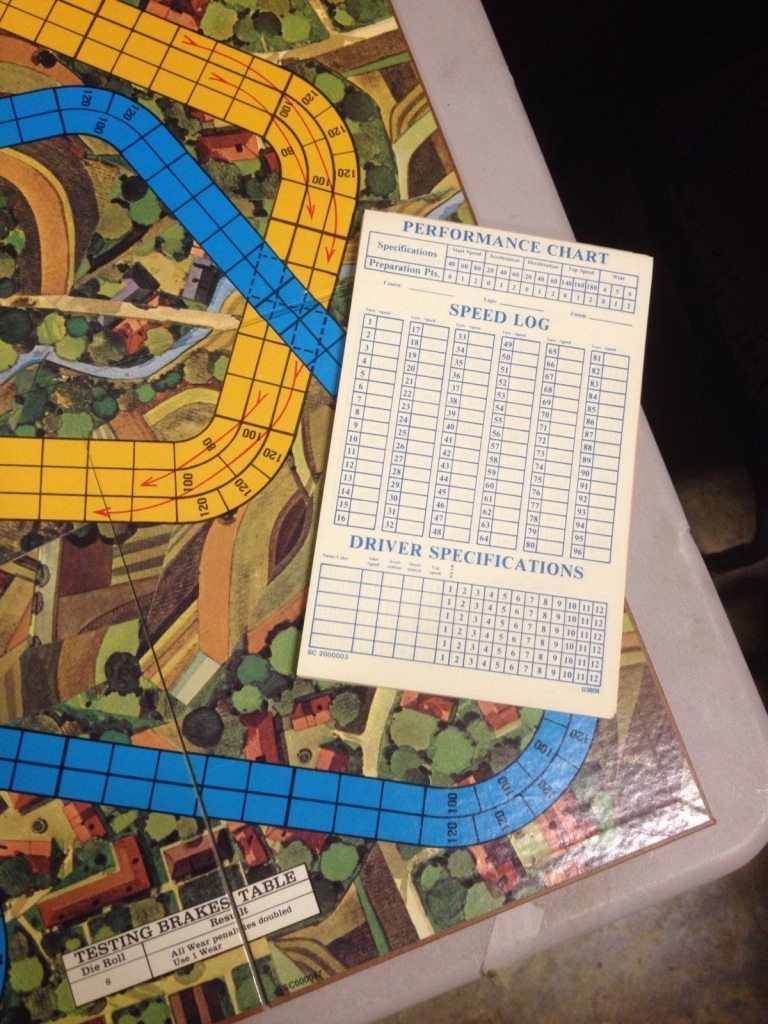 Yay, charts!
Speed Circuit is a team-based competitive racing game with role play mechanics (technically). The goal of each player is to win the race. I don't know what else to say about that.
What makes Speed Circuit very Avalon Hilly is the character/car building. There have been multiple editions of the game and each one functions a little differently.  To show how much things have changed, take a look at the Performance Chart in the picture above and compare it to the same chart you'll find in Super Speed Circuit.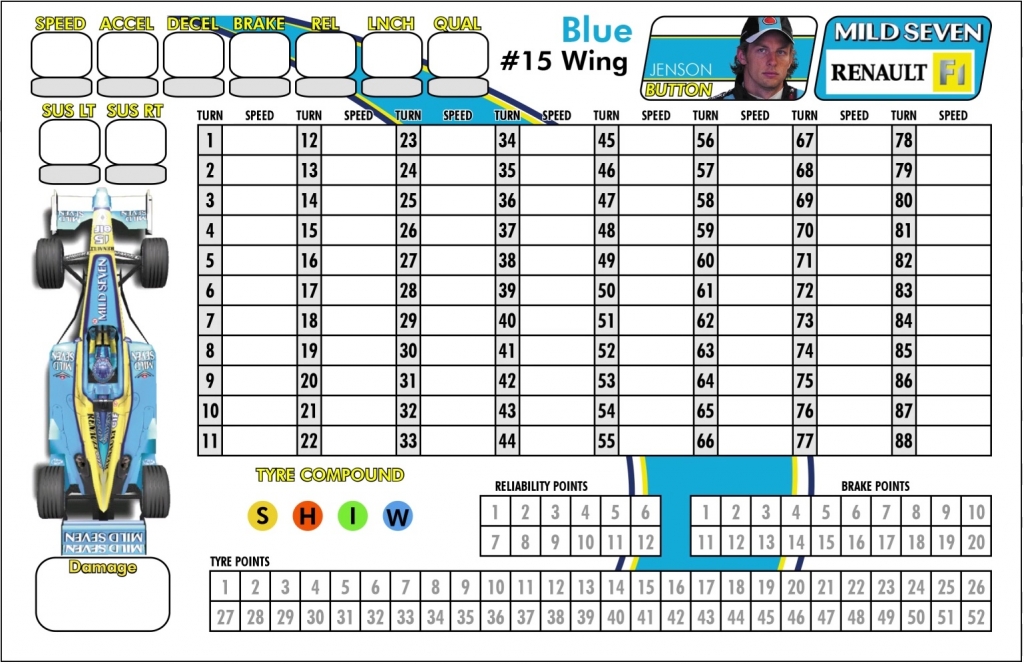 However, in all editions you're designing your car or driver. You get a certain number of points to allocate to the stats and gear you'd like. It'll determine your top speed, acceleration and deceleration and overall durability of the car (or 'wear'). In the original version, you get 5 points to allocate (max 2 per category), whereas in the later editions you get 33 points. So again, things have amped up a little bit since initial release.
During each turn, each player notes what their speed will be for that turn, changing their current speed only by as much as their acceleration with each space being 20 MPH.
Things start to get tricky on turns.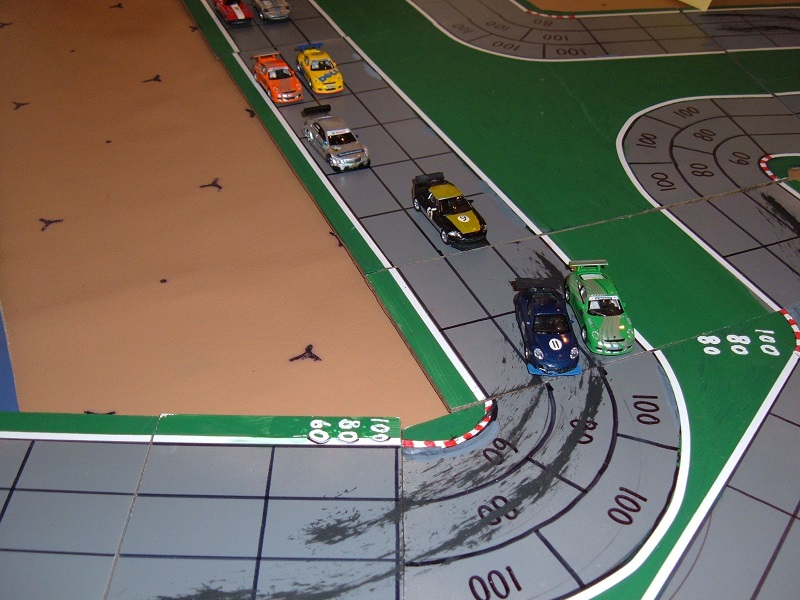 Unsurprisingly, this game has a large following with many custom designed tracks.
Taking a turn requires the car to follow the track line at the noted speed limit plus 20 MPH, coming in faster than that can result in some bad stuff. So if you can follow the optimal path, it's easier to pull off. But if someone's in your way, you might need to try something else.

Wear is something of a resource available to the player. It accrues through the wacky stunts you try to pull off and once you've reached your limit of Wear, you can't "spend" any more.
For the basic rules, that's about it! There are also advanced rules, because of course there is. This is an Avalon Hill game we're talking about here. Most of the advanced rules are on running a circuit and doing multiple lap races. But the main one is Slipstreaming.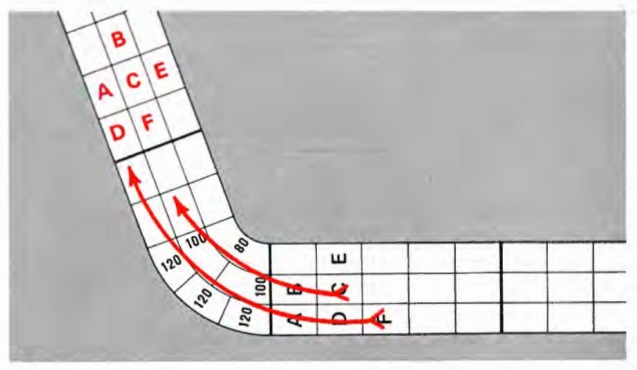 In short, if you follow a car into a turn and they are going anywhere from 120 mph to 160 mph, you get a bonus of 1 space, as seen with Car F, following Car D. If a car is going 180 mph or greater, the drafting car gets a bonus of 2 spaces, as seen with Car C following Car B.
Just remember to mash the R button when skidding into the turns.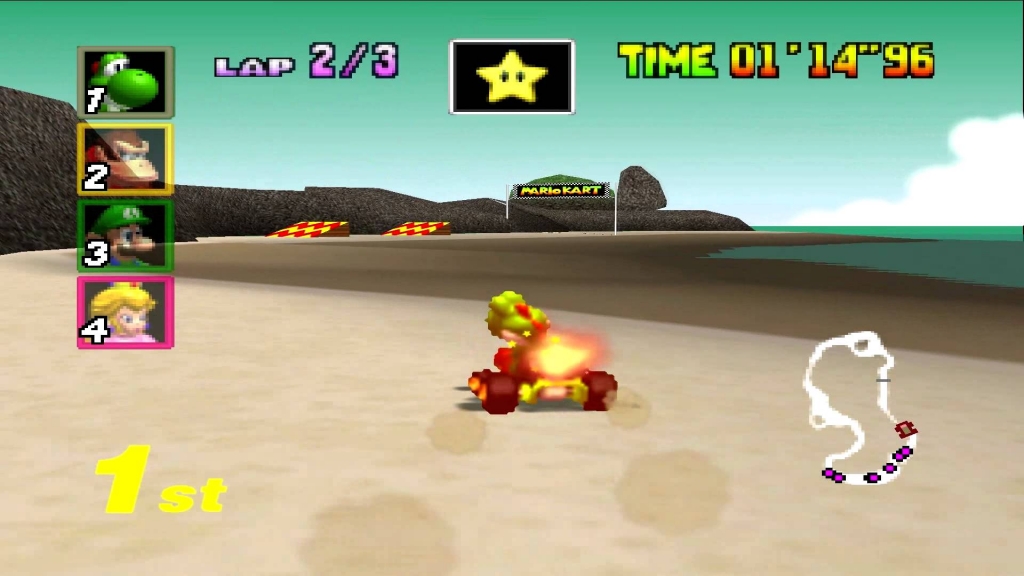 Thanks for reading!