The next Separatists ship is up for Preview. Meet the deadly new Hyena-class Droid Bomber for Star Wars: X-Wing!
The Separatists have quite a few tricks up their robotic sleeve and the Hyena-Class Droid Bomber is here to play.
"When they truly need to pack a punch, the Separatists deploy droids designed for that very purpose, such as the Hyena-class droid bomber. Whether it's launching a volley of missiles, dropping deadly bombs, or deploying some experimental ordnance, the Hyena brings a variety of new options to Separatist squadrons. Soon, you'll be able to take full advantage of these fighters with the Hyena-class Droid Bomber Expansion Packfor X-Wing™!"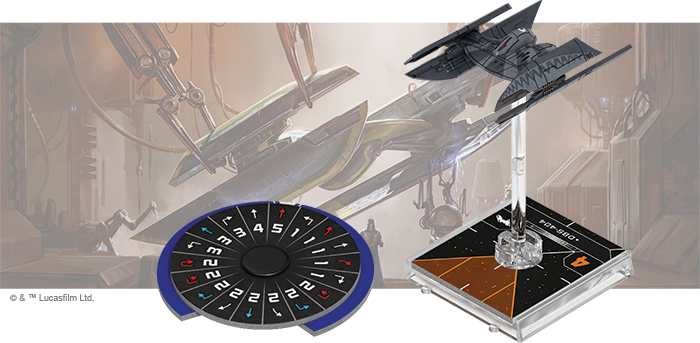 Fast and capable of supporting other droids, this is one bomber that will surprise your opponent. With a decent dial, 2 agility and 5 hull, it's nimble and tough – a deadly combo. Now let's check out the pilots.
Meet The Droids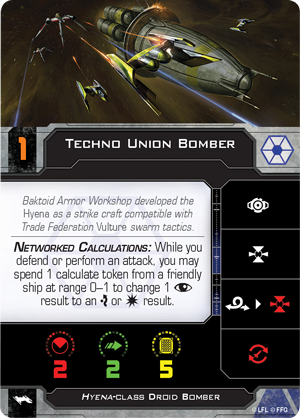 Here's the basic ship. They all come with the ship standard Networked Calculations and it's going to allow you to pass calculate tokens around like candy.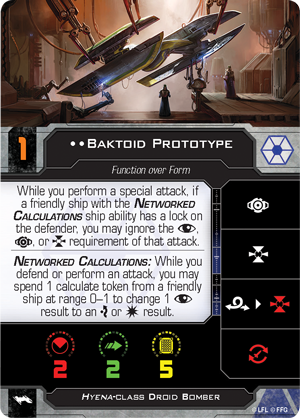 The Bakitoid Prototype is restricted to 2 in your list. That's probably because of it's killer ability to ignore requirements to launch special attacks if another friendly ship with Networked Calculations has the target locked.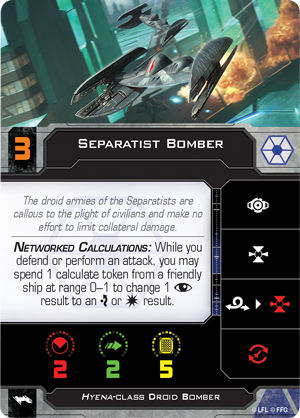 Up next we have the initiative 3 Separatist Bomber – nothing fancy here but still handy to have on your side.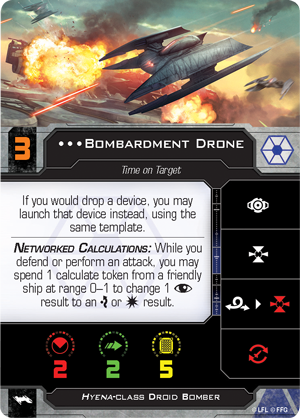 The Bombardment Droid is limited to 3 in a list which allows you to launch a device vs dropping it – you still use the same template. Just don't forget to pack those Delayed Fuses.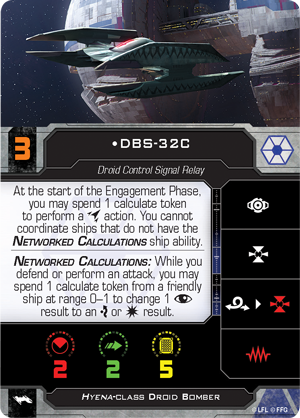 If you're looking for a natural leader to your droid lists, DBS-32c comes with the ability to execute a coordinate action on other ships that have Networked Calculations. That could come in handy.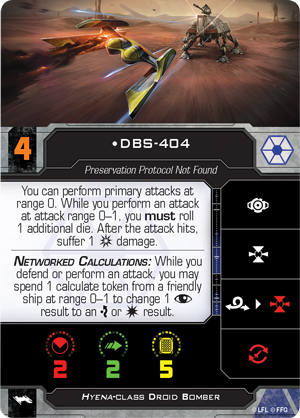 And finally if you're looking to pack a punch and probably slam into opponents, DBS-404 doesn't have a problem with getting up close and personal. Just watch out for the splash damage.
The Hyena-Class Droid Bomber will be arriving with Wave IV which is slated for a June 6th release!
Hyena-class Droid Bomber Expansion Pack $19.95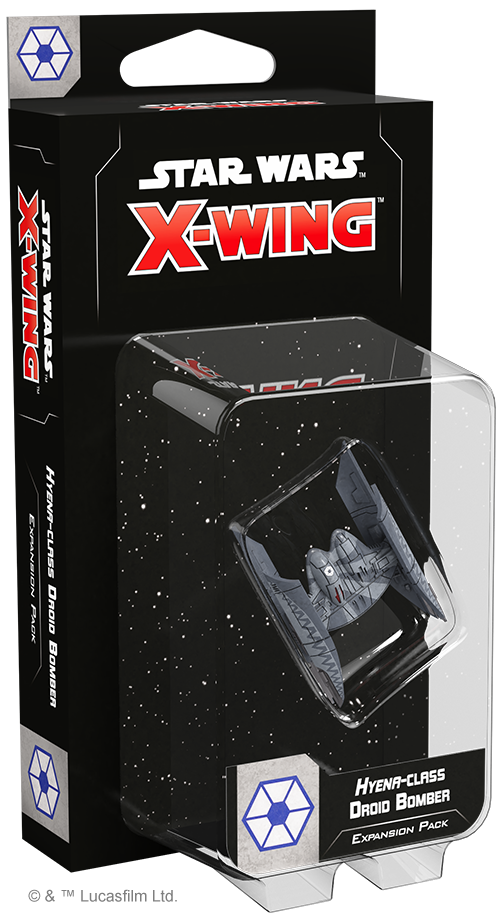 Baktoid Armor Workshop's Hyena-class droid bomber is a wartime evolution of the Trade Federation's Vulture-class droid fighter. Carrying an extensive payload of experimental and deadly ordnance provided by the Techno Union, the Hyena is a nasty surprise to any Republic loyalist who dismisses the danger posed by "mere" droids.

Compatible with Vulture swarm tactics, Hyena-class bombers add lethal new layers to Separatist squadrons. Within the Hyena-class Droid Bomber Expansion Pack, you'll find everything you need to add some heavy firepower to your Separatist Alliance squadrons, including six ship cards, 10 upgrade cards, and two Quick Build cards.
DBS-404: Missing Preservation Protocols for a reason!