Everyone's favorite All-consuming Xenos Faction is under the Microscope with today's new Faction Focus for 40k Apocalypse!
The Tyranids are getting to show off a little Chitin with a peek under their metaphorical hood in Apoc today. Personally, I'm pretty pumped about what the bugs can do in Apoc and having scoured their Datasheets (which you can download for free) things are shaping-up quite nicely. We're getting a better idea of Apocalypse thanks to those datasheets and now we just need to get our hands on the full rules to start playing! But back to the matter at hand: It's Tyranid Time.
"Keep your Advance and Assault Markers at the ready, as the Tyranids are one of the most aggressive Factions in Warhammer 40,000: Apocalypse. They also have some of the game's cheapest units in the form of Termagants, Hormagaunts and Ripper Swarms, meaning you can field them in enormous numbers and overrun opponent's forces beneath a tide of clawed bodies (and you're going to love the new Movement Trays). What's more, so long as you have a stable network of Synapse Creatures throughout you chittering swarm, your opponent will have to destroy them rather than try to rout them, as they'll be immune to Morale tests."
That's right folks, Synapse is still at thing and with Morale actually mattering a whole lot more in Apocalypse compared to 40k, Tyranid Players are going to be really glad they have the Synapse rule: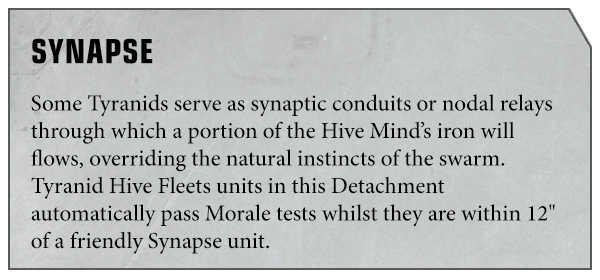 Units outside of 12″ from their Commander are considered "Out of Command" and that can have some serious repercussions in the damage phase (ie, you might just get routed and lose the entire unit). So it's going to be really interesting to see if the Tyranids can avoid that fate with overlapping Synapse webs. That would be somewhat fitting – but keeping track of all those detachments might become a little unwieldy. We'll see how that pans out!
Moving on – let's take a look at some of their Heavy Hitters!
Hive Tyrant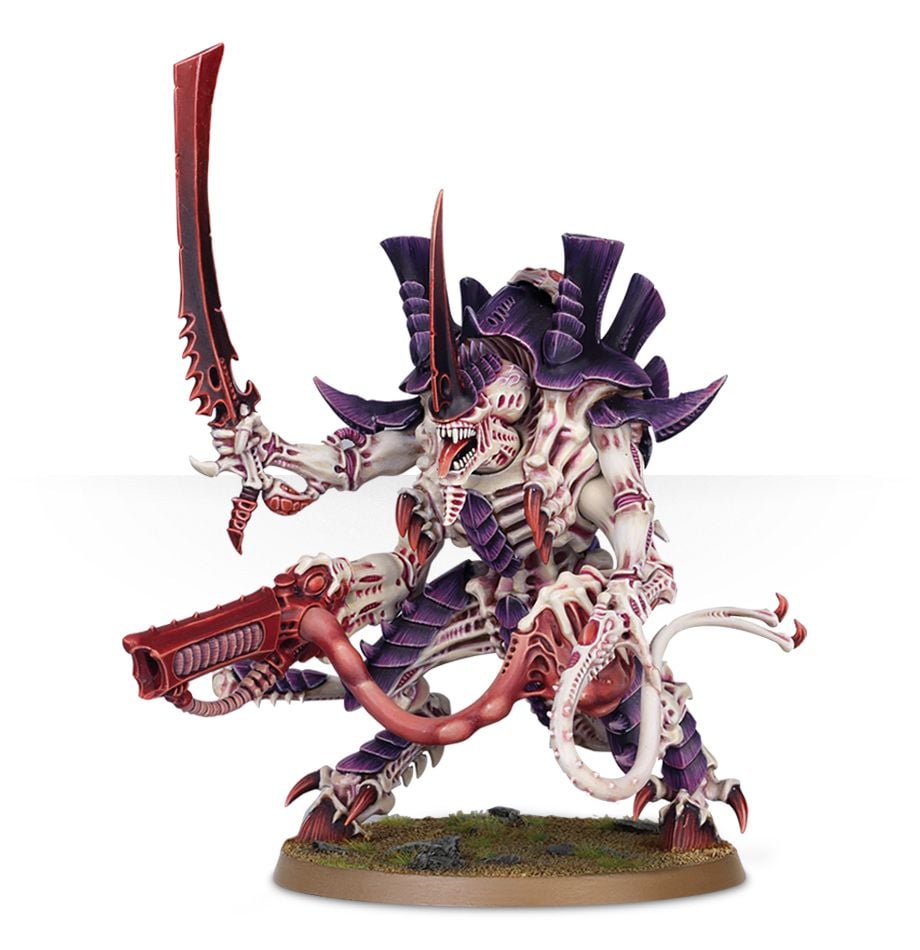 As a Tyranid Player, why would you ever leave home without one? Or maybe 4. Heck, this is Apoc baby – bring them ALL! You're going to want to as well for a multitude of reasons. First off, Synapse. Secondly, Psyker. Thirdly, Heavy Monster. Fourthly, lots of options. Finally, Wings! I mean, just look at the Datasheet: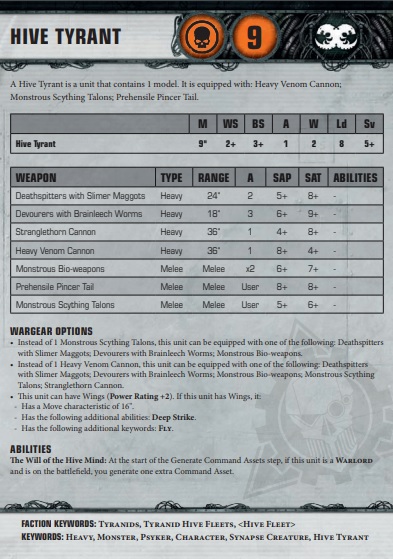 Now, I'm not going to lie – I'm a little sad that the Hive Tyrant only has 2 wounds. I was hoping for 3 or 4…but I know that I'm biased. However, it's still a Heavy Monster which means that units will have to use their SAT stat to when rolling to wound. In fact, that's going to be a recurring theme for ALL Tyranid Big-Bugs. No, they aren't in par with a Knight individually – but you're going to be able to have a lot more of them comparatively.
On top of that, Tyrants are highly versatile. You're going to be able to kit them out however you NEED them for your Apoc games. With Wings, you'll be able to Deep Strike, too. Get where you need to be and start taking out your enemies. It's feeding time!
Trygon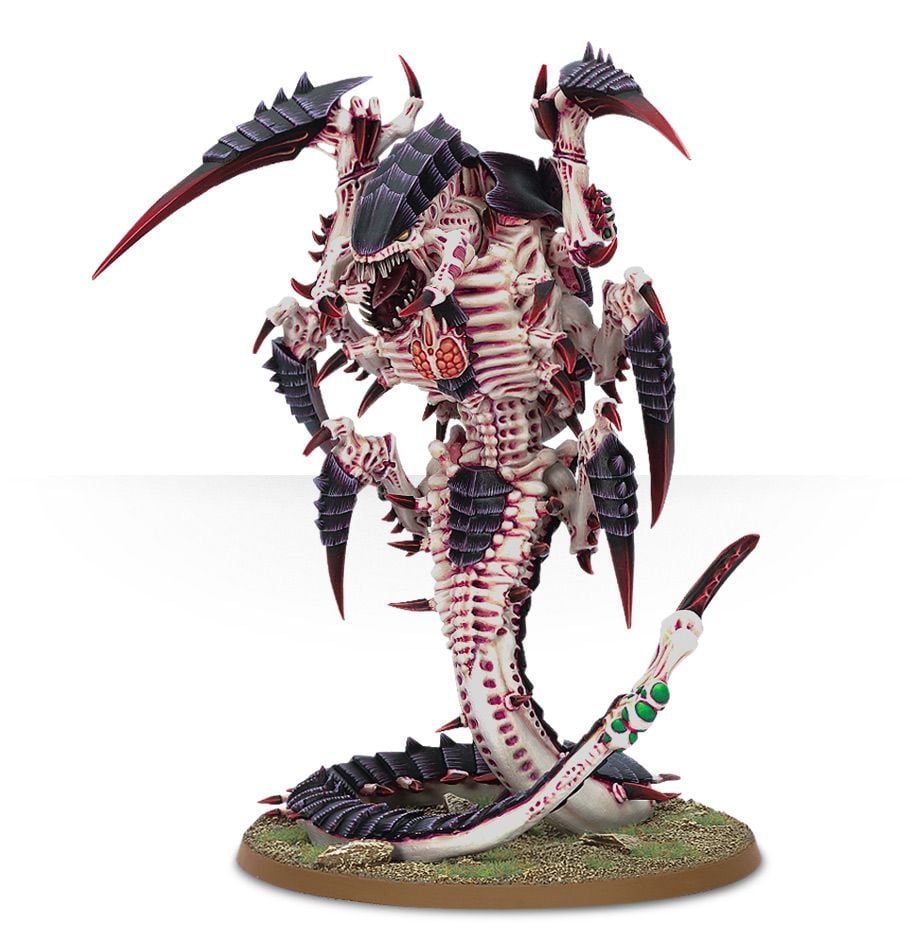 Trygons and Flyrants go together like peas and carrots. Or Peanut butter and Jelly if you're not a fan of peas. Point is, they work well together – as both can Deepstrike and you'll be able to get your Trygons within Command Range and your Tyrant's won't be floating around solo. Check out their datasheet below: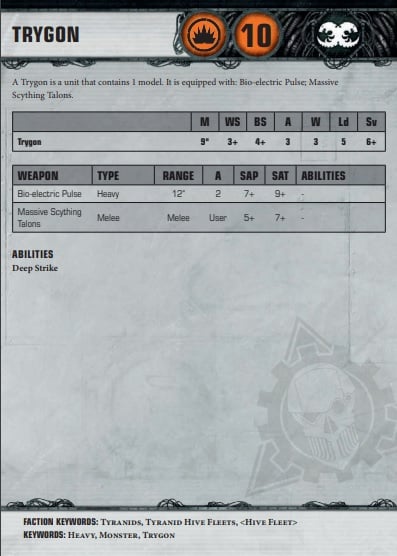 3 Wounds on a Heavy Monster is nothing to sneeze at. Sure, if you shoot at it with a Warlord Titan, it will get vaporize. But these only cost 10 Power Rating. Heck, for one more point you can get a Trygon Prime: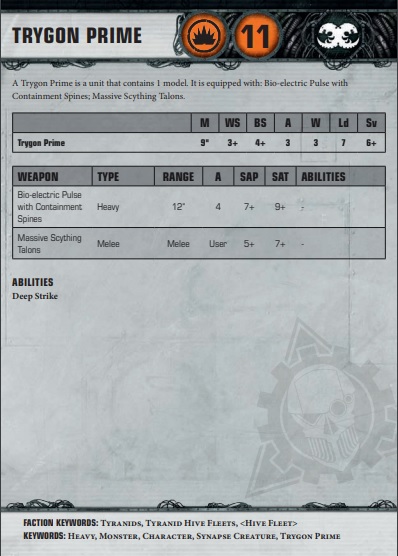 Bring your own Synapse and double your shooting attack? Sure – why not!
Carnifexes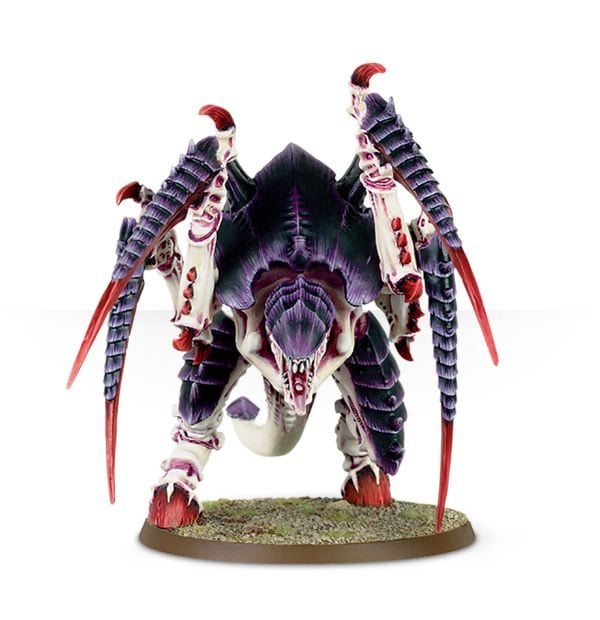 Carnifexes are going to come stomping into Apoc – thanks to their many options and variety, you'll be able to kit them out to do exactly what you need them to do! Whatever the task, they've got you covered.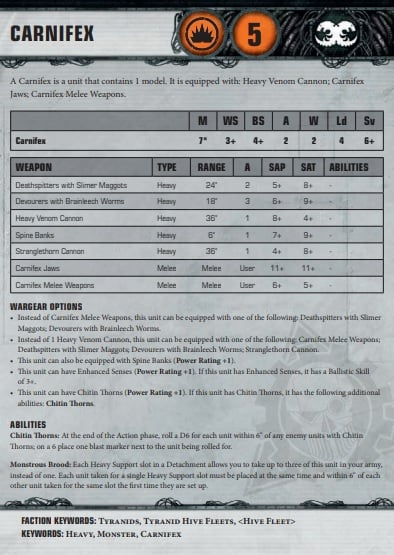 Thornbacks and Screamer-Killers also have their own datasheets, too! Time to load-up the broods and get ready for a beat-down.
Command Assets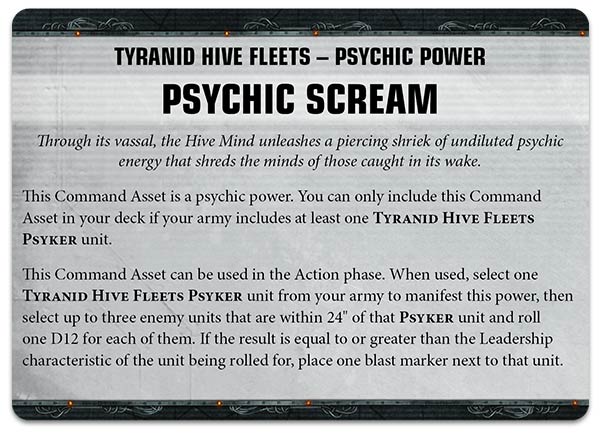 Psychic Scream is going to be a mainstay in your Tyranid Command Asset Deck. Simply pick 3 up to 3 units within 24″ of your Tyranid Psyker and roll a D12 vs their leadership. If it's equal or greater than their leadership, they take a blast marker. Remember: Leadership in Apoc is lower across the board. I like those odds!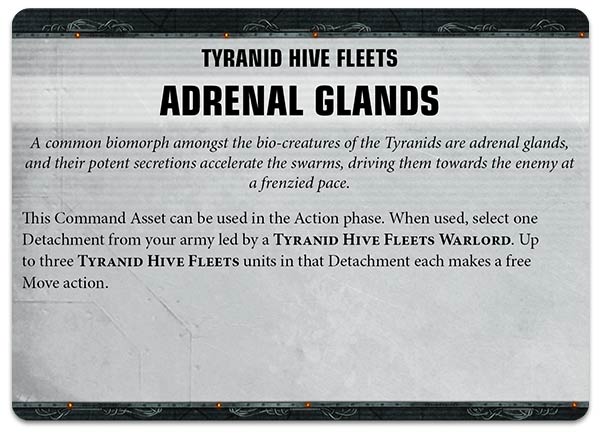 Do you need to get across the board quickly? Of course you do! That's what Adrenal Glands are for. Send your units flying with a free move action in the Action phase courtesy of your Warlord.
Apocalypse is going to present a whole new set of challenges for Tyranid players out there. The good news is that there are lots of tools in the case to work with. Personally, I'm already eyeing some under-used and often passed-over units. I can't wait to see what folks come up with! So get ready because it's about to be dinner time…
Nom Nom Nom!