Games Workshop is teasing some of the new Merc Company Rules heading to AoS courtesy of the upcoming General's Handbook 2019.
Warhammer: Age of Sigmar is getting more Mercenary Units in the game. Today, we're getting a quick preview of some of the new units as well as how they can be incorporated into your armies. Time to bring on the Mercs!
A mercenary company consists of a small selection of thematic units, representing one of the myriad groups of sellswords who ply their trade across the Mortal Realms. Mercenary companies each have a special rule of their own and the Mercenary keyword, differentiating them from the 'normal' versions of these units and giving them all a distinct feel on the battlefield.
Adding Mercs
The first thing to know about these new Merc Units is that they are usable in Matched Play – if they are included, they use the same pool of points as the Allies Pool of points. So, by taking Mercs, you're cutting down on the other allies you can take. Seems like a fair trade and a way to keep your army from being an entire Merc Army of Cherry-picked units from other books. Not that tabletop wargamers would EVER do that…
The next thing to know is that by adding mercs, you're also going to have to pay in Command Points. Specifically, the first turn's Command Point: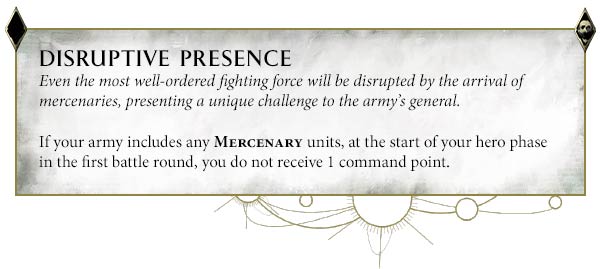 This is pretty huge. Command Points in AoS are generated at the start of every hero phase and can also be purchased along with your army at 50 points a pop. That makes them pretty valuable as (generally) Players don't have a ton per game to toss around. They are also used to activate Hero/General Abilities and such. With Merc's costing you your first one of the game, they better be worth it!
Meet The Mercs
All-in, we're looking at getting 10 more Mercenary Companies in the General's Handbook – that includes the two that were included in Forbidden Power (The Greyfyrd Lodge Fyrslayers and the Tenebrous Court Flesh-eater Court). Each one has their one back-story and form-of-payment (which is mostly for you Narrative Players out there). Let's just say bringing Kegs for the Aleguzzler Gargant Grugg Brothers seems appropriate. Anyhow, let's meet the meet those mercs!
(Note: The Warhammer Community preview didn't have all the info for every company, so we put '?' next to the options/rules we were unclear about.)
The Gutstuffers
1-3 Units of Maneaters
1 Firebelly
Special Rule: Hungry Beyond Reason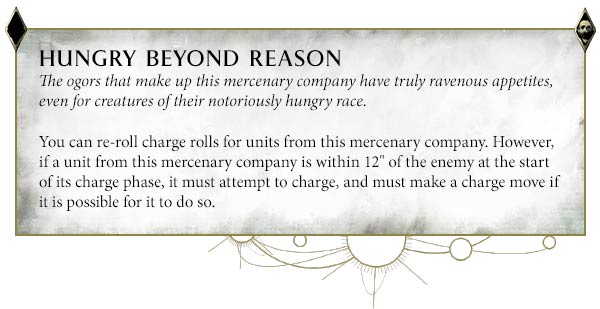 Rampagers
1-3 Units of Marauders
Optional: Darkoath Warqueen or Darkoath Chieftain
Special Rule: On the Rampage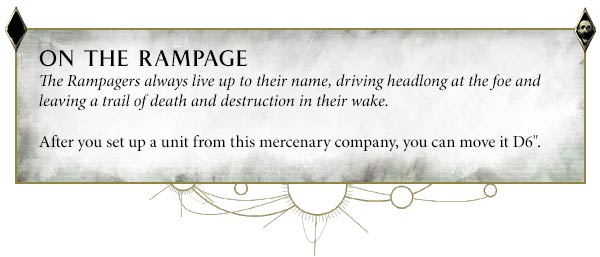 Skroug's Menagerie
1 Chaos Gargant (Skroug)
Optional (?) – Probably lots of different Chaos Beasts, specifically mentioned Chaos Furies.
Special Rule: Lord and Master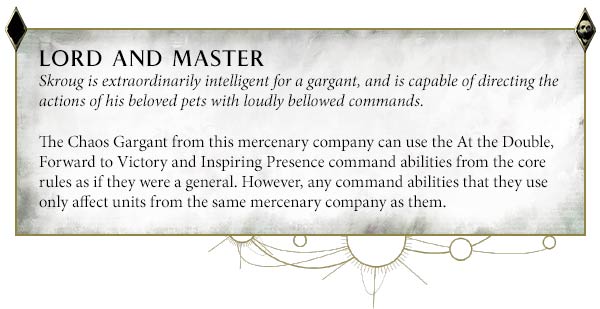 The Blacksmoke Battery
1-3 Cannons or Organ Guns
Optional: Cogsmith
Optional: Gyrocopter
Special Rule: Spotter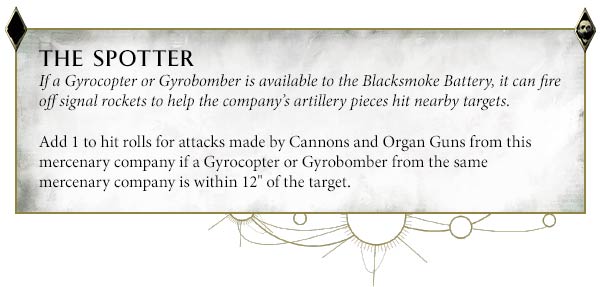 Nimyard's Rough-Riders
1+ Unit of Pistoliers
Optional: Outriders
Optional: Freeguild General
Special Rule: Eyes and Ears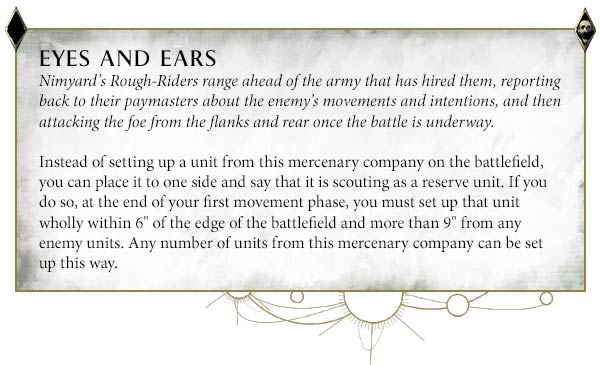 Order of the Blood-drenched Rose
1 (?)  Vampire Lord on Nightmare Steed
1 (?) Unit of Blood Knights
Special Rule: Immune to Battleshock Tests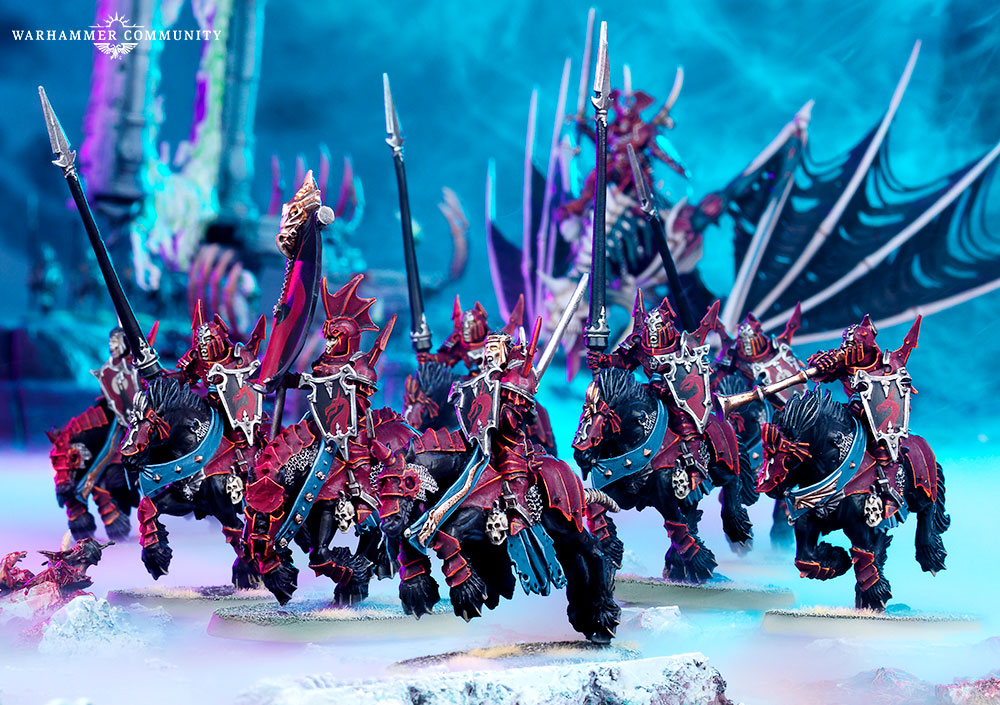 Grugg Brothers
1-3 Aleguzzler Gargants
Special Rule: Sibling Rivalry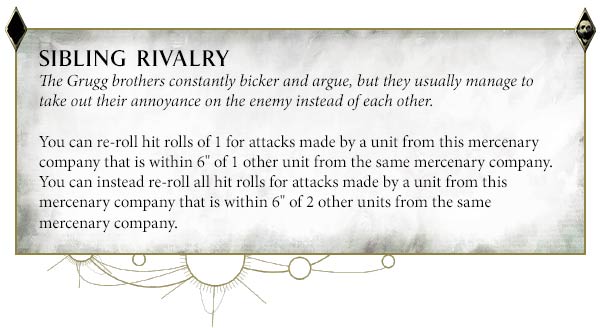 Sons of the Lichemaster
1 (?) Necromancer
? Units of Zombies
? Units of Skeleton Warriors
1 (?) Corpse Cart
Special Rule: Power of the Lichmaster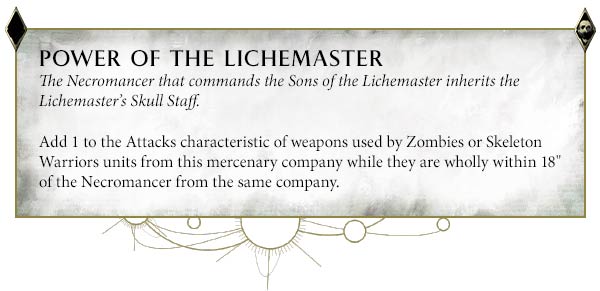 Overall, these Mercenary Companies don't seem too game breaking (for now). I'm very interested in looking at their full rules in the future. If nothing else, these Merc Companies will provide players with the ability to add some characterful additions to their army of choice.
Which Merc Company are you interested in adding? Do you think they are worth the extra cost to include? Let us know in the comments!