Now that D&D is getting ready to go to the Nine Hells in a handbasket, we're taking a look at some of our favorite fiends. This week: the Lemure.
Being a low-level fiend in D&D is hard work. You have to collect souls, you're probably a pawn of a greater demon or archdevil, you're probably expected to go to dangerous places and throw yourself at the mercy of all sorts of adventurers who just want to turn you into experience points by way of the sword. Hard work, no pay, and satisfaction where you can get it–well it's time for these low-level fiends to have the spotlight. Today we're taking a look at Lemures.
These low-level devils are monsters pulled from Mythology–they're taken from Roman myths about spirits of the restless dead:
Lemures may represent the wandering and vengeful spirits of those not afforded proper burial, funeral rites or affectionate cult by the living: they are not attested by tomb or votive inscriptions. Ovid interprets them as vagrant, unsatiated and potentially vengeful di manes or di parentes, ancestral gods or spirits of the underworld. To him, the rites of their cult suggest an incomprehensibly archaic, quasi-magical and probably very ancient rural tradition.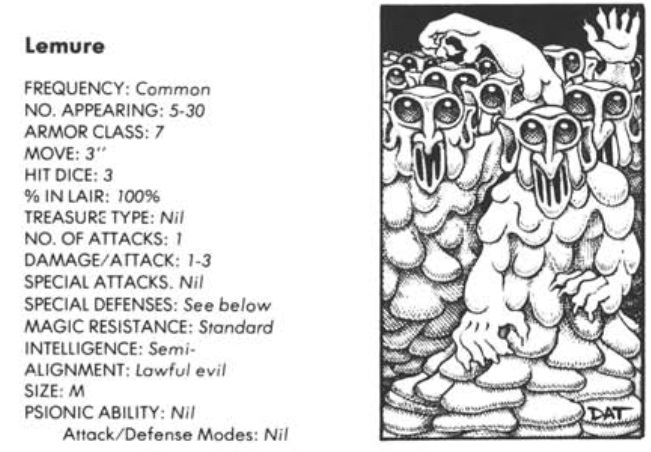 First appearing in the AD&D Monster Manual under the Devil entry, Lemures have always lived the least glamorous life. These little flesh blobs are the form the dead take when they go to the Nine Hells. Your basic starting rank devil, the Lemures are mindless blobs, tormented by devils and whatever else until they might become a wraith or spectre.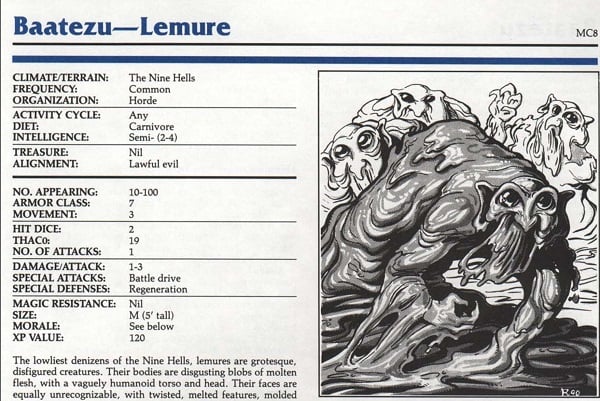 2nd Edition Lemures are much more wretched. I really like the art style here, you get a sense of the misshapen form beneath the grotesque, molten flesh. These Lemures benefit a lot more from the expanded look at Demons and Devils–er–tanar'ri and baatezu–that Planescape and the various Outer Planes supplements put out. Now Lemures have a chance for advancement. Occasionally, a Lemure will be selected to become a Spinagon, which is a way out. But it's always at random, so, truly it's better to be lucky than good.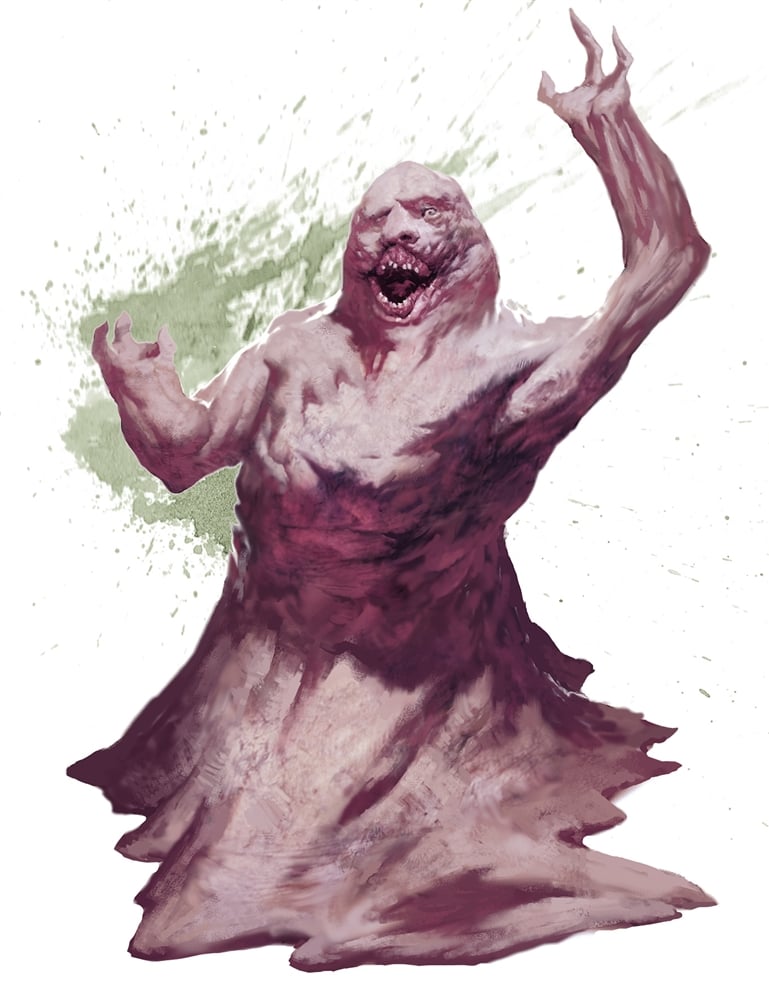 And until we get to 5th Edition, Lemures are basically just mindless flesh blob minions. 2nd Edition gave us the biggest look at the lowliest of life forms, which are themselves a great reason not to end up in the Nine Hells, lest your soul be transformed into one. Even in 5th Edition they're a punishment:
A lemure arises when a mortal soul is twisted by evil and banished to the Nine Hells for eternity. The lowest type of devil, lemures are repugnant, shapeless creatures doomed to suffer torment until they are promoted to a higher form of devil, most commonly an imp.
A particularly willful soul might claw their way out of Lemuredom and fight their way to being a Pit Fiend, which makes for an interesting villain. But by and large, battling Lemures should be a grim reminder of the consequences of evil. And why you should never make a deal with a devil.
Happy Adventuring!